Food is the ultimate happiness to us bhukkads! We mean, hogging on delicious grub is not just a delight for the taste buds, it's an overall experience. And if you add a pinch of luxury to the mix then we surely don't mind splurging! 
One such place that makes us wanna go all out is the newly opened Novelé at Shangri-La's Eros Hotel, which has tons of amazing cocktails and palatable delicacies waiting up for y'all! With a 60 ft. bar (can you imagine that?!!) and all 'em rustic feels, this place gives the perfect vibes of a classic European bar with a modern touch. So, if you want to celebrate then ditch the basics and check out these 6 drinks and dishes that we tried and loved here! 
1. Clepsydra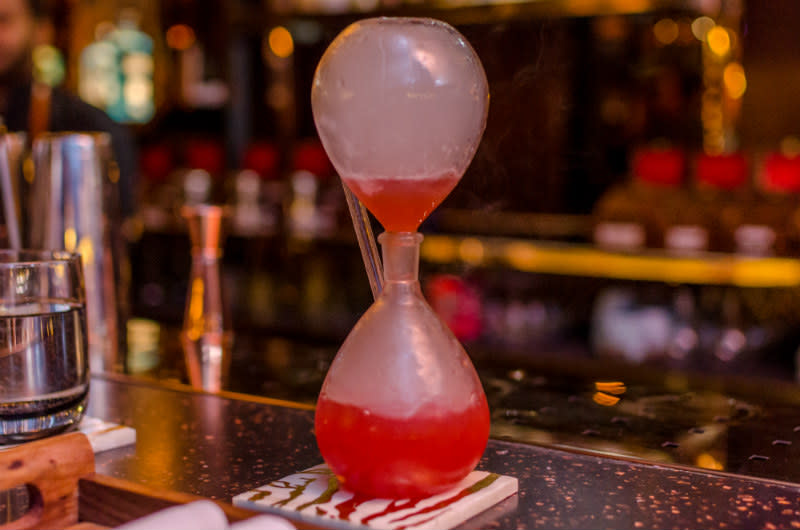 Ever imagined a drink with papaya puree? Yes! The Clepsydra cocktail here is made with papaya and is served in a glassware that looks like a clepsydra. It looks so sumptuous that when the mixologist makes the drink, we couldn't take our eyes off it! With an intense smoky flavour and a subtle taste of papaya, this cocktail is infused with raisin flavoured gin. The drink was a delight to our eyes and our parched throat, so do try this one out! 
2. Loomi Fizz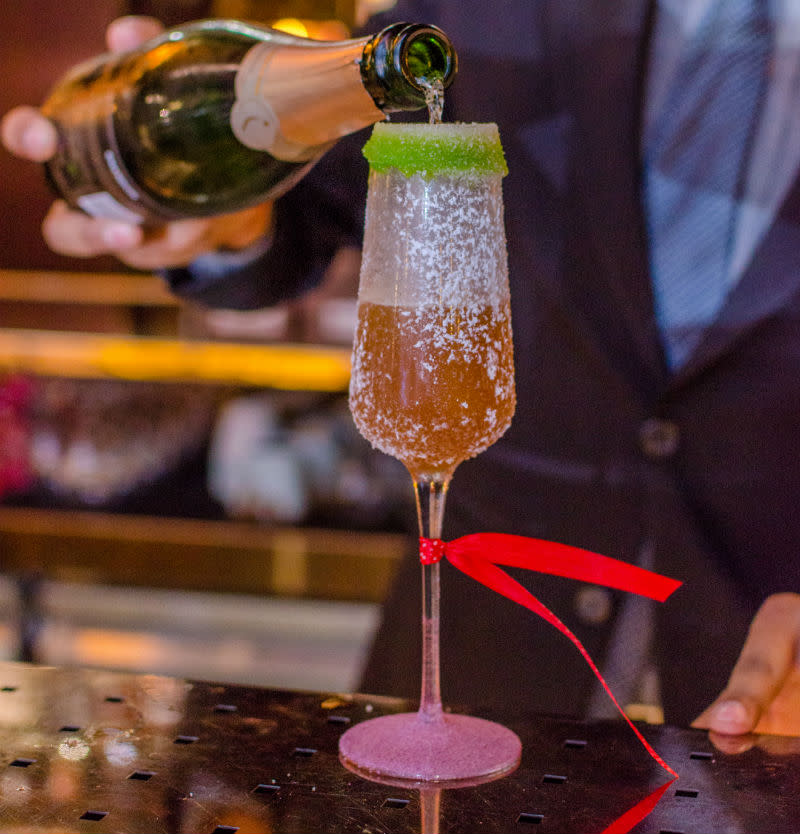 This drink was extravagant! We were so impatient to try it out that we just sipped in as soon as it was brought to us. It seemed like the bartender wanted us to get all down and dirty and hence, the sprinkle of rose petal dust on the glass and a generous amount of delicious lemon curd on the rim! The drink is a concoction of cognac lime, champagne, kewra water, lemon juice & sugar syrup and it tastes yummy! If you like champagne, order this drink away and you will thank us later!
3. Kabuli Sour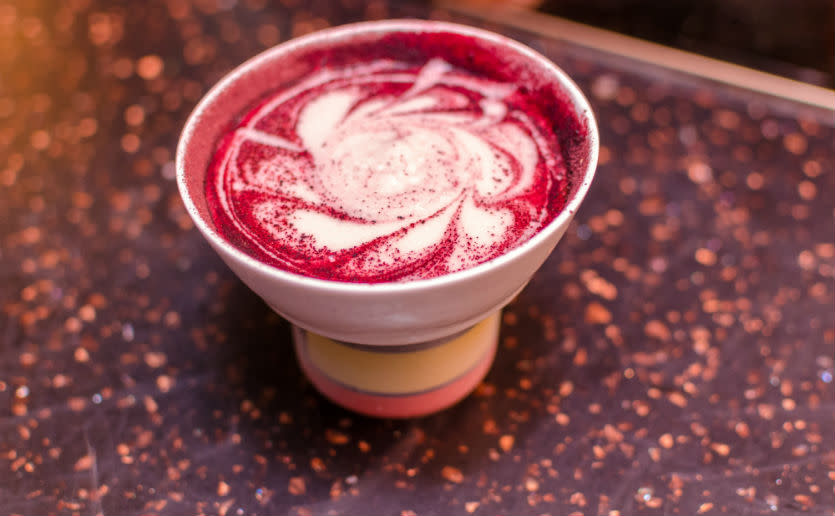 Creamy cocktail, garnished with a sprinkle of fragrant hibiscus powder - the Kabuli Sour is all this and more! This cocktail grows on you, slowly. It is served with some theatrics and we loved the liquid nitrogen evaporating sesh! This one is a mixture of vodka, blackcurrant liqueur, lemon juice and egg white. It had a smooth and silky texture that'll make you order more. The egg whites add a beautiful froth and the flavour works like magic. Try this eccentric drink and you will love it forever 'cause we sure did!  
4. Carbonized Beet And Cheese Paparazzi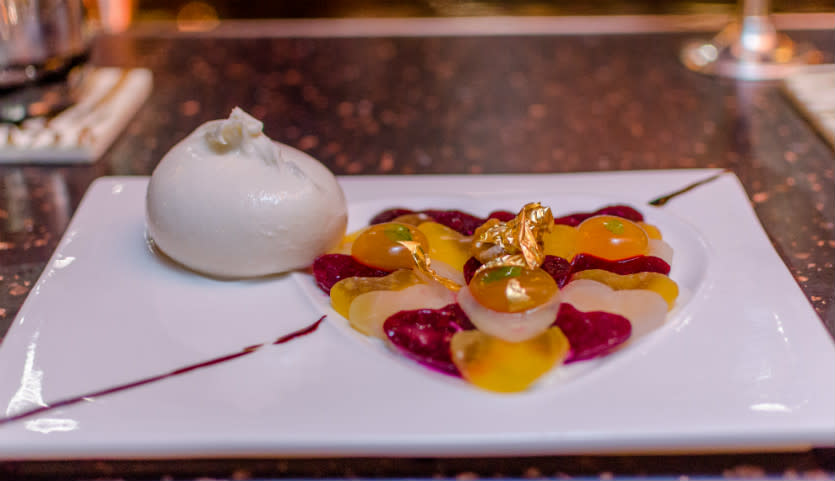 This colourful and vibrant appetiser won our heart. With cute little golden beetroot hearts, orange balloons with little mint embellishments and walnut nougat, the Carbonized Beet And Cheese Paparazzi was a flavour fest. Served along with cheese *YAY*, this dish was one of our favourites here! 
The three beetroot hearts provided a very earthy taste and were perfectly crunchy. The orange and mint balloons exploded in our mouth to have a party of flavours. The punch of sweet and sour from orange was taken care of by the mint and the walnut nougat on top was amazing! You bring a date here and order this lovely dish and nothing can ever go wrong, take our word for that *wink, wink*!
5. Gamberetto Indiano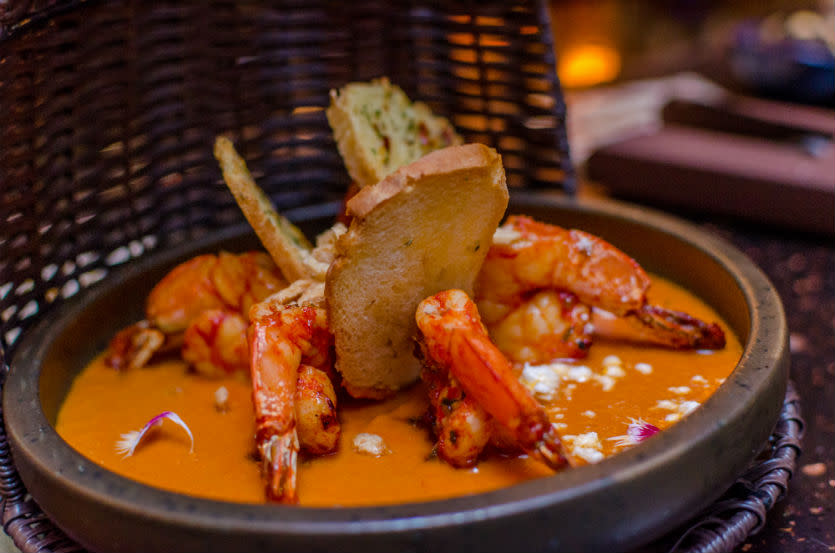 Beautifully plated, the Gamberetto Indiano here is a lovely, breezy dish that will transport you to coastal areas with its essence! Perfectly done prawns, which were tandoored, served in a chilli sauce with garlic crostini along with coconut oil crumble and prawn crackers to garnish (could this get any better?), this dish was simply yummilicious! What we're saying is, if seafood is your thing, this dish MUST be on your plates!  
6. Mango Mojo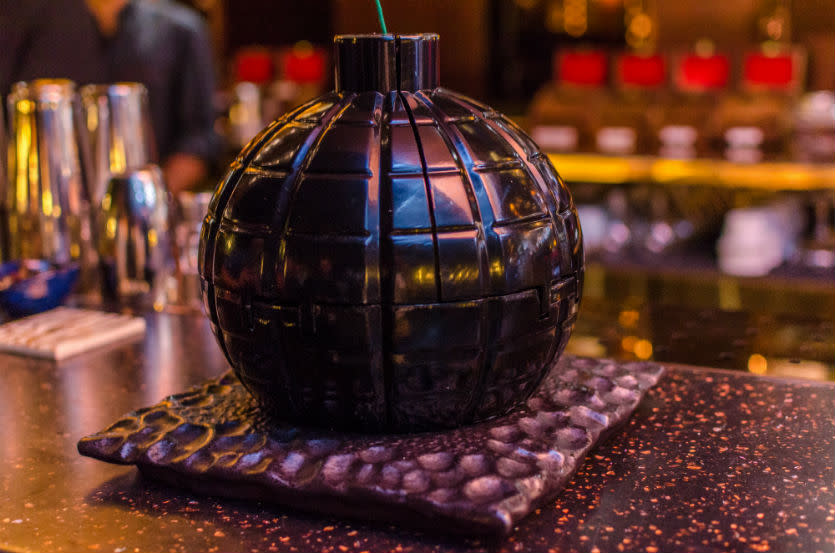 With yummy flavours, exemplary balance between the temperatures and textures, the Mango Mojo was an excellent end to a fantastic evening at Novelé. This dessert was served in grenade like container (don't panic!) and once the wick was lit, it opened up to reveal a cute little sphere made of mango and yoghurt topped with mango candy *heart eyes*. Once that was blowtorched, we found a very cute mango cheesecake hidden in the sphere *woohoo*. So, welcome this mango season with this kickass dessert! 
Gather up all your buddies and head to this cool place and chill while chugging on their yummy cocktails and devouring the lip smacking delicacies!  
Meal For Two | Rs 5,500 
Where | Novele - Ground Floor, Shopping Arcade, Shangri-La's Eros Hotel, 19 Ashoka Road, Janpath 
Here's Their FB Page | https://www.facebook.com/Novele.NewDelhi