The one street delight that everybody in the city swears by is aloo tikki! The concoction of mint and tamarind chutneys, mixed in curd or chickpea curry and then poured over a crispy aloo tikki is pure magic. The tangy and spicy tikki chaat is the all-time favourite snack of many Delhiites and a highly recommended treat for anyone visiting the city. We bring to you some of the most famous tikki joints in the city. Come, take a look!
1. Prabhu Chaat Bhandaar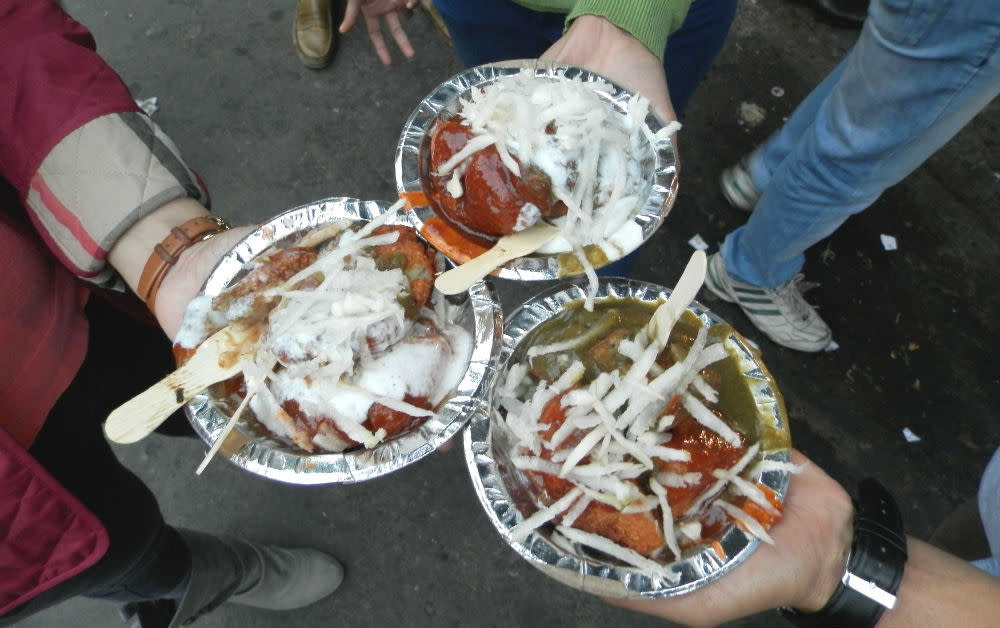 Located outside the UPSC commission building on Shahjahan Road, this chaat stall has been around for many years now. The Tikki Chaat here is a dish that is extensively prepared by their skilled cooks using decade old recipes and is loved by many for its creamy and tangy flavour. The perfectly crispy aloo tikki is coupled with a mix of sweet curd, tamarind and coriander chutneys & topped with pomegranate and shredded onions. Order up a plate & we bet, you'll polish it all off in no time!
Price | Rs 50
Where | Prabhu Chaat Bhandaar - Dholpur House, Shahjahan Road, UPSC Office Lane
Call Them | +91 9810314063 & +91 9210013048
TImings | 11 AM - 9 PM
2. Natraj Dahi Bhalle Corner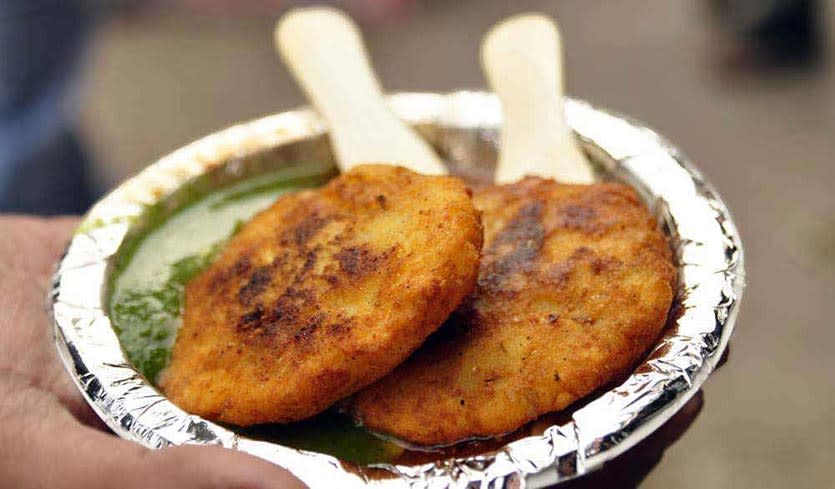 Picture Credits: Mayur Panchamia
This popular joint in the bylanes of Chandni Chowk is particularly famous for its Dahi Bhalle, but the Aloo Tikki available here scores equally with its consistent visitors. A plate gets you 2 aloo tikkis that are prepared using mashed potatoes, peas and gram flour & shallow fried in oil till the tikkis are crunchy. Served with imli-gud, coriander chutney, yogurt, ginger juliennes and boiled chickpeas, their Aloo Tikki plate is absolutely divine. Grab a plate and tell us if we're wrong, we dare you!
Price | Rs 50
Where | Natraj Dahi Bhalle Corner - 1396, Main Road opposite Paranthe Wali Gali, Chandni Chowk
Call Them | +91 9811 208 811
Timings | 11:30 AM - 9 PM
3. Bittoo Tikki Wala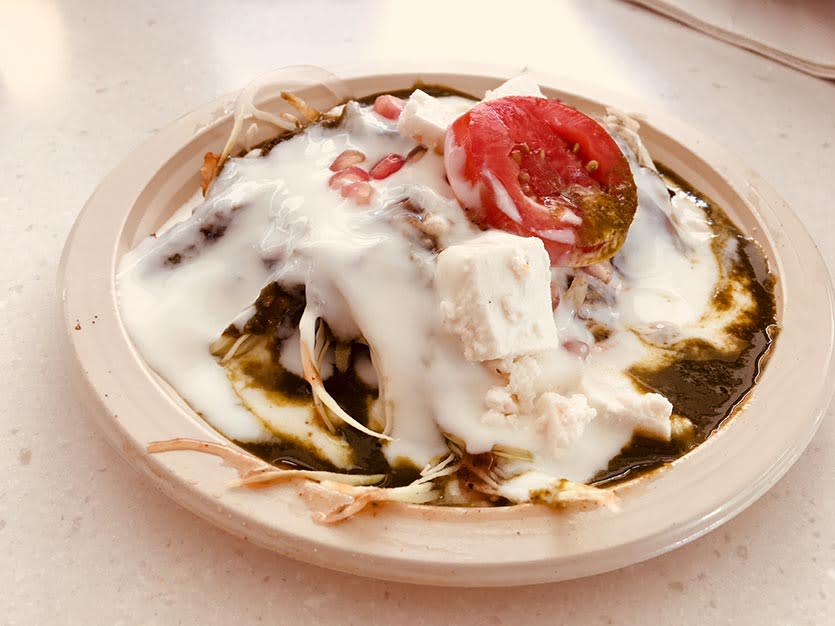 Famously known as BTW, this place is a stopover of many chaat lovers in the city. Their hygienically prepared chaat is fresh and not reheated. The crunchy tikki is fried in olive oil and topped with a mix of sweet curd, tamarind and mint chutneys. The Aloo Tikki is sprinkled with garam masala, shredded cabbage, paneer chunks and pomegranate for a rich and memorable chaat experience!
Price | Rs 85
Where | Bittoo Tikki Wala - NSP, Dwarka, Kamla Nagar & Other Outlets
Call Them | +91 9311 133 111, +91 9310 340 176 & +91 7290 006 269
Timings | 10 AM - 11 PM
4. Sindhi Corner
Sindhi Corner is famous for serving mouth-watering heart-shaped tikkis for more than 50 years now. These beautiful and quirky tikkis are served with a generous serving of tangy green chutney which, according to us, is the actual USP of these golden tikkis! While you're there, give a shot to their scrumptious golgappas, rasgullas, Paneer Pakoras and Rasmalai as well, we bet you'll come back wanting more!
Where | Sindhi Corner - 53/27, Ramjas Road, Near SGND Khalsa College, Karol Bagh
Price | Rs 70
Call Them | +91 9891 395 577
Timings | 8:30 AM - 9:30 PM
5. Bobby Tikki Wala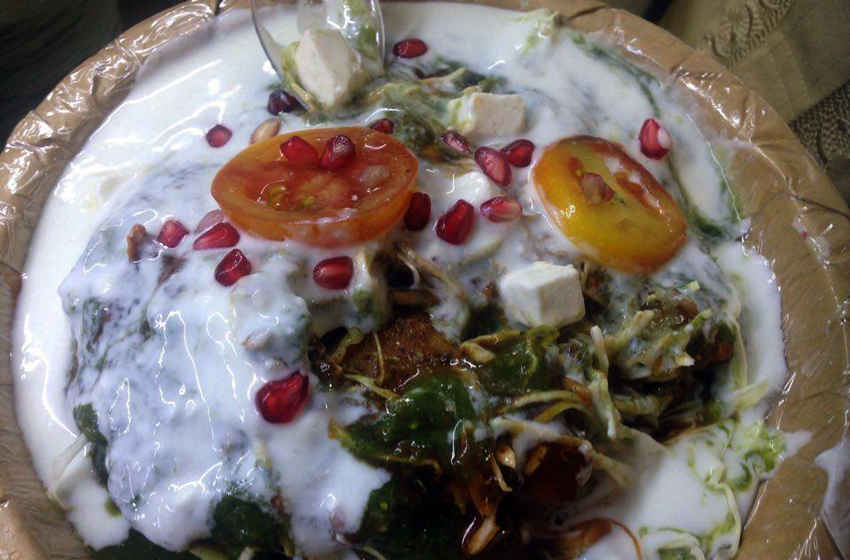 Imagine - a beautiful plate of perfectly golden and crispy tikkis, laden with heaps of creamy curd, spicy green chutney and garnished with slices of ginger and tomatoes, cubed paneer pieces and a handful of juicy & sweet pomegranate - drooling yet? We know you are. So, don't wait anymore and head to Bobby Tikki Wala ASAP because this is what awaits you there!
Where | Bobby Tikki Wala - New Rajdhani Enclave, Preet Vihar
Price | Rs 80
Call Them | +91 9211 788 812
Timings | 11 AM - 11 PM
6. Vaishno Chaat Bhandar

There's absolutely no way one comes to this place and not order their Aloo TIkki. Crispy and crunchy, this snack offered here is a delight to everyone's taste buds. Dipped in red imli and spicy green coriander chutneys, the tikki is fried perfectly with peas, red chilli and black pepper and will surely satisfy you to the core!\
Where | Vaishno Chaat Bhandar - Kohlapur Road, Kamla Nagar
Price | Rs 30 (Half Plate) & Rs 60 (Full Plate)
Call Them | +91 8856 445 511
Timings | 10 AM - 10:30 PM
7. Mangla Chat Wale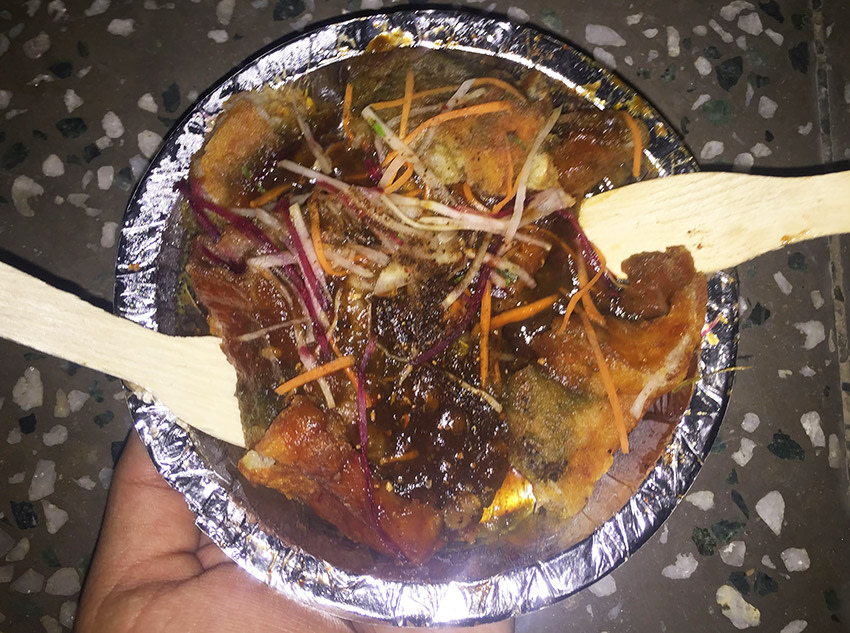 Deep fried potato cutlets, stuffed with moong dal and topped with green and red chutneys - the aloo tikki at this little eatery will become your go-to snack. You can get onions or curd added to it as per your taste, and don't forget a big squeeze of lime! Drooling yet?
Where | Mangla Chat Wale - Outside Bhagwaan Apartments, Gate Number 1, Opposite Aggarwal Sweets, Acharya Niketan Market, Mayur Vihar I
Price | Rs 50
Timings | 5 - 10 PM
8. Delhi Chat Bhandar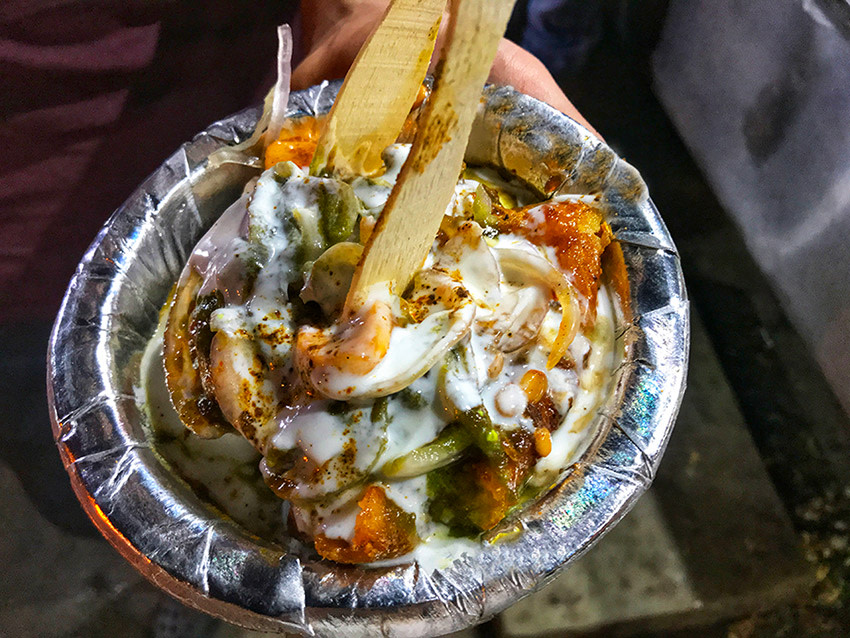 Perhaps one of the least noticeable thelas on the busy red light of West Mukherjee Nagar, this stall offers a six item menu with great quality of food. Their Aloo Tikki is a must-try and boy, is it savoury! The two sauces and yogurt, mixed with mashed potato tikkis and onions, melt into your mouths. The ingredients used are fresh and the sauces add to the overall flavour. Try it out for yourself, and you'll be thanking us later!
Price | Rs 25
Where | Delhi Chat Bhandar - Opp. Country Fitness Gym, Dhaka Village
Timings | 4 - 10 PM
9. Atul Chaat Corner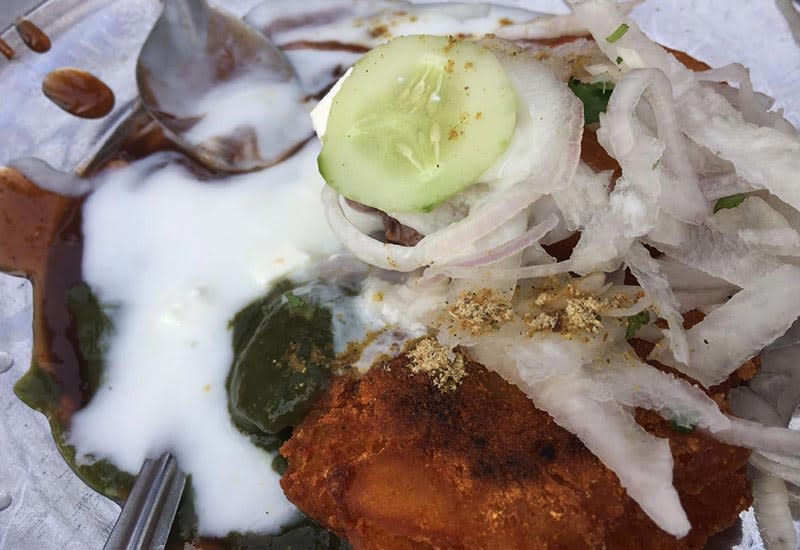 There's no way one comes to Rajouri and NOT visit this place. They serve a great variety of snacks, including yummy Aloo Tikki which is a great option to go for with a crisp outer layer, lots of sweet curd along with mint and imli chutney. Eat it hot and fresh to relish all the flavours!
Price | Rs 40 (Half Plate) & Rs 70 (Full Plate)
Where | Atul Chaat Corner - H-44, Main Market, Rajouri Garden
Timings | 11 AM - 10 PM
10. Chaat Chowk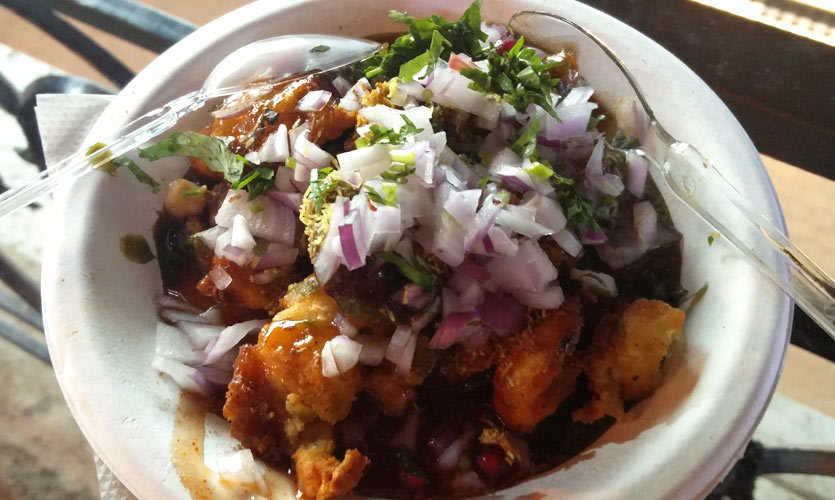 Their golden potato disks have been ruling our hearts for years. A typical Aloo Tikki Chaat is served here, loaded with sweet yogurt, tamarind chutney, green chilli chutney, a few pomegranate pearls here and there, sev, chopped onions and fresh coriander leaves. The fresh freshness of the ingredients and the perfect combo of sweet and salty with an ideal crunch made this one our favourite!
Price | Rs 110
Where | Chaat Chowk - DLF Phase IV & Sector 50, Gurgaon
Timings | 11:30 AM - 9:30 PM
So, when are you swinging by at these awesome-sauce places for your plate?