Cobbled pathways paved our way towards a treasure of a Mexican tequileria we call Arriba! Palm fronds waving in the breeze and colorful mosaics adorning the walls simply lit up the place, already glossy and dewy in the light of a virtual storm of pretty, warm candles strewn around the place *dreamy sighs*!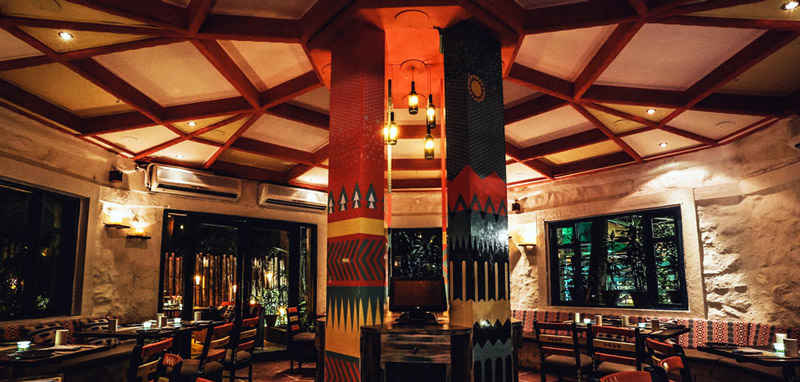 Dreamy, upbeat Mexican beats transported us to another land where time stands still and indulgence in life's simple pleasures is a way of life! Fresh lemongrass scent billowed around us as we luxuriated in the beautiful, peppy ambience of this gorgeous little gem tucked away in the Siri Fort complex. We went and plunked ourselves down on one of their exquisite, pretty outdoor tables and ordered us up a Mexican storm of yummies - here's all about it!
Cinnamon Tamarind Margarita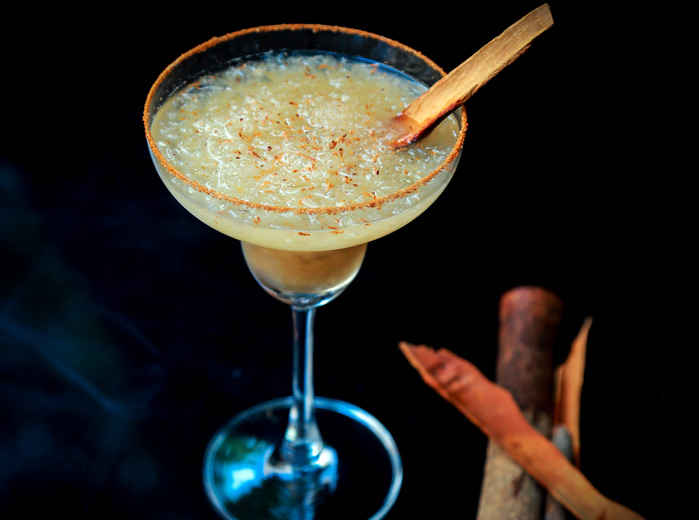 You can't just saunter into a Mexican joint and not slurp up margaritas! So that's exactly what we did. Delightfully zesty and spicy, each swig of their marvelous Cinnamon Tamarind Margarita boasted of bursts of flavors like their tamarind-infused tequila, splashes of triple sec and of course, lots and lots of salt on the rim! Gives a whole new dimension to the term 'lip-smacking', doesn't it?
Salsa Carnival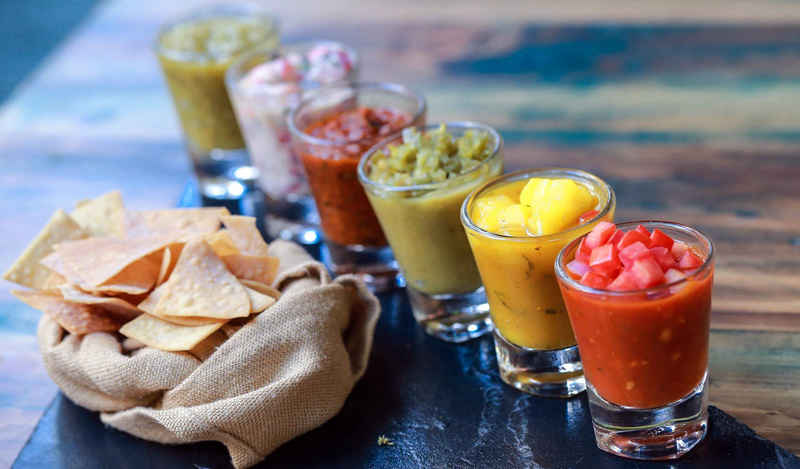 To help us soak up our boozy margaritas, we opted for the perfect starter - their Salsa Carnival! Freshly prepared and baked tortilla chips were accompanied by the most heavenly bowl full of guacamole we've had the privilege of tasting - we simply couldn't stop ourselves from polishing off this appetizing starter, and trust us - you won't be able to as well!
Stuffed Spiced Jalapenos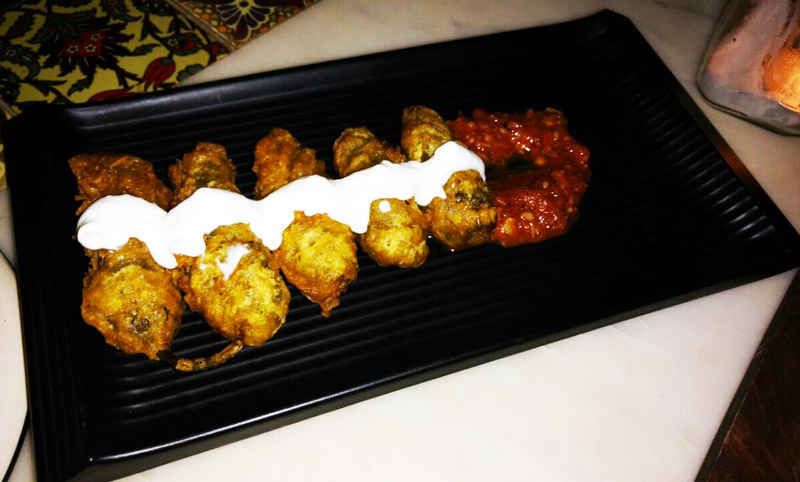 Perfectly crunchy on the outside, their Stuffed Spiced Jalapenos were crammed full of mashed, spiced potatoes and covered by whole, jumbo jalapenos and absolutely smothered with fresh, gooey goat cheese on top. Our take - this dish is the perfect finger food for all the vegetarians out there - you'll love 'em!
Chilli Mango Margarita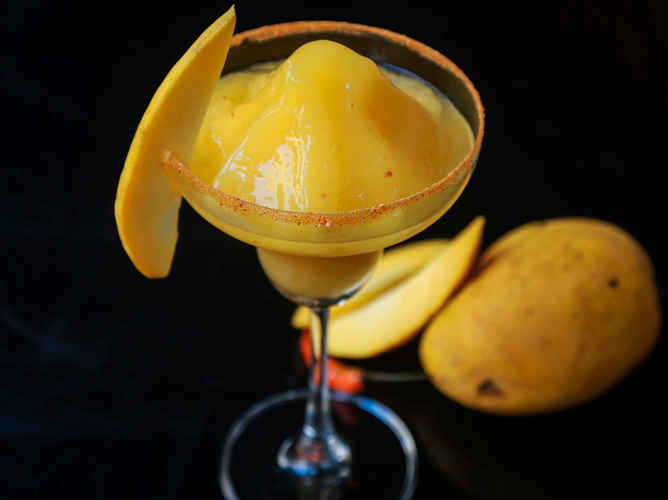 Continuing on our caravan of margaritas, we then glugged down a little something called their Chili Mango Margarita. Sparking off a riot of zesty, spicy flavors in our mouth, this wonderful concoction came with a thin mango wedge in tow, and was composed of dollops of tequila and triple sec, and lined with - get this - chili lime salt licks!
Shrimp Calamari Cebechia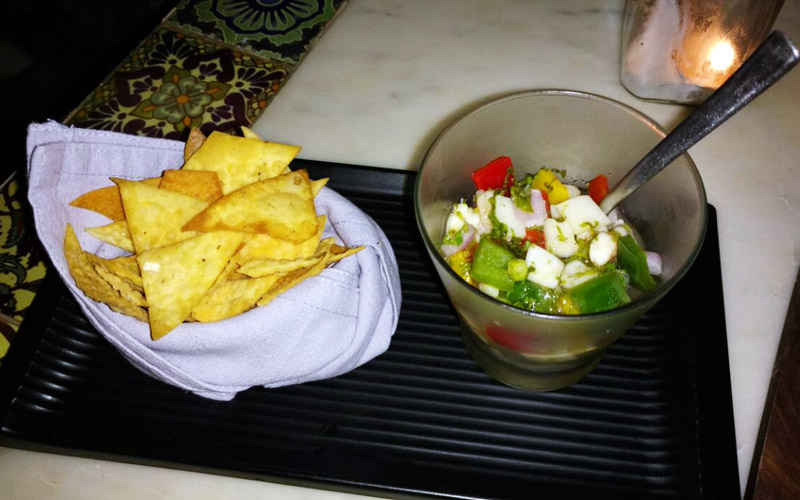 A completely ethereal gastronomic experience greeted us as soon as we laid eyes on this one! Prepared by infusing raw shrimp and calamari with generous splashes of tequila and let stew for 3 - 4 hours, this delicious medley is like nothing you've ever tried before! Accompanied by the staple tortilla chips, we ended up stuffing ourselves silly on their Cebechia.
Chicken Fajita Tamlese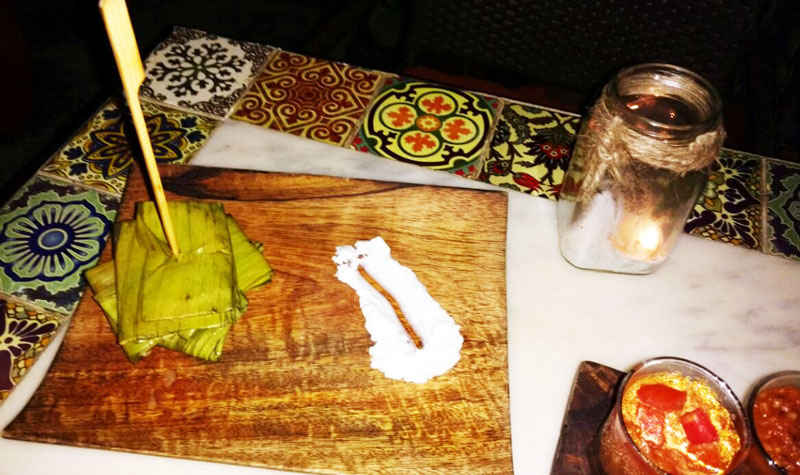 Diced chicken hunks slow-cooked with tons of Mexican spices and steamed to perfection in a banana leaf were lovingly laid on a bed of exquisitely baked tortilla bread making up their delicious Chicken Fajitas! Creamy, incredibly juicy and basically heaven wrapped in a banana leaf *happy grins*.
Beer & Chipotle Lime Fish Taco Bites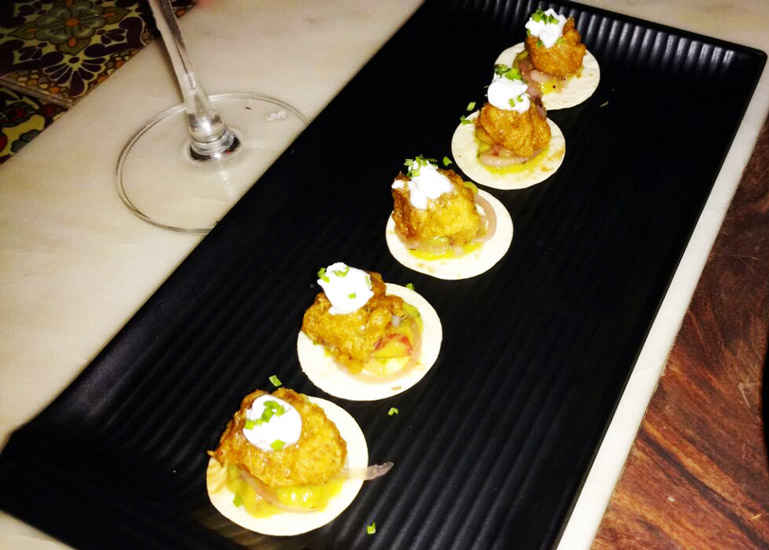 The fish is marinated with beer and chipotle lime, served with tortilla bread and oodles of guacamole and chopped-up onions. Plopping these bite-sized yummies whole into our hungry mouths, we absolutely adored the cute little fish chunks simply dripping with flavour - we loved every last morsel!
Smoked Pork Sears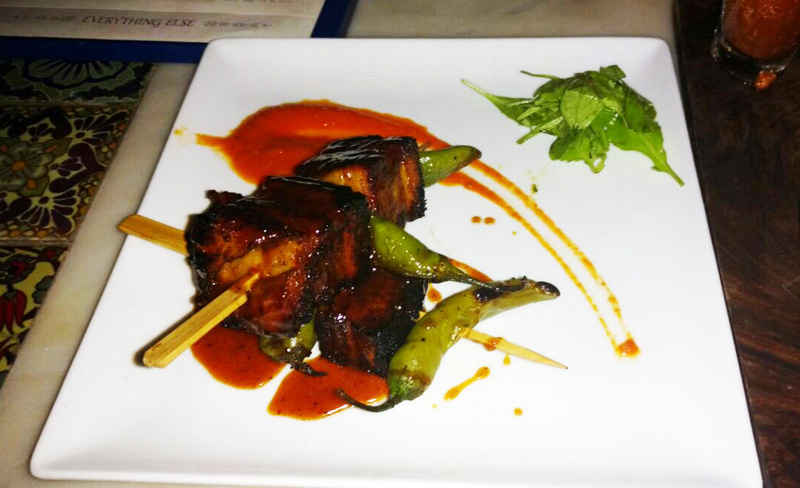 Delicately sweet, this dish consisted of slightly dry massive pork squares marinated with smoked habanero and juicy jalapenos and absolutely drowning in hot chili sauce! This dish is perfect for those of you who crave good, meaty pork but don't get too much of it around town!
Sizzling Chicken Fajitas with Mexican Rice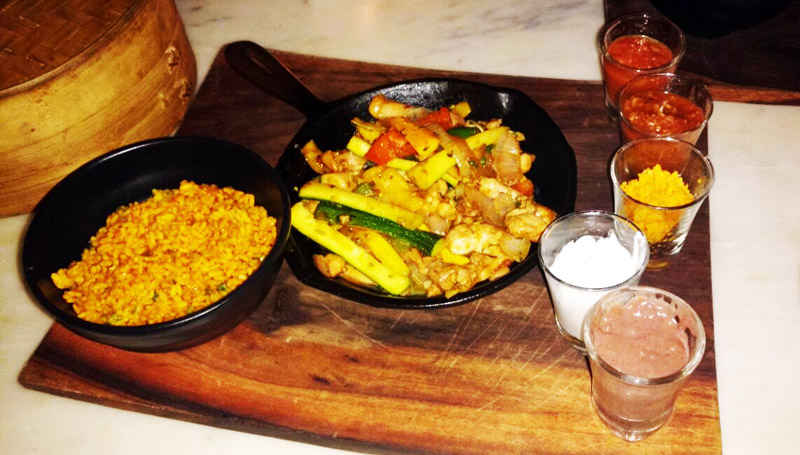 Large, flat tortilla roti-like pancakes accompanied a zest, sizzling dish full of juicy chicken pieces tossed with nicely fried and sauteed bell peppers along with a bowl heaped with Mexican rice - it was make-your-own fajita time! We stuffed our tortilla rolls full of chicken & Mexican rice and simply floated on this culinary piece de resistance. A nice and superbly filling main course dish, this!
Tres Leches Cupcakes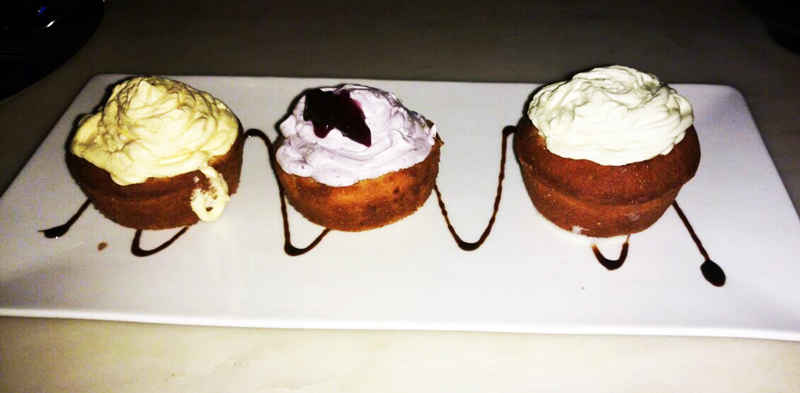 We were then presented with a little dish of three cutie-pie cupcakes (Mexican sponge-cakes) - Mango, Blueberry & Avocado! 
We dug into their Mango cupcake first and simply revelled in the fresh and fragrant mango syrup inlaid into the yummy and crumbly cupcake, topped of course by a dollop of fresh whipped cream. Next up we tucked into their Blueberry cupcake, which was spectacularly juicy and filled with a core of blueberry sauce.Their Avocado cupcake was immensely satisfying and appetizing, rounding off our Mexican fiesta on a thoroughly sweet note!
If you want your evening to be full of pretty candles, mouthwatering dishes and endless margaritas, simply jump ship and come aboard Arriba - you'll be thanking us later!
Meal For Two | Rs 2,500
Location | The Village Restaurant Complex, Asiad Village, August Kranti Marg, Khel Gaon