Getting Lost in Luxuriant Splendour | Here Are Some Plush Escapes That'll Blow Your Mind
Imagine weeks and weeks of sweat and toil - of the metro's announcement, the boss' lectures, and the same old daal-sabzi. What if we told you that you could escape from all that? What if we told you that we've curated a list of places where you could literally dip your feet in luxury? For the hard worker in you deserves this escape sometimes, so we bring to you a curated list of luxury and plush escapes - you can thank us later, no worries.
The Himalayan Resort & Spa, Manali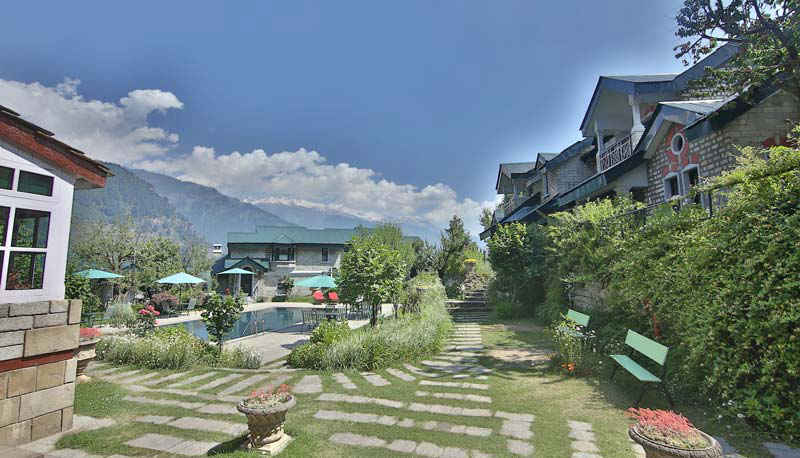 The Himalayan Resort and Spa, built in the style of a Victorian castle, is perched 2,000 metres high amid apple and cherry orchards. Each chamber in the castle enjoys an antique fireplace, a four-poster bed and marble floor bathrooms with deep bathtubs. There are also eight cottages around the castle which offer exceptional views of the Manali valley, each of which comprises of two bedrooms and bathrooms. There are spa services to be indulged in, a gorgeous swimming pool, and unrivalled views. Must head here this summer!
Distance From Delhi | 533 kms
Check Out Their Website | thehimalayan.com
Neemrana Resort and Palace, Neemrana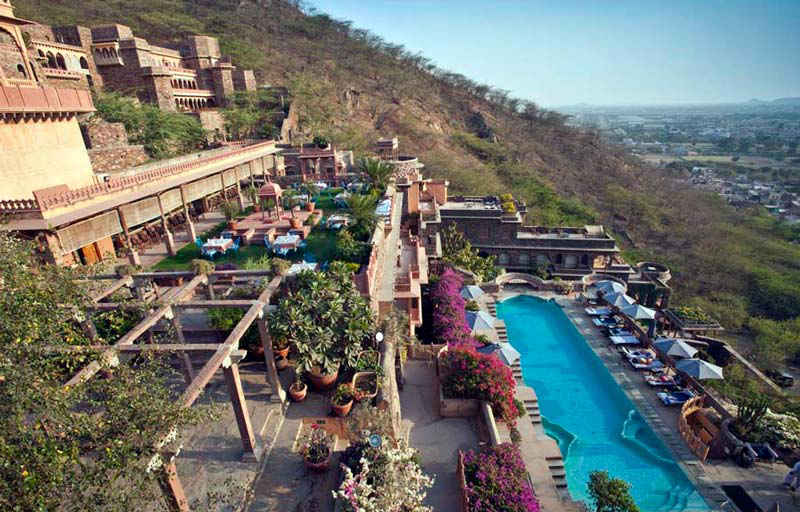 Staying in Delhi, who hasn't heard of the Neemrana Fort and Palace? Nestled just 130 kms away, this resplendent fort-turned-luxury-hotel has seven palace wings built over fourteen layers tiered over a hill. There are different kinds of villas and Mahals available, depending on your budget. There are also hanging gardens, two swimming pools, an Ayurvedic spa, and zip-lining to ensure that your stay here is hip and happening! What could possibly be more perfect?
Distance From Delhi | 130 kms
Check Out Their Website | fort-palace.neemranahotels.com
Fairmont, Jaipur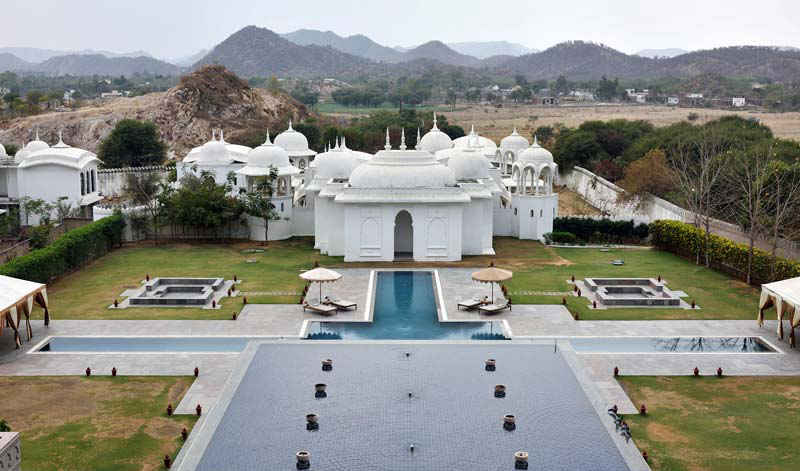 This Canadian chain of luxury hotels and retreats opened its doors to India with Fairmont, Jaipur, and how we love it! Unparalleled luxury presented in the most beautiful packages, Fairmont Jaipur lies a few kilometers before the city begins and has sprawling green lawns, gorgeous blue pools, and a white heritage structure that is sure to take your breath away. It's an especially beautiful location for weddings and gala dinners. There are 199 guest rooms, each of which has royal treatments on offer - go get a taste of it!
Distance From Delhi | 270 kms
Check Out Their Website | www.fairmont.com/jaipur
Raga on the Ganges, Rishikesh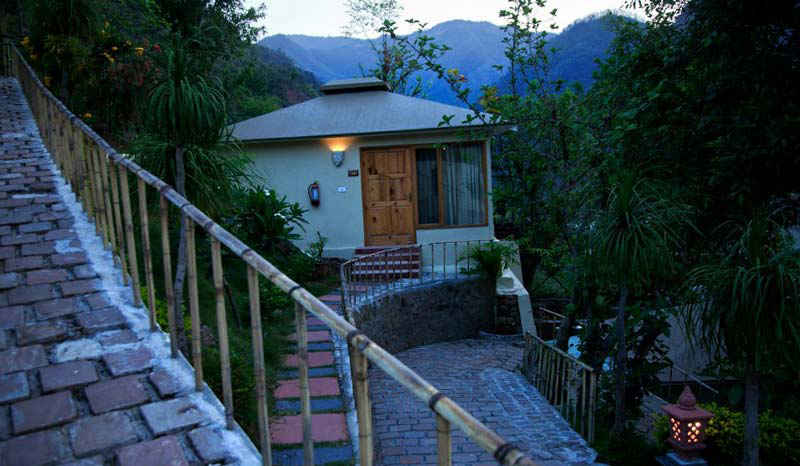 Raga on the Ganges is a breathtaking resort on the banks of the Ganges in Rishikesh, and promises an experience that will rejuvenate the mind, body and soul. Aside from adventure activities like whitewater rafting, rappelling and trekking, Raga on the Ganges offers complete relaxation through activities like Teertha Spa, sauna, hydrotherapy, and steam baths. There are log huts and log cottages with river views as well. Escape for a weekend to rejuvenate your spirit and come back a completely new person!
Distance From Delhi | 240 kms
Check Out Their Website | www.ragaontheganges.com
Naini Retreat, Nainital
Hotel Naini Retreat is a luxury retreat hotel in Nainital, nestled in the Ayarpatta slopes - a heritage property, it's one of the most beautiful retreats in this quaint and pretty hilly town. With a view overlooking the Naini Lake, the rooms and suites at the Naini Retreat simply spell out luxury. The retreat is also flanked by beautiful gardens that serve to intensify the beauty and the aura of the place, and also arranges activities like boat rides, cable car rides, yachting, rock climbing and rappelling.
Distance From Delhi | 310 kms
Check Out Their Website | hotelnainiretreat.nainitalnainital.com
This article was written by Srishti Chaudhary. A graduate of literature from Lady Shri Ram College, Srishti's interests vary from writing on film, travel, politics and society. She takes life lessons every day, and her favorite subject to write on are people, as she believes that the world is going one way, and the people another!