Get Your Hands On 7 Quirky Items From One Of The Oldest Gift Hubs: Giggles In CP
After being totally baffled about what to buy and what not, we recently checked-in at one of the leading gift stores in India and we feel lucky for it was a happy discovery! Our visit here unearthed stuff much beyond the usual offerings any gift shop promises to deliver. Apart from lively music and an uber friendly staff, we totes adored the endless variety of products they had at their store. Started by Mr. Harjit Singh Kochhar back in in 1975, Giggles is one of the oldest gift hubs you'd ever come across in the country!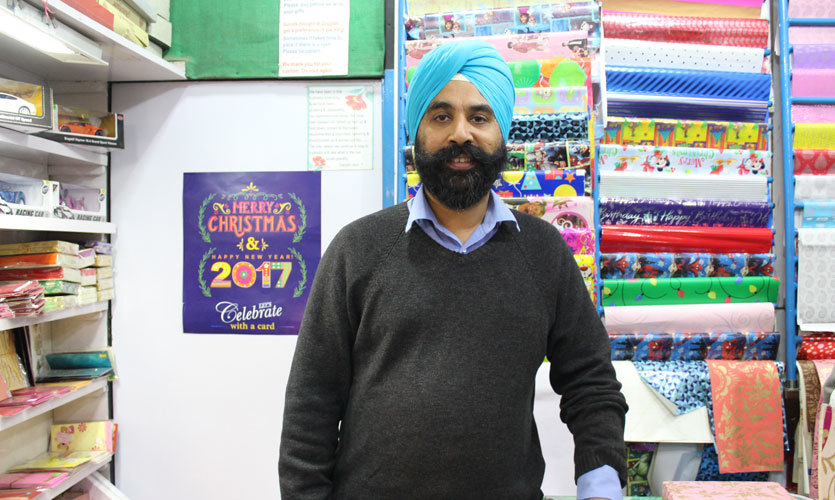 During our conversation with Mr. Gauravjit Singh Kochhar, the director and son of Mr Harjit Singh, we gathered that the store had been existing for more than 40 years in the market and had another branch in Calcutta! (We can't thank the Lord enough for having the more prominent one in Delhi!).
From stationery to clocks, mugs, picture frames, branded pens, wallets, cosmetics, perfumes, chocolates, soft toys, wall hangings, greeting cards, customized cups to an unending list of items, this shop boasts of having-it-all and is the perfect platform to buy the right kind of gifts from! Suiting all purposes and occasions, be it birthdays, anniversaries, festivals, corporate retirement and others, Giggles surely has something for everyone.
Here we picked out the top 7 products we spotted at Giggles that you can't spot anywhere very easily and which can prove to be quite the catch when heading out to surprise your loved one(s)! Read on.
1. *Ring For* Bells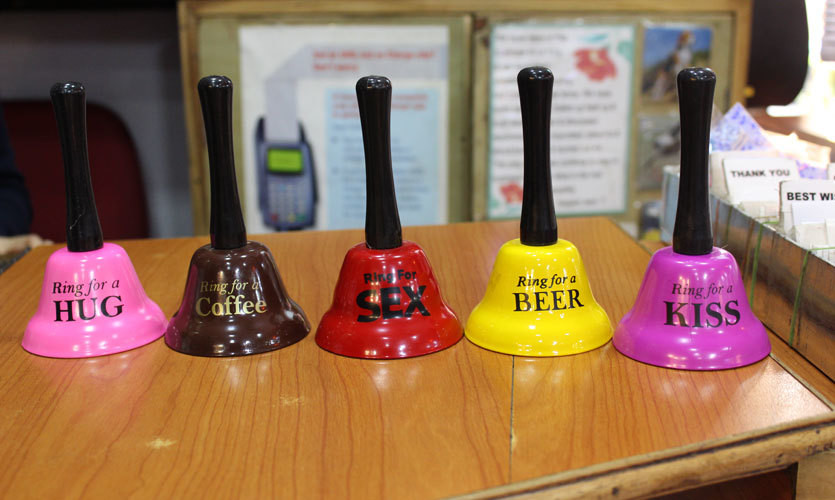 As simple as this gift item sounds, the more quirky bit was what we actually fixed our eyes upon. The different-colored bells were also differently categorized and could be used to 'ring' on various occasions and for varied needs! Costing 350 bucks, they had their purpose mentioned on each of them. The five categories were - Hug, Kiss, Coffee, Beer and Sex. Ahem, now you know which one to ring when, depending upon your mood of course! *We surely need to ring for coffee right now*
2. Iconic Bottle Lampshades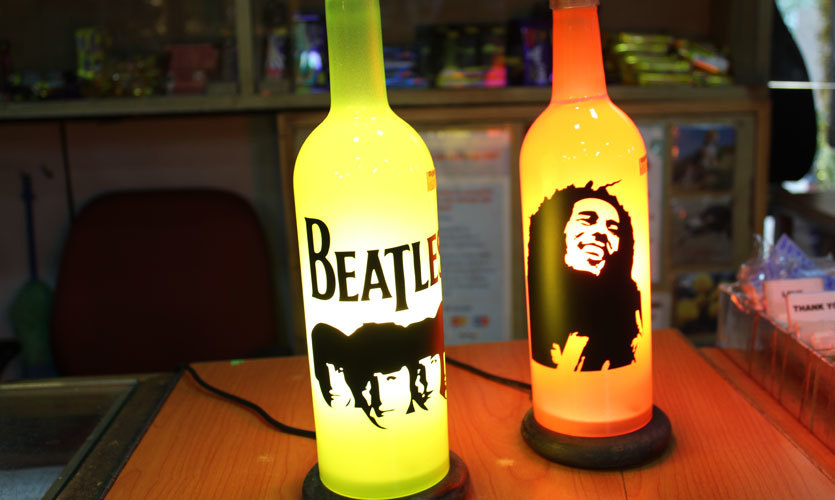 These beautifully-coloured lamps could certainly be used to light your mood and your room as well, to be placed as eye-catchy decor in your space. With the kind of variety they have, you can easily choose the most apt one, suiting your taste and personality! Priced at 850 bucks, the prettily designed lamps come with attached bulbs, necessary electrical equipment and a stand-cum-base to stabilize the bottom upon. We instantly fell in love with the lamps that had the Beatles and Bob Marley on them! *Can't wait to light up our room*
3. Love Letter Jars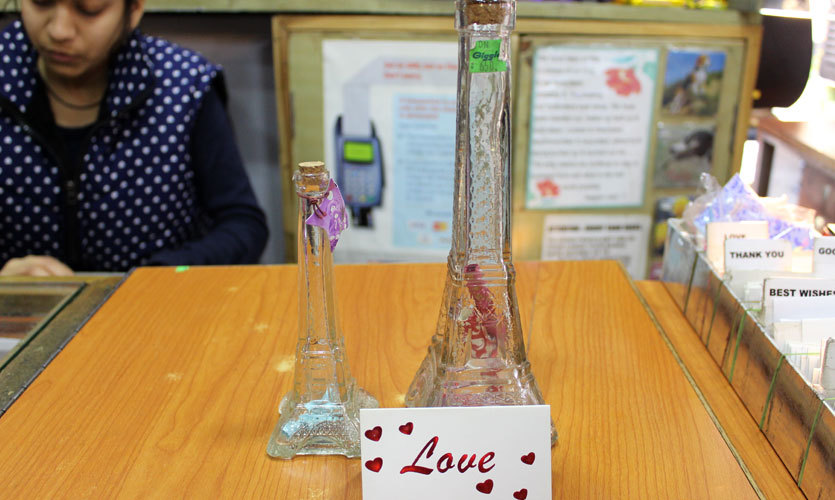 With Valentine's approaching, your quest to get the ideal gift for the apple of your eye ends here! The Love Letter Jar, shaped as an Eiffel Tower, the symbol of love and romance is just the present to please your beloved with. Insert your love letter note inside, fix the cork on top of the jar and let the jar float in the sea of love! *Wow, filmy much* Coming in two sizes, the bigger one is priced at Rs 450 whereas the smaller one shall cost you Rs 350! *Typing our love messages in our heads already*
4. Shot Glasses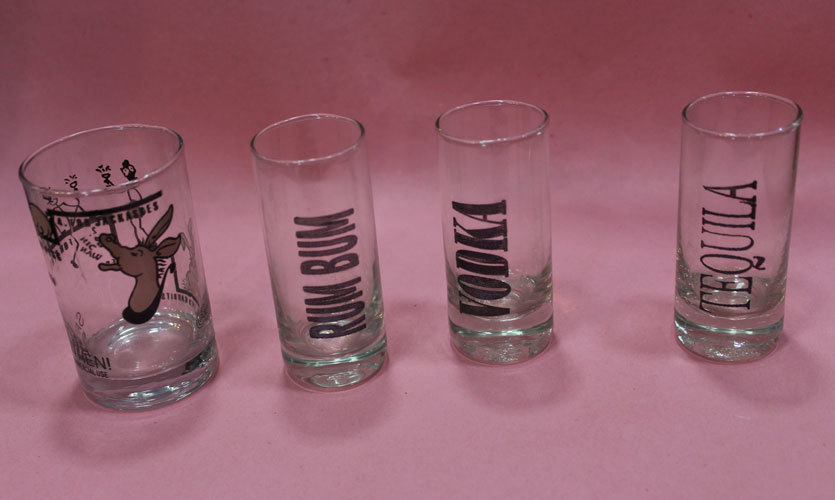 To set your bar and mood just right, they've got super quirky shot glasses on hand too! Meant to be used as fun bar accessories, they'll liven up all your drinks in a jiffy. Having special engravings on the body, these glasses are just the right kind of fancy ones you'd like to boast about at all your parties. Plus, they are priced between 40 to 60 bucks (only)! *Bar decor, done right!*
5. Beer Chillers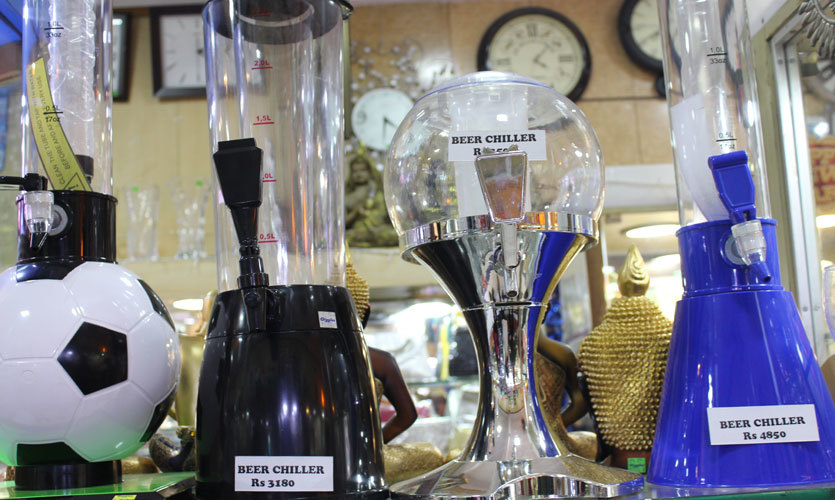 To chill your delicious tipples and to present them in an extraordinary fashion, this item is one which you must possess! Coming in different and super attractive shapes and sizes, the chillers can hold upto 2.5 - 3 litres of your drinks - cool, eh?! Starting from 3,000 bucks, buying these stunningly spectacular chillers shall be one hell of a catch! *Grab' em before they run out of stocks!*
6. Print Your Name On Pencils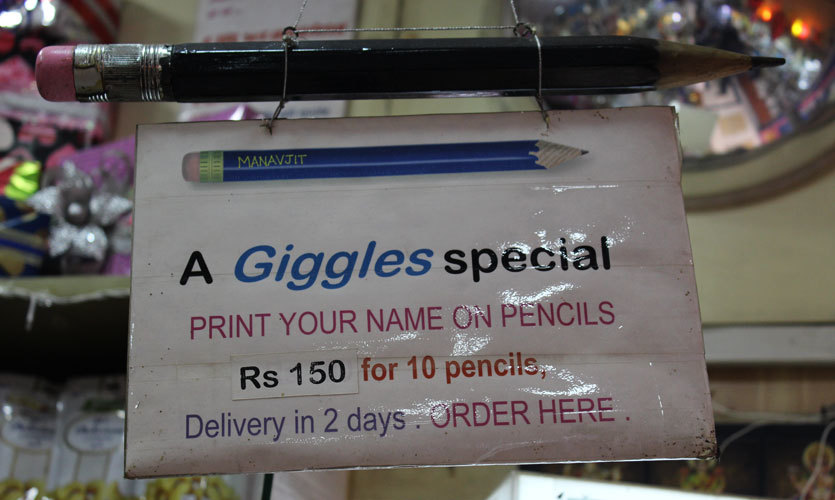 Yet another fun thing you can do on visiting this place is to get your name printed on some funky pencils! *We're loving the concept* Get 10 fancy Giggles special pencils delivered within 2 days for just 150 bucks - no seriously yeah. Order ASAP to get your favourite and most cherished stationery personalized right!
7. Car Hangings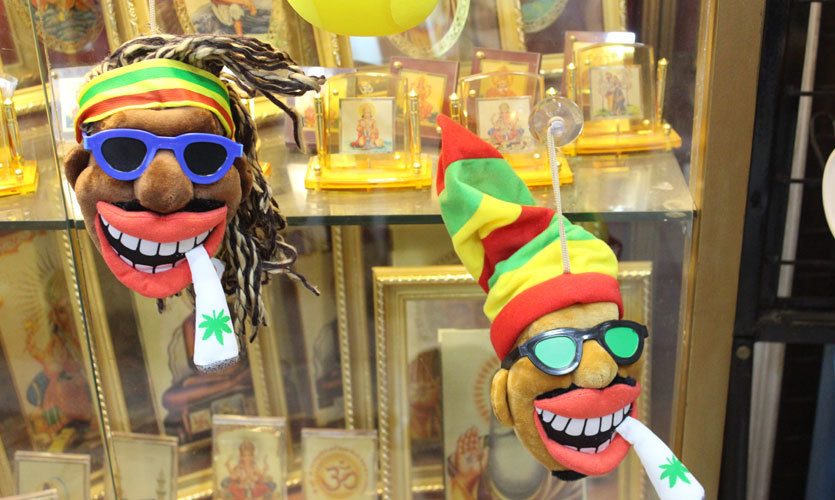 Depicting a way of life are these symbolic and funky car hangings which can make the interiors of your vehicle look fancier and quirkier! Coming in different styles and faces, this item ranges from Rs 180 to 450. We're sure these cutesy knick-knacks will make your drive better and day brighter!
We were more than satisfied after checking out the gorgeous range of products at this gift shop. We're happy to enlighten you that these guys customise gifts as well, according to the budget and choice of the customers! *What, wow*
Another thing that caught our attention was the pepper spray packs hanging near the counter that totally felt like the need of the hour, especially for girls traveling alone. We appreciate how the shop practised social responsibility and attempted to sell a boundless range and variety of products under one roof. Nice!
P.S - The shop is also known for doing the best kind of gift wrapping, so don't forget to get your gift(s) uniquely wrapped after your purchase!
We're pumped up to shop from here, are you?
Working Hours | 10:30 AM - 8 PM, All 7 Days
Spot The Shop Here | E 24, Block E, CP
Browse Through More Images: