Gaga Over Golgappas? Then You Need to Try These Offbeat Golgappas in Delhi
Since Delhi is uber-famous for adding its own twist to all staple things, golgappas are no exception! We've curated a list of where to gorge on the most offbeat and revamped golgappas. Trust us, you'll go gaga over these. Head on over folks, for in this town every time is golgappa time!
Ferrero Rocher Golgappas

Do you know a single person who doesn't love Ferrero Rochers? At least, we don't! And that's precisely the reason why we're going bonkers over Teddy Boy's Ferrero Rocher Golgappas. With puris stuffed with nutty and chocolaty Ferrero balls and served with a creamy filling, believe us, it has everything your taste buds crave for. Get your fill, for Teddy is an innovative Boy!
Where | Teddy Boy, N-4, Radial Road Number 1, Block N, CP
Butter Chicken Golgappas

Two food items Delhiites are crazy for - butter chicken and golgappas have joined hands at Cafe Dalal Street to blow our minds and tickle our taste buds. By giving Punjabi food a street-side flavour, they've won us over. The crisp fried puris served with warm gravy and dry spice-laced butter chicken is a combination your taste buds will never forget!
Where | Cafe Dalal Street, M 89, Outer Circle, CP
Modern Golgappas

Janpath Grill House serves their golgappas in a modern and a revamped way - with test tubes and droppers filled with refreshing mint and lemon water. The first look and bite of their golgappa is all it's going to take to get you smitten! Stuff them up guilt free, for they're hygienic, quirky, oh-so-refreshing and just what you need on a hot summer's day!
Where | Janpath Grill House, 48, Janpath, CP
Golgappa Shots

Infusing the perfect mix of tradition and innovation in every sense, Punjabi By Nature reflect their quirkiness through their unique international setup. And now they've lured us into having shots in ways we've never experienced before! Their golgappas dunked in alcohol will awaken your inner Punjabiness. So next time when your Punjabi nature kicks in, you know where to head to!
Where | Punjabi By Nature Quickie, 30-B, F Block, CP
Mango Golgappas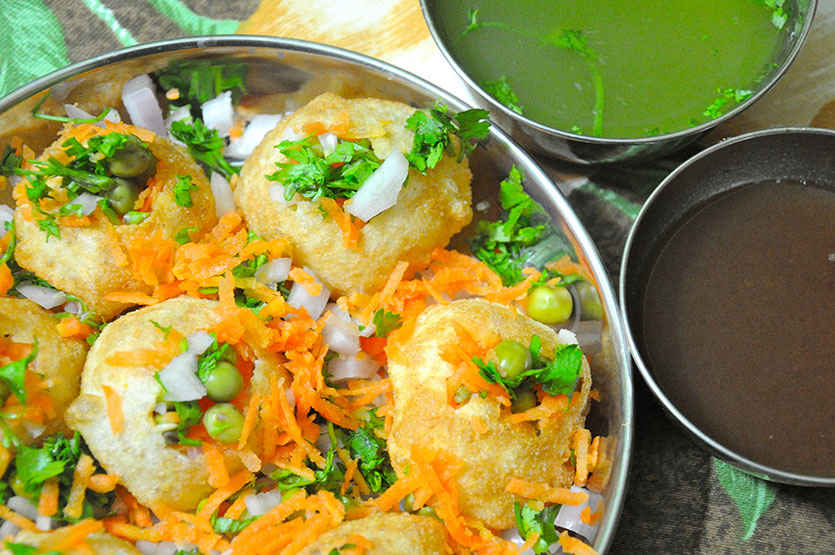 Yes, it's real and legit! Golgappas and mangoes. Two of our all time favourite eats have come together to make a whole new paradise. All thanks to Cafe Lota, a classy contemporary regional restaurant for being the harbinger of Mango Golgappas. Stuffed with delightful mango chunks and cream, these are the certified stairway to heaven! Gobble up to take your taste buds on a refreshing fruity ride.
Where | Cafe Lota, National Crafts Museum, Gate No. 2, Bhairon Marg, Pragati Maidan
Thai Corn Puchkas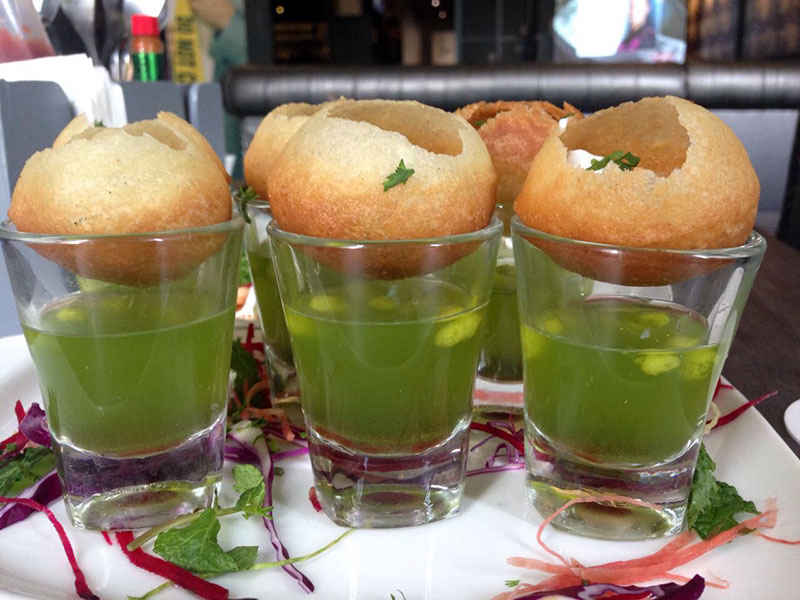 With numerous dishes dedicated to our favourite sitcoms, it seems like Entourage has brought all our fantasies to life. And as if this wasn't reason enough to love them, they came up with Thai Corn Puchas! This dish from their fusion menu is stuffed with boiled corns, parmesan cheese and served with traditional mint water. Salivating already? Head on over!
Where | Entourage Lounge, 22, Main Market, Defence Colony