Just when you thought that there wasn't a place where you could lose your head and go crazy gaming, we come up to tell you about Gaming Vegas, a gaming arcade in Logix City Centre. Say goodbye to the days when the most exciting part of your night was picking up a squeaky bird in the claw game machine, and picking up two of those meant your night was made. 
Gaming Vegas has upped the arcade game (literally) like you wouldn't believe- the sheer variety of games one can play here will leave your mind boggled, so thank God there is a card system. You buy a card filled with money and use it to play any number of games you want- if you run out of money, you can recharge your card. Games start at Rs. 20-30 a game, and in most games, you can win a number of tickets which you can later redeem to get your prize which includes stuffed minions, key chains, and the likes.
Have a look at what all Gaming Vegas has to offer:
The Pacman Section
This is an absolute treat for the 90s generations; in addition to multiple games related to Pacman, this section has the classic, Pacman gaming arcade, the original one before Pacman could be played on computers. Yes, the same one shown in the TV show friends, where Phoebe gifts Monica and Chandler, Pacman, and can't stop playing herself.
Star Wars Pod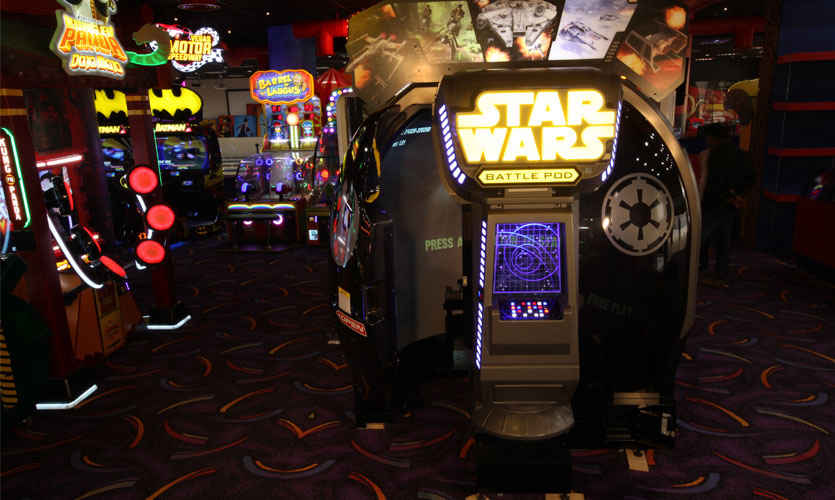 If we had to pick the coolest game in here, it would definitely be the Star Wars pod- just like the movies, you literally have to step in and sit inside a pod while there are curved 3D screens above you which makes you feel like you're part of an inter-galactic battle. You're supposed to steer and shoot, as you feel like you're circulating in outer space. Definitely worth it, this one.
The Kung Fu Panda Game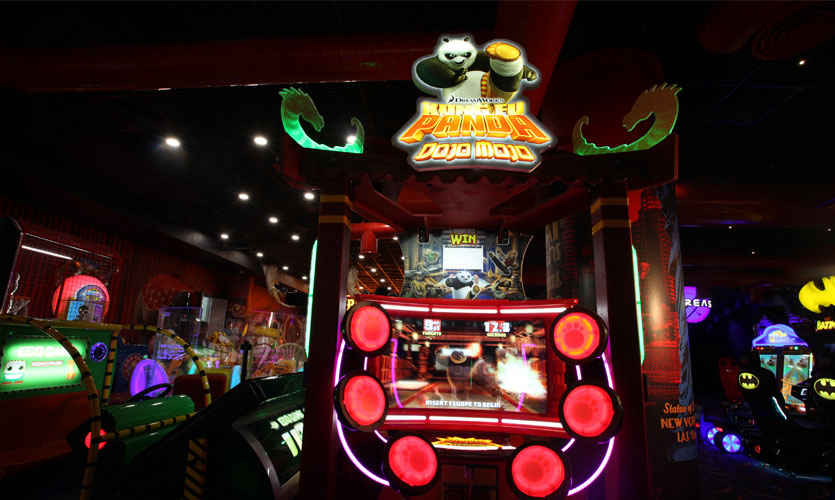 The Kung Fu Panda game was one of their coolest offerings, albeit for a younger audience - there are six hitting pads, three each on your right and left. As food appears on the screen, you're supposed to hit the respective pad to slash food in half. It's a very energetic and fun game, featuring one of our favorite animated characters!
Multi Puck Air Hockey
Bored of playing the usual single puck air hockey outside food courts? Gaming Vegas presents to you a multi-puck air hockey, as pucks fly out from every direction and you have to try and aim them in the goal. This can be played with even four players at one time so no taking turns now!
Bowling Alley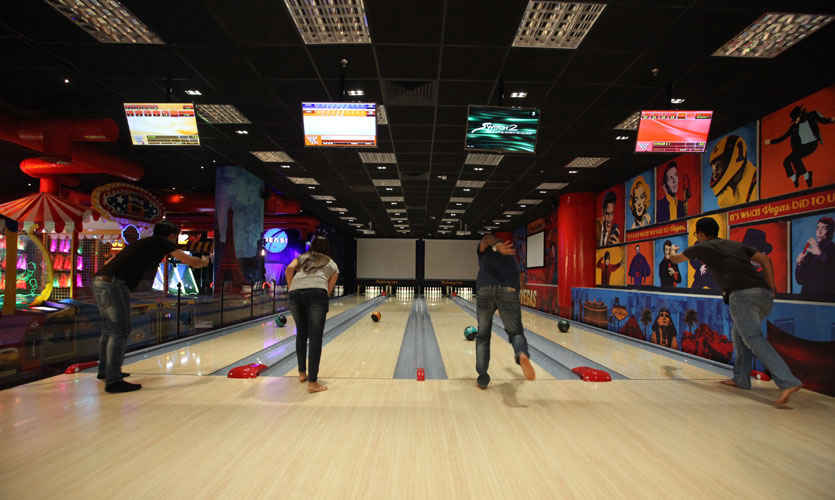 Gaming Vegas also features a four-lane bowling alley, at Rs. 200 a game with funky Mario themed music in the background (sometimes) and a Vegas-wall-of-fame next to it. You can get your food and drinks inside and have a good time, as they keep giving discounts on special days- on Marilyn Monroe's birthday, gaming was free all day for girls. In the Father's Day week, bowling is for half off for everyone.  There's a very cute bowling alley for little kids as well, which has railing at the edges so the ball has to hit the pins (chuckle, chuckle).
Head on over now to experience the fun- there are sand table for little kids, arcade games for middle schoolers and fantasy games for older people like us. They have heavy schemes and discounts, so go take your pick!
This article is written by Srishti. A graduate of literature from Lady Shri Ram College, Srishti's interests vary from writing on film, travel, politics and society. She takes life lessons every day, and her favorite subject to write on are people, as she believes that the world is going one way, and the people another!