Good music and awesome food - that's the combination everybody needs for spending some awesome sauce, quality time with friends and family. The clink of glasses and occasional laughter is what sums up a great lunch done here at Grub Capitol, Hudson Lane!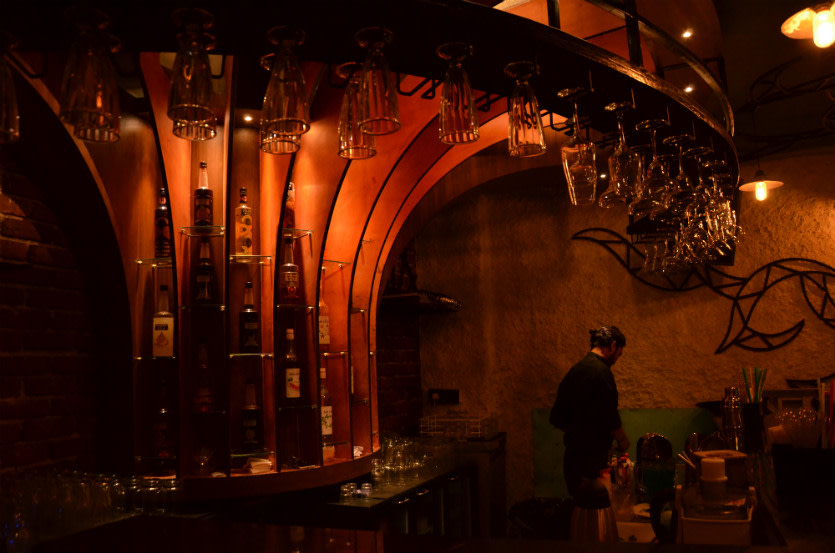 Grub Capitol is a relatively new lounge cum cafeteria at Hudson Lane, and in a lane full of cafeterias and lounges, Grub Capitol manages to attract passers-by because of its very distinct wall which has bicycles hung on it! How cool is that!? On the interiors, the cool mechanical master pieces which are gears set up as clocks look pretty fancy on the wall. The lights are fixed with little wooden barrels secured on the ceiling giving one all the wild west feels! 
Without further ado, let's dive into all the delicious yummies we tried at the Capitol!
1. Orange With Infused Basil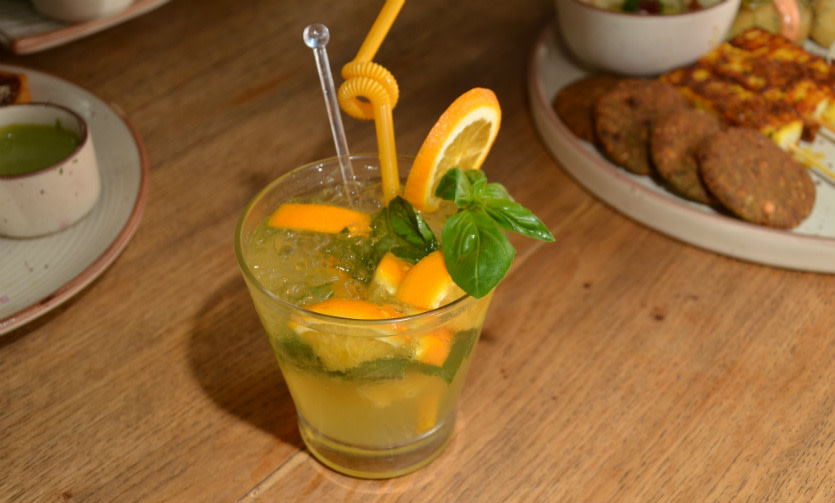 We were in awe when we looked at the mocktail. The beautiful orange and green combination looked awesome, and tasted even better! It was aptly sweet and the basil's distinct flavor added the punch, so we'd suggest you start off with this refreshing cooler when you land up here!
2. Green Apple Martini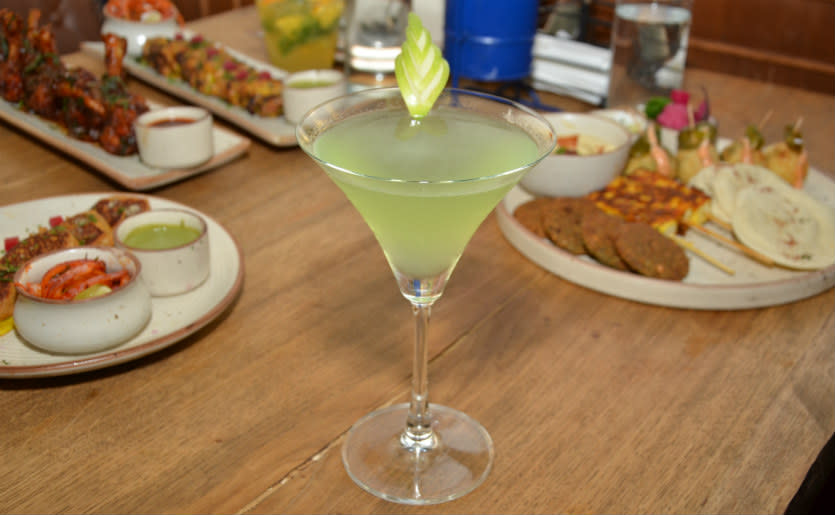 Their Green Apple Martini is perfect for the ones who like their drinks to be fruity and not too sweet. The best part about this drink was the fact that it nicely refreshes you, not to mention the fact that it was served with apple slices, which we loved!
3. Chicken Galauti Kebabs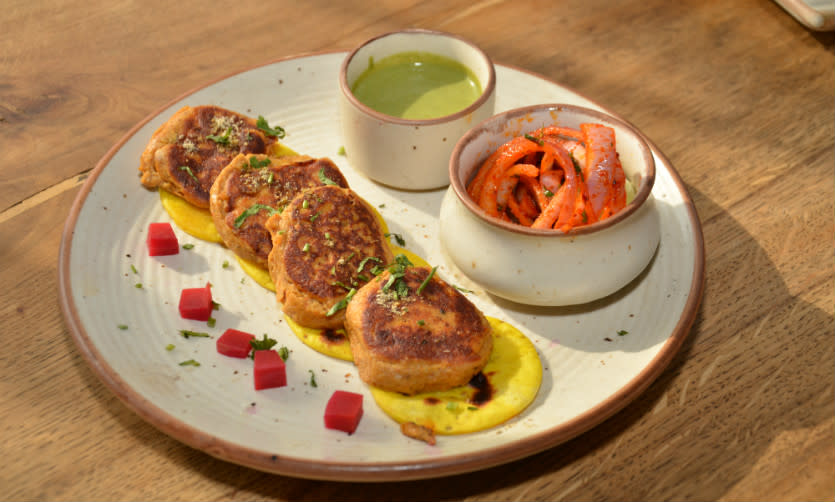 This was the first time we had Chicken Galauti Kebabs and whoa! One bite was enough to tell us this was worth all the calories. The kebabs were flawlessly cooked and the herbs and spices elevated those yummy-licious flavours! Marinated with herbs and mint, cumin and cilantro, this dish was spicy, tangy and lip smacking!
4. Chicken Lollies With Barbecue Sauce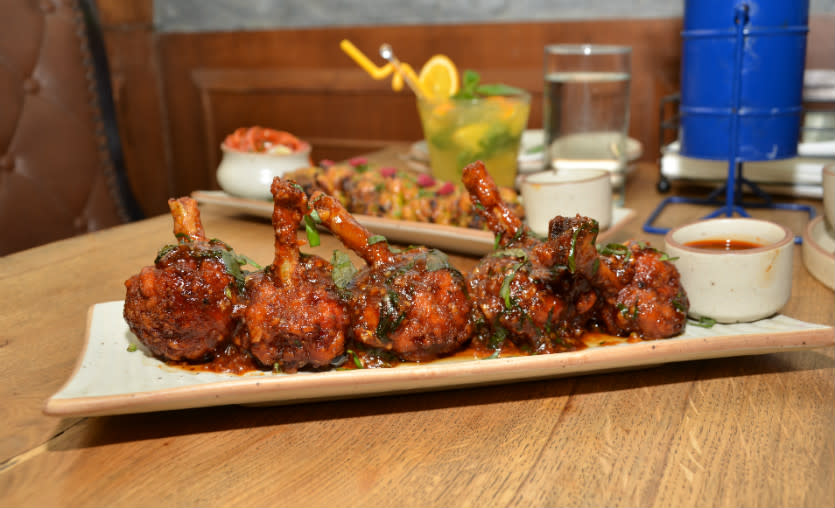 If you're at Grub Capitol and a non-vegetarian, this dish is a must try!! The lollipops are glazed with a barbecue sauce for some serious flavours that are just yum. The chicken is so succulent and flawlessly cooked that it falls apart at the slightest pull; the sticky rum based barbecue sauce elevated the whole dish to a heavenly level from where no one would wish to come back! 
5. Molten Mozzarella Stuffed Chicken Breast With Red Wine Jus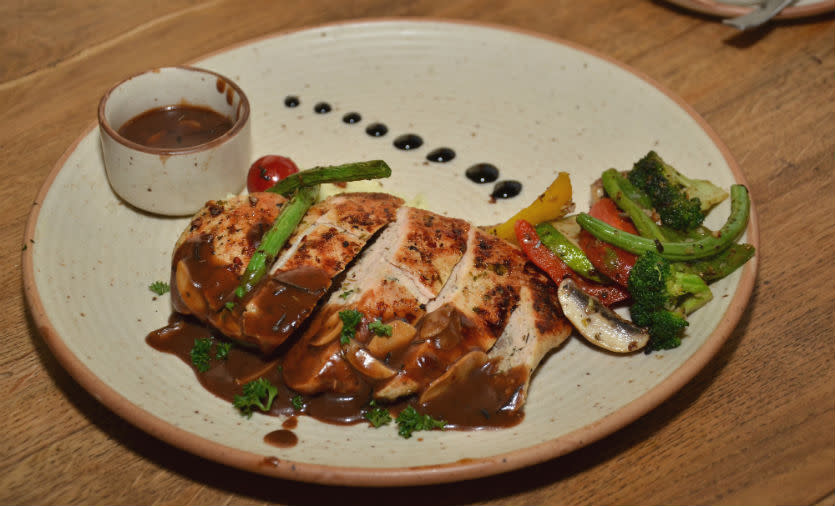 The chicken breast was moist and contrasting with the molten mozzarella stuffing, the flavours of the red wine jus really came along well. The red wine jus was aptly balanced and we could taste the mushrooms in it nicely. Served along with the roasted crunchy vegetable salad, this dish was filling and full of flavours and colours! 
6. Kalakand Cheesecake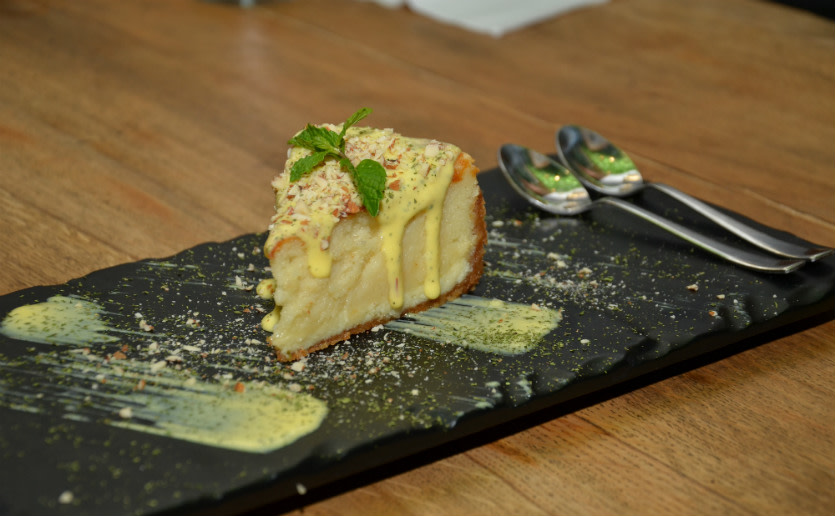 Their Kalakand Cheesecake was a toothsome take on a cheesecake and melted in our mouths as we devoured it. Delicious and satisfying to the core, their Kalakand Cheesecake was the most perfect end to a scrumptious meal, so thumbs up for this one Grub Capitol!
If you want to try a new place for some new food goals, Grub Capitol is the place for you to be at, so drop by with the squad after college y'all!
Where | 2531, 2nd Floor, Hudson Lane, GTB Nagar
Meal For Two | Rs 700
Here's Their FB Page | https://facebook.com/grubcapitol/