From LED Collars To Jackets, 8 Awesome Things To Score For Your Doggo @ Stars & Snowflakes
There aren't a lot of pet stores around that make you want to go back for the love and quality they infuse in their pet products, are there? Well, here's one we just came to know about and it's pretty awesome (we took our retriever along and she can totally vouch for it!). Here are some of the things they handily stock which aren't available that easily:
1. Easy To Clean Memory Foam Beds

They're one of the first manufacturers of pure 100% memory foam beds and mats for dogs in India! The memory foam in these beds is covered with a waterproof fabric which is then layered with a cotton-canvas cover that can be changed or washed super easily. That'll pretty much save an insane amount of hassle, won't it?!
Mats Priced At | Rs 2,850 - 6,750
Beds Priced At | Rs 3,495 - 8,850
2. Collars & Leashes Made By The Maasai Mara Tribe In Kenya

Need a unique and designer collar for your furry buddy? Their made-to-order collars and leashes are embroidered by the women of the Maasai Mara tribe in Kenya, Africa *WOAH*! Moreover, every fifth bead in each embroidery is embedded in the leather so that even if your doggo scratches the collar, the beads stay in place! How cool is that?
Collars Prices At | Rs 2,400 - 3,000
Leashes Priced At | Rs 3,300 - 3,500
3. Rainbow Parachute Cord Collars & Cotton Collars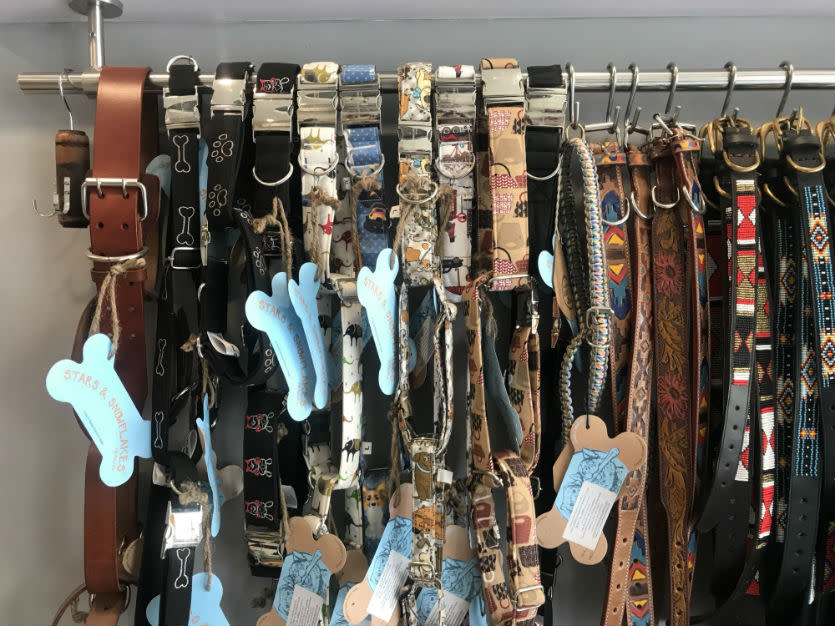 Don't stop your dogs from chewing up their collars and leashes! Stars and Snowflakes gets these awesome rainbow para-cord collars that are super tough as they come hand woven/knotted and contain cords used in parachuting activities!  
They also have cotton collars that Aastha (the owner) specially designed herself for dogs suffering from nylon allergies. Some sensitives pups can't wear nylon or leather collars, so these tough, washable ones are perfect for them!
Para-Cord Collars Priced At | Rs 1,695 onwards
Cotton Collars Priced At | Rs 775 onwards
4. Hand-Painted Leather & Jazzy LED Collars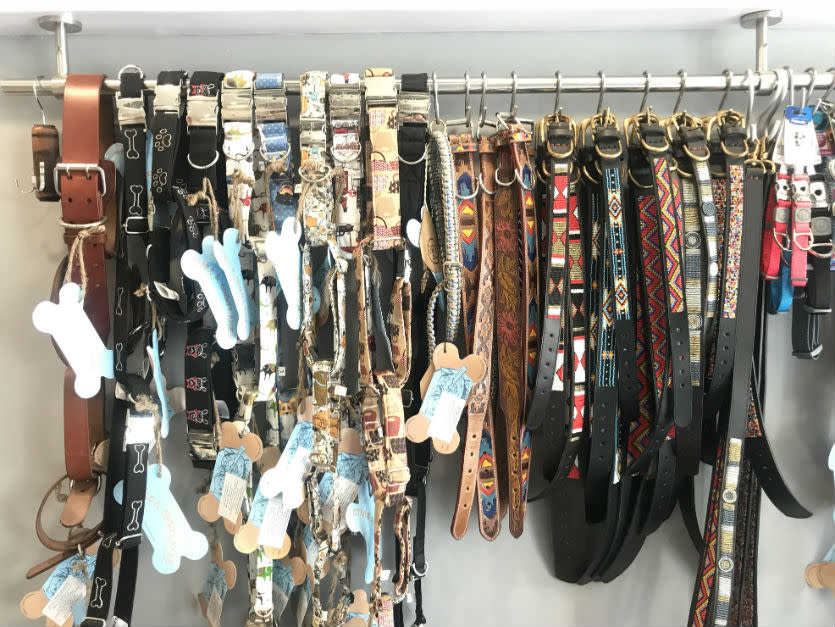 The array of collars this pet store stocks is really cool! They have these leather collars that are made from natural leather which is etched and carved with some beautiful geometric and floral designs by people who specialise in making horse saddles. 
They also have some super cool and jazzy rechargeable LED collars and harnesses that your four-legged friend would love to wear!
Leather Collars Priced At | Rs 1,495 Onwards
LED Collars Priced At | Rs 395 Onwards
5. Comfy Tees & Jackets To Keep Your Puppies Cosy

Their wide range of jackets and t-shirts have been designed by Aastha herself, who is an alumnus of NIFT. So, one can imagine how stylish these pooch apparels must be! They have waterproof jackets as well as those with cotton lining so that long time winter wear doesn't cause itchy skin issues for your pets.
Dog Tees Priced At | Rs 480 onwards
Jackets Priced At | Rs 950 onwards
6. Post-Operative Bodysuits For Recovering Doggos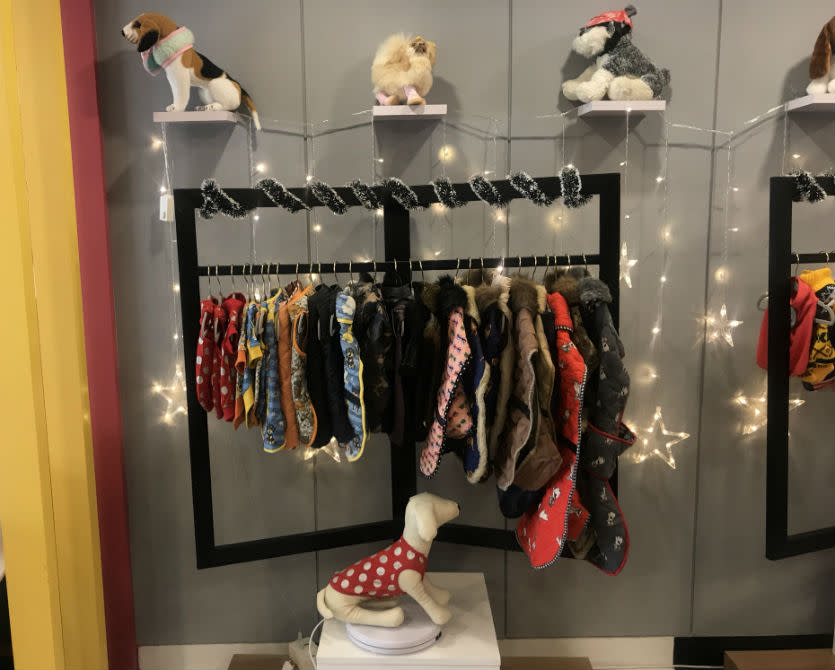 These suits by Kruuse Buster from Denmark are meant for puppies recovering from skin ailments, allergies, dogs with sutures or incontinence problems etc. Stars & Snowflakes is prolly the only store stocking these breathable post-surgery suits, so bookmark this place you guys!
Priced At | Rs 3,800 onwards
7. Homemade Biscuits Made With The Safest Ingredients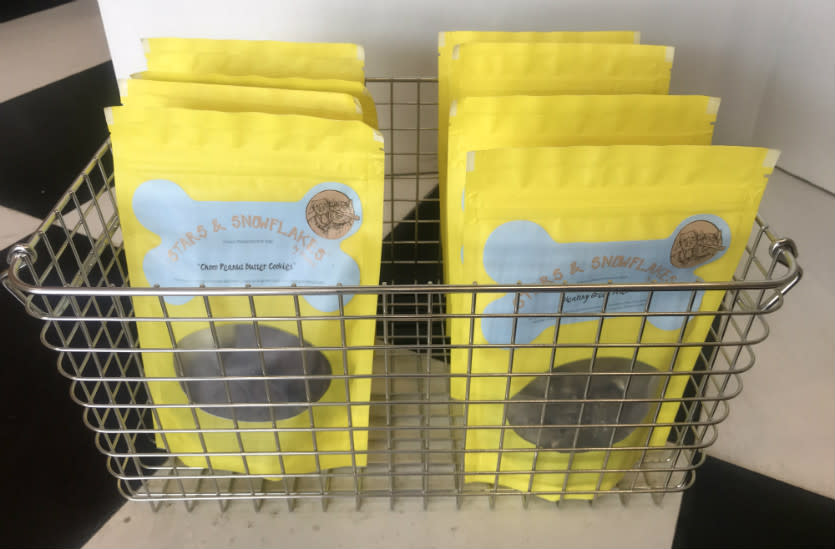 Aastha started baking her own dog biscuits when she realised that practically every treat bought for her three dogs contained ingredients that were unknown or harmful. So, after months of trials, she came up with 7 recipes that suit dogs of all ages and types.
She bakes them in her own kitchen where she tastes every batch she makes! It takes her up to 10 hours to bake a 2 kilo batch of biscuits and she's more than happy to customise biscuits for dogs with special dietary needs!
Priced At | Rs 475 For 100 gms (Sold By Weight)
8. Tent Houses For Your Playful Pooches To Hide In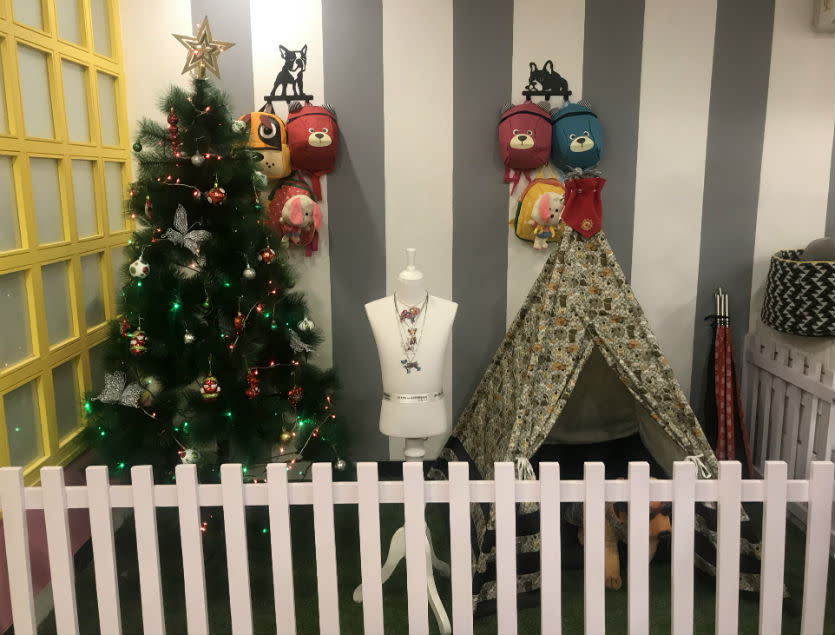 Give your pet the perfect place to hide or sulk! They make these tent houses for dogs which come with a memory foam mat and are made from the toughest canvas. They come in 8 different fabrics and 2 sizes to accommodate canines of all shapes and sizes!
Priced At | Rs 7,360 - 8,995
Stars and Snowflakes is a pet store with an aim – to provide natural and comfortable solutions for all kinds of doggy problems in a fun way. Everything created by them is done keeping in mind the best interest of pets, and it shows in the behaviour of the owner, Aastha, who got along amazingly with our pooch from the moment we stepped in!
Where | Dhan Mill Compound, SSN Marg, 100 Feet Road, Chattarpur
Here's Their FB Page | https://www.facebook.com/StarsandSnowflakesByAastha/
Follow Them On Instagram | https://www.instagram.com/starsandsnowflakesbyaastha/
Call Them Up To Know More | +91 8368 762 910
Browse Through Their Website | http://www.starsandsnowflakesbyaastha.com/
Browse Through More Images