Delhi
6 Best Cafes In Majnu Ka Tilla From Ama To Kham's, You All Need To Check Out!
Disclaimer: Bearing in mind the current health crisis befalling the city and the world at large, we're tweaking our content policy and recommendations. Stay positive, keep hygiene levels up and don't fall prey to panic and misinformation.
Established in 1950, Majnu Ka Tilla, also known as the New Aruna Nagar Colony, is best known for authentic Tibetan delicacies you can pretty much find every time you turn a corner. For all you explorers out there, we've curated the best cafes dotting MKT. And oh, fair warning - non vegetarian dishes aren't served on Wednesdays in all of Majnu Ka Tilla, so plan your excursions accordingly!
1. Ama Cafe

One of the most famous eating joints at Majnu Ka Tilla, Ama Cafe welcomes everyone with its wonderful ambience and homely food. The place has more than 20 drinks to choose from *crazy, right?* served with some exotic breads and baked goodies. 
Their Tibetan Butter Salt Tea comes highly recommended so defo order a cuppa of this delight for sure!
Location | Ama Cafe - House No. 6
Meal For Two | Rs 300
Check Out Their FB Page | https://www.facebook.com/AmaCafeMT/
2. Dolma Restaurant 

One of the first ever guest houses-cum-restaurants in Majnu Ka Tilla, Dolma Restaurant is famous for its cosy ambience and pocket-friendly prices. Serving authentic Tibetan cuisines since the 1980s, the place can be visited for some an amazing meal. Order their Shredded Buff with oyster sauce and a cup of Tibetan Butter Tea and you're sorted!
Location | Dolma Restaurant - House No. 1, Block 10
Meal For Two | Rs 500
Check Out Their FB Page | https://www.facebook.com/DolmaRestaurantDelhi/
3. Tee Dee Restaurant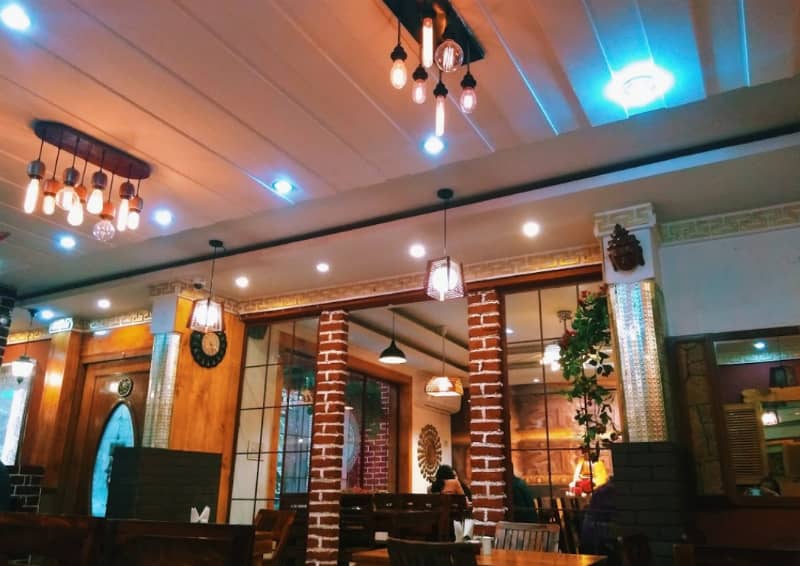 Picture Credits:  Jayesh Kerketta
A small cozy cafe in MKT, this place is a hidden gem just waiting to be discovered. Eating a hearty breakfast here is exactly what you need to make your mornings interesting. A visit to this place would be incomplete without trying their hot seller dishes - Shabalay and Thentuk. Come drop by!
Location | Tee Dee - 32, Aruna Nagar
Meal For Two | Rs 500 
4. Yamuna Cafe 

A cafe overlooking the Yamuna river? Pretty please! Sitting on comfy chairs, feasting on their scrumptious dishes, sipping on some affordable cocktails, and a view to die for - this cafe offers all this and so much more. And you should sample a slice of their Vodka Prawn Pizza for some boozy delight!
Location | Yamuna Cafe - D-34, East House
Meal For Two | Rs 300
Check Out Their FB Page | https://www.facebook.com/theyamunacafe/
5. Kham Coffee House

A perfect escape from the hustle bustle of the city, Kham Coffee House is a quant lil cafe serving freshly baked doughnuts and muffins along with freshly brewed coffees. With a good collection of books here, unleash the bookworm in you for an amazing reading session while those mellow lights shine upon you here!
Location | Kham Coffee House - 158, Tibet Colony
Meal For Two | Rs 400
Check Out Their FB Page | https://www.facebook.com/khamcoffeehouse/
6. Kori's Cafe

Finding the perfect place to savour some Korean snacks? Without a second thought, simply head straight to Kori Cafe. With amazing Korean delicacies and mocktails on their menu, this place is surely gonna spoil you for choice. 
The place has colourful walls and fancy interiors and your camera is so gonna love it! Do not hesitate to try their famous Korean thali called Dosirak when you land up here.
Location | Kori's Cafe - Tsampa Guest House, Aruna Nagar
Meal For Two | Rs 1,000
Check Out Their FB Page | https://www.facebook.com/korismt/
Now that we've given you your hood guide, which ones are you planning to make a pit stop at?!