Fried Chicken Pizza Momos & Schezwan Pasta: Our Food Trail Of Netaji Subhash Place!
While we all love food that treats our taste buds, we also relish places that don't burn a hole in our pockets. So to fulfil our two basic needs, we took a foodie tour of the much loved Netaji Subhash Place (NSP). Even though there are majorly offices and corporate buildings aplenty here, the food quotient is also high! And a lot of small joints have come up with specialties of their own.
With pasta, momos, monster shakes and loads more, we thoroughly indulged our love for food here. So without further ado, let's take you on a foodie tour of NSP!
Schezwan Pasta @ Shake Eat Up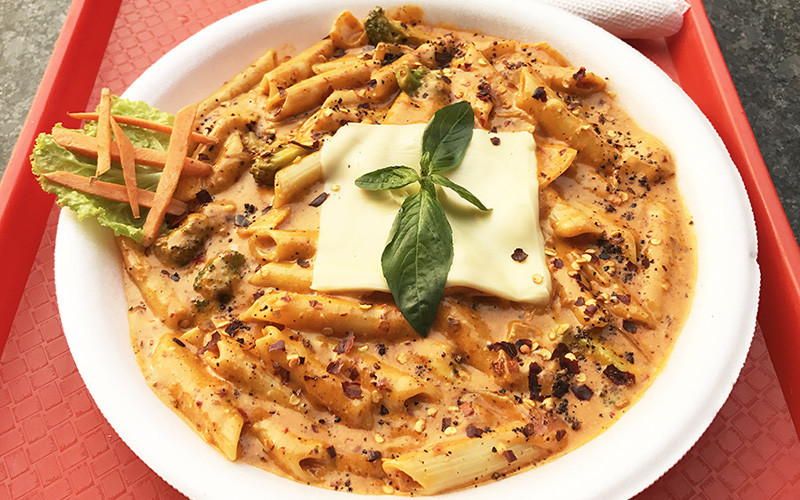 To start off our food trail, we chose Delhi's beloved pasta! With a creamy, spicy and cheesy sauce, this penne pasta couldn't have been better. Onions, mushrooms and broccoli, the perfect combination for any pasta and the flavoursome sauce had our mouth salivating. Plus, the cheese slice on top was what made it even more delicious - nicely done, Shake Eat Up!
Price | Rs 109
Location | G-7, Pearls Best Heights-II, Near Max Hospital
Turtle Sundae @ Shake Eat Up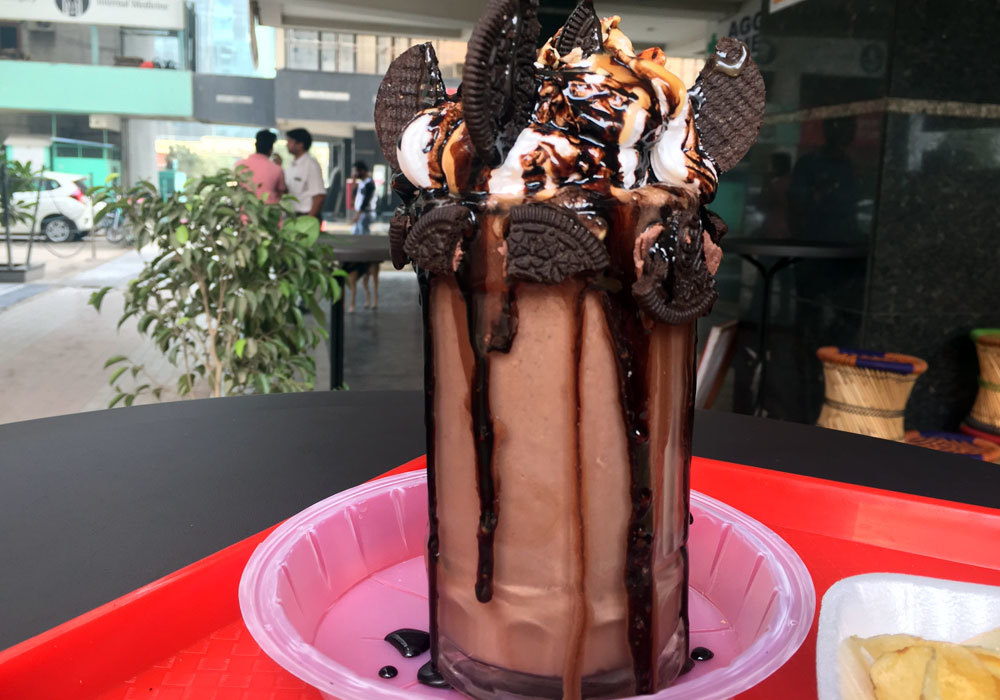 And since the pasta was fairly spicy, to cool out the spiciness, their Turtle Sundae came to our rescue! A thick, yet smooth blend of milk and ice cream with Oreos, chocolate and caramel with whipped cream, it was one hell of a monster shake. And to top it off, the crushed nuts cranked it up a big notch. Slurp slurp! It's one of the cheapest yet delectable shakes we've had!
Price | Rs 149
Location | G-7, Pearls Best Heights-II, Near Max Hospital
Chilli Paneer Maggi with Butter @ Hot Spot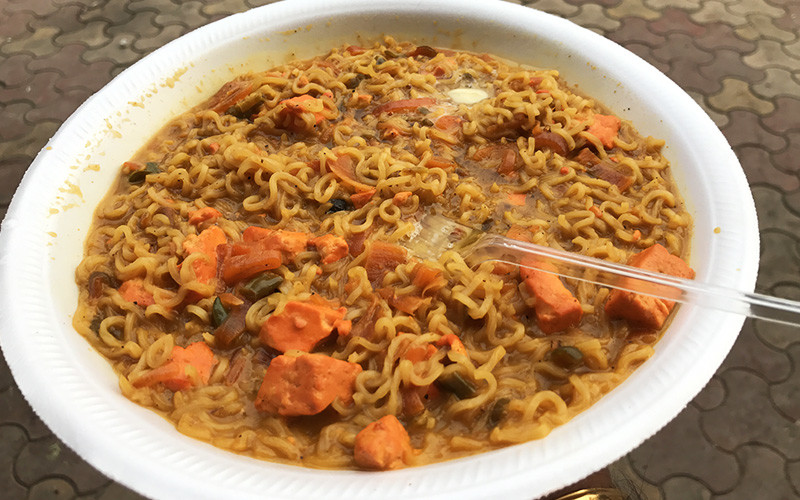 I guess Maggi is the staple food for all students, isn't it? And guess what, Hot Spot is just the place for it! The Chilli Paneer Maggi had a prominent taste of - of course - chilli paneer, with chunks of capsicums and onions thrown in. This is exactly how chilli paneer is supposed to be and oh, the Maggi! Though the butter melts away, its taste lingers on. And while we tried their Chilli Paneer Maggi, they also have other variants of Maggi to choose from for y'all!
Price | Rs 80
Location | G-49, Aggarwal Millenium, Tower 1
Fried Chicken Pizza Momos @ Mogambo Khush Hua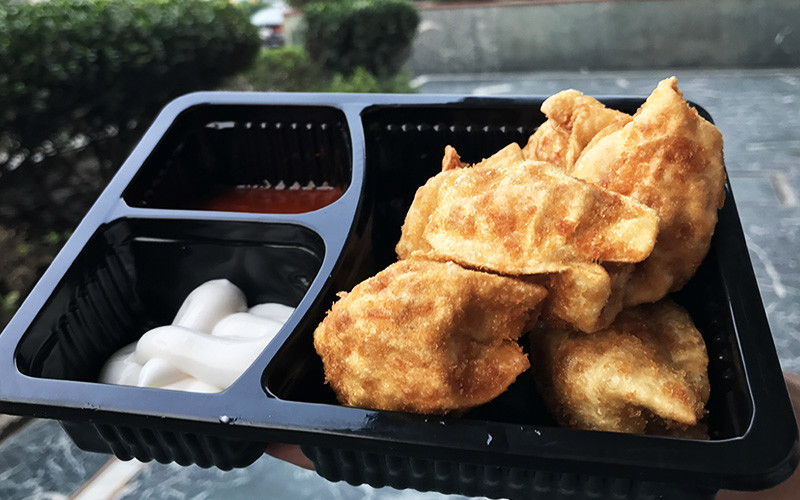 Minced chicken perfectly mixed with capsicum, onion, mozzarella and liquid cheese and tomato ketchup - we really don't need much else! We never thought that momos could be that crunchy! And the spicy salsa dip was the delish cherry on the cake. What else would one want if you can get pizza and momos in just one dish? And we don't know about Mogambo, but we were definitely happy!
Price | Rs 150
Location | G-45, Aggarwal Cyber Plaza
Falafel Wrap @ UFO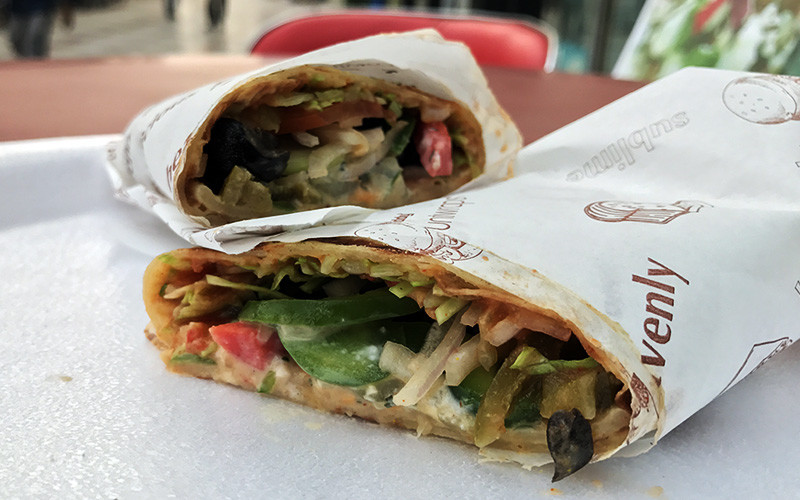 Us foodies are all aware that Middle Eastern food isn't supposed to be spicy, but quite a few places are lost on that concept. Thankfully, UFO keeps up with the Middle Eastern culture and prepares the best Falafel Wraps ever! A great amalgam of flavours in the falafel and the freshly chopped veggies like tomatoes, cucumber, lettuce and not to forget the mint, chilli and zaatar sauces gave it quite a taste, and it surely has our heart! Go try.
Price | Rs 110
Location | G-1, Best Sky Tower
UFO Lemonade @ UFO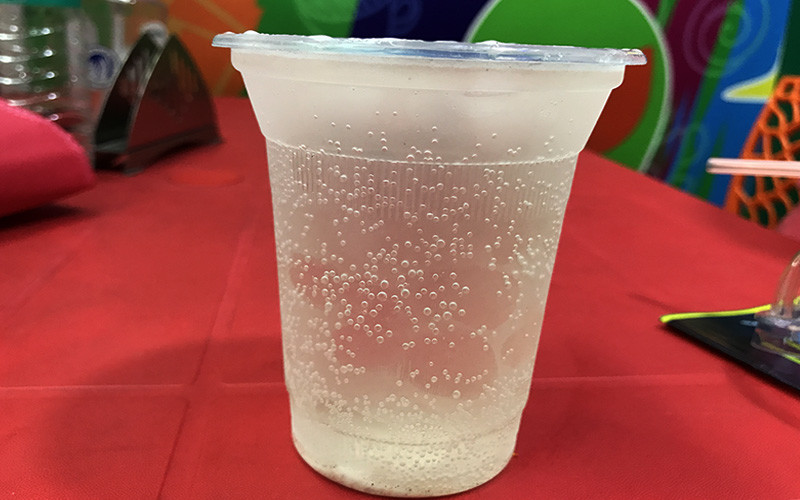 And we accompanied our lonely wrap with the potent, popular UFO Lemonade. A chilled and perfectly sweet and salty lemonade, this tall glass was just so refreshing! And Rs 40 for such a cooling drink is something that piques our interest even more. Go ahead and cool off with this yummy (and cheap) cooler, peeps!
Price | Rs 40
Location | G-1, Best Sky Tower
Chilli Chaap Grill @ Sandwich King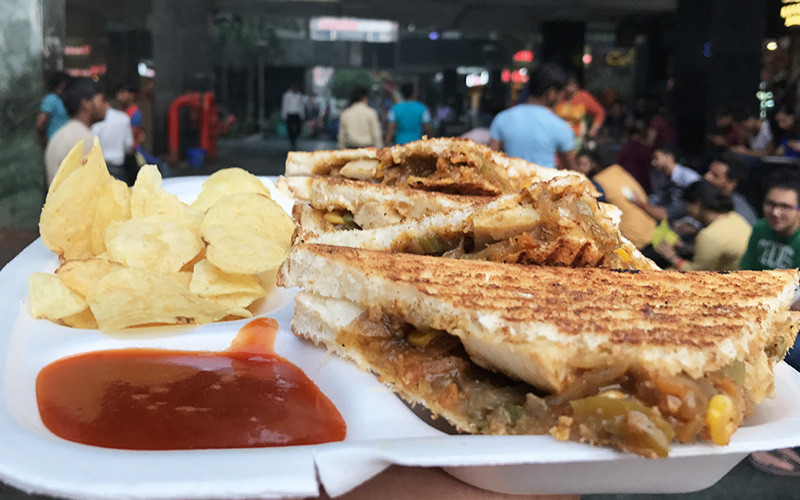 Chunks of chaap mixed with chilli paneer gravy (yum yum!) and grilled with butter is what makes this sandwich the undisputed king! Giving a bland chaap such a twist, this is what the Chilli Chaap Grill Sandwich tastes like. Served with mayonnaise and ketchup, we savoured this spicy sandwich and the lingering taste of the chilli paneer gravy!
Price | Rs 75
Location | G-30, Aggarwal Millenium Tower
NSP is turning into such a foodie hub of late. So what are you waiting for Delhi? Go on and try out these places for the best food!