Freshness in a Bottle | These Are The Best Cold Pressed Juice Options in Delhi
Delhiites are reaching out for these 'health shots' more than ever and with a wide variety of pressed juices, these 'health in a bottle' potions are all the rage. They are better than tetra-packs and blended juices because pressed juices are extracted using hydraulic pressure and not by blending or grinding and the nutritional content therefore remains intact. Read on as we list down some of the best cold-pressed juices available in Delhi just for you.
Juice Up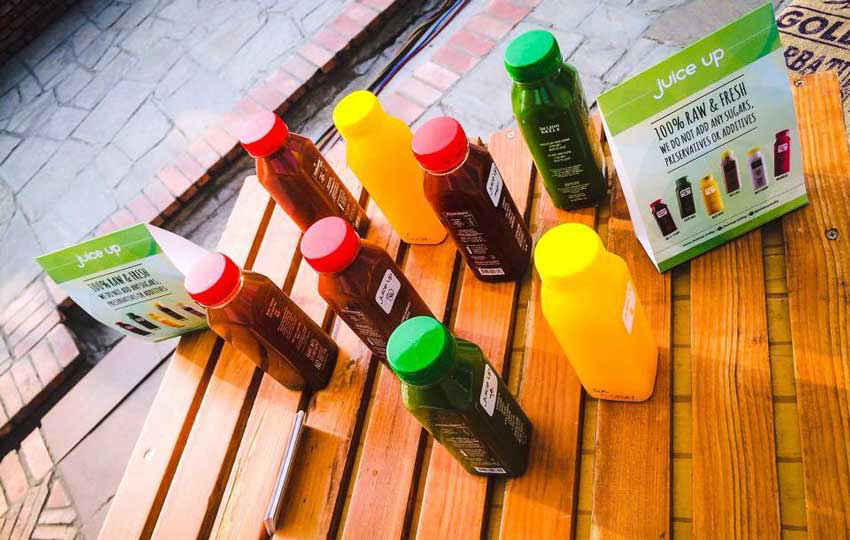 Along with a wide choice of about 30 juices, Juice Up is extremely affordable and convenient. It offers a concoction of various healthy ingredients including nuts and honey. Not just that, their monthly subscription is for just Rs 3,000. Beat that! You can totally spoil yourself with the choice of flavours here and never go wrong. A 300ml bottle starts at Rs 125.
Order Online Here | http://www.juiceup.today/juice.php
RawKing

They have cleanse plans that include an Advanced Cleanse, a Standard Cleanse, a Cleanse Commitment and a Semi Cleanse. They also have some of the best named juices if we may say so (Samurai, Ninja, Gladiator, Olympian and Midas). The best part is that they also offer 100% Vegan and 100% Gluten-free juices. You can be rest assured and give your body a health kick with these. A 300ml bottle starts at Rs 150.
Order Online Here | http://www.rawking.in/
RAW Pressery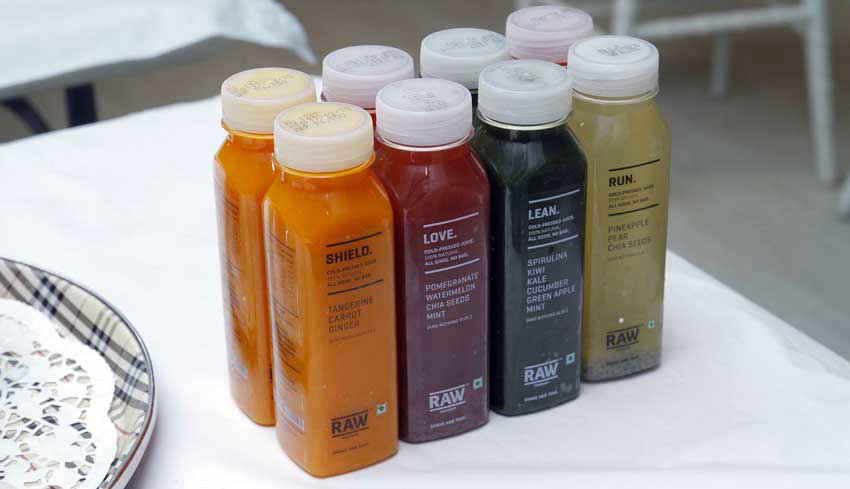 They have a wide variety of juices varying from the refreshing watermelon, mint and chia-seeds concoction of antioxidants to the protein rich juices consisting of cucumbers, kale and green apples. RAW Pressery juices are available in monthly packages, and a cleanse package, where you get a pack of six, with a preordained time of drinking, since it is supposed to replace solid food. So suit yourself and get on a health hike! A 250ml bottle starts at Rs 150
Order Online Here | http://www.rawpressery.com/
JustPressed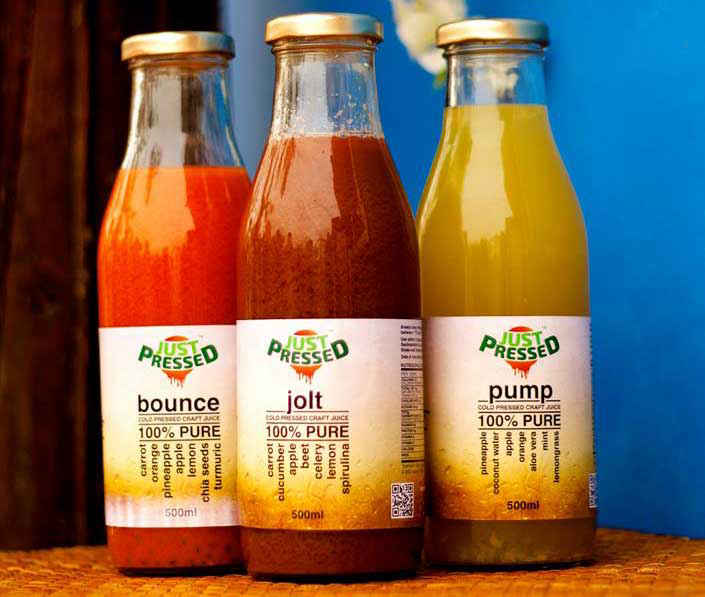 These are 'Cold-Pressed Craft Juices' that claim to be 100% pure and natural with absolutely no additives. They are hand crafted to maintain a healthy balance of the mind, body and spirit. Their range of juices have delicate and exceptional flavour notes with top-notch fruits and vegetables. You should totally give their 1-Day or 3-Day cleanse a shot. A 300ml bottle starts at Rs 175.
Order Online Here | www.justpressed.in
ANTIDOTE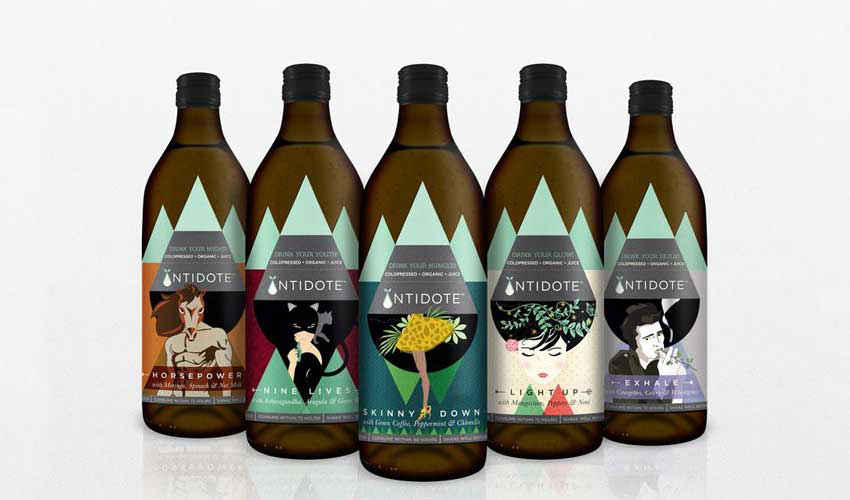 "Don't drown your indulgences, drink your ANTIDOTE". These are the words Nadia Singh Bahl and Carol Singh, founders of the new cold-pressed juice brand Antidote want you to swear by. "With juices, you're giving your digestive system a break," and with an option to customise a cleanse according to your needs, you can create your own Antidote. Even if you're diabetic or have heart issues, you can let them know and they'll customise it for you. For the cleansing programme (four bottles of 250ml each) is for Rs 850 - Rs 950.
Order Online Here | http://www.antidote.co.in/
Salad Days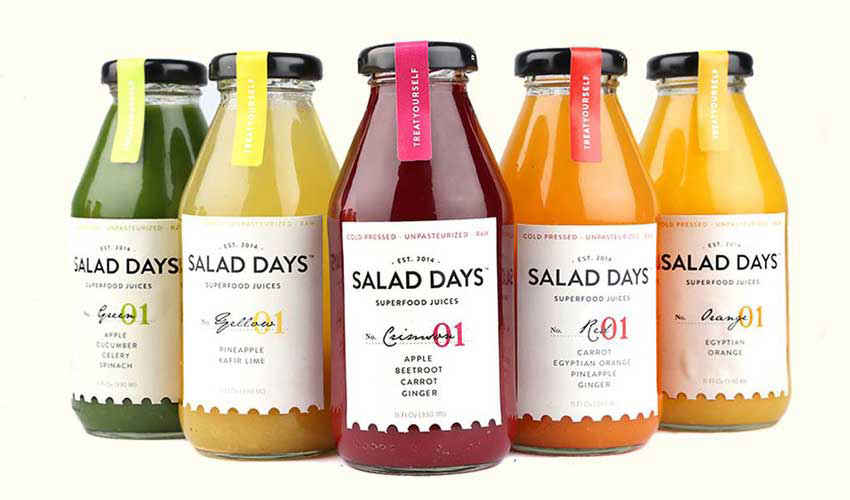 Varun Madan and Kunal Gangwani are introducing a range of 100% pure, raw and unpasteurised juices, detoxing with the help of cold-pressed raw juice helps to get rid of bloating and cleanses your system. These juices and the fresh ingredients nourish and energise you and also help you lose weight. A bottle of cold-pressed juice costs Rs 149 & salads start at Rs 199.
Order Online Here | www.saladdays.co