Fresh Beer For Rs 49, Puchka Shots, Beer Pong & TONS More @ The Molecule Oktoberfest!
October is here and so what if you're not in Germany? Who says you can't enjoy your own kind of Oktoberfest, right here in Gurgaon! Yes, that's right, Molecule Air Bar in GTown's Sector 29 has its own Oktoberfest currently going on and it's called Octobeer Fest. We were promised cheap, fresh and chilled beer, live music and tons of fun and that's exactly what we got!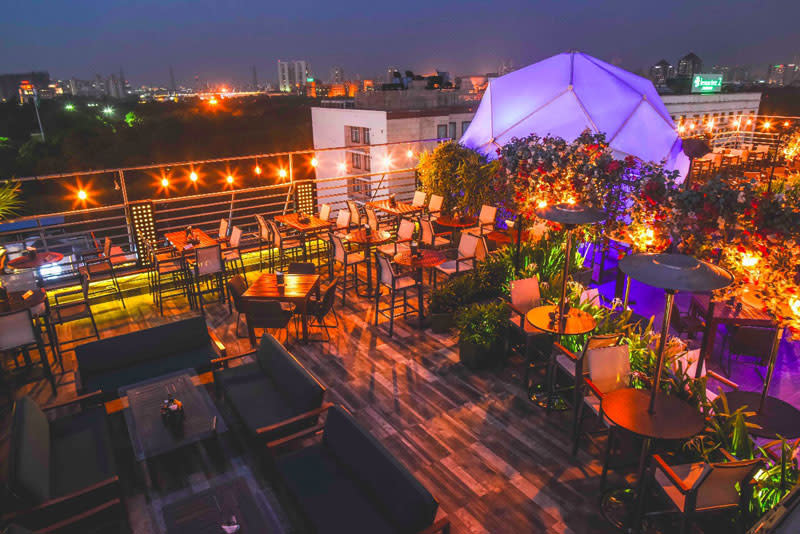 We rushed over as soon as we got to know and here's everything we chugged and gobbled up:
Premium Beer Marinated Onion Rings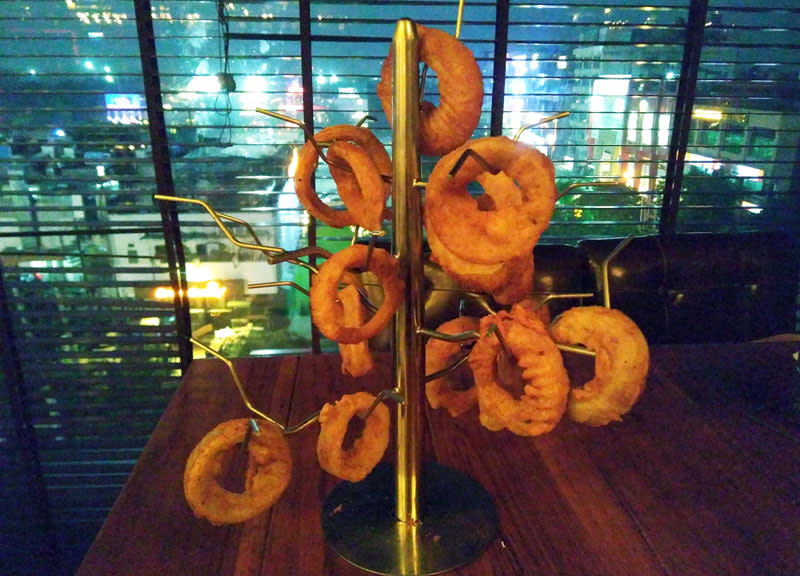 Their cute AF onion ring tree is the perfect starter, and a rather well-presented one as well. With each ring hung on a branch of a 'tree', these addictive little things were gobbled up in a jiffy! The tangy masala generously sprinkled over them was lip-smacking and the dip did a great job on the side. All in all, this was the perfect start to the evening!
Price | Rs 235
Fresh Beer For 49 Bucks! *Hurry*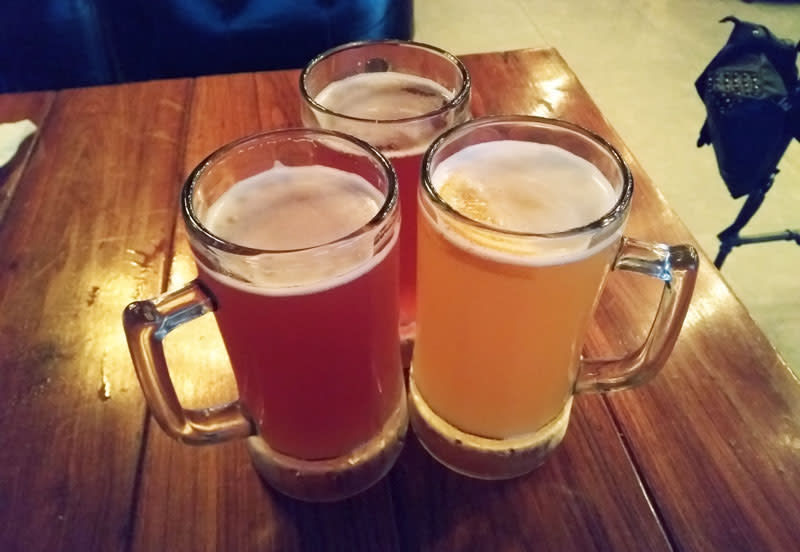 Everyone who is regular friends with cold brews knows that a mug under 50 bucks is simply impossible, but Molecule's changed that for a few days and you can enjoy their deliciously brewed beer for Rs 49 (plus taxes) per mug! *Woohoo* If that isn't reason enough for you scurry over super soon, then what is?!
Price | Rs 49
Roast Chicken Wings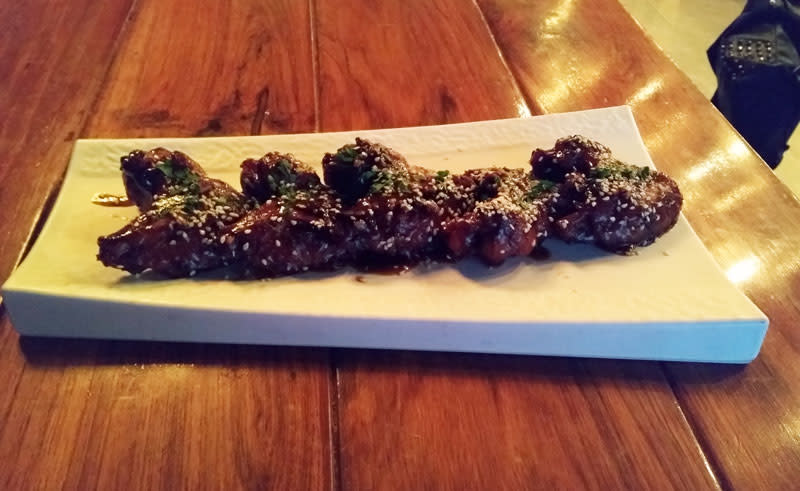 Chicken wings cooked in an absolutely delectable barbecue sauce, this one's a must-have for each one of you who's planning to head on over. The succulent and juicy chicken made sure we didn't hold ourselves back from getting our hands dirty! These chicken wings were literally finger-licking-good. We don't mind going back JUST for this!
Price | Rs 405
Wheat Beer Batter Fish N Chips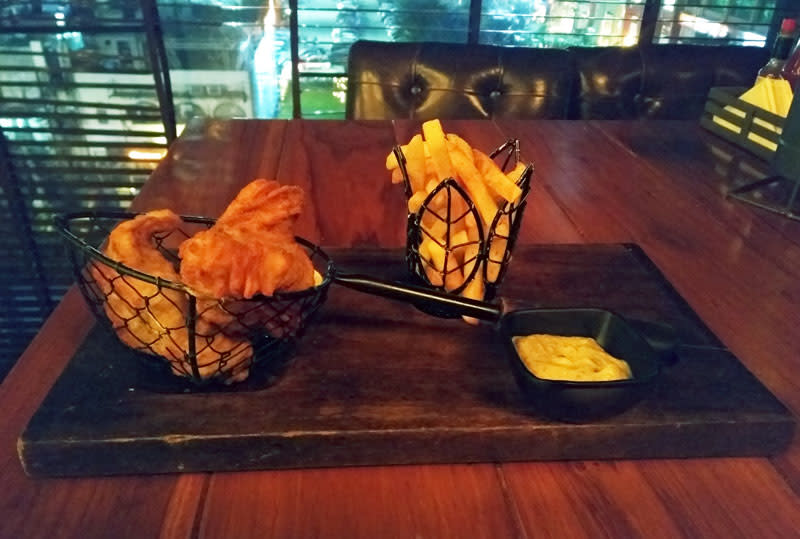 Beer is best enjoyed with the good ol' fish and chips, right? That's exactly why we couldn't leave without ordering these. The perfect blend of crisp on the outside yet melt-in-your-mouth softness on the inside - these were just that and we loved every bit! While you continue chugging your beer, this side dish is the best thing you can munch on.
Price | Rs 495
Molecular Puchka Shots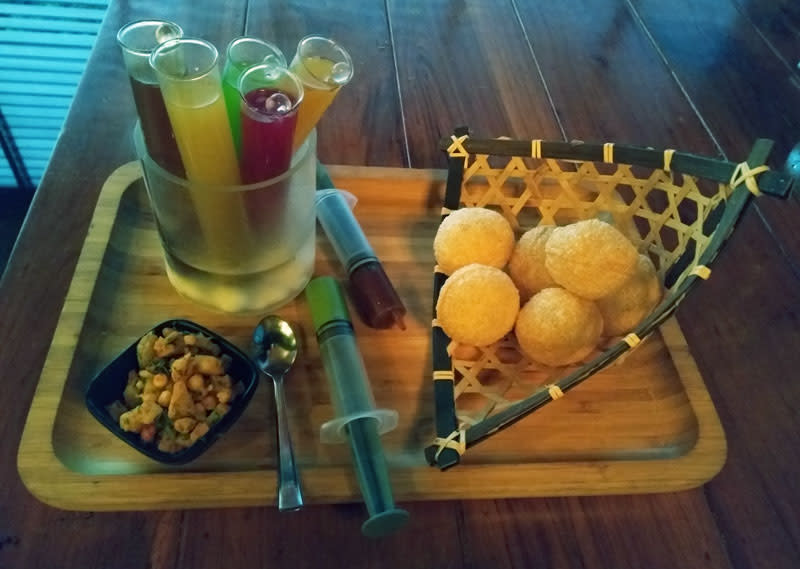 Molecule's take on the regular-joe gol gappe got us to become absolute fans! Perfectly round puchkas, chatpate potatoes for the filling, adorable chutney syringes and five kinds of gol gappa water poured in test tubes, this dish got us quite busy making our unique combos with the syringes and chutneys. Yum yum!
Price | Rs 225
Re-De Constructed Tokri Chaat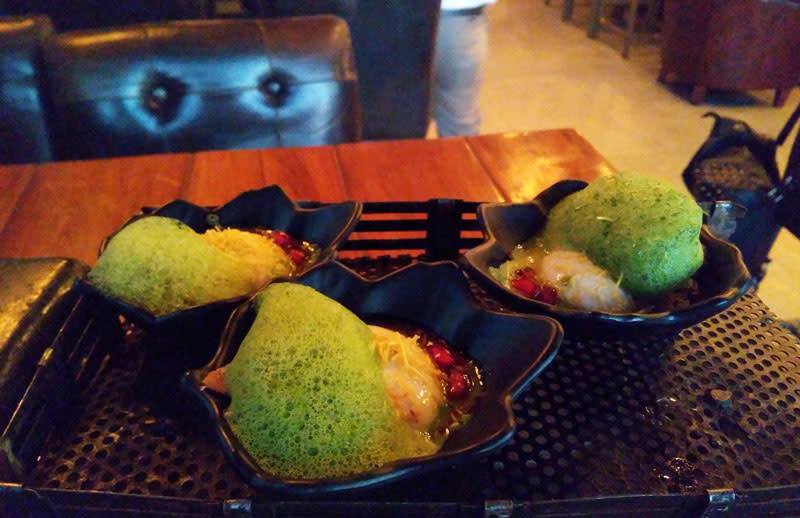 A completely mysterious version of the tokri chaat, we really couldn't understand how stuffing it whole into our mouths would give us the satisfaction we get after a scrumptious bite of chaat. But wait, we were in for a great surprise because this oyster-like bowl that holds the mixture you're suspicious of actually turns out to be ah-mazingly satiating! Go try this one when you're here, peeps!
Price | Rs 625
Fire On Ice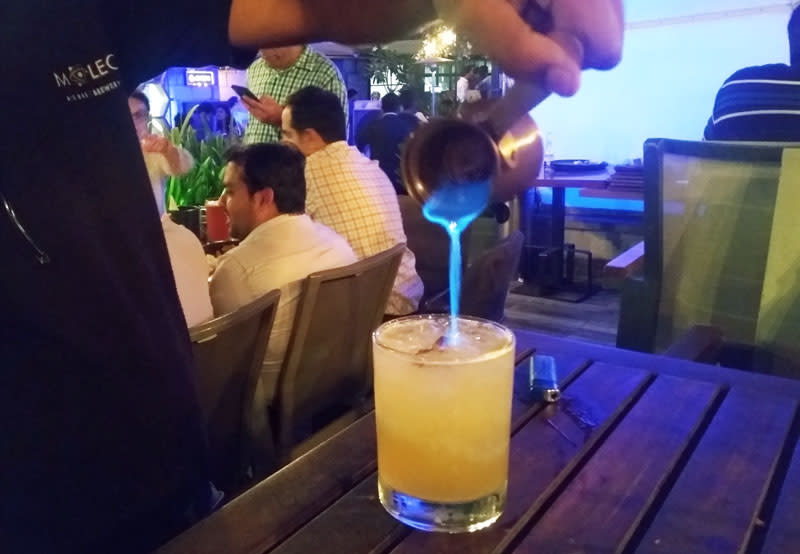 Of course we didn't put a full stop to the beer, but we were a little curious to try this unique drink. This cocktail is extremely refreshing and comes accompanied with theatrics you'd love! Before you take a sip, the server will pour some 'fire' into your glass full of ice and then your drink will be ready to be relished. Fire On Ice is what it's called and that's exactly what it is *starry eyed*!
Price | Rs 345
On top of all the delicious cocktails and beer that were being handed around, there was also a live band that'll be performing here every evening during the Octobeer Fest and we think they definitely lighten the mood and make everyone tap their feet the instant they take the stage. Moreover, there are beer games you can enjoy with your friends here as well - there was  foosball that everyone loves and so we waited our turn to get the table and played to our heart's content.
Then there's beer pong that we saw quite a number of groups enjoying! This game was really getting people into a competitive mood, making everything damn lively! We completely forgot about being sad about not being in Germany! Also, there's a beer chugging game that you could play with your other beer-chugging buddies.
All in all, we loved the vibe here and would totally recommend you guys head on over before the event comes to an end! The food is amazing, the beer is cheap and delicious, there are a number of fun games going on, the music is great and the décor of this place will make you fall in love with it! Seeya there then?!
P.S. - They're having an awesome sundowner today over at Molecule and you GOTTA head on over, peeps!
On Till | Sunday, 8th October
Where | Molecule, Gurgaon - SCO-53, 4th Floor, Sector 29, Gurgaon
Here's Their FB Page | https://www.facebook.com/Moleculeggn/
Call Them | +91 8826 677 705