Freak Shakes, Waffles & Burgers: Most Overloaded, Monstrous & Freak-ish Dishes To Try In Delhi!
Picture Credits: delhicravings 
There are those who love food, and then there are those who can't get enough of it! If you belong to the latter category, we've brought you a list of the most overloaded, monstrous dishes to try out in Delhi, that'll make it extremely difficult to go back to their ordinary versions! These larger-than-life delicacies will have you pigging out on their crazy combinations and never-ending servings!   
1. Freak Waffles 
The newest, yummiest trend in the foodie scene in Delhi, freak waffles go one step above the ordinary waffle, delivering the perfect heavenly experience - and why wouldn't they? What could possibly go wrong with overloaded waffles (except that there is never enough of it!)? If you're already drooling, here's a couple of awesome places offering this sinful delicacy! 
Woodbox Cafe 

They deserve all the love they can get for introducing this crazy dish in town! And since it's their own creative concoction, they seem to get the mix right every time, even with the loads of toppings that go on it, including chocolate sauce, chocolate donut, Oreos, a Snickers bar, ice cream and more! 
Locations | Satya Niketan & 2521, Hudson Lane 
Check Out Their FB Page | https://www.facebook.com/woodboxcafe
Waffee

This monstrous waffle called the Ferrero Pyramid Bubble Waffle is all out crazy! Just the look of it will make you hungry for sure. It's got a checkered waffle bed on the bottom, topped with ice cream, bubble waffles, strawberry cooli, a Ferrero Rocher and some sprinkles! WOAH!
Location | C 206, Pocket A, Bhagat Singh Marg, Phase 2, Vivek Vihar 
2. Freak Shakes 
Freak waffles aren't the only thing that look heavenly, and taste even more so. Delhiites have found foodie paradise in freak shakes, which may look like shakes, but are entire desserts in themselves! These fabulous-looking shakes are meant only for food freaks, and if you're one of them, go try out these monstrous milkshakes here:
AM PM 

Cafe AM PM has taken the city by storm simply for their Instagram-worthy and (more importantly) drool worthy freak shakes, that are as freakish as it gets! Check out their new outlet in G-Town for a sweet, sinful indulgence. You'll prolly spot us there - slurping away to glory!
Locations | Galleria Market, Gurugram & J 2/5 Rajouri Garden
Check Out Their FB Page | https://www.facebook.com/ampmcafeandbar/ 
Morellos 

Another overly sinful experience in G-Town, Morellos offers a range of freak shakes in flavours ranging from Oreo Cookies Overload, Snickers & Peanut Butter and Caffeine Kick (just when we thought it couldn't get any better!) that are one better than the last. Which ones will you be trying when you land up there?!
Locations | Saidulajab, Saket & Nirvana Courtyard, Sector 50, GGN
Check Out Their FB Page | https://www.facebook.com/morellosshakes/ 
3. Monstrous Burgers 
Shifting the attention away from sweet treats, we discovered a range of big, bad burgers in town that personify the words 'monstrous' and 'scrumptious!' If you have an unending craving for burgers, and monstrous hunger streak inside you, try these burgers around town for a snack like none other!
Fat Boy Burgers @ The Joint

The big, fat burgers at The Joint are no joke - they're meant for serious burger addicts. The Holy Cow Burger served here is a beefy bonanza of crispy, perfectly cooked textures, bacon strips, deep fried pork, grilled mushrooms, cheese, fried eggs that is pure indulgence! We're already drooling, how 'bout you?!
Location | 100, First Floor, DLF Galleria, Gurgaon 
Check Out Their FB Page | https://www.facebook.com/JointCafeGurgaon/ 
Mobar Burger @ Monkey Bar 

Famous for their unusual buns, the gigantic Mobar Burger at Monkey Bar is a wide beef patty stuffed with lettuce, cheese slices, tomatoes, mayo, handfuls of bacon and delicious flavours that bind the taste together. We're already mentally making plans to hit Monkey Bar for some eats and boozing this weekend, join us won't you?! 
Location | Plot No. 11, Commercial Complex, Pocket C 6 & 7, Vasant Kunj
Check Out Their FB Page | https://www.facebook.com/monkeybardel/ 
4. Pizza Momos
Just reading the words pizza and momos together makes us love the dish already! And it does not let you down - this innovative combo is worth all the excitement! Tasty, cheesy and loaded with contrasting yet perfectly blended flavours, pizza momos are proof of Delhi's tendency to go all out - scroll on for where to find 'em!
Kingdom Of Momos 

Though the visual appearance isn't exactly irresistible, Kingdom of Momos offers a mean plate of pizza momos that has successfully trapped the quintessential pizza flavour inside Delhi's favourite street food. Stuffed with corn, cheese and capsicum, these pizza momos come in a variety of flavours, none of which will disappoint! 
Location | 13/9 B Block, Chhoti Sabzi Mandi, Janak Puri
Check Out Their FB Page | https://www.facebook.com/MomosKingdomIndia/ 
Momotarian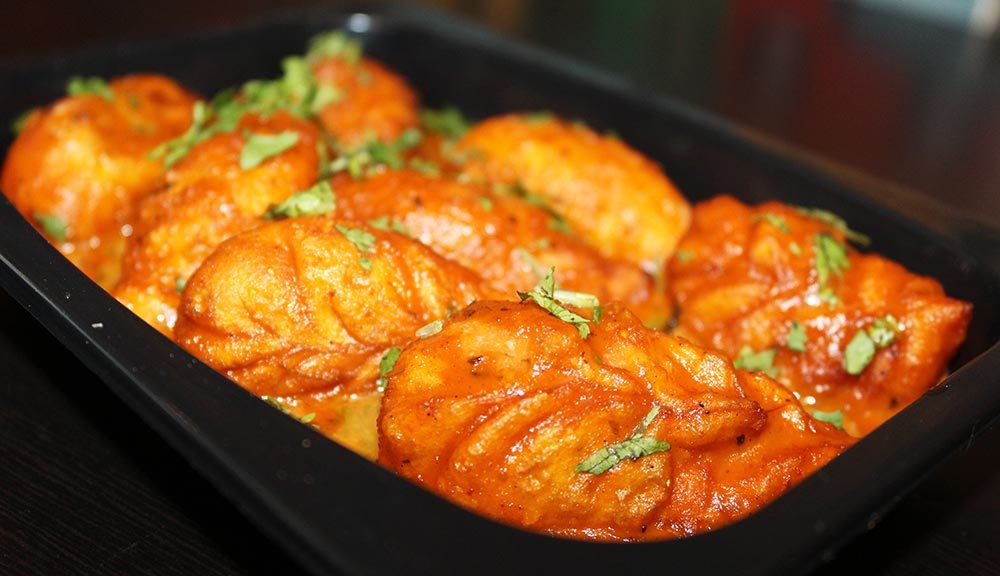 True to its name, Momotarian offers a drool worthy menu for all momoholics in the city! They have some crazy varieties ranging from Butter Chicken Momos, Chocolate Momos, and of course, Pizza Momos! Not just that, they even have an option to create your own unique combination, with their DIY momos, for all those foodies who like their street food their own way.
Location | Shop 19, DDA Market, Hudson Lane, GTB Nagar
Check Out Their FB Page | https://www.facebook.com/MomoTarian/
5. Loaded French Fries
The J

It may seem like French fries do not belong in the list of the most monstrous dishes in town, but The J Cafe does NOT agree! This super famous cafe from Mumbai specializes in fries with toppings and flavours you wouldn't have known existed. With Makhani Fries, Chicken Tikka Fries and other unique varieties on the menu, you definitely gotta give this new haunt a try. And if you trust your own instincts better, you even have the option of choosing your own toppings and combos - make them as overloaded and delicious as they can get! 
Location | The J- 37, Ground Floor, Shop 2, Satya Niketan 
Check Out Their FB Page | https://www.facebook.com/thejcafe/ 
Potet

Delhi's king of crazy, hatke fries, Potet offers a variety of delicious fries for all of us who can't have enough of them! They've got mouth watering Madras Fries, American Chilli Cheese Fries, Mexicano Fries, Kenyan Masala and loads more! Aren't your taste buds craving for 'em already? Go ahead and treat them at this beautiful place in HKV! 
Location | The Junction, CSC Complex, Hauz Khas
Check Out Their FB Page | https://www.facebook.com/potetdelhi/ 
There you go - which ones will you be devouring around town first? Tell us in the comments below!