For A Legen-Wait-For-It-Dary Time, Make A Beeline Straight To This HKV Laser Tag Arena
If there's one fictitious character we adore to pieces, then it has gotta be Barney Stinson from How I Met Your Mother! We mean, how can anyone NOT love that guy? He was smart, funny, a great friend, sassy AF; the guy legit gave some #BroGoals to all the guys out there. So if you love Barney as much as we do, then you must have heard about this RAD place that is dedicated to Mr Stinson - Barney's Den! 
This place is a laser tag arena and is named after the man who taught us what laser tag is! With quirky graffiti and quotes from HIMYM (of course!) - this place is a haven for all the fans. Now, coming back to the reason these guys are known for - laser tag, they're equipped with all the latest gear that you'd be needing to play this game and trust us, it's fun AF! So read on to know why we're raving about this place and get your squad on-board!
Aim, Lock, Shoot!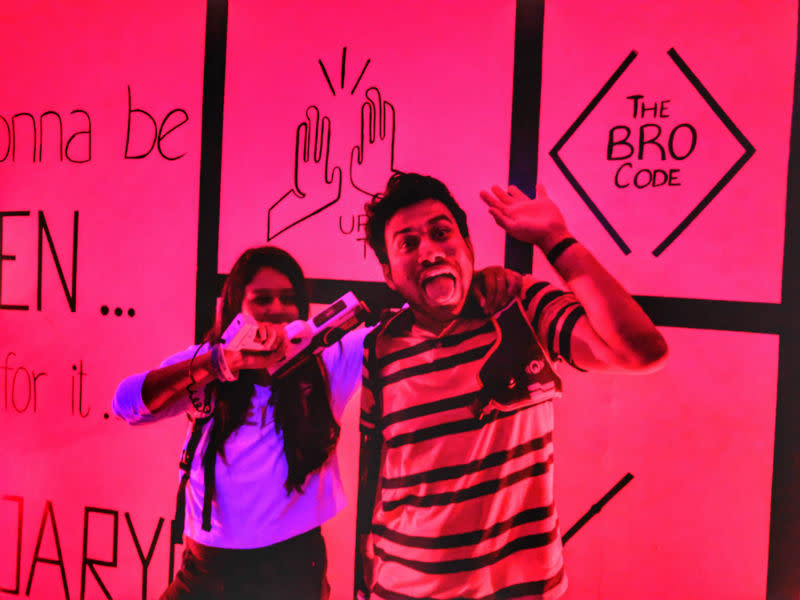 So in laser tag, you basically tag the players from the opposite team with the gun that fires infrared beams and lower their lives - easy peasy and completely painless! In here, these guys have categorised the game in three different levels on the basis of your skills - so they have 10 different games divided into 3 levels *naice*! 
You can start with the Beginner level, which is designed and worked around for newbie players, this one is for all the first-timers to get their heads in the game! Next comes the Intermediate level - one's for those who are better than the rest and have played laser tag before. The last one is for the Experts in the house, you can try getting around different sets of obstacles in the war-area and take up a new challenge each time! 
New Place To Hangout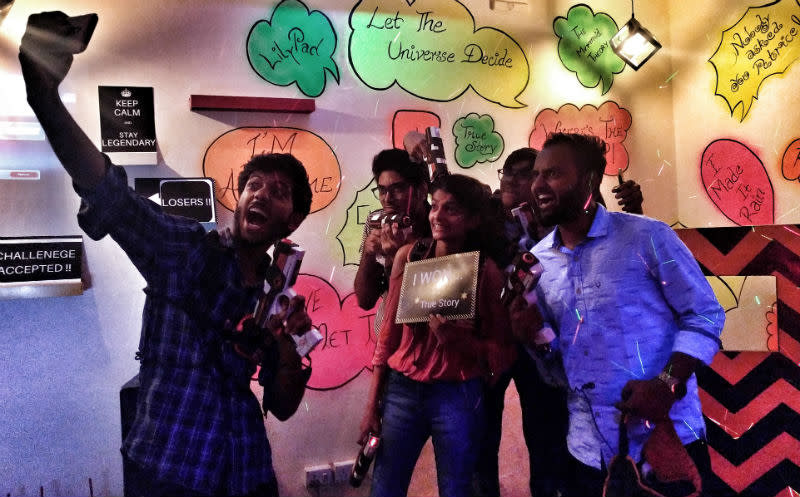 So if chillin' the old way has finally gotten to you, then this place is gonna be the perfect hatke place to mix things up a little. In here, you don't just need to aim and shoot, you have to be creative and work on your problem solving skills and in turn, it relieves stress and gives you pure and simple joy! It's exciting, exhilarating and fun AF and loads better than just meeting up in a cafe or pub!   
And now, coming to the best part - you don't have to actually always come to their arena to enjoy this awesome game! What we mean is that these guys are all too happy to set up in your offices, colleges or a house party. Call them up, book a slot and they'd be at your doorstep all ready to get, set, laser tag!
These guys also give the highest scorer of the week an exciting giveaway, so ditch those regular-joe boring hangout plans a rest and try this instead! Challenge accepted?! 
Where | Barney's Den - 12, Second Floor, Hauz Khas Village
Call For Reservations | +91 8010 918 781
Book Your Slots Here | https://appoint.ly/s/lasertag/bookyourslot
Browse Through Their Website | http://www.barneysden.in/
Check Out Their FB Page | https://www.facebook.com/barneysDenLasertag/