#FoodReviewing: Ziu In Sangam Courtyard Floors Us Every.Single.Time!
Driving up to the just-the-right-amount-of-crowded expanse of RK Puram's Sangam Courtyard one fine, crisp and cool winter evening, we were as yet unaware of the smorgasbord of fine Thai food that awaited us at Sangam's prized gem - Ziu. Stepping smartly off the elevator, we ran smack up against a beautiful sign proclaiming simply - Ziu!
Delighted already, we made our way over to the restaurant proper and were immediately assailed by the calming dim lights, truly pretty wall paintings and subtly elegant, cozy and rather welcomingly plush couches and chairs.
Ziu's sizeable (and really sizeable!) wine rack and the gleaming and shining glass-walled kitchen right across simply added to the feel. This is a place you go to with a big bunch of your old school friends or those family members you actually like *wink wink*! Now that we've painted a tempting word picture of the ambience for you, let's start with the food (and drinks, of course) shall we?
Whiskey Sour Sorbet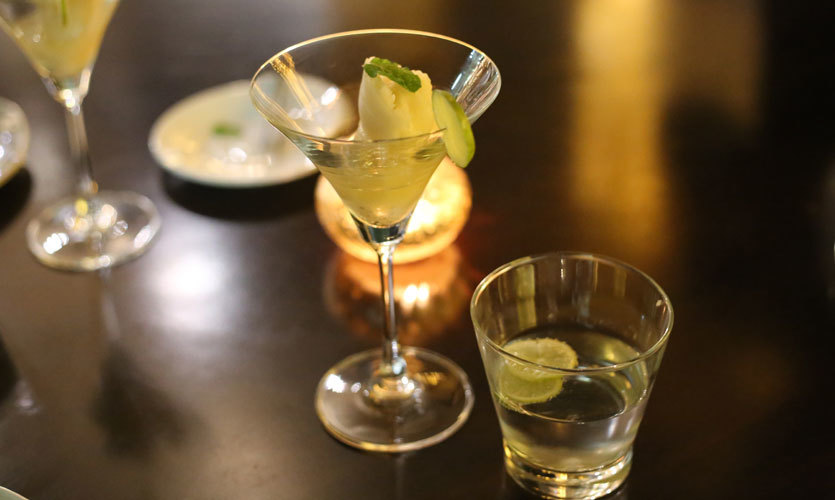 Whipping up a pretty frigid (literally!) storm of a cocktail right in front of our wide-with-wonder eyes, the absolutely immaculate, hospitable peeps over at Ziu mixed together a cocktail sorbet for us. Entangling together Jim Beam's white whiskey (no yeah, really!), lots of lime juice, a sprinkling of pineapple juice and omg get this - all frozen solid by liquid nitrogen! Ooh, were we excited to slurp this one up!
Tom Yum Soup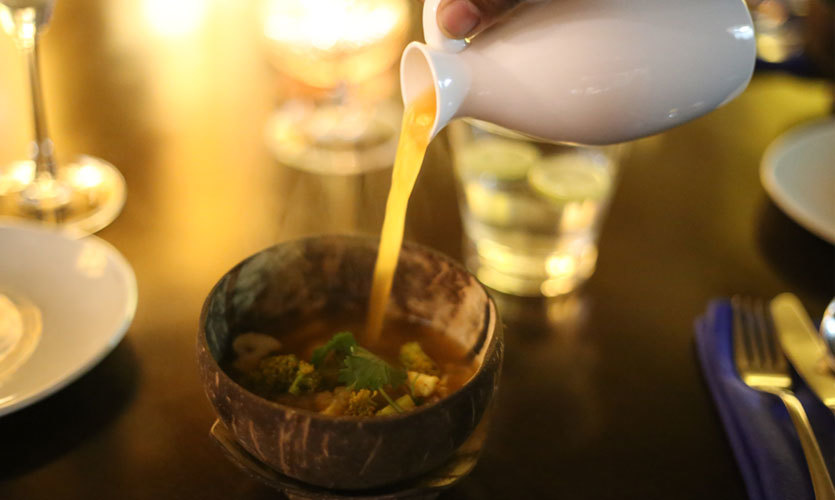 Presented to us in these really exquisite, antique and rough-hewn bowls were nicely diced chicken chunks, all of which were poured over (daintily and with style, of course) by their potent tom yum soup, chock-full of the zesty flavours of Thai herbs (read lemongrass and Kaffir Lime here). Yummy, healthy and the perfect appetite-whetter - well done, Ziu!
Banana Blossom Salad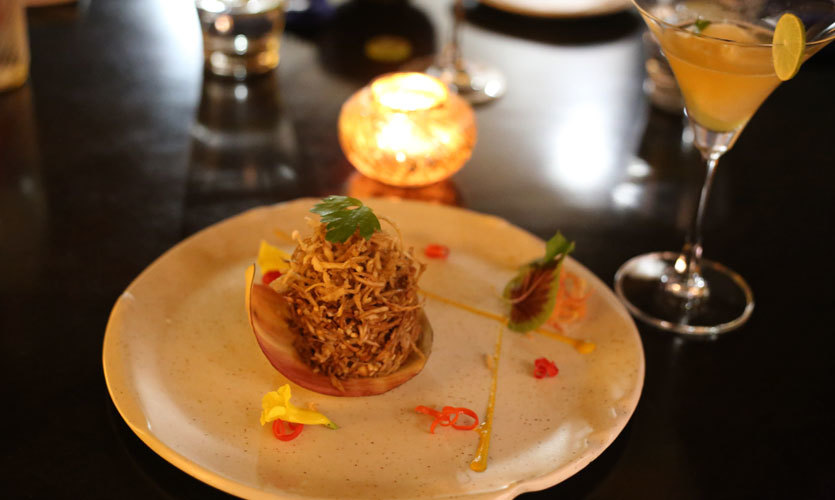 Now this is something we can honestly say our tongues had never tasted! Composed of banana blossoms (no, they're very different from the bananas you know), this delight of a salad placed before us was dressed in turmeric and burnt garlic and studded with crunchy peanuts. The flavour was mildly sweet and unutterably crunchy - which we just adored (you will too)!
Chicken Rice Cracker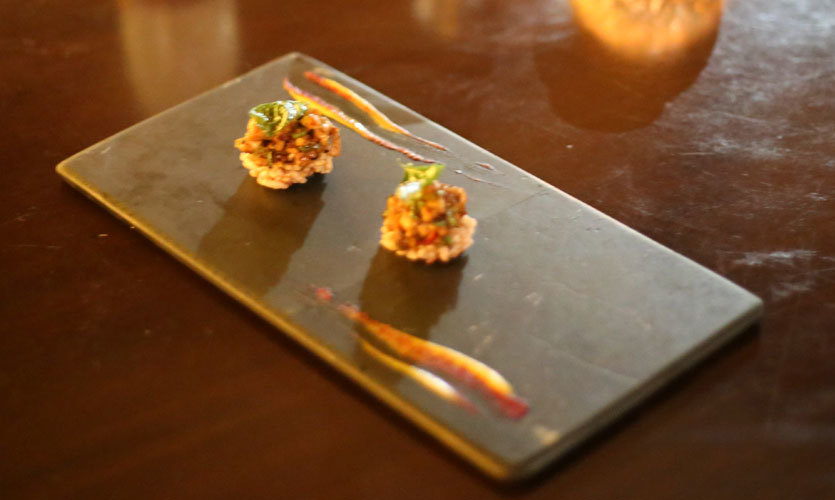 This crunchy brown rice-cracker proved to be a supremely crunchy (as was only to be expected) and satisfying gateway to the most tenderly spiced chicken core held within, which was indescribably creamy and zesty - all at once! Pro tip - you totally won't be able to stop at one, so order lots of these balls y'all!
Ziutini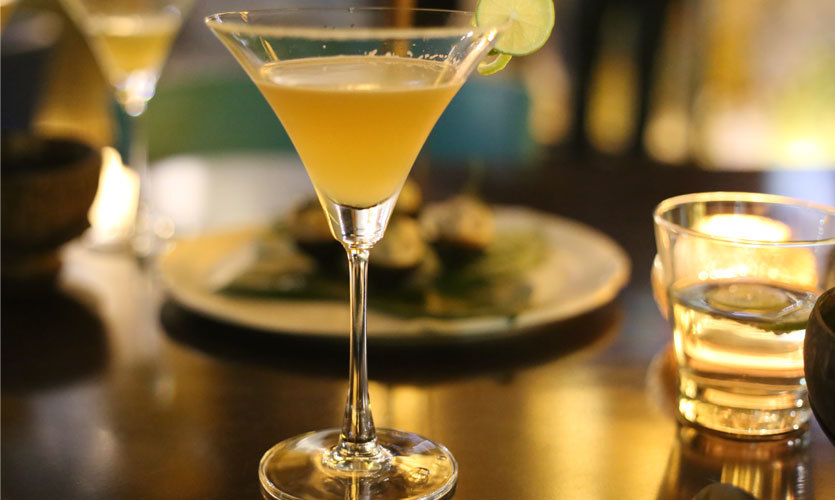 Happy to wash all this yummy food with some boozy goodness, next up were Ziu's Ziutinis! Eagerly pouncing on these martinis with a twist, the Ziutinis were a medley of lemon juice, a homemade concoction of som tum sauce and the prime ingredient - vodka of course! Thoroughly lip-smacking, it contained mounds of black salt that lining the lip of the glass, and we simply glugged it all down.
Som Tam Salad (Crispy Papaya Salad)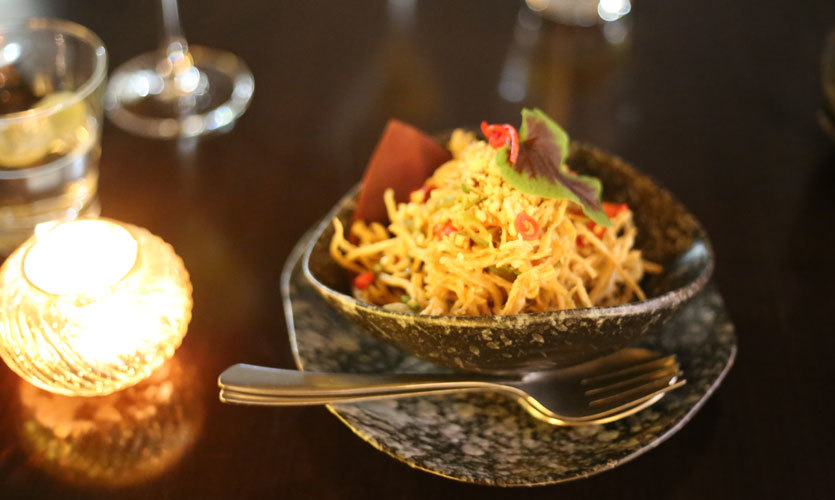 Thinking to yourself that you've already eaten tons of raw papaya salads already? Well, let us tell you that you've never tried one that's actually air-fried (don't miss that) and deliciously crunchy! Relish-worthy, juicy and like we said, all kinds of crunchy, this particular dish also had lots of Thai herbs, cherry tomatoes, peanuts and bird's eye chili dressing (yeah that's a thing - we double-checked!).
Smoked Prawns In Bell Pepper Sauce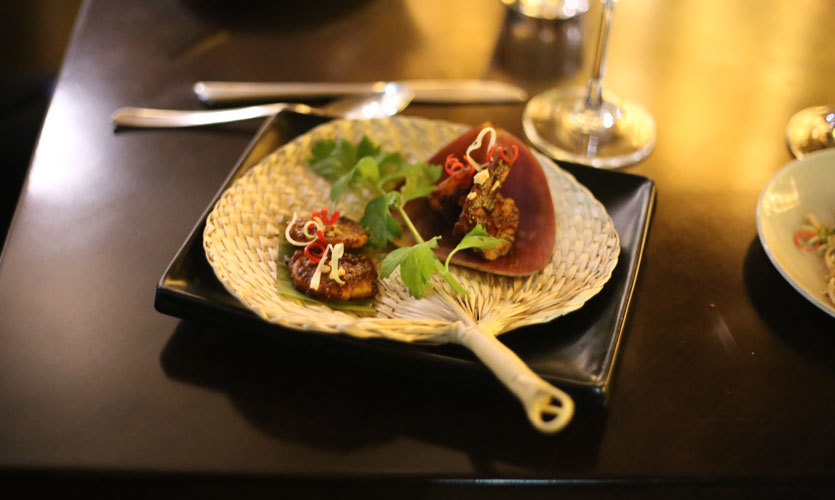 Lightly crisped and thoroughly cooked, the prawns were slathered with their patent bell pepper sauce, and were a truly delicious dish to partake! They'll go really well with all those boozy and happy Ziutinis you're gonna be downing here, so order this up one up, peeps!
Chicken Krapow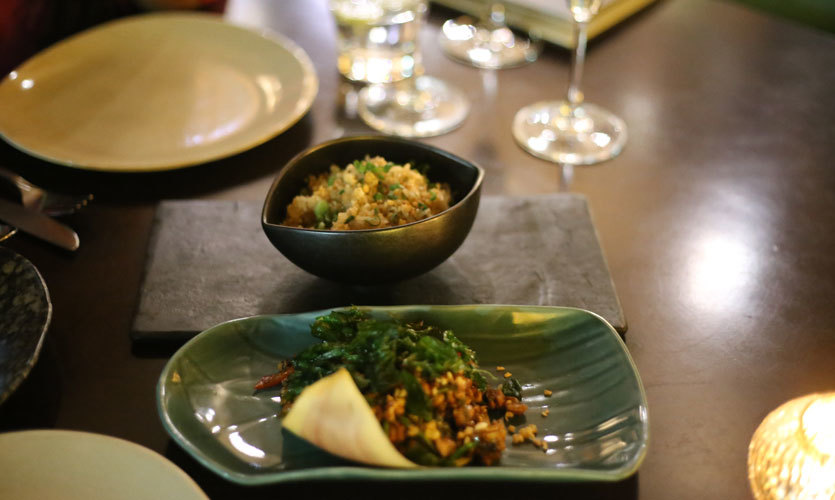 Served with a boat-ful of fragrant and delectable Burnt Garlic Rice, we happily dug into Ziu's Chicken Krapow, which is essentially mounds of well-cooked minced chicken in oodles of their homemade basil sauce. Covered with plenty of greens, their basil chicken was juicy and delish and complemented the Burnt Garlic Rice to a T. Mains well done, we'll say!
Fresh Tender Coconut Ice Cream With Jaggery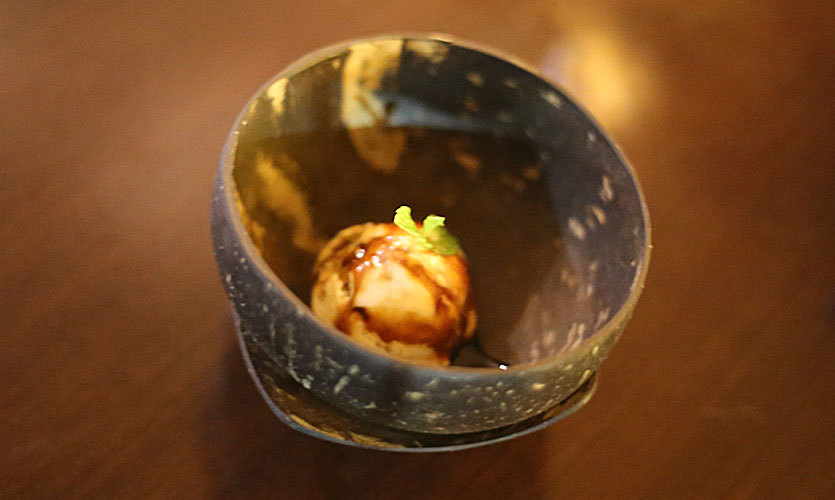 Nicely rounding off our foodie evening, Ziu dished up for us a yummy scoop of ice cream. Crammed with actual, delish coconut shavings, their little scoop of Fresh Tender Coconut Ice Cream with a pool of molten jaggery (starry-eyed) was amazingly creamy and just the right amount of sweet - it sounded the perfect, awesome note to our extraordinary Thai extravaganza!
Already picking up the phone to tell your friends about this awesome new Thai place you wanna try out? Go for it! Don't to order endless glasses of their Ziutinis peeps - you'll be thanking us later.
Meal For Two | Rs 1,500
Location | Sangam Courtyard, Major Somnath Marg, R K Puram