#FoodReviewing | We Went & Hogged The Retro Way @ The United Coffee House Rewind!
The legendary United Coffee House has opened up a rad new outlet at the DLF Mall Of India and within no time, it has smitten all the Noida peeps! Having heard loads of rave reviews of the haunt, we decided to head on over to see for ourselves what the fuss was all about! Read on to know all about our foodie excursion.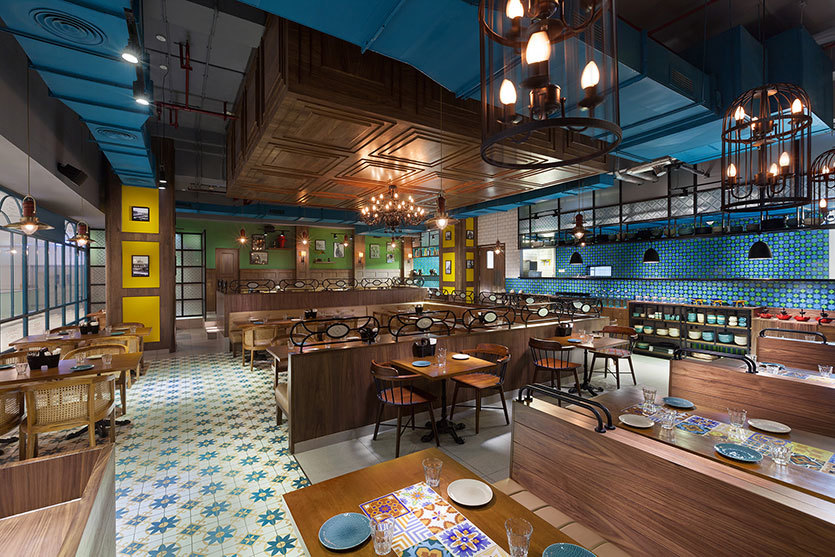 United Coffee House Rewind took us to the pre-Independence era and to the times of Rock N Roll. The ambience of the restaurant spoke volumes of bygone history to us; the floor was inspired by the Victorian era and the walls were adorned with black and white pictures of a time gone by. With an open kitchen, a big sparkly chandelier on the ceiling and a 70s playlist of soulful music, the place just bowled us over!
Then it was time for food and their massive 40-page (yes, really) menu had literally everything to feed our foodie souls. Let's dive in then, shall we?
Chicken Kursi Miyani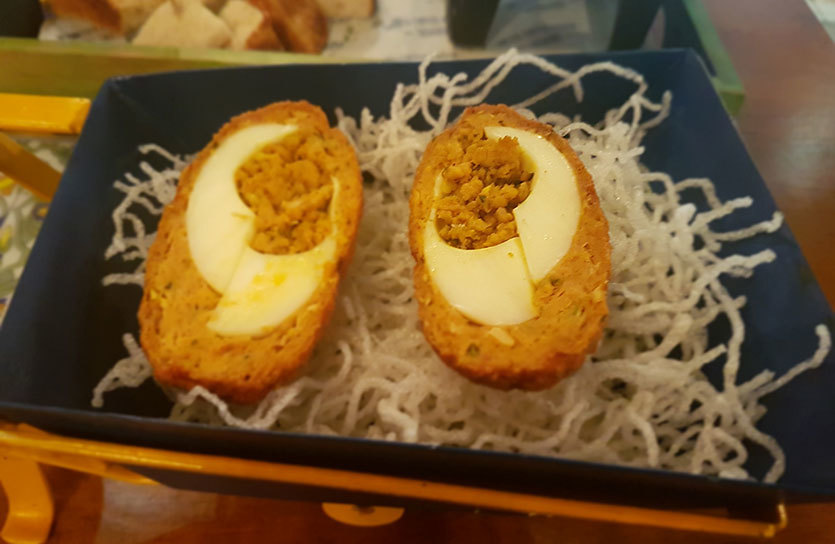 First up was a small sharing plateful of Chicken Khursi Miyani. Served innovatively, atop a cutesy yellow mini bicycle, the dish comprised of boiled eggs stuffed with sumptuous and juicy chicken kursi! Served with the traditional coriander chutney and onion spirals, it seemed like the perfect petite Punjabi meal.
Jamunrita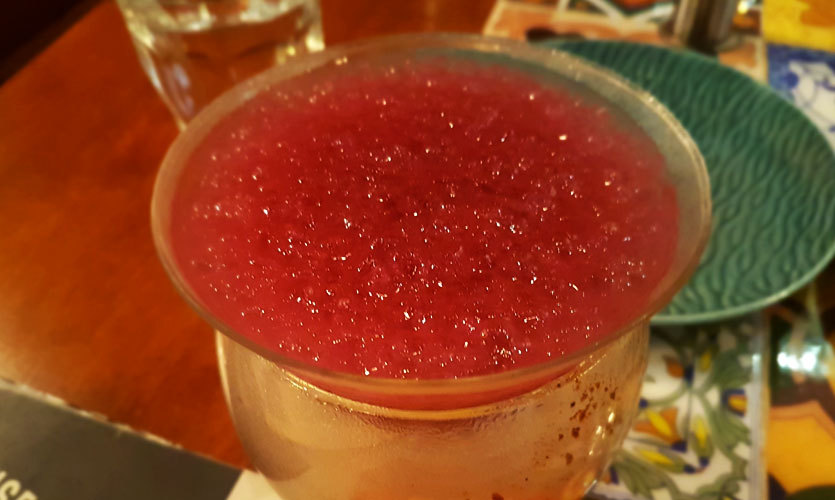 To accompany our appetizer, we ordered a drink called Jamunrita. Served in a huge glass bowl, this was a chilled and slush-like beverage with huge ice cubes swimming in it. The best bit - the bowl was enveloped with smoking dry ice, which made it look amazing! The drink entailing frozen jamun extract, red chilli & foggy clove smoke was a delectable & refreshing spin on the quintessential Jamunrita *slurp slurp*.
Pav Bhaji Fondue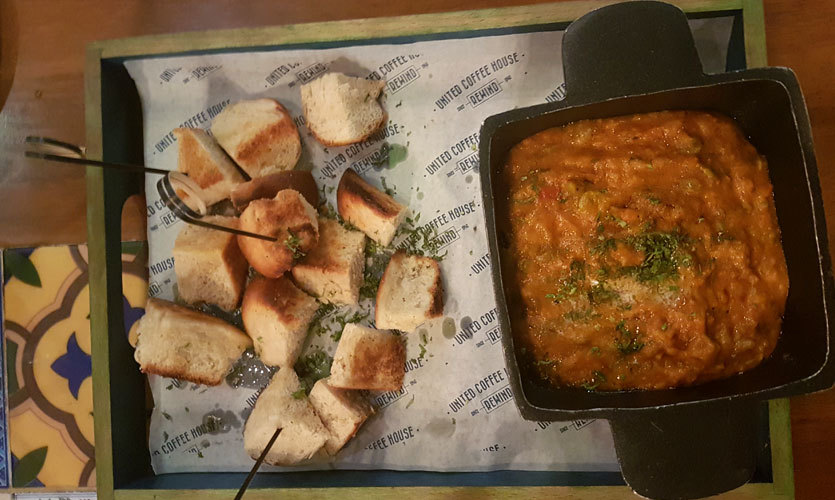 Next up was another small meal - their Pav Bhaji Fondue. If you're wondering what the fondue would be here, let us tell you that it was the pav! Moving away from the mainstream pavs, United Coffee House Rewind has turned them into fondues i.e. little crispy pieces which we dunked perfectly in the delish bhaji and feasted away. Nicely done guys!
Cheese Souffle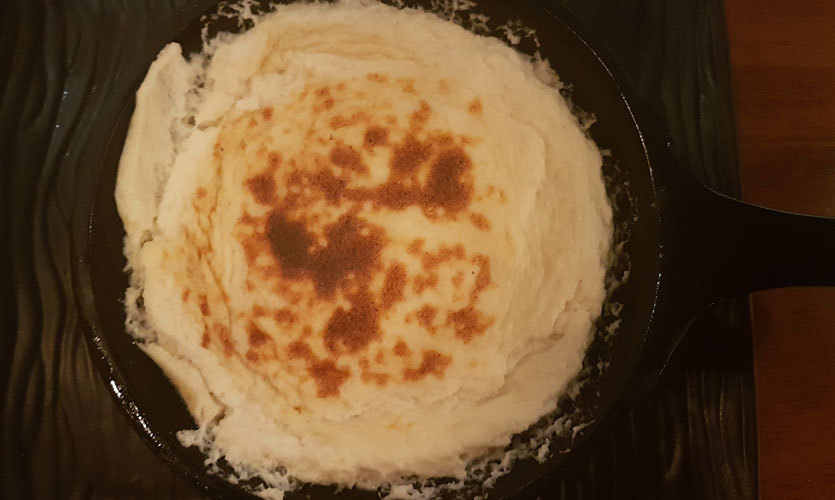 In rapid succession, we were then presented with the signature plate of the day (Tuesday as it was) - the Cheese Souffle. This delicacy had been gracing their menu for more than 50 years now and after sampling it, we immediately understood what the buzz was all about! Made with Swiss cheese & white wine, this souffle was pillowy soft and every nibble of it was absolute bliss!
Saunth Papad Panna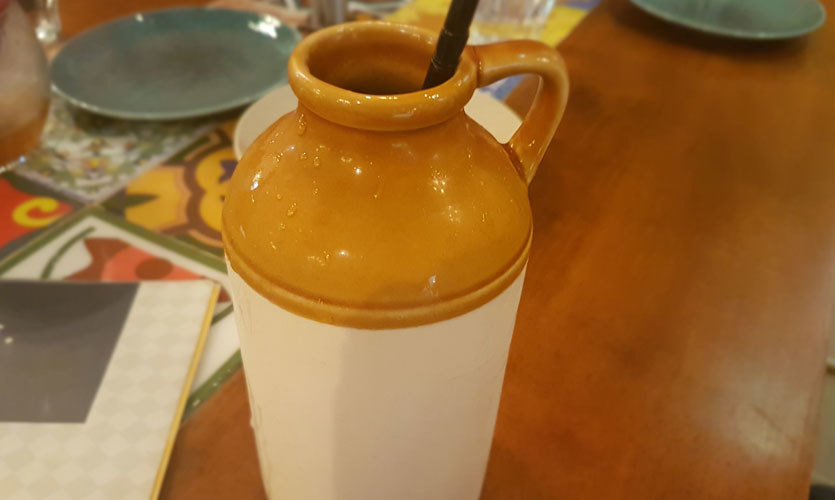 Then came our favourite roadside delicacy, saunth and papad, but here's the twist - it was in the form of a drink! Served in a Parisian-style bottle, this beverage was both sweet and sour. Each sip of it was mingled with a few chunks of papad that made it exciting and crunchy, hence successfully replicating the exact, lip-smacking 'papdi chaat' taste. Yum yum!
Butter Chicken Pizza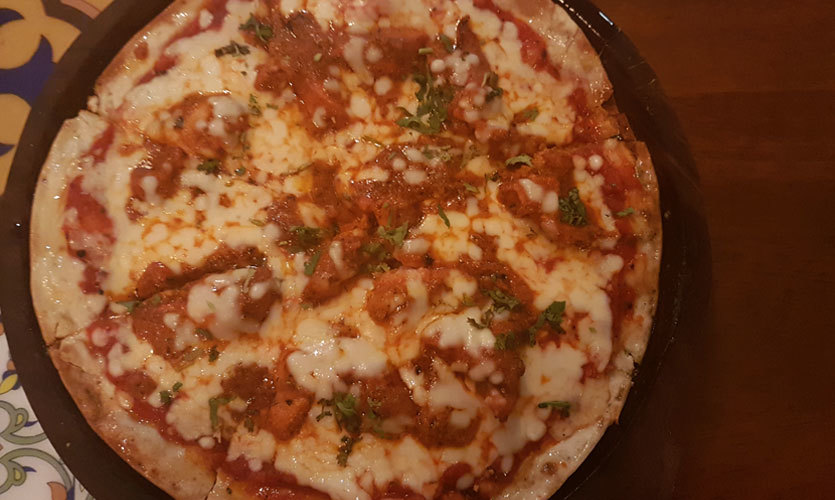 Being hopeless pizza and butter chicken lovers, we went crazy as soon as we spotted this concoction on their menu and so we just had to order this! The sight of this delicacy tempted our taste buds and the next minute we were devouring it like a pig. The base was crispy and the sauce used for the base was butter chicken gravy - awesome! It had big & juicy chicken chunks and the dish perfectly satiated our Punjabi taste buds *happy grins*.
Malai Kulfi Popsicles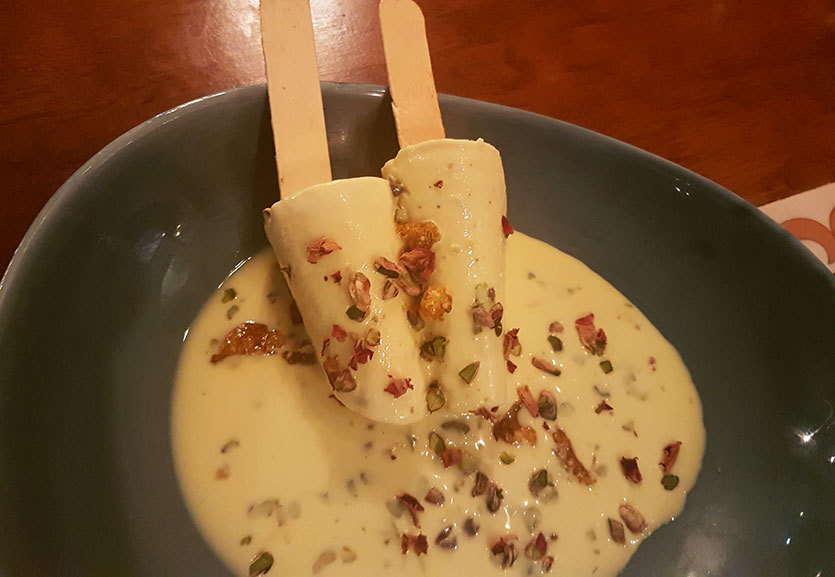 Being totally desi at heart, nothing tickles our sweet tooth more than kulfi, and so we ordered their Malai Kulfi Popsicles! Think of the usual malai kulfi, and that is exactly how it tasted, though in the exciting form of a popsicle. To add that authentic Indian taste to this sweet dish, it was topped with sumptuous pistachio shavings, which made it all the more delectable.
Cona Coffee with Biscuits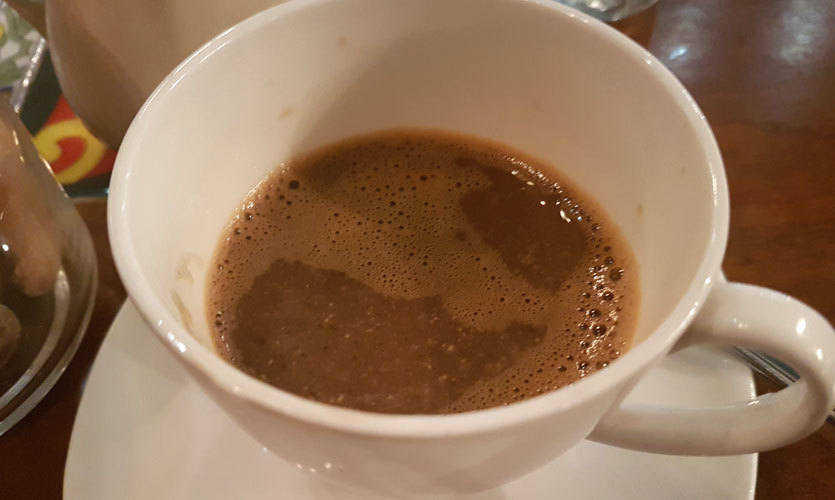 Bidding goodbye to UCH Rewind, without sipping on their refreshing coffee wouldn't have been fair and so to wind it up, we ordered ourselves their Cona Coffee with Biscuits! The coffee was warm and had a pungent, strong flavour to it that lingered for long after on our taste buds.
Having gobbled down mind blowing traditional and some novel new delicacies in the lap of the retro vibe of United Coffee House Rewind, we realised exactly why this place is so awesome. Go check it out for yourselves!
Where | United Coffee House - DLF Mall Of India, Sector 18, Noida
Timings | 12 Noon - 11:30 PM
Call Them | +91 120 2970 048
Meal For Two | Rs 1,500
Check Out Their FB Page | https://www.facebook.com/UCHRewindCyberHub/