#FoodReviewing: Vegeterians Rejoice! We're Gushing About The Grub Over @ Bell Pepperz
While cafes and bistros are taking over the city, the classic family diners are still glorified and popular. And who wouldn't want to simply wallow in the luxury of a peaceful dinner? So we bring to you Bell Pepperz, stationed in Ashok Vihar Phase II. And it's definitely a delight for our Vegeterian peeps out there, as they serve only vegetarian food. Plus, no alcohol or hookahs will be hovering around you, so that one can enjoy the food and the ambiance to the fullest!
With a well-lit seating area and soothing music, Bell Pepperz is perfect for cozy family lunches and dinners. Although the interiors are simple, they still give a classy look to the place. The staff is very welcoming and the hospitality is excellent. The best bit - the menu has tons of dishes to choose from! Cuisines from Indian to Thai to Chinese, every dish is vegetarian (Jain style!) and it is definitely the most elaborate menu ever for the Vegeterian out there.
And here's what we tried at Bell Pepperz!
Masala Picante Paneer Tikka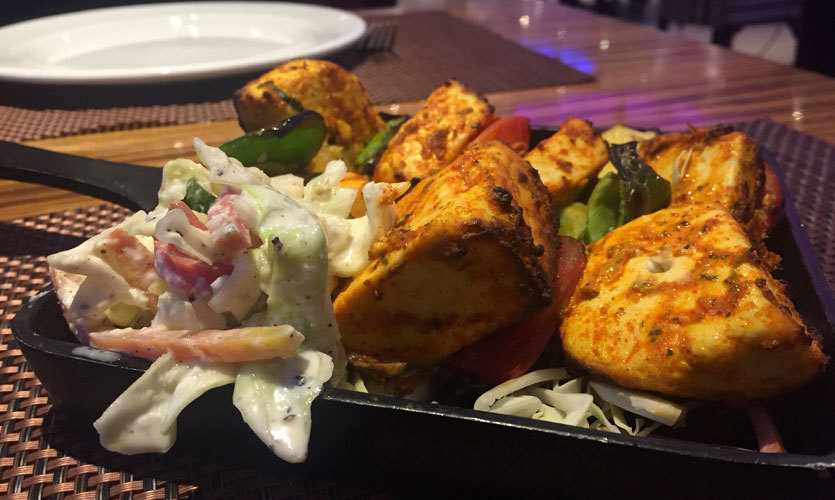 To start off, we tried their special paneer tikka. Succulent paneer cubes marinated with Italian spices and served with a salad of shredded cabbage, it was the yummiest tikka ever! The perfect blend of spices and prominent taste of black pepper is what made it spicier or shall we say more masaledaar. And to crank it up a notch, it also had diced, grilled pineapple chunks which simply amped up the flavour!
Price | Rs 321
Cocktail Dahi And Palak Ki Chakli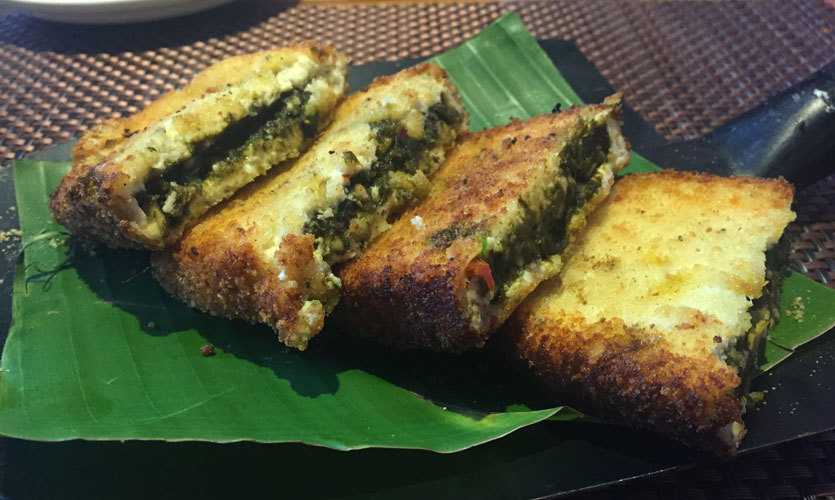 While we all are huge fans of the classic dahi ke kebab, the chef over at Bell Pepperz has given it a twist! Instead of a kebab, it is flattened to make a chakli, and also has a filling of spinach and mint. Crispy on the outside and juicy on the inside, this is one hell of a dish. The mint filling mixed with crushed dry fruits is definitely the game changer for this one.
Price | Rs 309
Kapung Sung (Thai Style)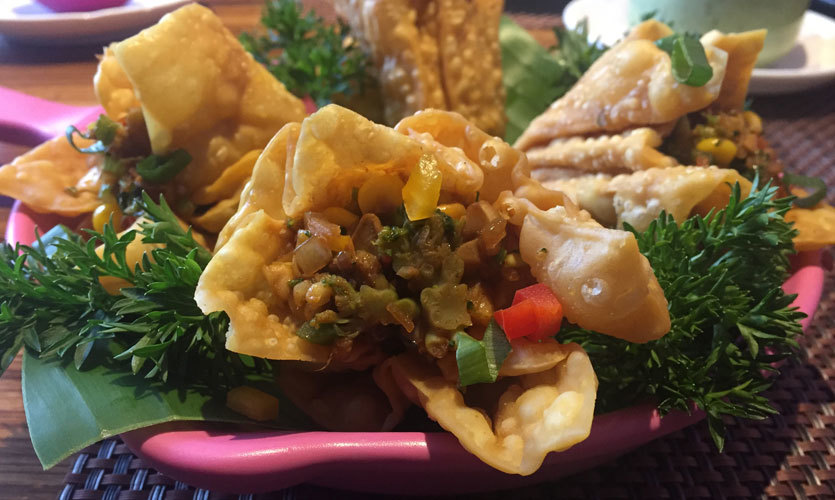 Crispy pockets filled with a cooked mixture of mushrooms, broccoli and corns with Thai spices is what this Thai-style Kapung Sung is made of. It is one of the most scrumptious dishes we had on our table. Neither too spicy, nor too bland, it had an impeccable balance of spices. This definitely deserves all your attention, for it's a light dish but really fulfilling peeps!
Price | Rs 309
Masala Steamed Wontons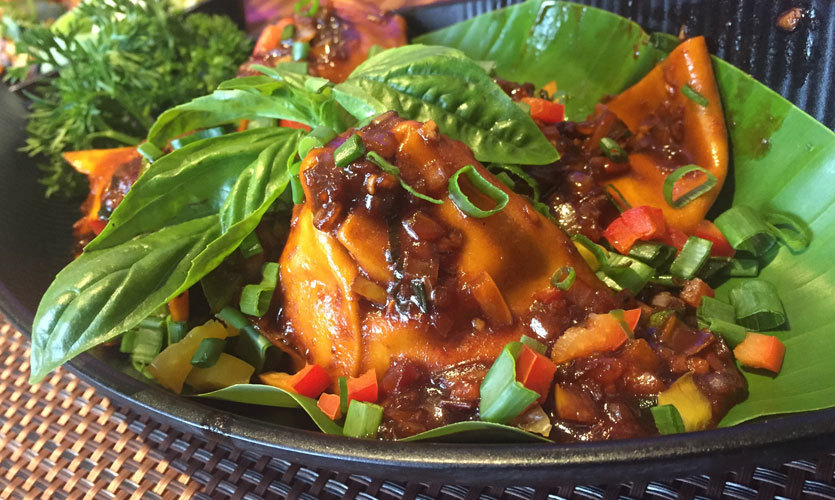 Wheat wantons cooked in spicy hot garlic sauce is what you need when your day is bleh, and you want to pep it up a little. With cut up onions, tomatoes and spring onion greens sautéed in hot garlic sauce, these were the best vegetarian wontons ever! They had the perfect balance between the flavours of garlic and soy - which was awesome.
Price | Rs 309
Virgin Mojito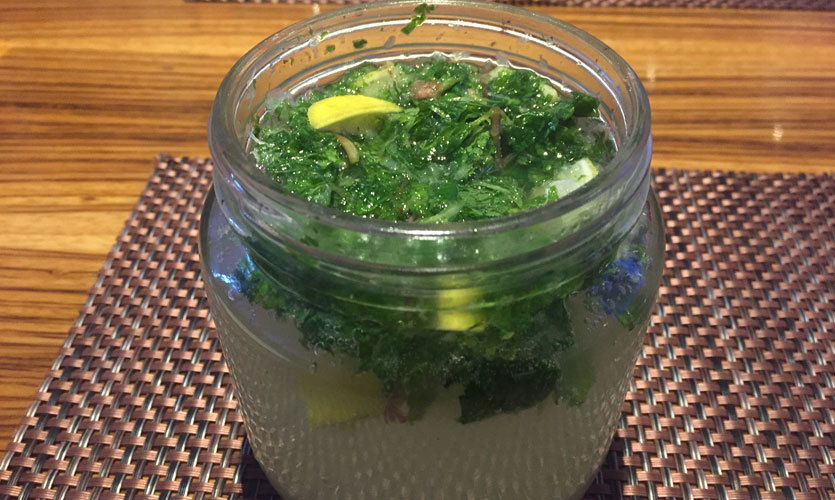 And since we'd basically gobbled up all things spicy and zesty, we tried to tone it down a little with their refreshing chilled Virgin Mojito. Mint, lemon and sugar syrup in perfect proportions with club soda made it the best thirst-quenching drink *bliss!*.
Price | Rs 298
Bhuni Makki And Malai ke Kebab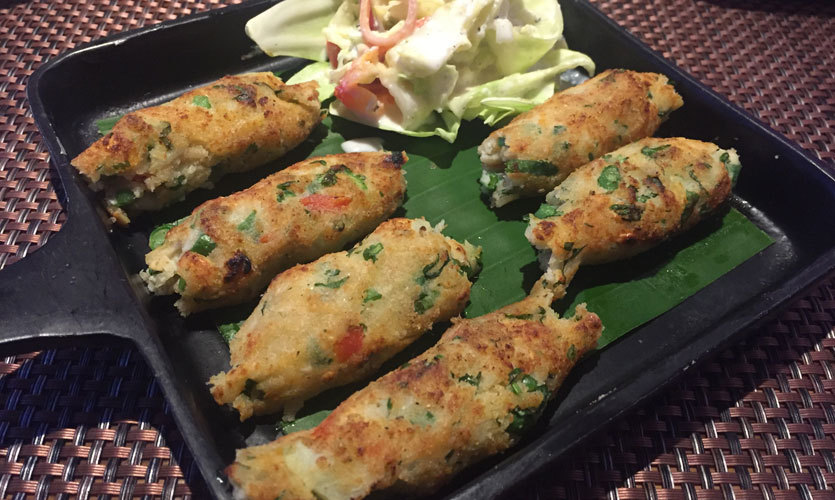 Kebabs made of crushed corn, cottage cheese, beans and dry fruits, with just salt and black pepper. Now this dish is not something that you can get at any old nook and cranny in the city. Served with a salad dressing of shredded cabbage and carrots, it was truly a veggie delight!
Price | Rs 309
Bell Pepperz Heavy Weight Sizzling Platter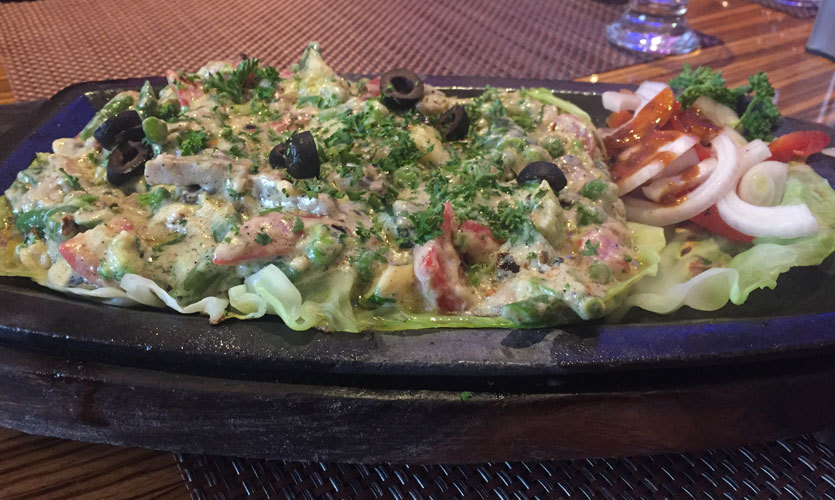 Creamy mushrooms, peas and bell peppers with black olives made their Sizzling Platter flavoursome, and it was obviously sizzling hot, which simply added to the feel! Who would've known that with just some salt and black pepper, one could make a sizzler so heavenly. And the quantity served was just extraordinary. Go try for yourselves!
Price | Rs 590
Cottage Cheese 65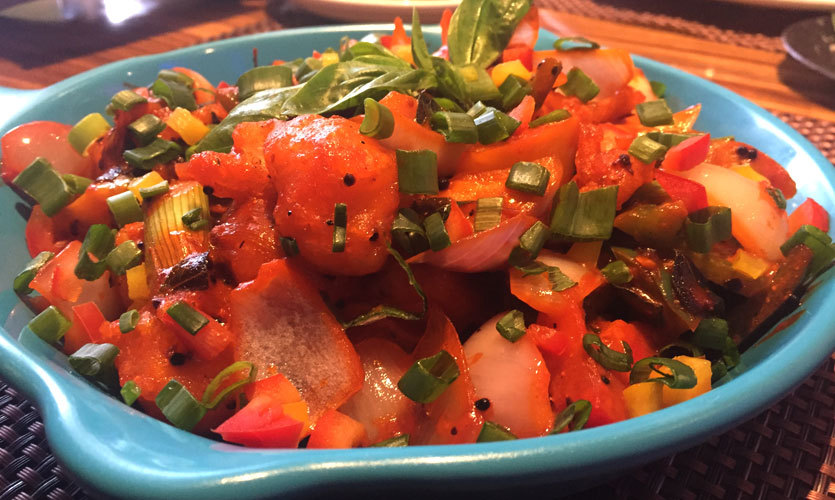 A very popular dish, Chicken 65 from South Indian cuisine has been made available for the Vegeterian out there as well! Instead of the chicken, here it's our beloved cottage cheese all laid out for us! With a strong flavor of mustard seeds with bell pepper(z) and cottage cheese cooked in tomato gravy, it was delectable and we loved it.
Price | Rs 321
Well yes, these were a lot of starters, but then too much food ain't hurting anybody!
And after a full innings of starters, we moved on to the main course and had plenty of options to choose from again. So here's what we ordered:
Daal Makhni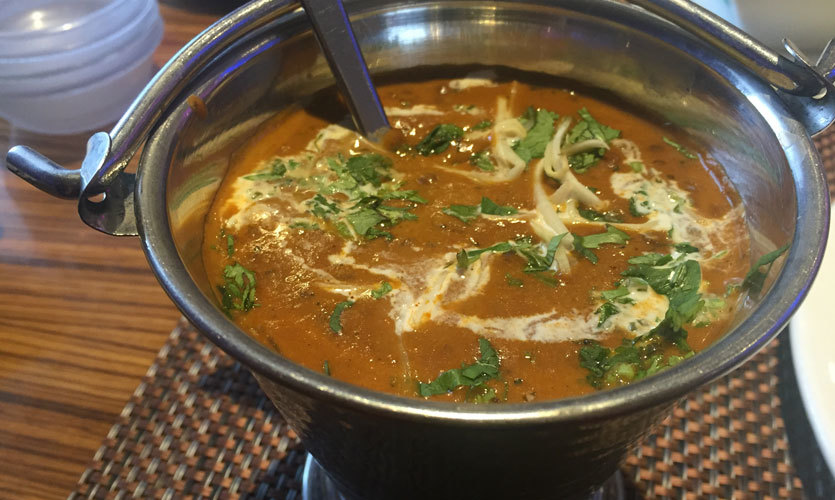 Creamy, light and flavoursome - that's what aptly describes their Dal Makhni. An admirable amalgam of condiments with dal and cooked for a considerate amount of time, was how this savoury dish was made. And when topped with fresh cream, it just amplified the taste manifold! After tasting this, one might just get stuck on it for its impeccable taste.
Price | Rs 275
Paneer Lababdaar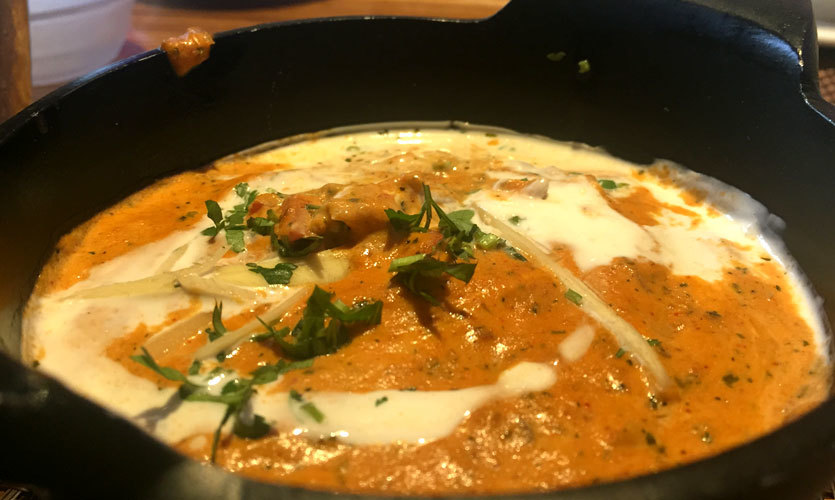 Diced tomatoes and onions with cubes of cheese sprinkled in butyraceous tomato gravy, it had the ideal mix of spices. It was exquisite in both taste and flavor, with lots of black pepper to spice it up real nice. Who knew paneer could taste so heavenly?!
Price | Rs 349
Palak Ka Shyam Sawera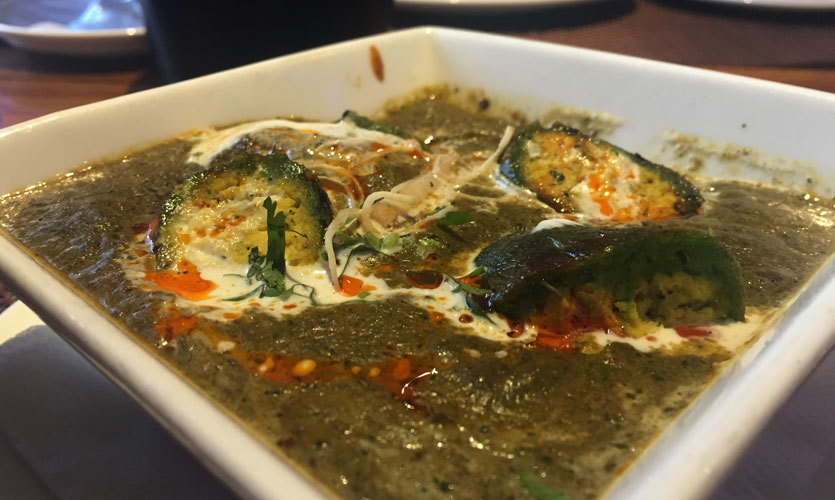 We all are bored of the few dishes made from spinach. But Bell Pepperz gave the monotonous spinach veggie a twist. Koftas made of spinach and stuffed with cottage cheese in spinach gravy has definitely changed the game for this particular vegetable. And its creamy flavour and light spices complimented the dish perfectly!
Price | Rs 309
These dishes are best enjoyed with their special Garlic Naan with shreds of garlic in 'em, giving it such amazing flavour!
Pan Fried Noodles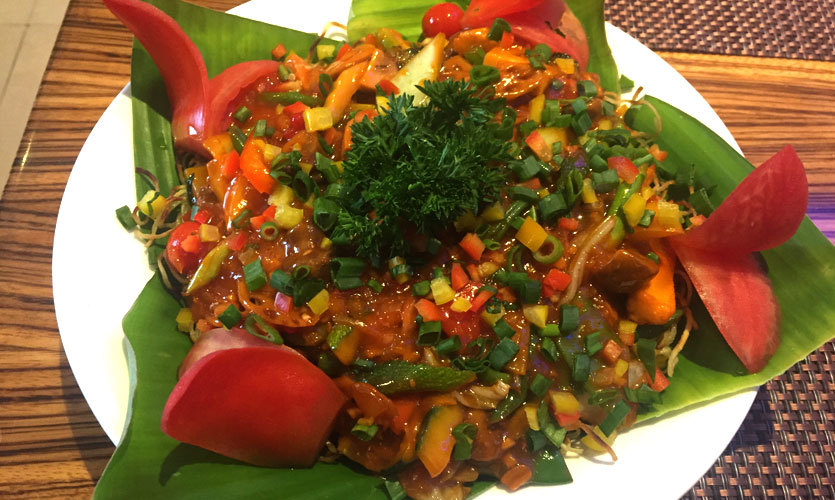 To wrap our mains up nicely, a platter of crispy noodles with mushrooms, broccoli and spring onion greens in schezwan sauce was the best combination ever! While the quantity served was exquisite, we loved it for its scrumptious taste and perfectly cooked noodles. Yum yum!
Price | Rs 339
Bell Pepperz Full House Tutty Fruity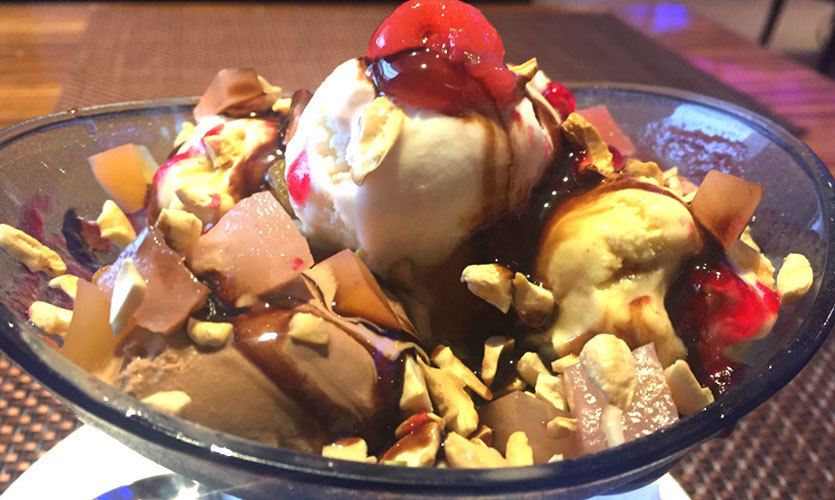 Well yes, Tutty Fruity is everyone's favourite ice cream flavour and it's our favorite as well. Scoops of vanilla, chocolate and butterscotch ice cream topped with chocolate syrup (yum!), crushed nuts and tutty fruity made our meal perfect! So all you sweet tooths out there, Bell Pepperz has some great desserts for you!
Price | Rs 150
Well Bell Pepperz is indeed one of the best vegetarian restaurants in the city, and peeps they can do these cuisines real good. So what's the hold up? Head on over to Bell Pepperz for appetizing meals and be their guest for great service!
Location | A-4, Community Centre, Ashok Vihar Phase 2