#FoodReviewing! Roving Ups & Downs In Quality & A Few Good Dishes: London Grill, Paschim Vihar
The memories of everyone's college days includes hanging out at the 'hip place' with great food and affordable prices. For the students of Bharati Vidyapeeth University, Paschim Vihar, this little joint just beside their campus ticks all the right boxes! The location is easily accessible and is a 2-minute walk from the Paschim Vihar East Metro Station. 
Can you eat burgers at any time of the day? Get this - this place is famous in the locality for its kickass burgers! The menu looks amazing and has enough variety to delight all the picky eaters. So we went over to find out what the buzz was all about and here's what happened!
Crispy Chicken Barbeque Burger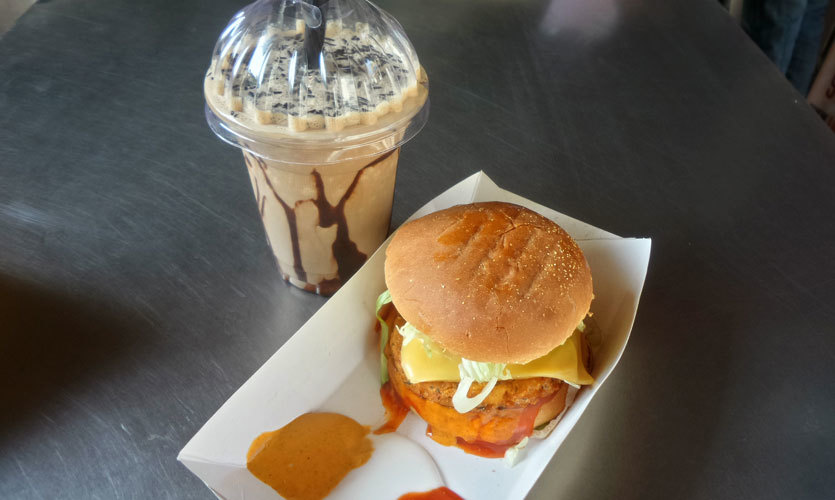 This double decker cheesy burger oozes satiety from the first bite. The chicken was succulent and tasted really good with their choice of dips. It contains enough veggies to contrast the richness of chicken and cheese. The three dips present the perfect combination so that you don't get bored while eating the whole thing. This seems like a close relative of the Big Mac from McDonald's and we can't complain! 
Price | Rs 140
Southern Chilli Burger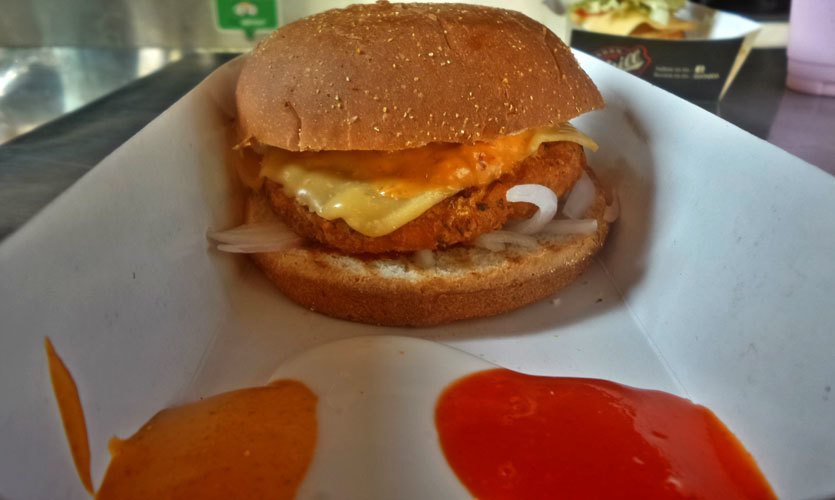 This burger was just like a regular old burger with a different chilli sauce. The potato patty and veggies seem to run common through all the burgers with little variation. The bun was quite sad and soggy, and we expected a little more toastiness. All in all, the burger was dry and the sauces were the only thing that kept it going. 
Price | Rs 80
Black Currant Pint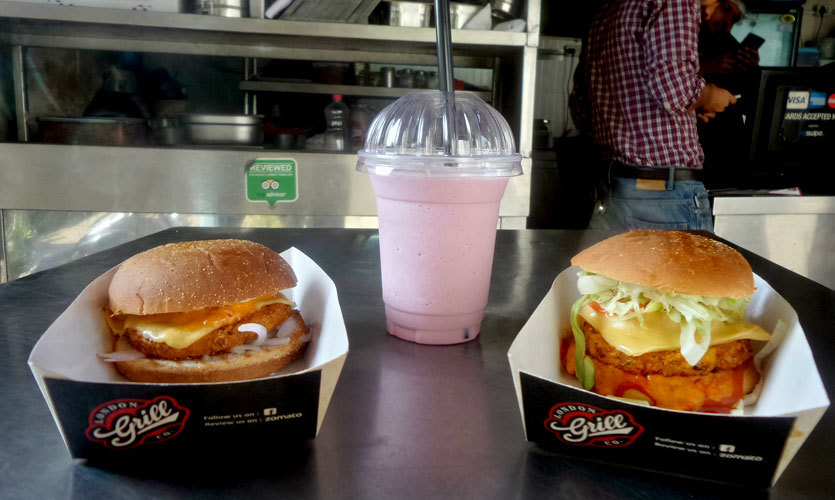 When getting high on burgers you need a good refreshing drink to ram it all down. And this icy milkshake was a really good combination with their Crispy Chicken Barbeque Burger. It's the perfect beat for those sweltering afternoons. The sweetness and flavours were delightful, and it's hard to keep the drink down while it still lasts. 
Price | Rs 80
Belgian Frappe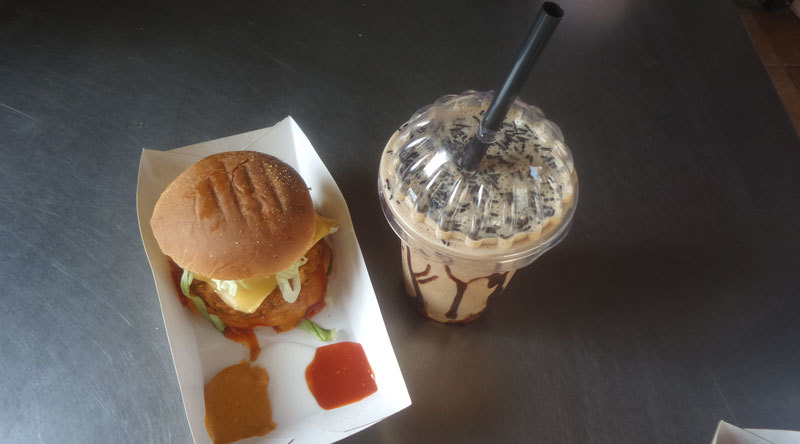 When a coffee lover has coffee; they don't expect a drink, they expect a hug! This coffee, however, was not a hug. It seemed to have a dilemma when choosing between being a milkshake and a coffee. This was quite disappointing as the flavour got completely lost amidst the host of food at the table. 
Price | Rs 80
Nachos Chicken Pizza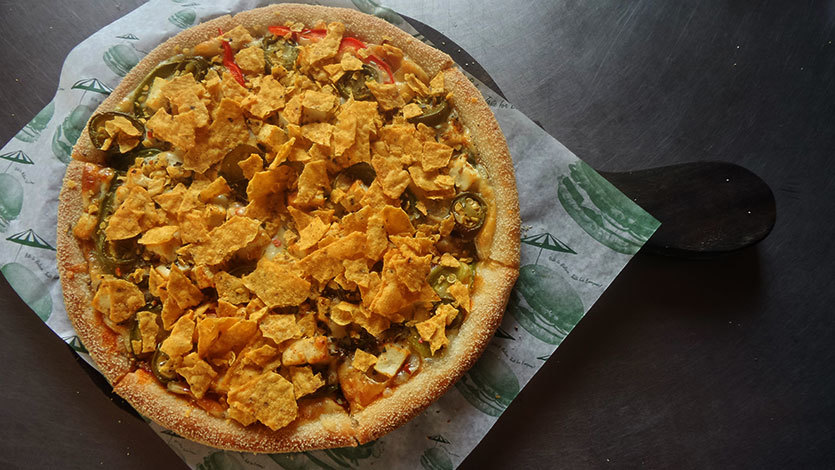 This name entices the customer and this combination of two popular dishes seems quite exquisite. But we received their 'All Cheese Pizza' instead of the original order. When we reached out to the staff, they sprinkled some nachos over it and ruined the whole dish! Even without the nachos, the pizza bread was thick and soggy.This crowd favorite turned into a dry plate of nachos and bread and it was really disappointing. 
Price | Rs 220
Tacos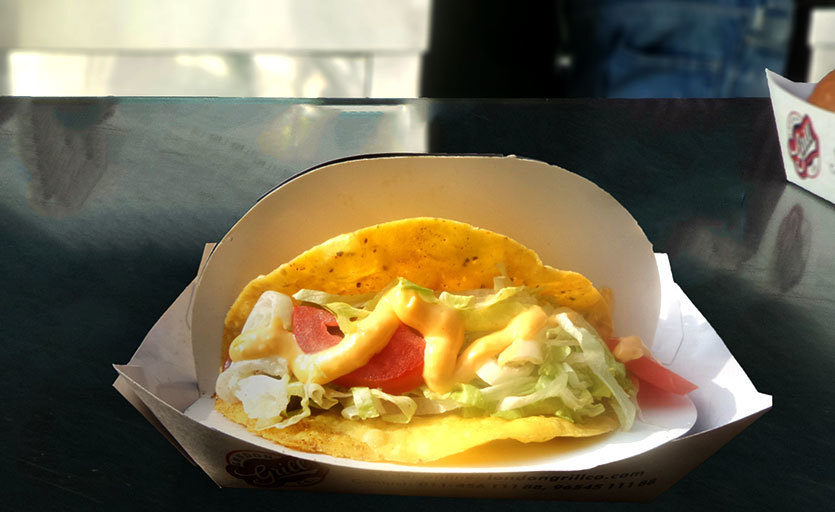 We tried two of their taco variants which were good. Not a lot of places serve tacos, so this seemed like a catchy addition. We tried the mushy pea taco and the lebanese taco. Both of these were a sharp contrast to the burgers and tasted very good. However, it stands no comparison to Taco Bell with their straight-out-of-the-box tortilla and lack of innovation.This dish needs a little bit of tweaking and it could easily become a speciality.
Price | Rs 69 
Apart from the ups and downs in the food, London Grill wasn't able to provide suitable cashless payment options in this age where demonetisation has made cash a scarce resource. In the end, we paid through Paytm and even that took some time to accomplish. 
In A Nutshell
This place started off as the talk of the area, but frequent price hikes and disregard for their quality of food has made it bow down to the competitors in the same area. The upper floor of the place wreaks with hookahs and a non-smoker can't find a suitable place to sit and enjoy their meal. The food is great for your taste buds but only selectively. We had high hopes, but returned with disappointment. 
The place needs to put in some more love and effort and it will become a binge-eating spot for people looking for budget friendly yet lip smacking offerings. 
Meal For Two | Rs 400
Location | DDA Market (Gole Market), A-4, Paschim Vihar