#FoodReviewing: Our Masaledar Kickoff of Small Plates Week @ Masala House
Wending our way through the glitzy and thoroughly uppercrust Sundar Nagar Market, we were totally enthused about dipping our toes into the fabulous concept of Small Plates Week! In a yummy and crunchy nutshell, Small Plates Week is an amalgamation of 13 of Delhi's top-notch restaurants presenting you with 16 of their chosen dishes served up in small (obviously!) tasting portions.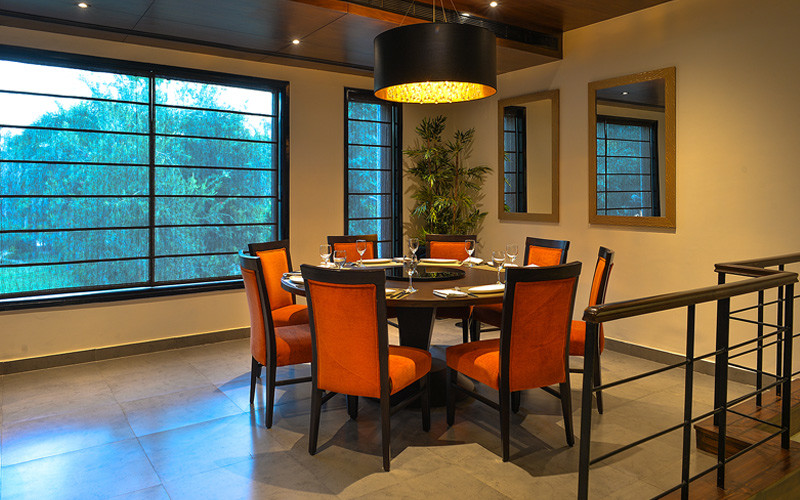 Whipping our tasting spoons out, we were ready to get this party on the road! So for Small Plates Week, we chose to start off with the much-acclaimed Masala House. Ornate and fancy with glowing little bubbles-cum-bulbs of light, we really liked the entire set-up! So scroll through as we take you through the best and not-so-good dishes that Masala House dished up for us - read on!
Bhatti Paneer Tikka, Anarkali Tikki & Kathal Varqui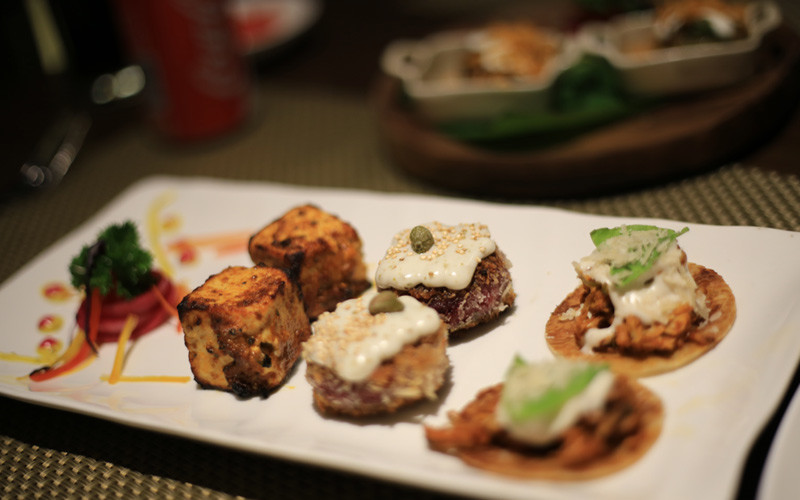 Slicing our forks through their Bhatti Paneer Tikka - incredibly tender, square hunks of paneer were lovingly slathered with oodles of burnt garlic pepper marinade and then chargrilled to perfection! Seriously yummy, this.
Hungrily turning to their Anarkali Tikki - this one was an epic explosion of flavours held tight inside one petite tikki! Composed of copious masses of grated beetroot, quinoa seeds and peanut butter crunch, it was lightly garnished with a little cream and sesame seeds on top. Must try for vegetarians and non-vegetarians alike!
Sampling their Kathal Varqui, we found it to be weirdly sour along with a queer side of spicy, and we didn't really care much for this one! We'd skip this one if we were you guys - definitely not worth even trying.
Kurkuri Mushroom & Chicken Ghaneri Kebab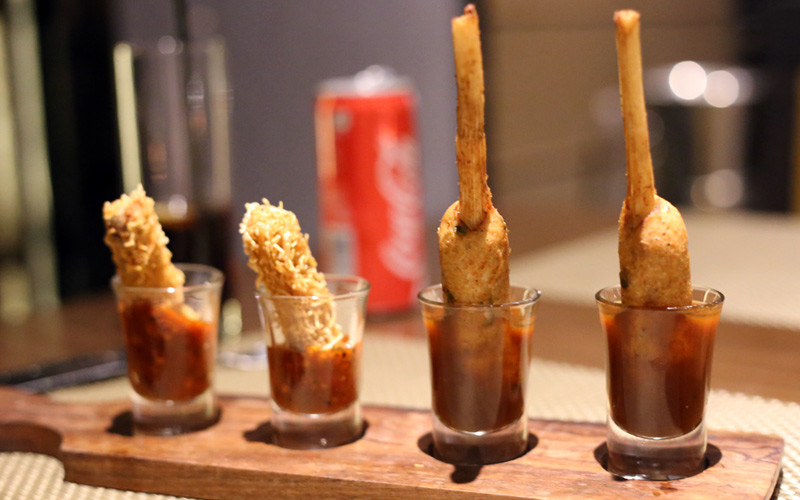 Deliciously tangy and zesty, their Kurkuri Mushroom was one mushroom dish we had never tried before! Coated in the most desi tomato-garlic sauce were well-cooked mushrooms studded with yummy, crispy khasta kurkuri - a distinctly crunchy starter!
Turning to the Chicken Ghaneri Kebab, this was a chicken popsicle-like skewer again coated with aforementioned tomato garlic sauce. Meaty, juicy and well-cooked, we'd still however say that the overpowering sauce took away some of the chicken flavour.
Parat Wala Paneer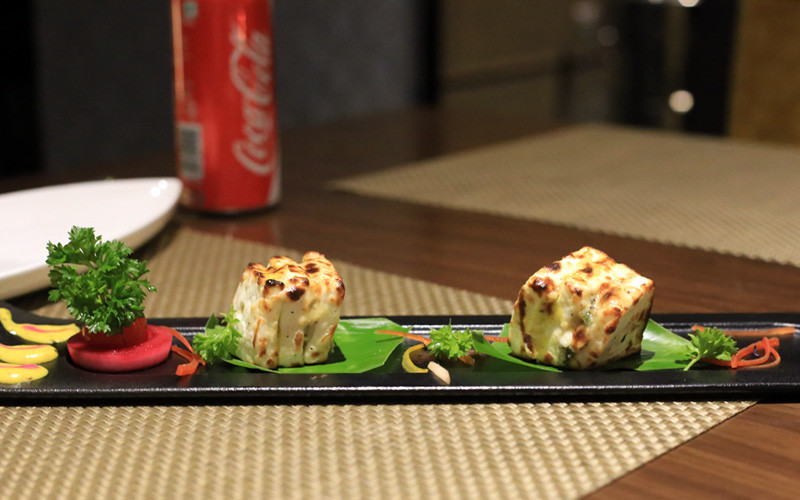 Ok so they've taken your wedding staple snack and turned it into a bigass dish - Parat Wala Paneer! Get this - three, yes three layers of perfectly cooked paneer glued together with a delectable gooey sauce (omg!). Seriously, it would be a crime to come to Masala House and not try this - just amazing!
Minced Lamb Keema Pao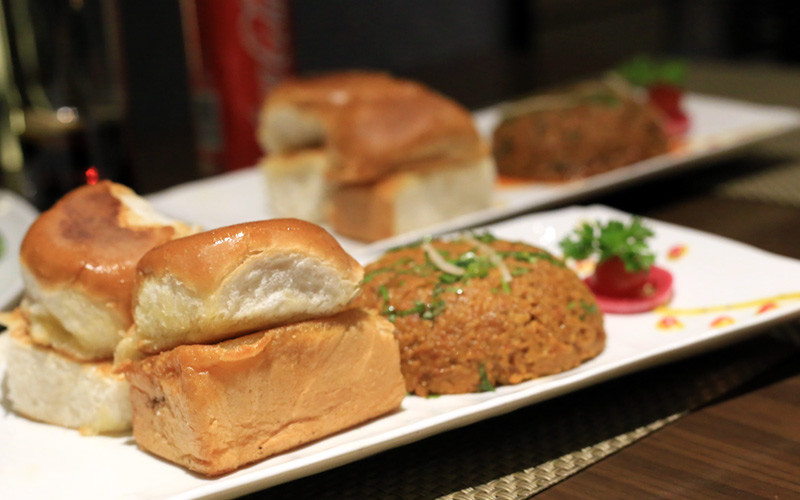 Deliciously heavy and substantial, their lamb variant of keema pao definitely did not disappoint and is the perfect dish to order when all you want to do is eat up a delish plateful of meat and nothing but meat! Paired with piping hot and dripping with butter paos, this dish was truly satisfying to the core.
Butter Chicken with Butter Garlic Naan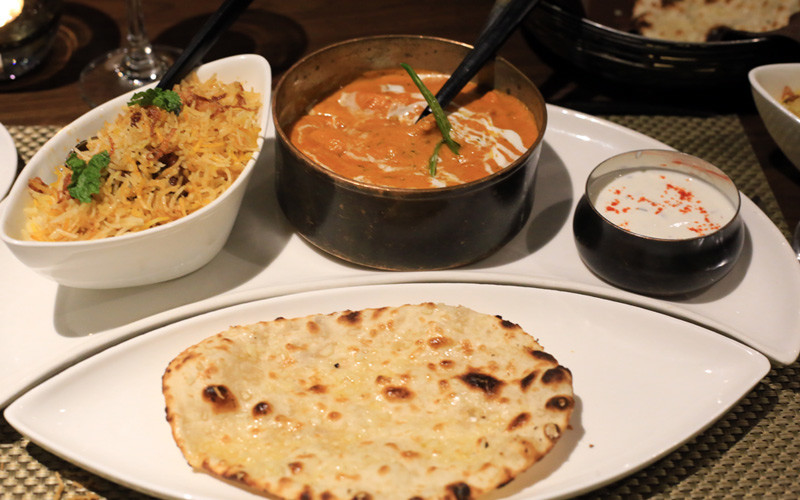 Now this may be the Small Plates Week, but the flavour here is big-sized! Having proudly won accolades for Best Butter Chicken in Delhi NCR, we were super thrilled that this was on the menu and dying to try it. Our verdict - the dish was well-balanced, contained a slightly sweet taste typical to most butter chicken dishes around town and full of cream and yumminess - thumbs up Masala House!
Lamb Biryani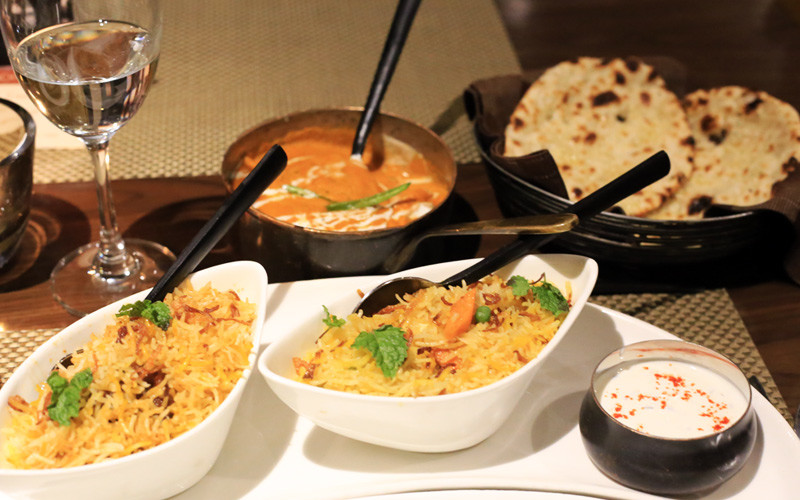 A cute, small boatful of fragrant Lamb Biryani was placed before us next. Cooked exactly the way good biryani should be, each grain of rice was perfectly puffed up and the massive piece of succulent lamb sitting bang in the middle of course added to the whole experience. All in all, a pretty good dish to devour if you're a die-hard biryani lover (and who isn't, really?).
Chocolate Rasgulla Mousse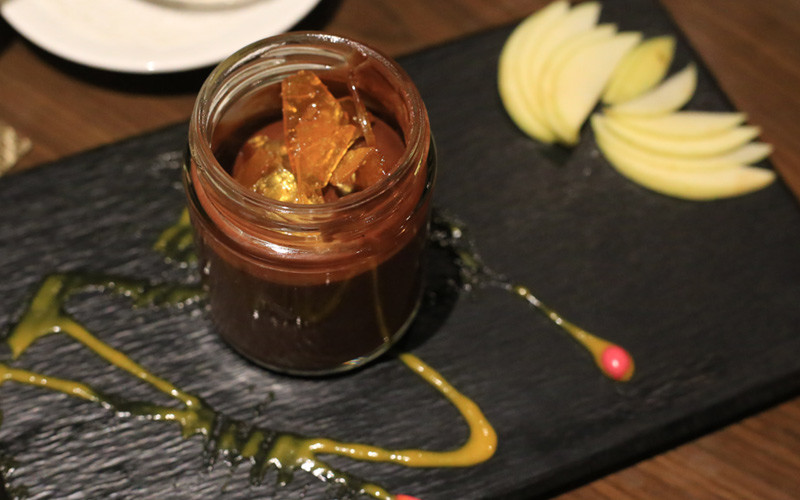 Crunchy, sugary pellets scattered around in the most creamy, chocolate-y layer nicely mixed in with fat, juicy rasgullas all mushed together in a jar! Woah. We happily scooped up spoonfuls containing literally everything and stuffed our faces silly with this one - and trust us, you will too!
We can happily, confidently declare that we absolutely adored our Small Plates Week experience here at Masala House and will definitely be back again to visit the place for full-sized plates next time! Come on over and experience this culinary storm yourselves.
Location | 4, Sundar Nagar Market
Price Per Head | Rs 1,200
Learn All About Small Plates Week Here | https://www.facebook.com/SmallPlatesWeek/
Book Your Meals Here | https://insider.in/small-plates-week-delhi/article
This article has been written by Mehar Luthra. I'm a total Grammar Nazi who eats misspellings for breakfast! A law student, wandering food critic, sarcasm worshipper, caffeine-junkie and serial sitcom-watcher whose abiding passion in life is to write, write & then go and write some more. Let me regale you with some of my musings!