#FoodReviewing: In a Market of Breweries, DiVino is a Brave Outlet Dedicated to All Things Wine!
We celebrated the triumph of Game of Thrones at the 2016 Emmys Awards at DiVino! In a market of breweries, someone had the courage to open up a restaurant entirely dedicated to wines. A true wine haven, the place is a must visit for anyone who has the slightest heart for anything wine! And not just wine, the place displays some unbelievably cool real props used in the Game of Thrones (omg omg)! Yes, you read that right. All those amazing headgears, armour and most of the other props you see in the cult TV series Game of Thrones, are made right here in our incredible India and are on proud display at DiVino.
We were welcomed by the 'Armor of the Duke of Burgundy' at the entrance, we looked around and found ancient war helmets, swords, gauntlets, helms and other war props. The surrounding red brick kiln wall and the candle chandeliers add to the innate character of its interiors.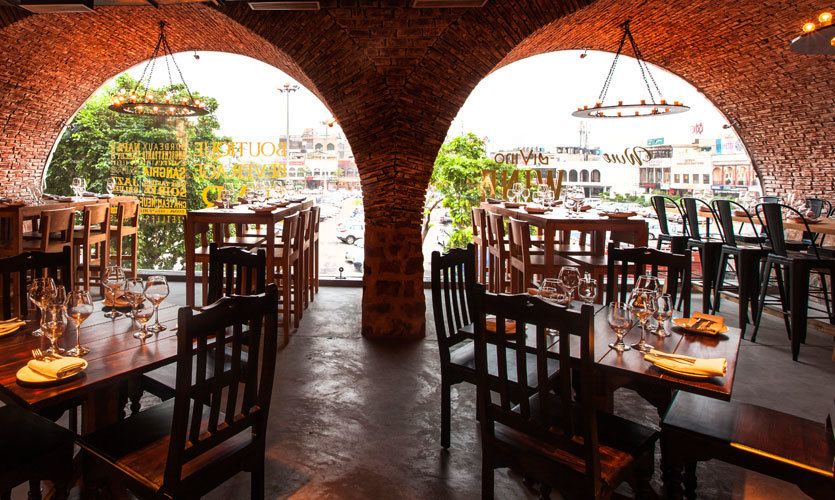 DiVino is spread across three floors, each floor having its own distinct vibe; the ground floor is the fine dining area with a fully-stocked wine bar, cosy sofa seating with a live music area. The first floor is a casual dining place with easy seating and a bar, based on internationally popular bistro concepts. The second floor is an open terrace for guests who want to stretch their limbs out in an outdoor setting with a view of the hustle & bustle of the area.
We went in for their famous weekly 'Lannister's Night', the night was filled with discussions of wine, food and of course the Game of Thrones! The place offers a wide array of lip-smacking cuisines from Mediterranean, Italian, Continental, European and French cuisines, with a menu designed by celebrity Chef Sabyasachi Gorai, popularly known as Chef Saby.
Wine & Other Drinks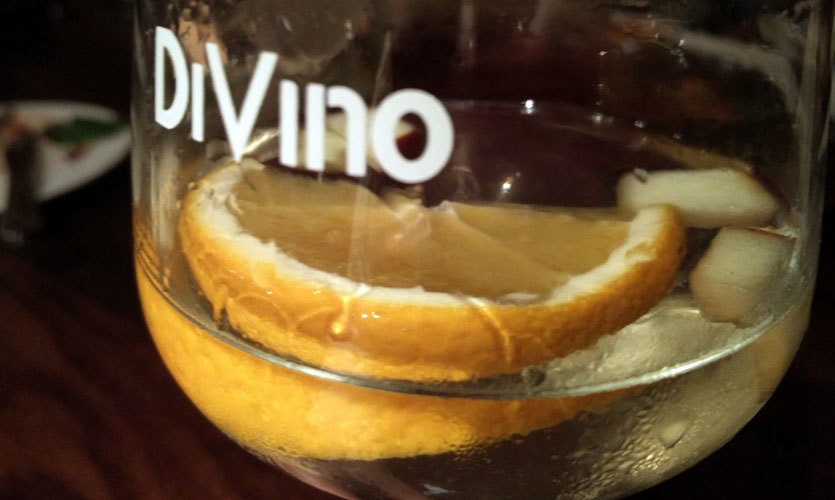 DiVino offers a friendly, informed and highly-qualified wine sommelier who guided us in pairing our choice of food with the right wine to enhance our experience. A must try at the place are their sangrias, the Rose Petal and Cherry Sangria made from rose wine infused with cherries and rose petals for a fruity flowery palate were already a huge hit on the table.
We also sipped on Cranberry Mint and the classic Red and White Wine Sangria, and trust us when we say they are the best we've had so far! Apart from sipping on the sangrias, since it was a Lannister's Night, we also tried some signature cocktails from the menu. The names of the drinks are themed on some of the prominent dialogues from the show; find Winter is Coming, King Slayer, I Am No One etc on their menu!
Chips and Dips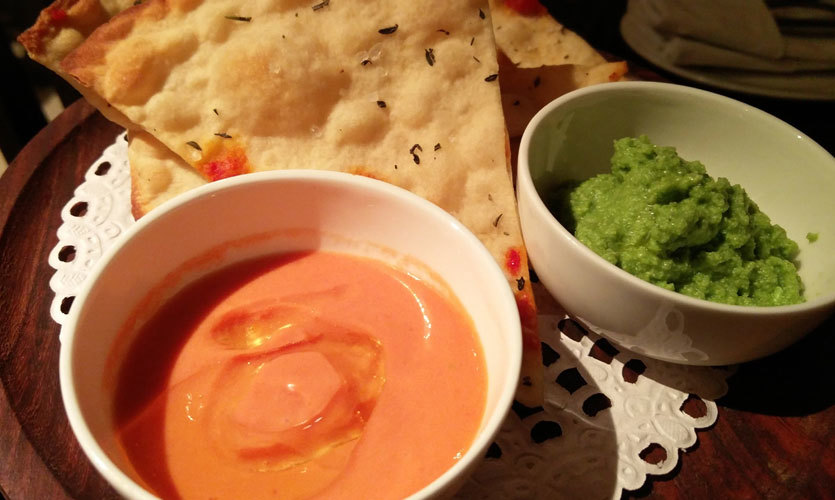 We were given a DiVino's version of the regular mezze platter to munch on till our food came in. Pizza bread chips were served with Broccoli Pate and Tomato Salmorejo. A fresh change from the usual hummus and pita, we really enjoyed this version. It made for an ideal appetizer to pair with our sangrias.
Pear and Feta Cheese Salad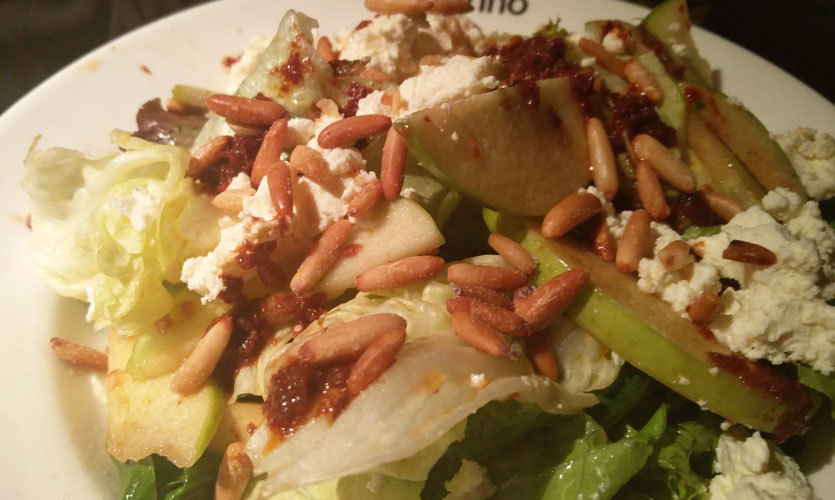 If you hate salad, then try this once and we're sure the dish will change your heart! Spring greens are tossed with candied walnuts, delicious feta, pears, and topped with the best salad dressing you will ever put in your mouth in your entire life! The crunchiness of pears and walnuts was perfectly in sync with softness of feta cheese and rocket leaves.
Twice Baked Cheese Souffle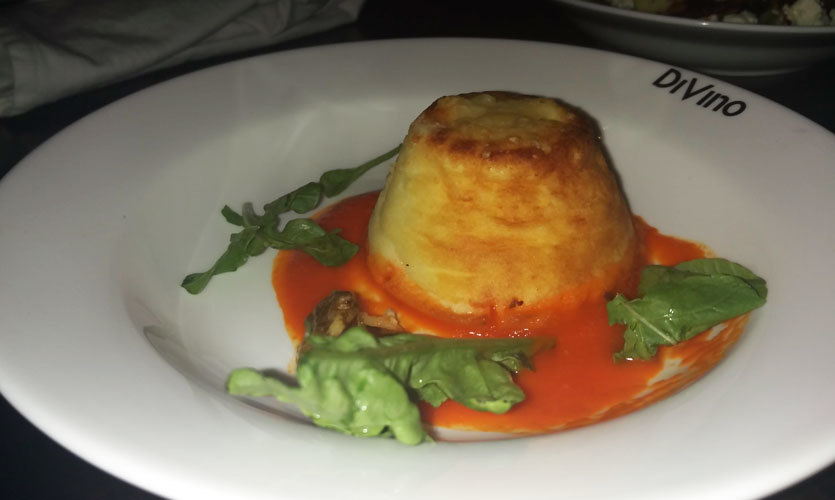 The chef's signature dish, unlike the classic fragile souffle, these individual ones are perfect for someone who is trying soufflé for the first time. The dish made for a nice appetizer; an amalgamation of Gruyere Cheese, spicy pepper sauce, caramelized walnuts and rocket leaves. Cheese lovers are sure to fall head over heels for this dish!
Classic Thin Crust Pizza
Now who doesn't love a Classic Margherita? Top it with Roma tomatoes, basil and mozzarella drizzled with extra virgin olive oil, ah what a beauty it was! Honestly, we think pizza is the best wholesome food you can have - you don't need anything else to go with it, or maybe some wine would be good; hence DiVino is the perfect place for us!
Wild Mushroom Risotto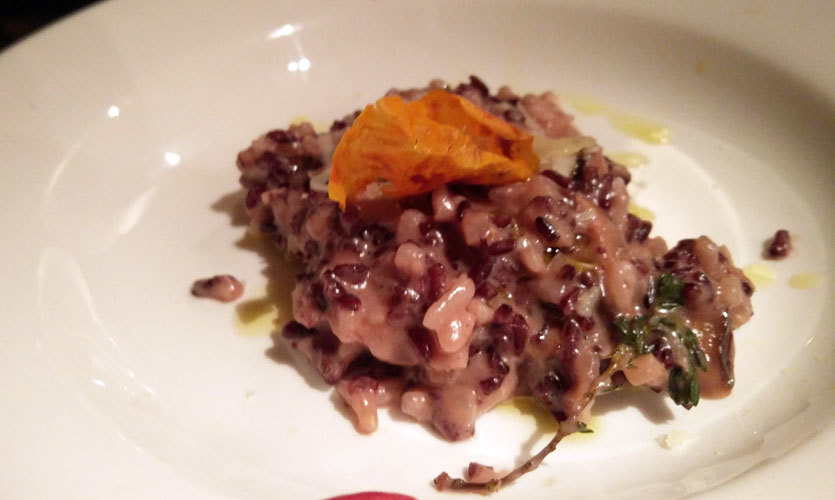 Yet another gem from Chef Saby's kitchen! We have always loved risotto anyway; it's such an excellent and versatile dish. Tonight's dish was made with wild mushroom and garlic; every bite had such wonderful and complimenting flavours bursting in it. We are definitely coming back for this risotto, pizza and their amazing wine for sure!
Chocolate Brownie & Vanilla Ice Cream
Last but certainly not the least; our wonderful night ended on a sweet note with the evergreen Chocolate Brownie & Vanilla Ice Cream. This simple yet forever favourite sweet treat was perfect to end our night here, but you guys can choose from a wide range of sweet delicacies from their menu.
Old medieval charm, good food, great conversations, laughter and a leisurely ambience, you're sure to find it all at DiVino! Come on by!
Meal For Two | Rs 1,600
Location | SCO 21, Main Market, Sector 29, Gurgaon