#FoodReview - Double Roof, Two Bars (One Theka) & Awesome Grub: Office Canteen Bar
Office Canteen Bar is one of the latest co-working cafes that have popped up in Delhi, continuing the culture of co-working & meeting up at a café, uplifting it to the next level with its three massive floors of seating and innovative ornamentation. A brilliant layout and funky décor is what makes up this place. The place derives its name from its design, where the first floor depicts the office area and the rooftop as canteen/bar. One of the levels is indoor and the other two consist of outdoor seating. The indoor level has some seats reserved for co-working. As we move up to the first floor, it does give an edge of nostalgia with logos of candies only 90s kids would be aware of. The inner floor is bifurcated to allow separate spaces to both the co-working people and also to people looking for good food.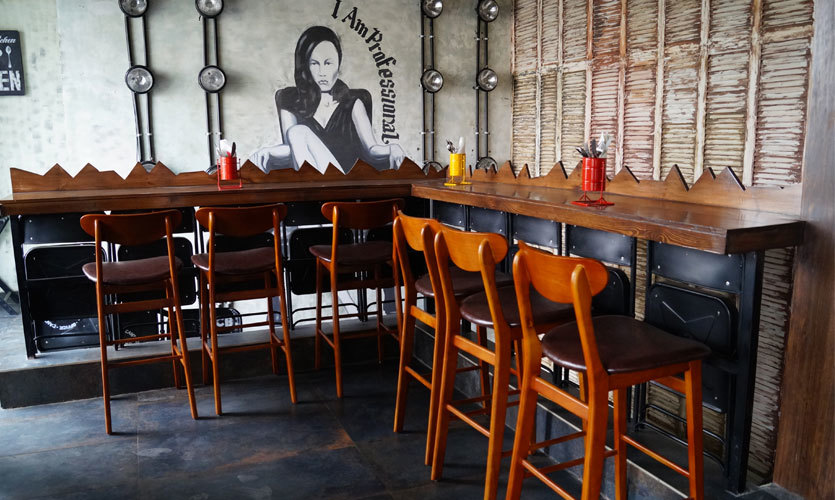 Beautifully designed and ensuring optimum utilization of the humongous space to regale all groups of people, it also has an exquisite rooftop area providing a spectacular view! The astounding feature is the presence of a double roof. Its rooftop has its own rooftop (how cool is that?!). There are two sets of bars in this café - one is on the first floor, designed in a subtle way, meeting the demands of the people sitting on that level. The other one is on the roof, depicting a theka, proffering booze and all sorts of liquor.
Adoring the view from the rooftop, here's what we gorged on:
Red Velvet Tomato Shorba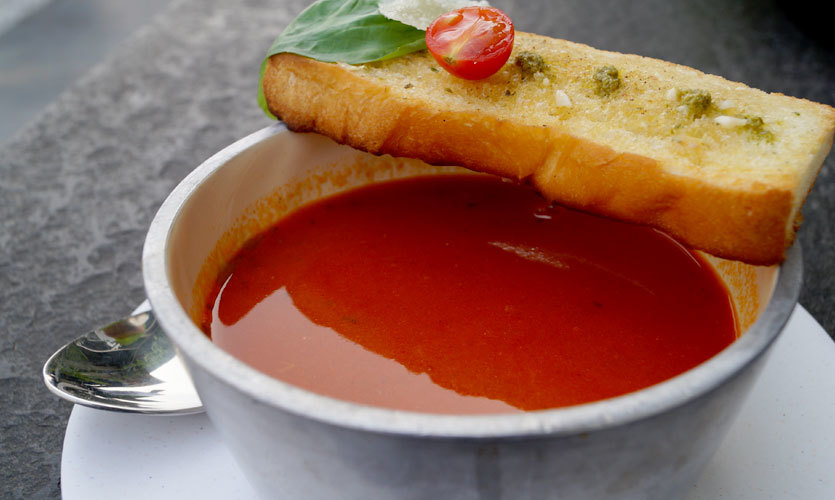 Very few places offer soup these days, and we were glad these guys did! It's one of the best things to relish in the winter season. The taste was uplifted majorly because of the usage of ample cream while stirring and the use of red bell peppers along with tomatoes while boiling. With an apt amount of black pepper and salt, one gets the true essence of shorba in this dish!
Bakri Cheese And Akhrot Bites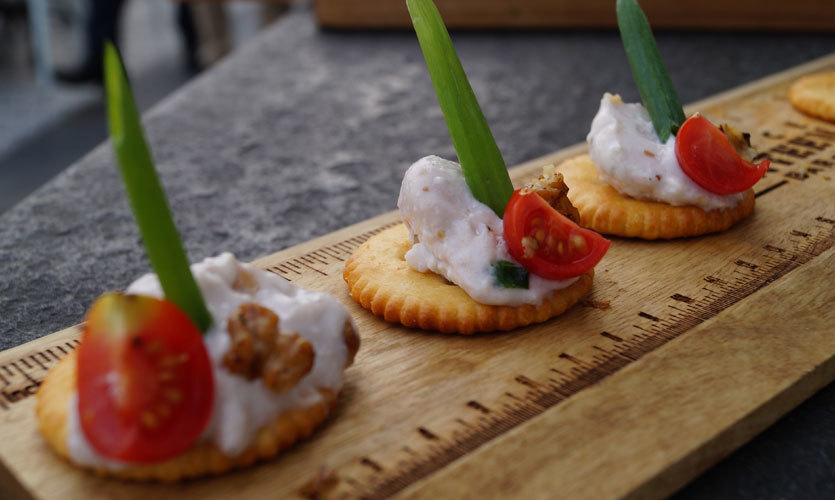 This starter had a very unique concept, which is seldom seen nowadays. It's basically Monaco biscuits, topped with farm goat cheese which is mixed with black pepper and a pinch of salt. Along with the cheese, one can find half of a cherry tomato, and a piece of walnut. For the purpose of garnishing, stems of spring onions are used. The crunchiness of Monaco with goat cheese acting as a dip and the walnut adding to the flavor brought a yummy essence to this dish.
Pro Tip: We'd suggest you plop these yummies in your mouth whole!
Uncle Chips Bruschetta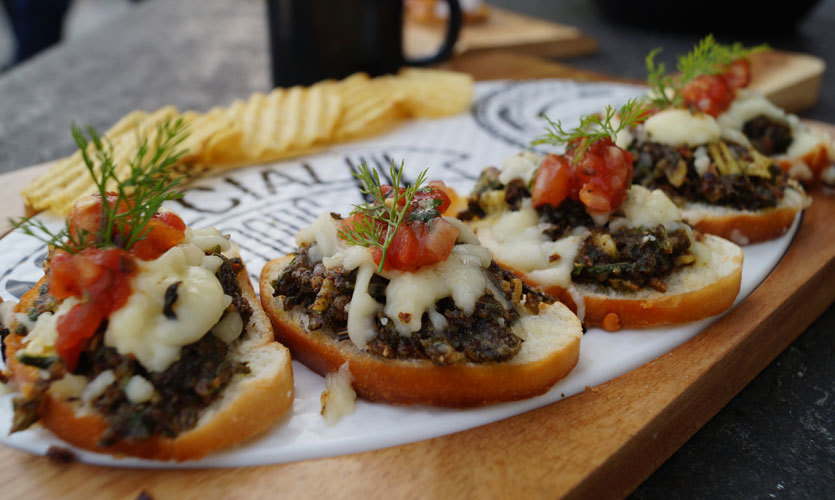 Unlike its peers, OCB uses mini bread loaves, with toppings comprising fried okra aka lady fingers, crushed and mixed with squashed nacho chips, topped with a splash of mozzarella cheese and garnished with cilantro. This is served with a small portion of Uncle Chips and salsa dip. Needless to say, the presence of multiple ingredients makes it even more appetizing! A cautionary tip: eat it up before it turns soggy.
Chinatown Fish Fillets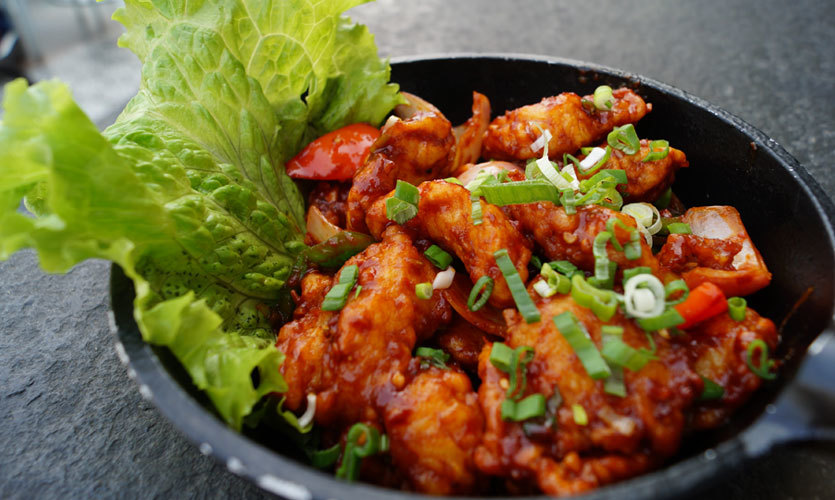 To all the fish lovers in the house, this is the dish for you! Large chunks of fish, tossed in corn flour are deep fried before stirring in spicy red sauce. It's difficult to maintain the tender nature of fish while frying, which somehow was facile for the chef here. The fish was cooked well, which can be vouched for by the fact that every piece absorbed the sauce and the spiciness lingered on!
Chicken Cast Parmigiana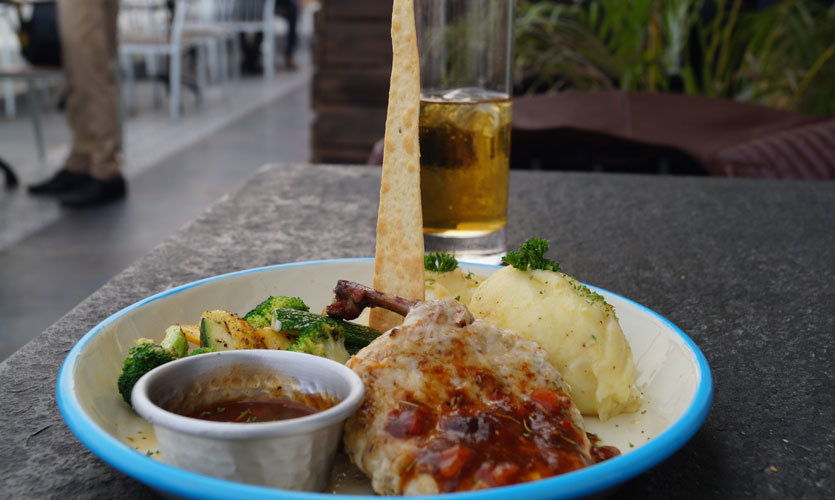 The splendid presentation of this dish was what took our breaths away! Grilled chicken breast, mashed potatoes and sautéed vegetables served with salsa dip would best summarize this dish. The grilled chicken is layered with egg and cooked in a cast iron casserole along with the veggies. The chicken is tender and doesn't lose its character. The veggies are evenly boiled and are delectable when dipped in salsa dip!
Paneer Shankarpalli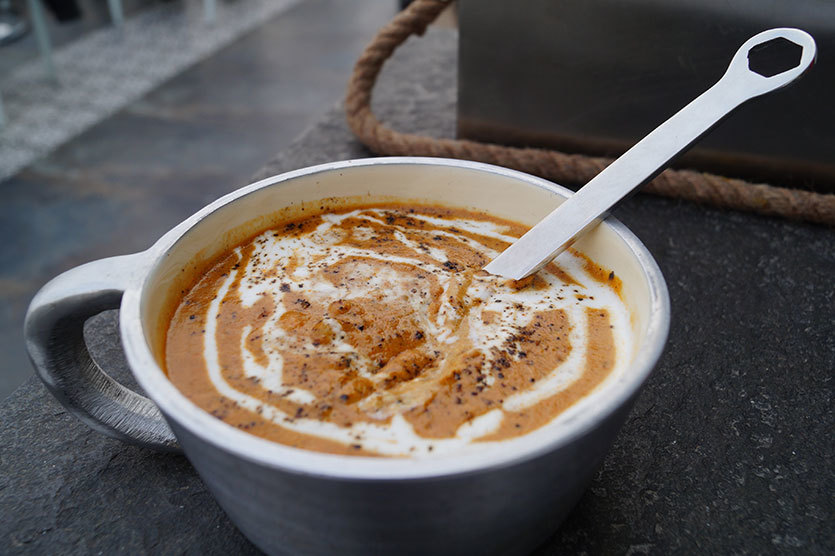 We were grinning ear to ear when we saw this dish proceeding towards us! The presentation and the whiff of the gravy left us spellbound. We could witness large, soft and very tender pieces of paneer in the dish. Even stirring and a perfect blend of spices and chillies gave an astounding texture to the dish. It's served with Butter Naan whose dough seemed fresh and properly fermented.
Paan Pasand Gulab Jaamun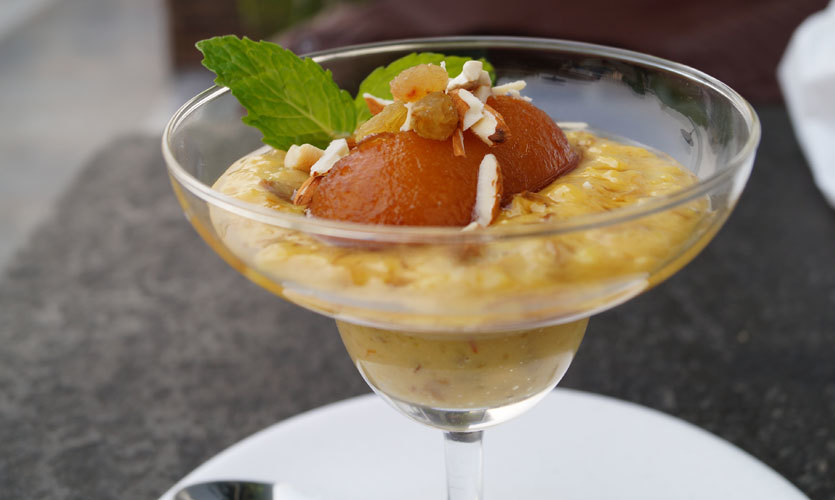 Oodles of experiments are possible with paan flavor! This dish being one of them, it was served in a cocktail glass. Paan flavored mousse aka rabdi acting as a base with searing gulab jamun having a piquant flavor is placed on top and is graced with toasted nuts over it. The essence of this dish is realized when the whole scoop, comprising of every ingredient in the glass is taken all at once. Bliss just found a new meaning!
MBA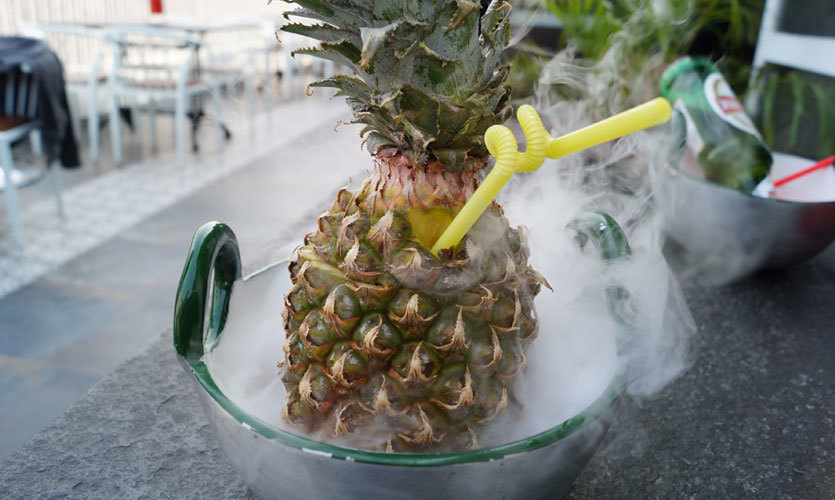 MBA is the acronym for Master of Bad Addiction. The drink is served in a hollow pineapple, comprising of a spicy house whisky with an essence of elderflower, a soft drink made from refined sugar and water solution, and Earl Grey, possessing the flavor of bergamot orange. The flavor is an anomaly, so order wisely.
The Hangover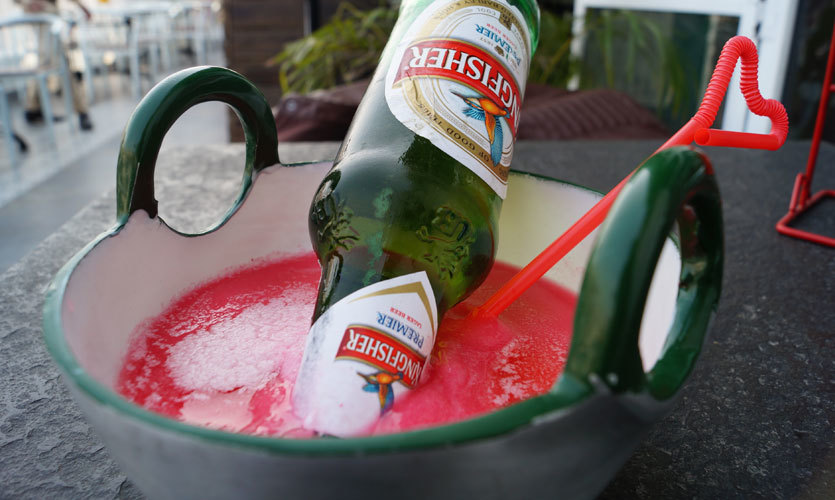 As the name suggests, a hangover is something which is guaranteed after this drink. It's a blend of tequila, lime, strawberry and beer. Now imagine all this together in single sip! Felt the jitters?
Comprehensively, a stunning ambience, mouth-watering food, a unique blend of alcohol and piles of memories and fun is what one can expect here. See you soon?
Meal For Two | Rs 1,600
Location | P-21/90,1st & 2nd Floor, Outer Circle, CP