You South Delhi peeps sure love your black burgers! Strengthening its hold in your part of town, Barcelos has opened its third outlet in DLF Place, Saket after a successful run in Khan Market and HKV. Located on the 2nd floor right next to the food court, the latest branch is a cozy, sunlit diner-style restaurant with courteous staff and funky décor - you can feast your eyes on the pops of colour dotting the space in the form of digital posters and painted wicker lamps that provide a fuss-free artsy touch. LED TVs are also set up for you to bet on the day's matches with your gang!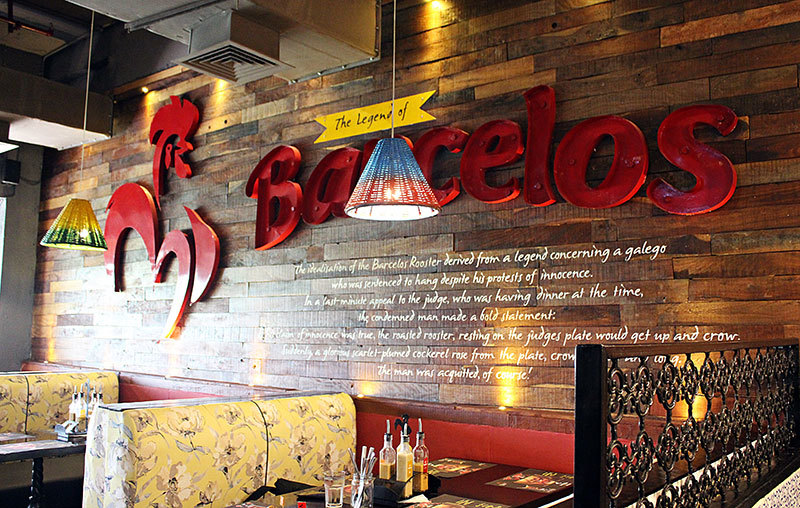 The service is great and the servers definitely know their shiz. It's best to rely on them for food recommendations and beverage pairings; whatever we ordered as per their suggestions turned out to be awesome! Unfortunately, their trademark burgers were unavailable when we showed up so we turned to other alternatives:  
Flame Grilled Chicken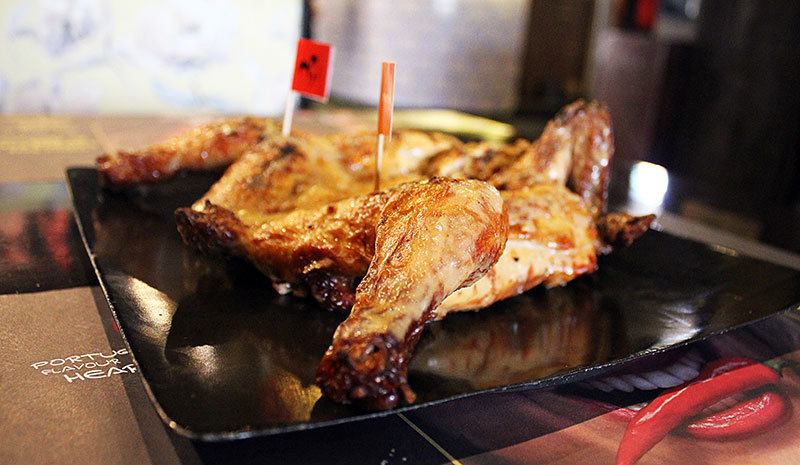 Barcelos' claim to fame, the Peri Peri Flame Grilled Chicken is a sight to behold! The perfectly seared golden brown skin literally dripping with glaze appeals to your carnivorous instincts instantly while the super meaty pieces are worth every penny! But sometimes when cooking such large portions, it's difficult to get the flavour to penetrate the entire dish and this was the only low point for us. 
We felt that although the chicken was soft and juicy enough, the actual taste was a bit too mild. We'd recommend a generous spurt of the different peri peri sauces available here to raise the spice quotient to optimum levels.
Grilled Chicken Espetada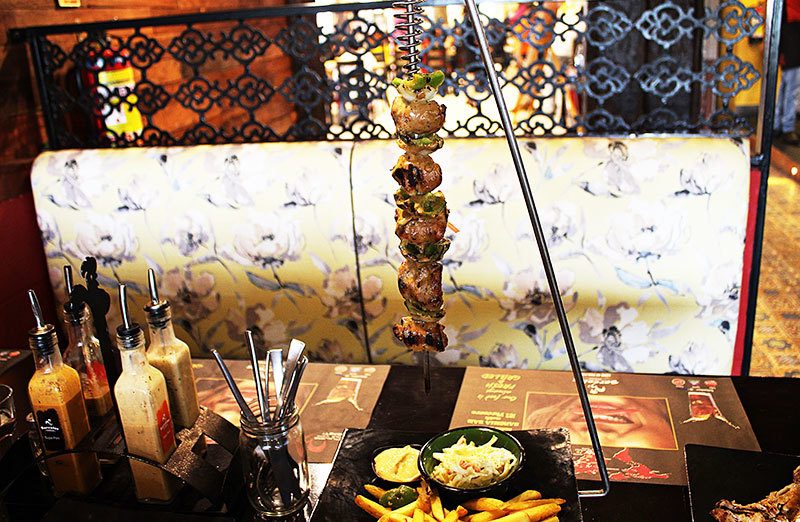 A Portuguese delight, the Espetada presented to us was basically chicken, capsicum and onion skewers served with fries and dips. This was one of the best dishes at the table, robust flavours with a layer of smokiness that signifies a good grill! The chicken is marinated with hung curd prior to grilling, which makes all the difference. 
The fries were thick (and addictive) and we happily devoured them with the tasty tartar dip. Maneuvering the meat suspended on the skewer in mid-air proved to be tricky and we left that to the staff, who were happy to help. 
Hey Rosey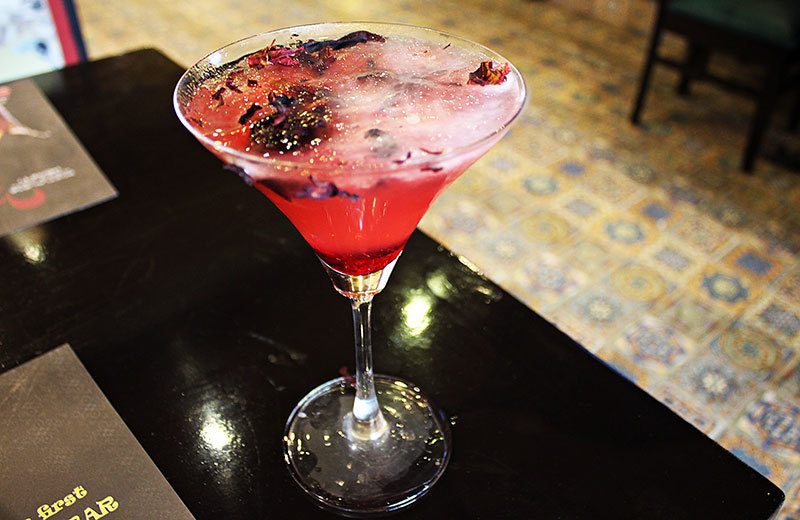 One of the specials here, Hey Rosey goes the liquid nitrogen way to add a bit of drama to your dinner (who doesn't love a mysterious molecular cocktail emerging from a cloud of smoke?)! We loved the drink, which was bursting with sweetness but not the kind that tastes like syrup, rather the kind that's subtle and refreshing. Our mouths got a break from the hardcore non-vegetarian spread with a delicate contrast via Hey Rosey - rose essence mixed with cardamom and rose water, topped with Sprite and edible petals. A winner! 
Peri Peri Chicken Sizzler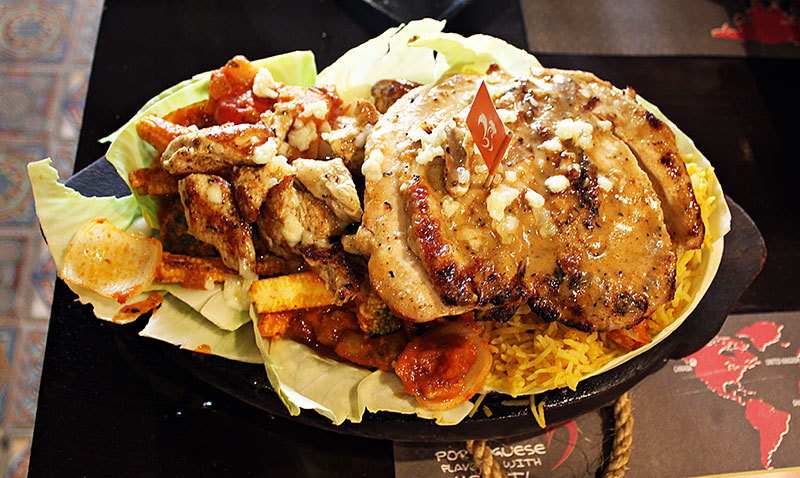 If you're taking a breather from your shopping spree, the copious amount of protein in this dish will get you right back up for another round of the mall. The platter was overflowing with chicken chunks, steak and veggies served on a bed of aromatic yellow rice, and we dug our forks in with a vengeance! The chicken was delicious (again, make use of the accompanying sauces to customize the spiciness) and we scooped up huge spoonfuls along with the baby corn, tomato, onions, and broccoli in tomato gravy soaked up with rice. A heads up - the Sizzler and a drink is more than enough if you're flying solo!
Mix Berries Shake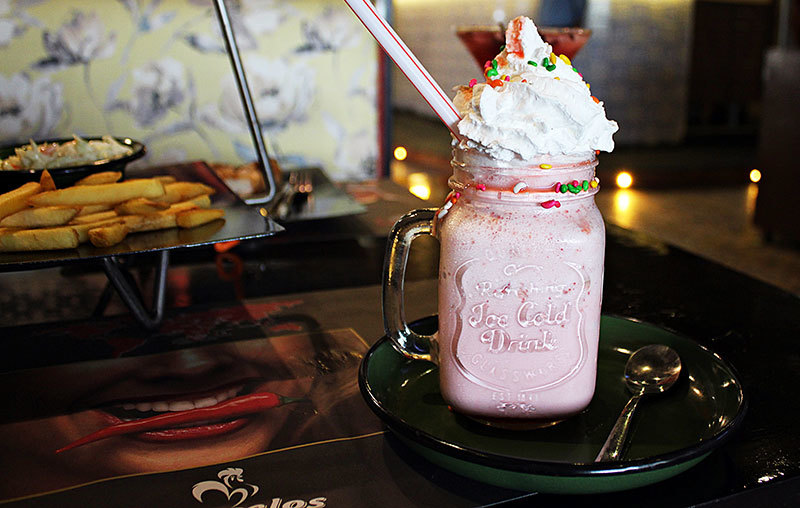 The Shake certainly looked like a dream with a tantalizing dollop of whipped cream on top sprinkled with coloured saunf! However, the contents of the mason jar could've been thicker and strawberry was pretty much all that we could taste, which wasn't too bad. If you aren't picky about your sweet fix on the side, then go for it. We'll try out the other Shakes on the menu the next time we're here. Got any recommendations for our crew? Drop 'em in the comments below! 
Double Layer Dark Delight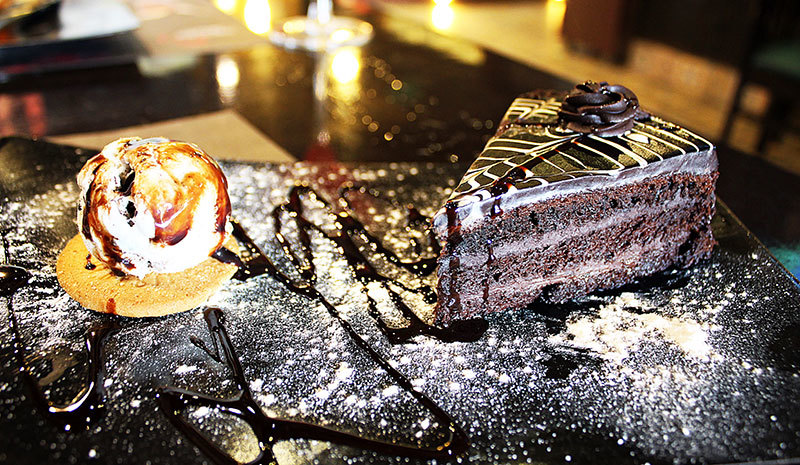 A twist on the traditional brownie with ice cream, Barcelos' version had a yummy slice of chocolate truffle alongside a vanilla scoop atop a digestive biscuit, and the entire plate was drizzled with choco sauce and sugar icing. The truffle should've been a touch less dense but other than that, we savoured our dose of chocolate with contentment. Happy endings! 
So, the next time you're looking for a cozy corner and a hearty meal in DLF, be sure to check into Barcelos!  
Location | DLF Place, Saket  
Timings | 11 AM – 11 PM 
Meal For Two | Rs 1,400