Food Reviewing! Our Crisp Winter Evening Got Even Crispier With The Little Cafe In Rohini
If you live in North Delhi, and are bored with all the restaurants it has to offer, The Little Cafe in Rohini is really a breath of fresh air. Barely three weeks old, the cafe is run by a quirky fourth-year law student, who meticulously looks after every customer coming in, personally!
Quite rightly named, the cafe is actually an adorable little joint serving the most unique items on the menu like Pizza Pot Pie, Freak Shakes and more. They also have outdoor seating, in case you maybe want to bite on their thin crust pizza while enjoying the chilly weather and upbeat music.
The interiors, too, are cozy with high stools and wall mounted tables and a handwritten menu on a chalkboard propped up at the counter. The tables might feel a little too short in breadth, but then the prettiness of the place shall make up for it (or the free WiFi defo will!). And if you still aren't impressed enough, go there solely for the Freak Shakes, which are bound to win you over. We went ahead for some guilt-free hogging to this uber cool cafe and picked these things as must-haves!
Non Veg Pizza Pot Pie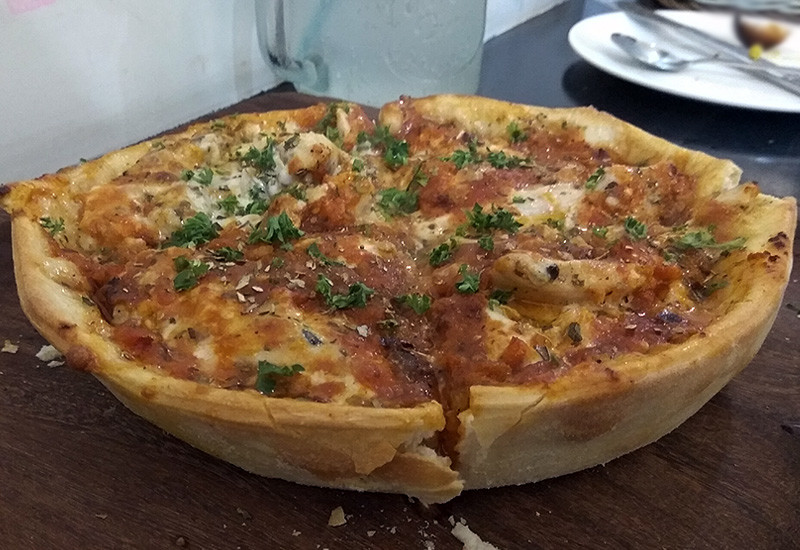 We'll be honest with you. We were a little apprehensive about the pie since we weren't sure if it'll be according to our expectations as there aren't a lot of places that serve pot pie, and even lesser places that serve pizza pot pie, which makes it all the more reason to try it. And boy oh boy, with the first bite, we went bonkers! We dived right into the steamy Pizza Pot Pie at the risk of lighting fire in our mouths. The chunks of chicken blending with oodles of mozzarella in tangy tomato sauce based on pizza dough and styled as a pie was an experience you can never get enough of!
Sauteed Chicken Wrap
The chicken wrap are served with mustard and mayonnaise, and we had the Sauteed Chicken Wrap with mint mayonnaise and loved it! The flavour of bell peppers and chicken cooked in olive oil with black pepper wrapped in tortilla comes out just brilliantly. And the best part is that in every bite of the wrap, you get to have equal proportions of chicken, pepper and mayonnaise, so the savoury flavour is retained throughout - wow!
Chicken Toasties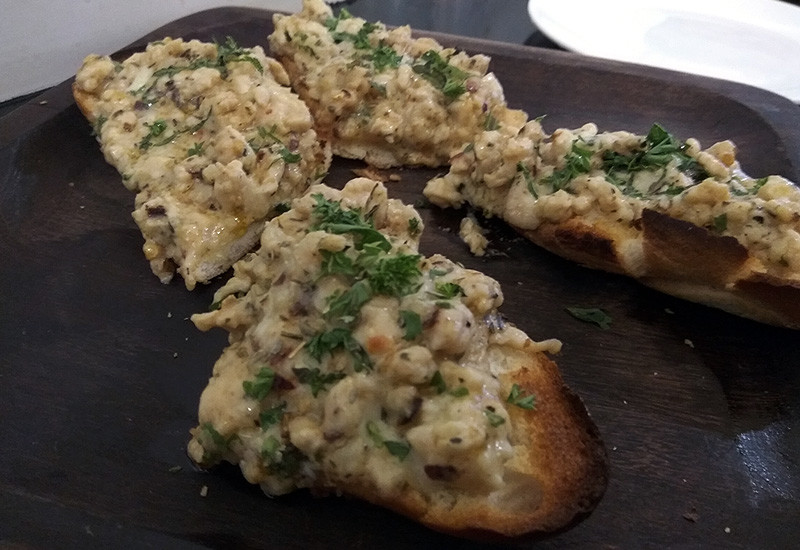 Another cool item on their menu is their Chicken Toasties, which are also recommended by the owner. Nicely minced chicken in a thick, heavenly and creamy preparation on perfectly toasted breadsticks tastes even better than it looks. Yum yum!
Brownie Freak Shake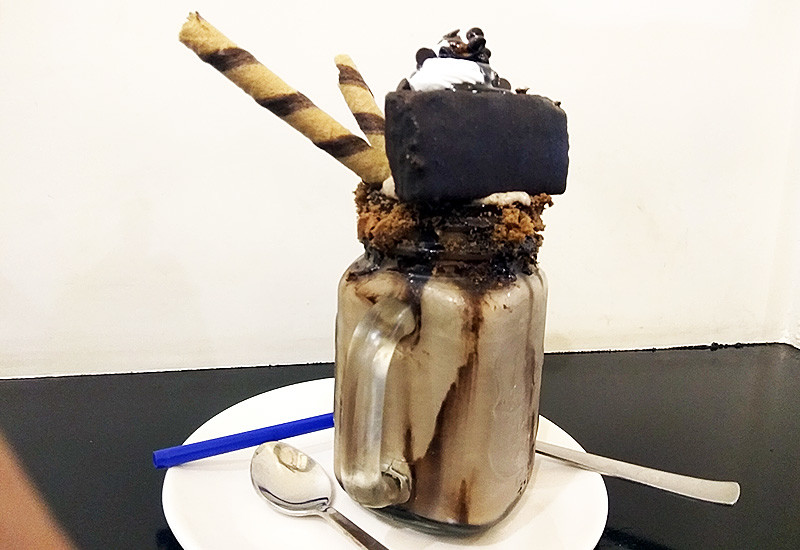 We had a lot of mouth watering items at The Little Cafe, but nothing came close to the sheer awesomeness of their Brownie Freak Shake. Thick foamy chocolate shake filled to the brim, topped with vanilla soft serve topped with chocolate syrup, topped with Hide & Seek and chocolate brownies. Should we even begin to tell you how fantastic the taste was or are your socks already knocked off? *Wink wink*
Virgin Mojito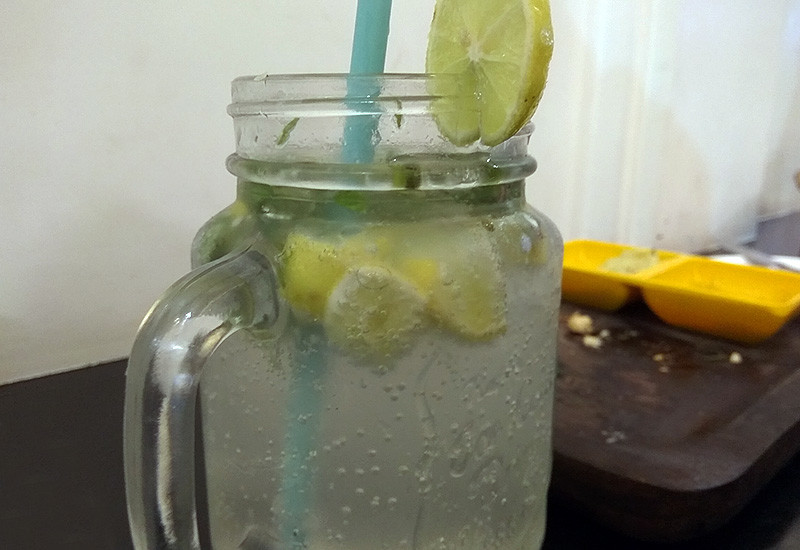 For coolers, they have three options; Iced Tea, Virgin Mojito and Fresh Lime Soda. We ordered a Virgin Mojito to wash down the Toasties with. Decorated with sliced lemon, the mojito here tastes very authentic, with no added artificial flavours. Keeping it simple and classy, nicely done Little Cafe!
Loaded Chicken Nachos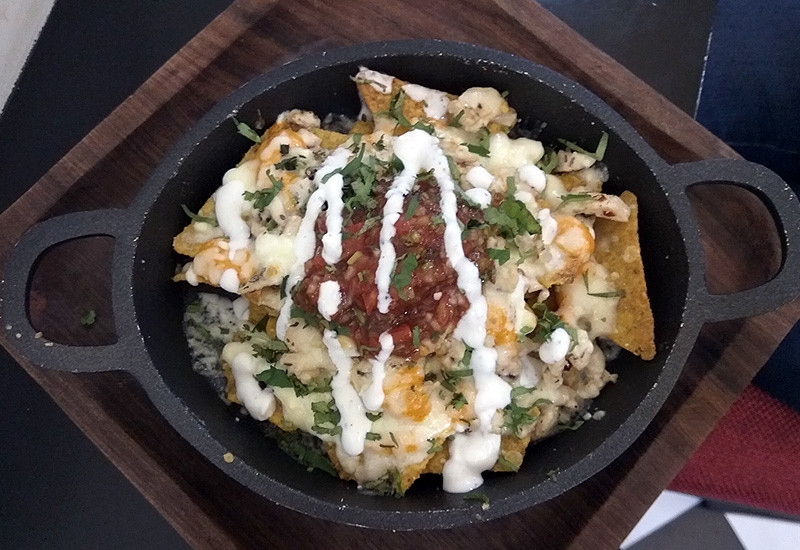 The loaded nachos are too loaded (no surprises there!) with cheese and cream and chicken, and well, nachos of course. So much so, that two of us shared it and it still took us a while to polish 'em off! Seriously though, the loaded nachos are quite a delight and are perfect when you don't feel like having a whole meal and just want to snack.
Berry Blast Waffles
Coming to desserts, The Little Cafe serves four kinds of waffles; Nutella, Chocolate, Berry Blast and waffles with ice-cream. We had the Berry Blast Waffles, which struck the perfect blend between sweet and tangy. The waffle, which is just the right level of crisp and yet had a tender softness to it, went splendidly with the berry flavour!
We are absolutely sure that once you visit this delight of a cafe, you're bound to become a regular, courtesy the cozy and familiar vibes of this charming 'little' cafe. Cheers!
Meal For Two | Rs 430
Location | Ground Floor, PVR Funcity Mall, Prashant Vihar, Rohini