Food Reviewing! Kickstarting Restaurant Week'16 With a Yummy Thai Bonanza @ Neung Roi
Happily kickstarting Restaurant Week 2016 here in Delhi, we ambled over to the sumptuous and legendary Thai joint Neung Roi tucked away in the plush confines of Mahipalpur's Radisson Blu and here's our tale! Whisked off the sumptuous, gilded and gargantuan lobby of one of Gurgaon's finest (and oldest) hotels, we were led into the equally opulent and beautiful space of Neung Roi - our Thai haven for the next few hours!
Our already-laid-out table awaited us, lit up with a beautiful lotus-shaped candle-holder, a hush-hush, luxurious setting and we were raring to set off on our Thai food binge! Wanna know the coolest thing? Our pre-curated 3-course-meal, as part of Restaurant Week 2016, came to us on - get this - individual, sleep iPads, ready to be dissected and fawned over!
Already impressed and looking forward to a feast, here's a bird's eye view of our Thai experience at Neung Roi!
Krachai Gab Goong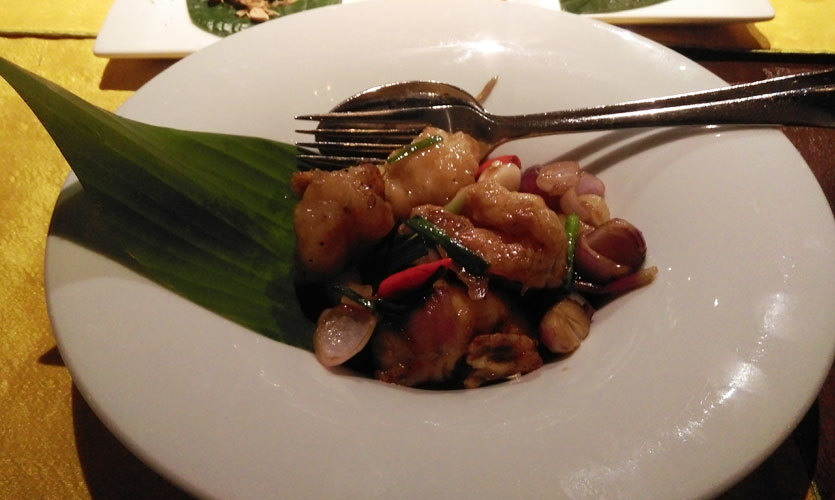 Translated into foodie, this one was deep-fried prawns served with wild ginger and shallots. We were salivating as soon as we read the description and the dish definitely stands out! A perfect balance of hints of spicy and syrupy, the sauce was perfection itself. The prawns, in turn, were fat, meaty and broke apart at the slightest nudge of our hungry forks. Served with great gobs of juicy wild ginger and yummy shallots, our appetites were certainly whetted and raring to go!
Gai Lous Suan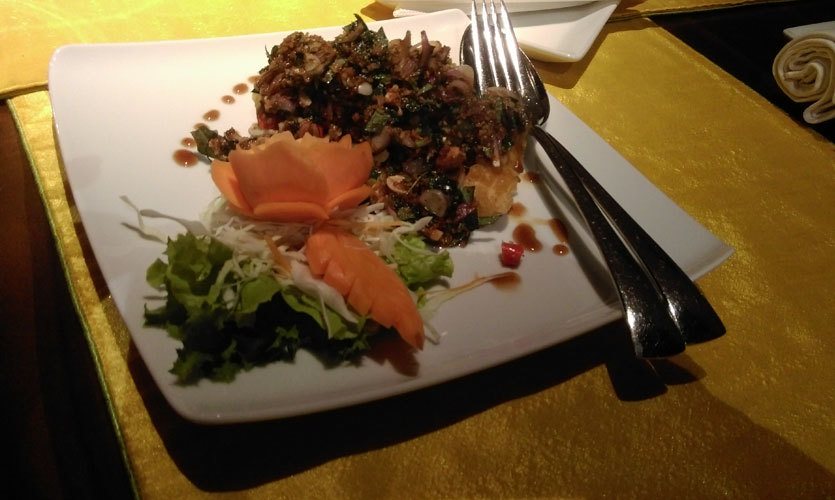 Okay, so this one was a heaping dish full of deep-fried (that's the only way we roll) chicken hunks which were perfectly (and we can't stress this enough) perfectly crisped as to be a delightful pop in every mouthful and covered with mounds of a juicy mixture composed of betel leaves, shallots and roasted peanuts. Let's just put it this way - if you don't try this one here at Neung Roi, you'll be missing out big time!
Pla Neung Manao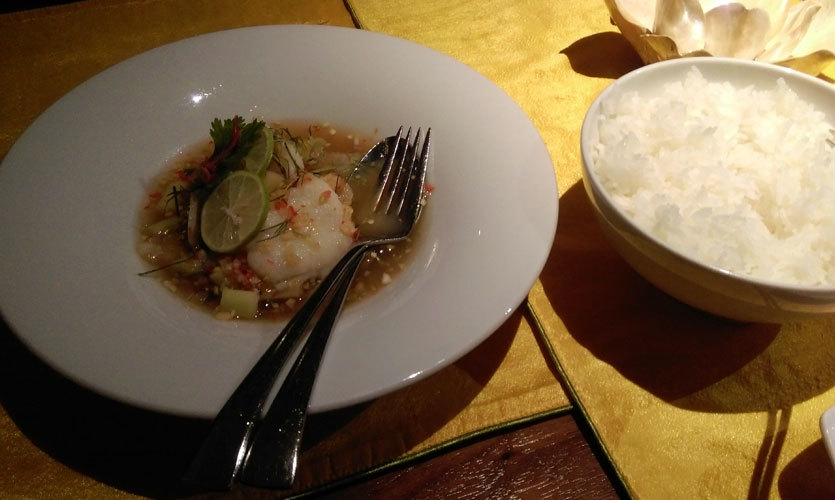 Perfectly tender and nice and thick meaty steaks of fish were doused in a delectable and addictive Neung Roi special sauce, served with generous sprinkles of zesty red chili perfectly perched atop the huge fish hunks ladled onto our plates - authentic Thai, where have you been all this time *satisfied sighs*!
Tub Kim Krob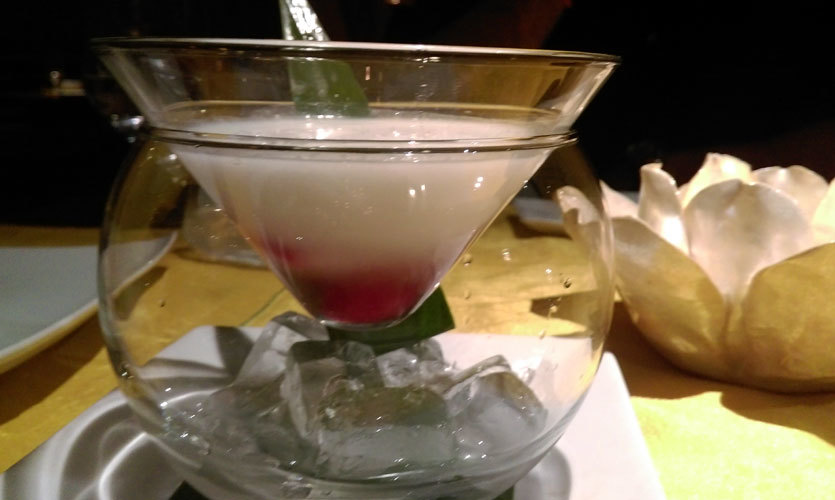 Having curbed our insatiable Thai cravings, we willingly moved onto to our dessert course, and awaited with glee their exotic offering called the Tub Kim Krob. Big, fat and juicy water chestnuts swimming in an exotic sauce composed of opposing, fragrant flavours of coconut and jasmine, every sip was thoroughly soupy, sweet and simply made our evening!
Chocolate Fudge with Vanilla Ice Cream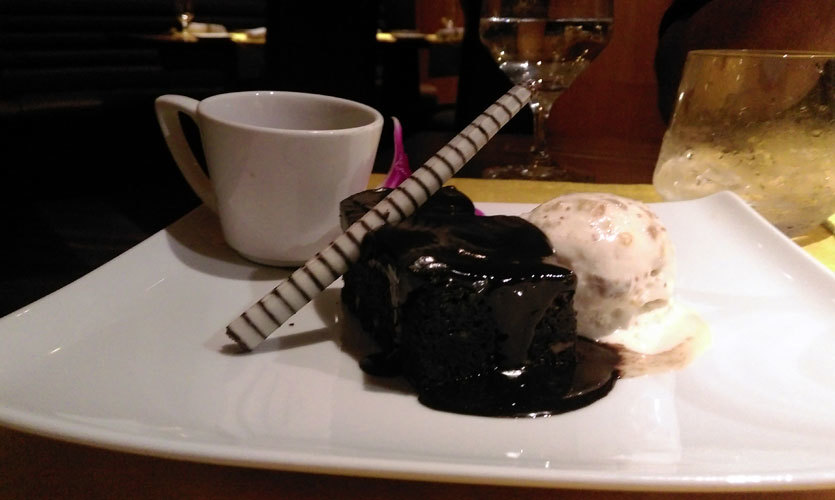 Unable to resist the offer of all-time favorites Chocolate Fudge with Vanilla Ice Cream, we valiantly picked up our fork again and plowed our way through their incredibly chocolaty and gooey wedge of fudge cake and scooped up creamy vanilla ice cream - the perfect end to a yummy Thai food sojourn!
Phad Kee Mao Tohu
Hungrily moving onto our second course, we ordered up their Phad Kee Mao Tohu. This dish basically comprised fried prawns in a patent, homemade 5 Flavour Sauce. Yummy fried prawns bursting with their awesome sauce, served with sprinkles of fresh coriander went over perfectly with our heaping helpings of steamed rice and the dish overall was a delight to sample - we polished off every last morsel!
Neung Roi is largely regarded as one of the best, most authentic Thai joints in town, and our spectacular meal just made it clear to us exactly why that is! Come one, come all - this place is seriously amazing!
Meal For Two | Rs 1,300
Location | Neung Roi, Radisson Blu Plaza Hotel, Mahipalpur, Gurgaon
Learn All About Restaurant Week Here | http://restaurantweekindia.com/