North Campus, Delhi University has long been associated with the image of an ideal hub for students, with its ever-so-peppy ambience, scores of hangout spots and most importantly, the plethora of eateries it has to offer! While there are many established cafes and restaurants in the area that have become a favourite for many of the students, we're always on the lookout for something different, and to find a hidden gem in such a huge sea.
And lo and behold, we found ourselves having a hearty meal at 736 A.D., and how far back we went in time cannot be expressed!
Well, first things first, the place is located in Vijay Nagar, and while it may not really be a hidden gem per se, it is nevertheless a place that has a lot of potential, with food and booze at reasonable prices.
The theme is quite different from other suchlike cafes in the area; as the name suggests, the place takes you far back in time, in 736 A.D. to be precise, which is fortified using brick ornamentation, dim lighting, decor that oozes off an ancient, vintage feel, and the circular shape of the cafe, along with the arched windows, makes the theme all the more beautiful.
Moving on now to the staff; the staff is courteous and eager to help; the service was good and we were not disappointed with the manner in which we were waited upon.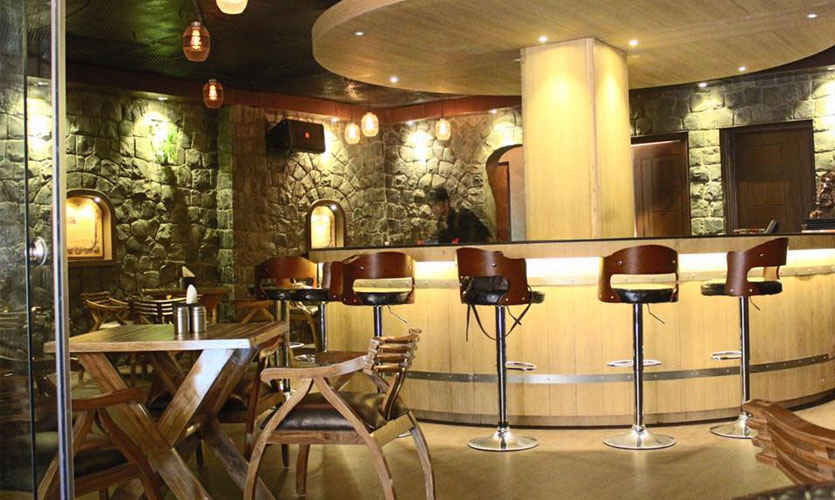 But there's a slight issue that might be bothersome for a few people: the place is fairly compact, and unlike other cafes in North Campus, it does not offer a separate seating space for people indulging in hookah and alcohol. So that could become a menace for the hookah avoiders and alcohol abstainers; and sadly, there's not much room to escape that.
But don't lose hope, people, the cafe still has a lot more to offer; we're yet to talk about food, remember? And here's what particularly caught our attention!
Peri Peri Pizza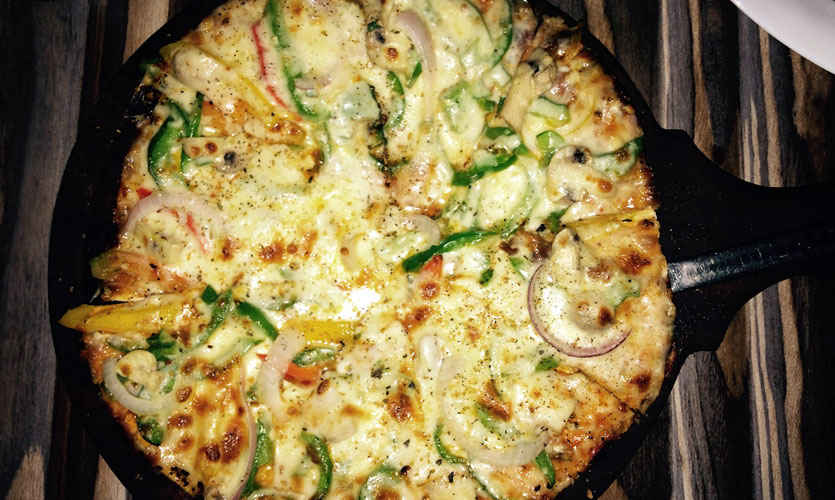 We began our sojourn with two of favourite things: peri peri flavour and pizza. And yes, it was delicious! The pizza was good; the crust was thin and crispy and was easy to chew and fresh. The flavour of peri peri was crisp and pungent. And by that, we mean to say that the overall taste gave our taste buds a fiery joy and the item was absolutely lip smacking. We were off to a good start!
Pesto & Cheese Pasta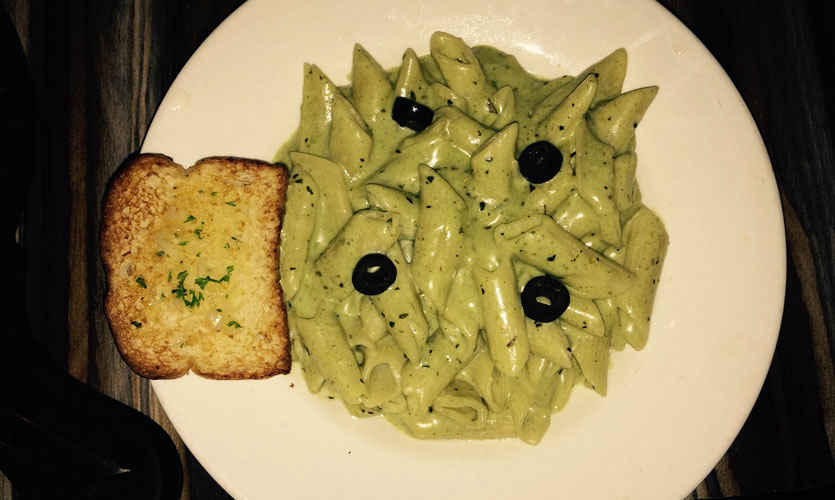 Unfortunately, we were trumped by our next dish. The pasta did not really stand up to our expectations. The pasta was at times tasteless, and the cheese did not blend in well with the overall taste of the dish. All in all, while a few things like the veggies could be credited with some flavour, the dish did not perform well for us; but we didn't lose hope!
Kit Kat Shake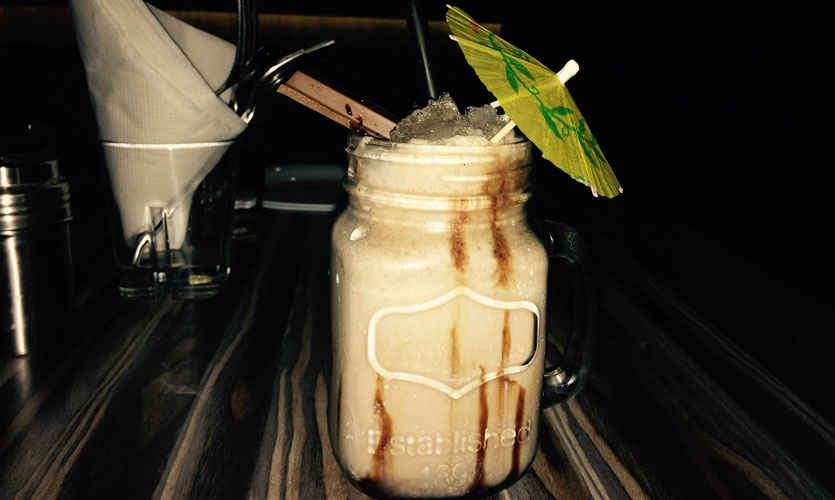 The shakes were a redeeming factor for us. Their Kit Kat Shake was an absolute delight! It had the perfect amount of sweetness to it, and was served at just the right temperature. The shake was creamy enough, thick enough and the flavour of Kit Kat had blended well with the overall taste of the shake. In conclusion, we'd definitely suggest to anyone who is planning to pay this place a visit.
Cocoa Rust Shake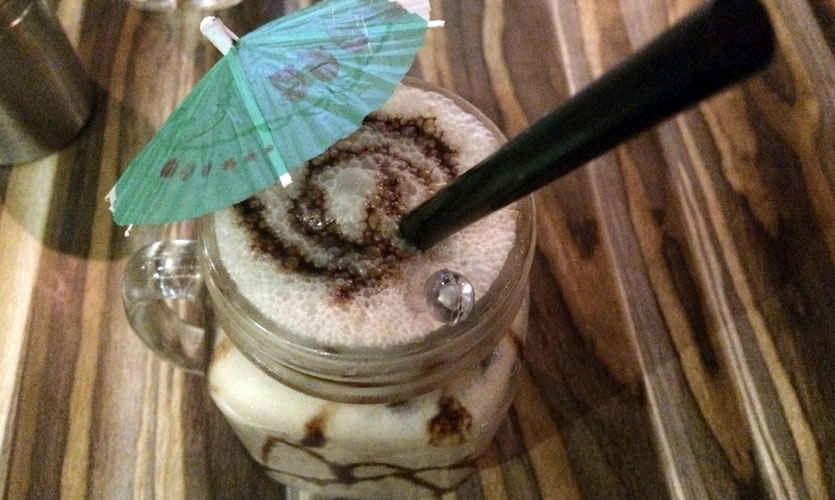 The Cocoa Rust Shake is a pleasant mixture (read fusion) of milk, Hershey's chocolate syrup (yum!) and ice cream. And it tastes as good as it sounds! Yet again, the shake was served at the right temperature; the flavour was not too sweet and the components had complemented each other well. The best part - the taste of Hershey's was evident, which made the shake one of the best we've ever had. A must have whenever you visit this place!
Brownie with Ice Cream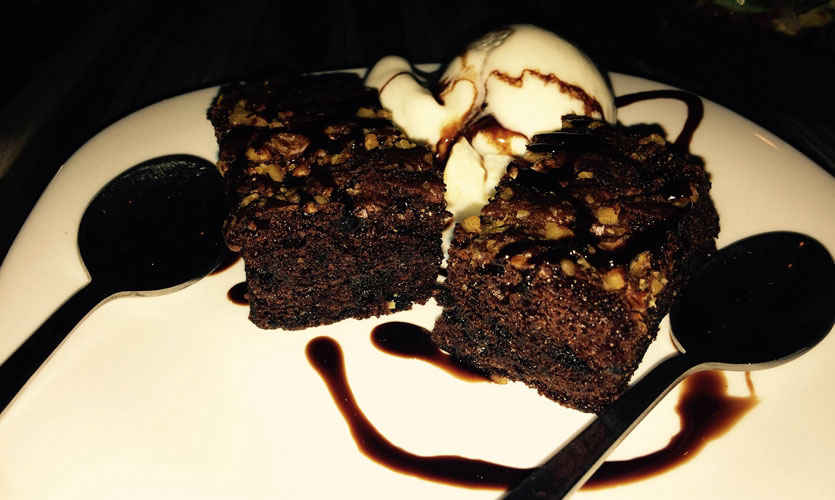 We are happy to promulgate that we ended our sojourn with an amazing dessert. The brownie was tender, hot, and served with an abundance of chocolate. Further, the ice cream complemented the brownie very well; and all in all, the dessert was our favourite at the place!
736 A.D. is a promising cafe and while it lags behind other cafes in a few cases, the place is nevertheless a must-visit (at least once!). And if you're someone who loves to party and does not mind loud music in comfortable seating; and are not at all bothered by hookah or booze; the place should definitely be on your bucket list! Come on over.
Meal For Two | Rs 800 - 900
Location | G-15/B, Vijay Nagar
Call Them Up | +91 11 3310 6025