Do you guys remember how it feels like to be on a ship? If not, then we just saved you tons of money; experience all that while sipping on excellent fresh beer and hogging on great food right here at Dockyard!
Concept restaurants have been all the range in the restaurant business, and it can be quite a task to come up with a concept that stands out and delivers it right. The peeps over at Dockyard have managed to get it all on-point with their ship-themed restaurant.
Standing true to its theme and name, visit the place to find wooden flooring, large brewers and an open kitchen on the first floor. Take the stairs down to the basement, and be completely amazed by the interiors! The place sports probably the biggest LED screen area in town, displayed behind the bar. The basement is pretty huge and can accommodate anywhere around 80-100 people at a time, and with an impressive bar and snazzy DJ area, the place looks perfect for any sort of gathering.
Find photos of ships lined along the walls, vintage lighting and oars along with sails on the ceiling. Our favourite spot, though, was the smoking room - replicating an engine room, the place sure is mesmerising!
Fresh Beer, Cocktails and Mocktails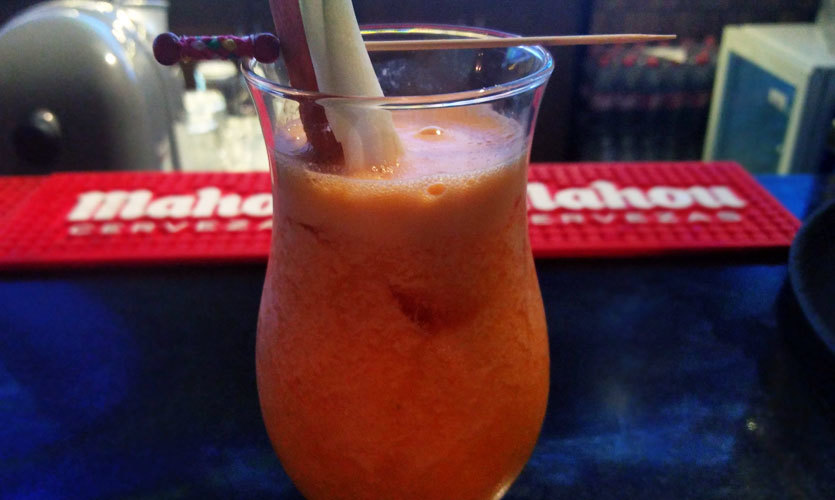 The place specialises in brewing four types of German beer, and our pick for the night was Premium and Wheat - now we're no brew masters, but we definitely loved the smooth texture of the beer and how easy it was to chug on. We also tried the Carroappy from the mocktail section and Beer Rita from the cocktail section, both great are choices for when you're not in the mood for beer - go try! 
Wheat Beer Pizza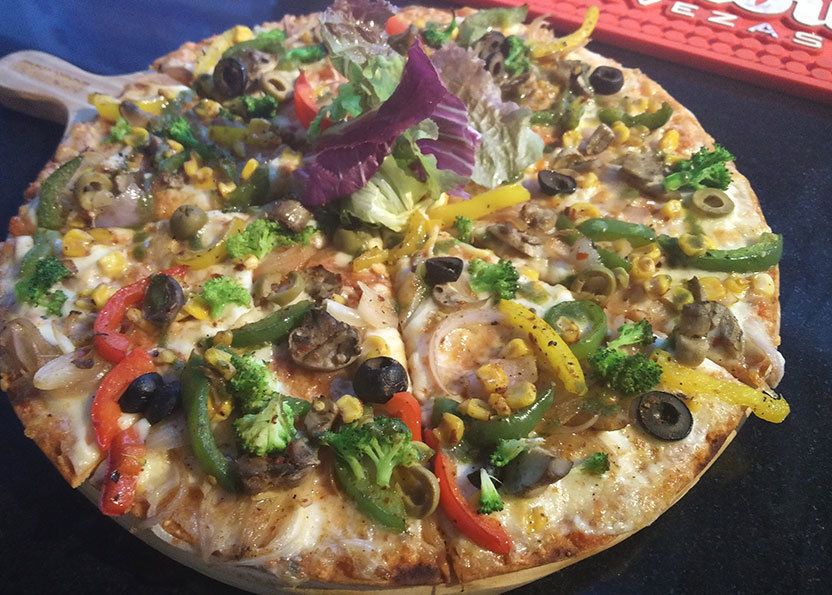 Wheat Beer Pizza tasted as incredible as it sounds! We ordered the Pizza Giardino comprising of mushroom, bell peppers, corns and onions. Thin-crusted crisp pizza loaded with lots of veggies was perfect to pair with our beer and start our delicious nautical-cum-gastronomical journey at this place!
Non Veg Kabab Samplers
Next up we tasted the Non Veg Kabab Sampler consisting of Kasundi Murg, Murg Tikka Angara and Chapli Kabab. We were amazed at how the chef curated such a marvellous palate of dishes with incredible flavours. We loved all the three samples, especially the Chapli kabab - utterly delicious, soft and moist, the piece just melted in our mouth upon the first bite. 
Tangra Chilli Chicken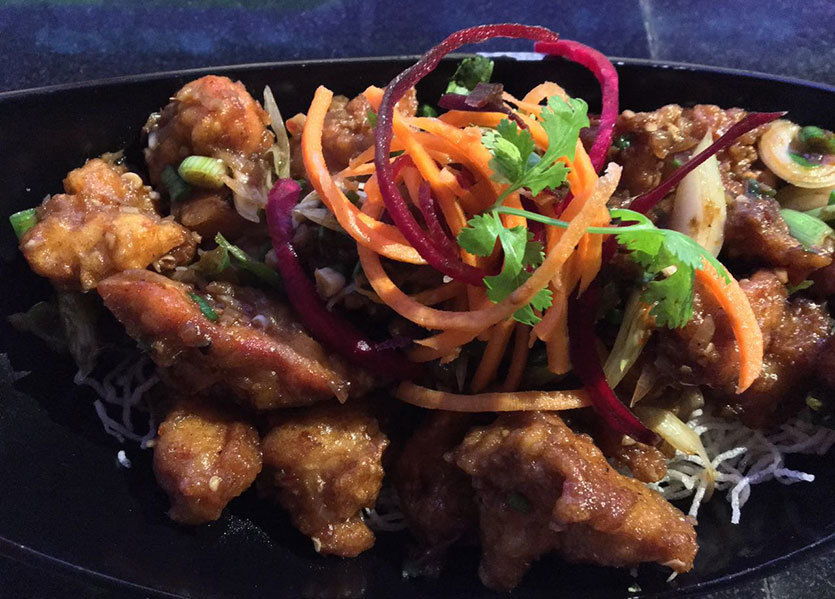 Dockyard's version of dry chilli chicken! An appetising bowl of Tangra Chilli Chicken was brought to us; now the specialty of this dish was that no bell peppers were used, only green chilli, spices and chicken hunks. So this version is perfect for anyone who has the habit of picking out all the veggies from their dish! 
Satay Kai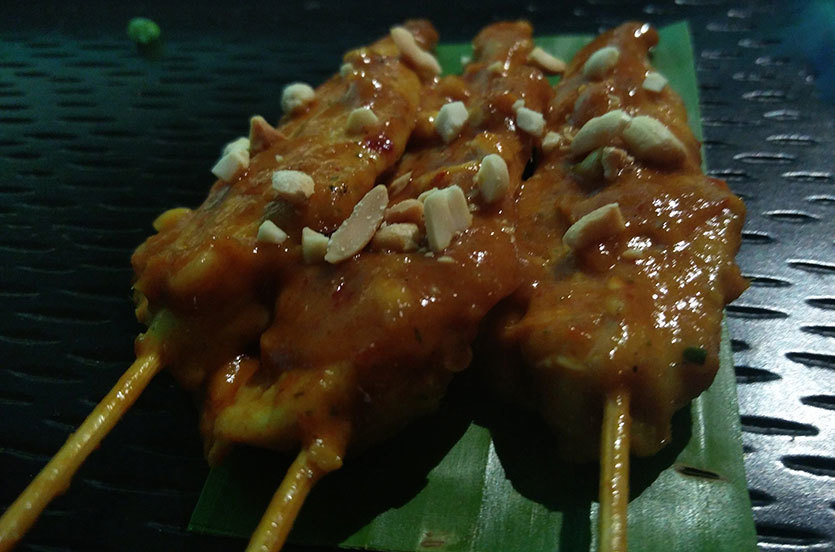 What's better than chicken satay? Peanut Butter Chicken Satay, that's what! Thai chicken satay was served with warm peanut butter, like we needed any more reasons to love chicken. The softness of the chicken and the crunch of the peanuts was such a scrumptious fusion that we polished off every last bite!
Five Spices Lamb Chops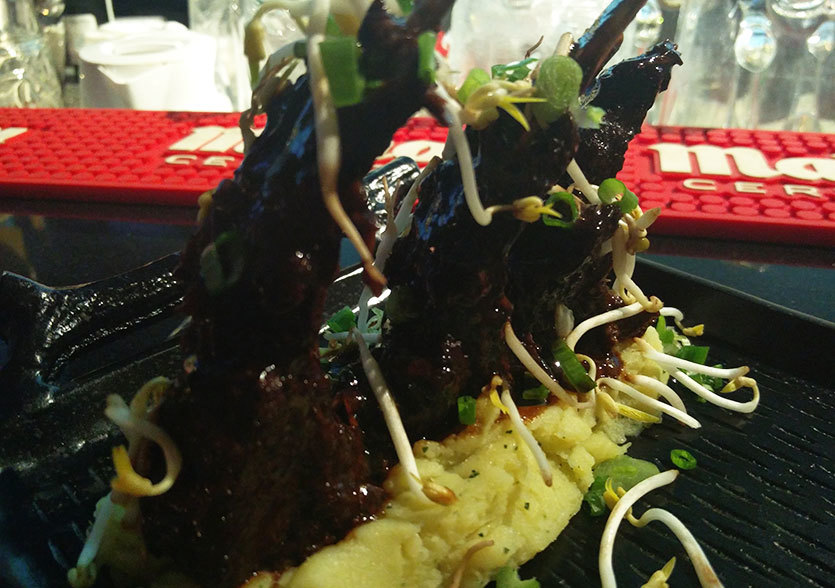 Twice-cooked lamb rack with honey and five spices was perfection! The tender juicy meat had flavour in each and every bite. It was amazing how fast we were able to finish the dish and were left wanting for more. Do try this dish and thank us later for the recommendation!
Desserts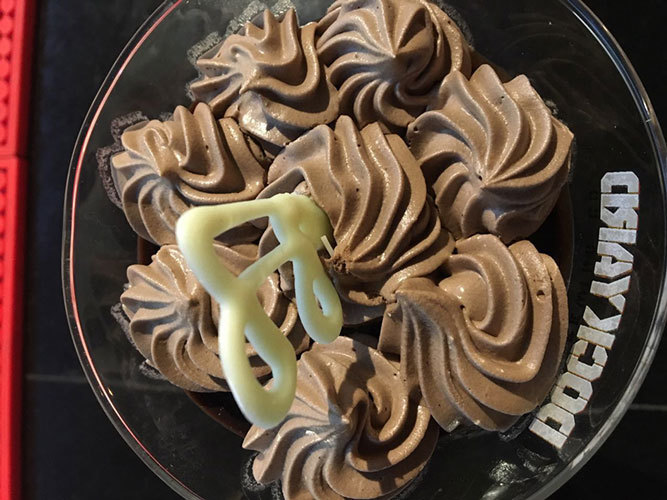 None of our meals are ever complete without gorging on some desserts. Browsing through the menu we were thrilled to find Gur Ka Paratha on the menu, a typical Punjabi desert was not what we were expecting on the menu, so we had to order this! The paratha was symmetrically cut into four pieces and was brought to us in a shovel along with some vanilla ice-cream. Now we cannot stress this enough how amazing this dessert was - the perfect way to end our meal, we were hooked till the last bite! We also tried their Sumatra Rich Chocolate Mousse, but unfortunately this dessert failed to impress us as much as the earlier one. 
So there you go folks, go visit the place to experience the awesomeness that awaits you at Dockyard! See you there.
Meal For Two | Rs 2,000
Location | SCO 53, Sector 29, Gurgaon