Cyber Hub has truly carved a niche for itself in a few short years, with A-list restaurants added to the Hub every now and then. The most recent addition to the list is Mumbai's beloved Indigo Delicatessen. We loved it when it was in Ambience Mall, and we love its all-new outlet in Gurugram too!
We visited the place for dinner and were greeted with lots of pretty lights and smiling faces. The entrance has a cute seating area, perfect for brunches and summer dinners. The colours and tones used lend a sense of comfort and warmth within the space, and adds to the overall experience.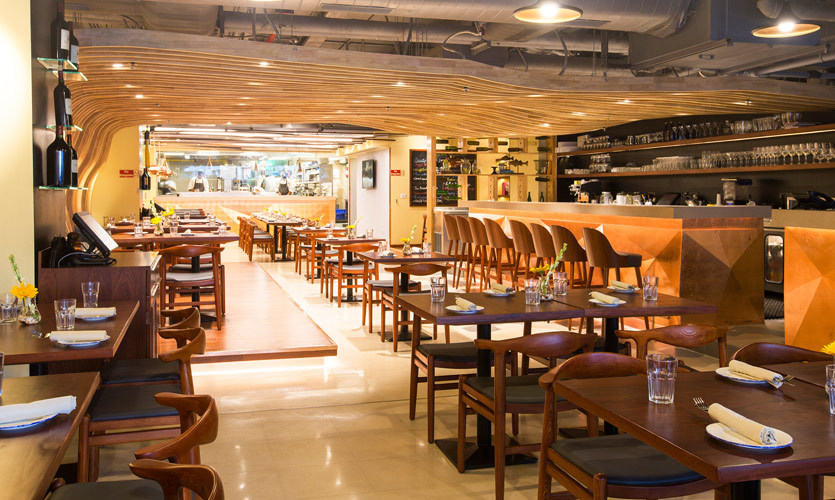 Maintaining a subtle taste in interiors, the place has comfortable seating areas and chalkboard display menus, giving the Deli a very lovely look. We especially loved the details given to the interiors. Every nook and cranny of the place has something to say about itself; our favourite spot was the little library beside the bar; a good collection of books and comfortable seating makes the area simply perfect for a brunch date!
Before settling for dinner, we browsed around a bit to find in-house jams, marmalades, mustard sauce, breads and ice-creams. We obviously made a mental list of what we wanted to pick later. Let's talk food now! Indigo Deli has a well-crafted menu, comprising contemporary western comfort food, cooked using an array of techniques and practices - mostly European and American. Here goes!
Cookie Shake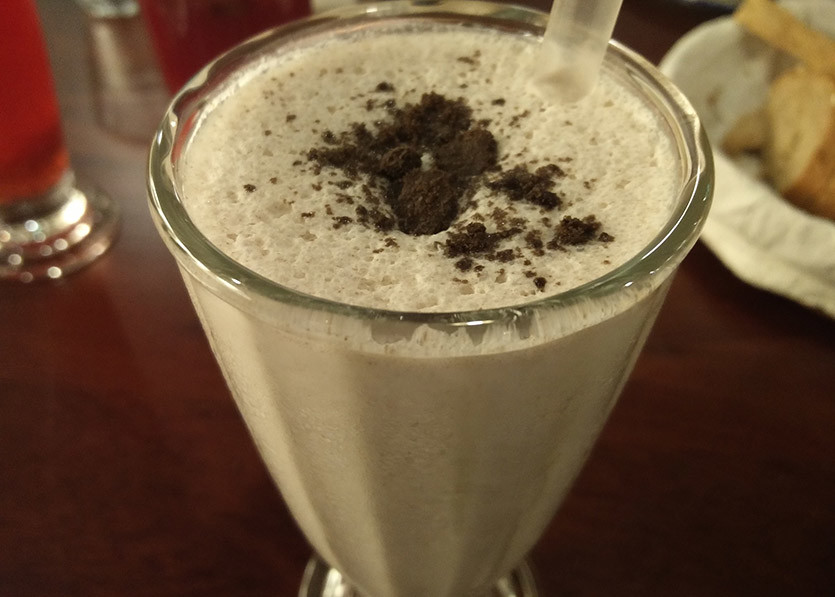 We love everything that's got cookies and chocolate in it, so it was a natural instinct to order their Cookie Shake. If you like rich, creamy, perfectly blended milkshakes, you won't be disappointed the way this cookie crumbles! Yum yum.
Cranberry Raspberry Lime Tea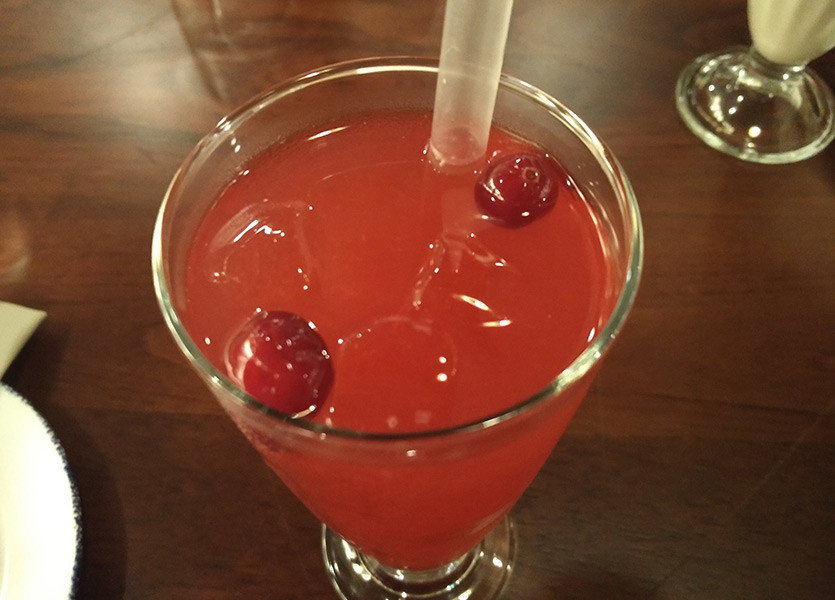 Our next drink was their Cranberry Raspberry Lime Tea, one sip and you'll likely agree this is the best flavoured tea you've ever tasted! Made from cranberry juice, herbal tea and raspberry, the drink was an absolute delight. 
Watermelon Cold Pressed Juice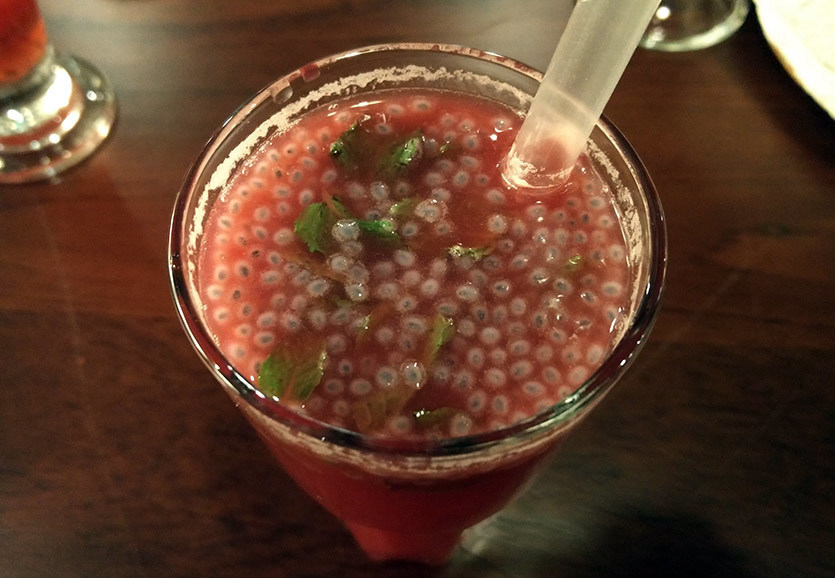 Our third drink was slightly on the healthier side. We ordered ourselves a Watermelon Cold Pressed Juice that was a medley of grapes, pomegranate, chia seeds and mint. Unlike other bottled cold pressed juices, this one was an actual delight to sip on! 
Citrus Salad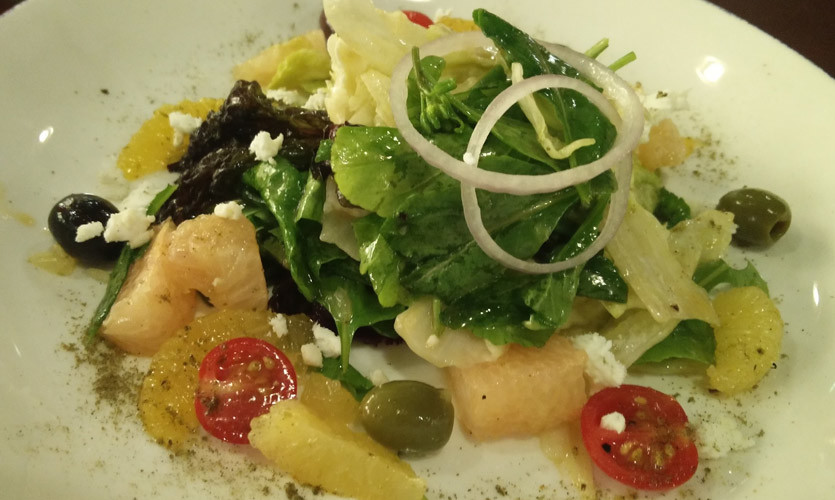 The first thing we ordered ourselves was a tasty summery salad made with fresh citrus fruits, bitter greens, red onions, kalamata olives, feta and citrus dressing! Differently delightful from the usual all leafy green salads that are somewhat bland, greens tossed with fresh fruit were deliciously refreshing and perfect to kick off the rest of our meal. 
Wafer Thin Pizza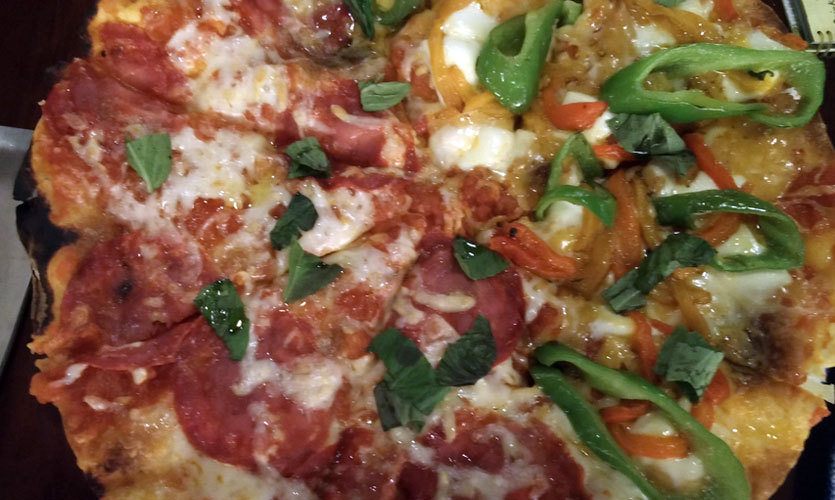 Next up we ordered a 'Half n Half' pizza with a crispy wafer thin base, a specialty at Indigo Deli. We choose Chorizo and Scamorza for the non-vegetarian portion and 3 Smoked Peppers and Cheese for the vegetarian portion. 
The 3 Smoked Pepper and Cheese was one of the best selling dishes in their menu and contained 3 types of bell peppers namely; red, yellow and bhavnagri peppers and 3 types of cheese; cheddar, scamorza and fresh mozzarella, the Chorizo and Scamorza pizza outscored it! We loved the prime-quality ingredients atop the barely there thin crisp base.  
Bombay Chicken Wings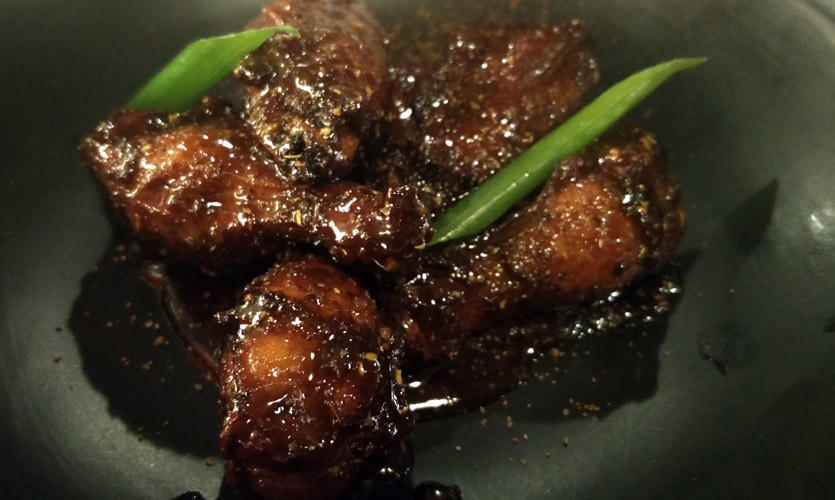 Next we tried the Bombay Chicken Wings - one bite and we were hooked! The nicely glazed wings had the perfect outer crunch with incredible coating, and tender juicy chicken inside which was served with a cheesy dip. We loved how the brown sugar gave a subtle sweetness to the dish and the sprinkle of ground spices gave it an even more aromatic experience. A dish not to miss at Indigo Deli!
Veg Quiche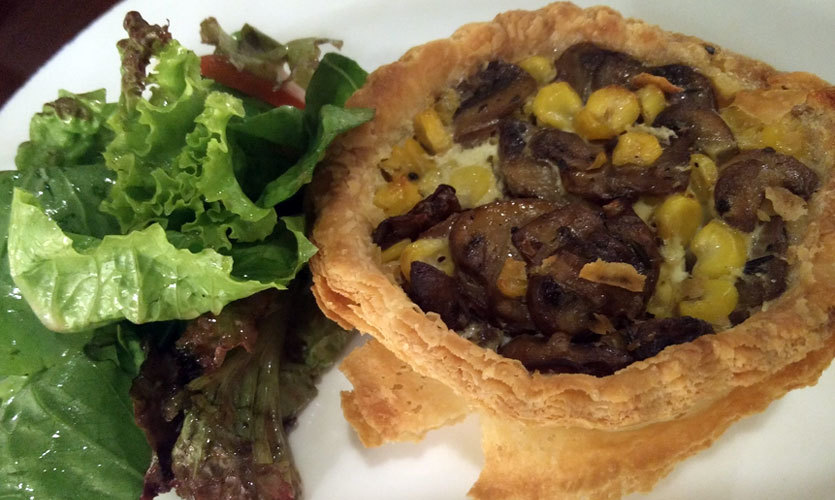 In the vegetarian section, we tried their Quiche of The Day, which was Mushroom & Sweetcorn with cheddar cheese. The symphony of all the ingredients blended really well with each other, and made us reach for more! The dish is ideal for both breakfast and lunch, so a definite must-order.
Plum Almond Tart & Milk Chocolate Hazelnut Brownie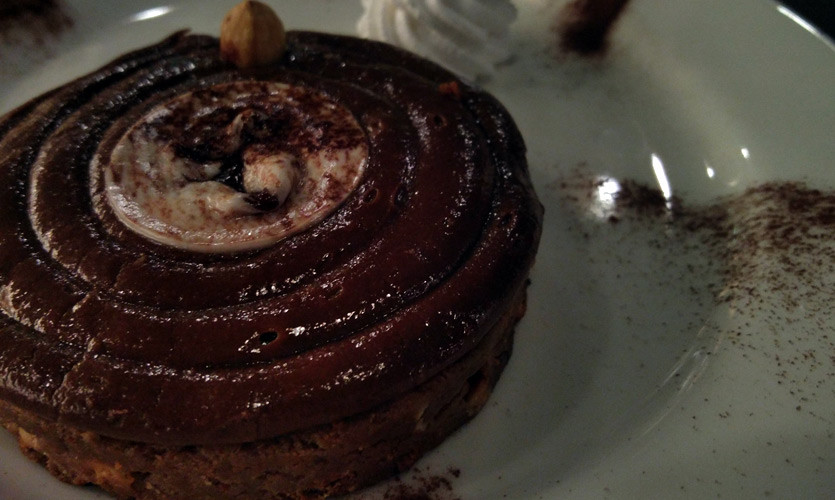 Now even though we were stuffed from all the scrumptious dishes, but as usual we couldn't leave without satiating our giant sweet tooth,  and so we asked the chef to send across their best selling items and were served with Milk Chocolate Hazelnut Brownie and Plum Almond Tart with vanilla ice-cream. Juicy plums and almonds are a match made in heaven in a tart, especially when served with ice-cream, and we loved the dessert!
The second dessert was a decadent hazelnut-flavoured brownie which was served in a spherical shape with wonderfully creamy and thick milk chocolate on top. One bite of the brownie, and we were in true dessert heaven! Softness of the thick milk chocolate and the crunch of hazelnut was absolutely perfect and we couldn't have asked for a more flavourful sweet ending!
So to sum up, Indigo Deli should be on the top of your list of new restaurants and trust us, you wouldn't be disappointed. See you there this weekend?
Meal for Two | Rs 2,400
Location |DLF Cyber Hub, DLF Cyber City, Gurgaon