Going by the current trend of freak shakes, Morellos, is a mini open restaurant that's recently popped up in Gurgaon and so, like always, we headed over to try the newbie and see what the hype was all about, only to get our hopes wrecked!
The place was way too small and congested, teeming with tables and chairs that seemed to be taken from a kindergarten classroom setup, making it rather uncomfortable to sit, let alone enjoy a meal. The saving grace, however, remained the eager-to-please waiters and so we decided to focus our attention on the food & drinks which turned out to be quite a disaster!
Pizza Muffin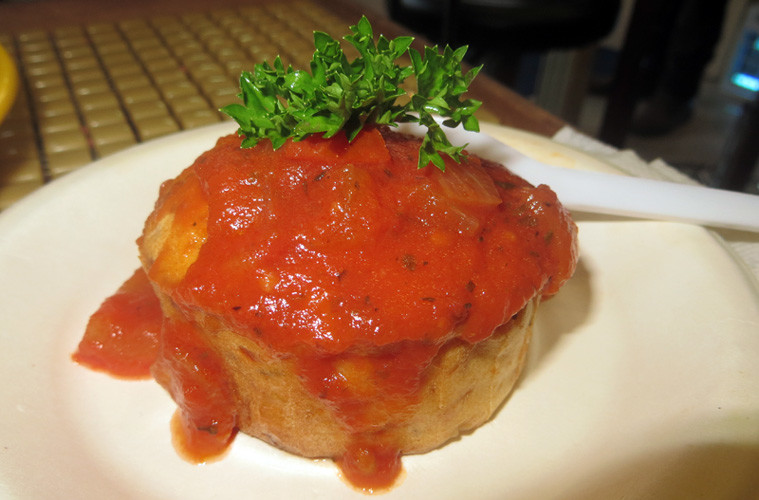 Enticed by the novelty of the name, we ordered their Pizza Muffin. On the first glance, we really liked the muffin and hence tried it in a jiffy. Little did we know it was going to be another blow for us. The first bite filled us with enormous confusion, for it was both sweet and sour, both cheesy and a little spicy. The next bite seemed even more weird, as it seemed like a complete khichdi to us. We recommend you to never try this one!
Brownie Points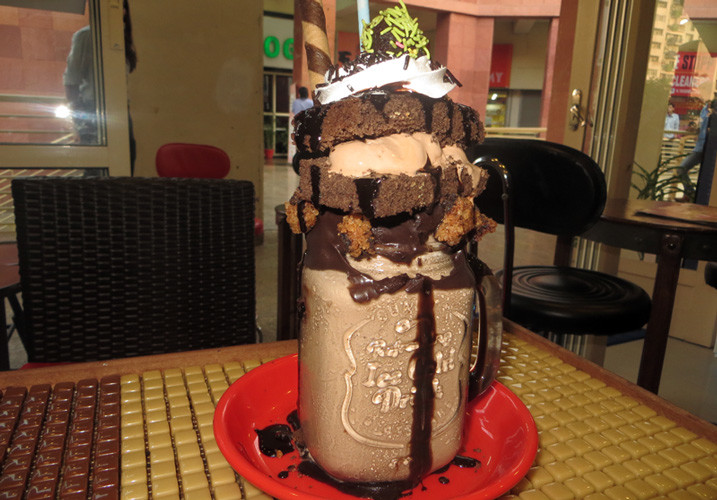 Since the place had its shakes as its USP, we ordered up their Brownie Points. The shake *looked* exceedingly tempting and made us drool over it. But once we took a bite of the brownies, they were harder than usual, and on sipping the shake, it turned out to be extremely, unpleasantly sweet - so no brownie points for this one!
Peanut Butter & Snickers Shake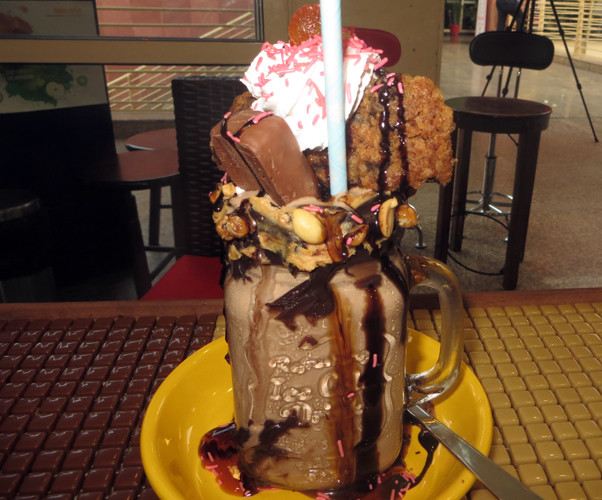 Not many can go wrong with a combination of Peanut Butter & Snickers, and so we played it safe and ordered one of these. It was loaded with peanuts on the outside, and topped with two Snickers bars. We gobbled up the upper part and then sipped the shake which was sickly sweet, and tasted quite similar to their Brownie Points shake. 
Vegetable Pasta Salad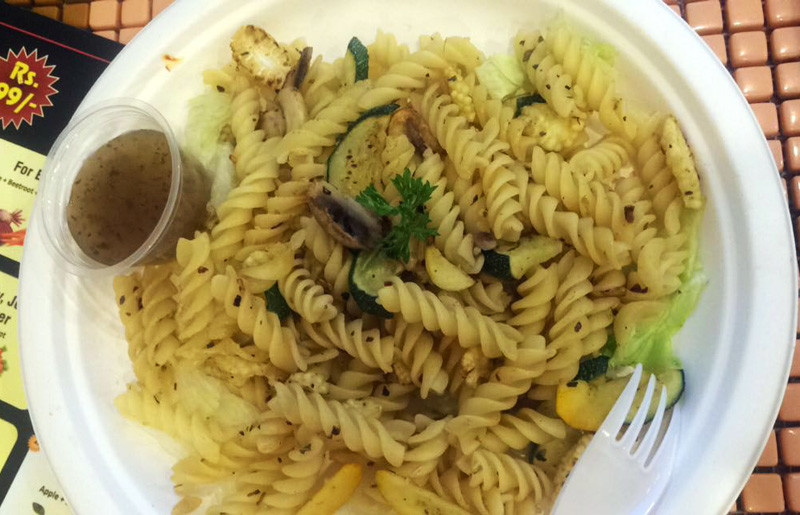 Dissing the dismay conferred by the shakes and the weird-tasting Pizza Muffin, we ordered their Vegetable Pasta Salad. It was served with a vinegar sauce, and wasn't very appealing to the eye. We found the pasta to be overcooked and as a result, quite sticky and hard-to-chew. On the other hand, the sauce was too high on vinegar and the whole combination didn't make much sense to us! 
Taken aback by the dull ambience and not-so-delicious food, we cancelled our order for the Mug Cake since we couldn't handle more disappointment! If you happen to go there, the Peanut Butter & Snickers Shake would be your safest (and only) bet! 
Meal For Two | Rs 800
Location | A-118, First Floor, Nirvana Courtyard, Nirvana Country, Sector 50, Gurgaon