Fish Tikkas, Captain Chicken Curry & Waffles: 8 Dishes We Happily Gobbled Up @ Caddyshack
It was a beautiful day - the sun was out and shining and as we admired how beautifully the sunlight filtered through the trees, Adele was crooning about lovers, lost in the background while we sipped on some refreshing Peach Ice Tea; it was at this precise moment that we were glad to have ditched our usual Saturday routine and paid a visit to Caddyshack for a lovely brunch! Nestled away in Hamoni Golf Camp, Caddyshack is a beautiful cafe in Gurugram which is frequented by many pro-golfers and golf-enthusiasts alike.
The cafe gives off a sophisticated vibe with its classy design and elegant interiors, combined with the golf aesthetics and huge glass windows - you've got the perfect place for a calm, laid-back brunch. Speaking of brunch - boy, were we served a feast! Here's all that we gobbled up here!
1. Belgian Dark Chocolate Milkshake & Peach Ice Tea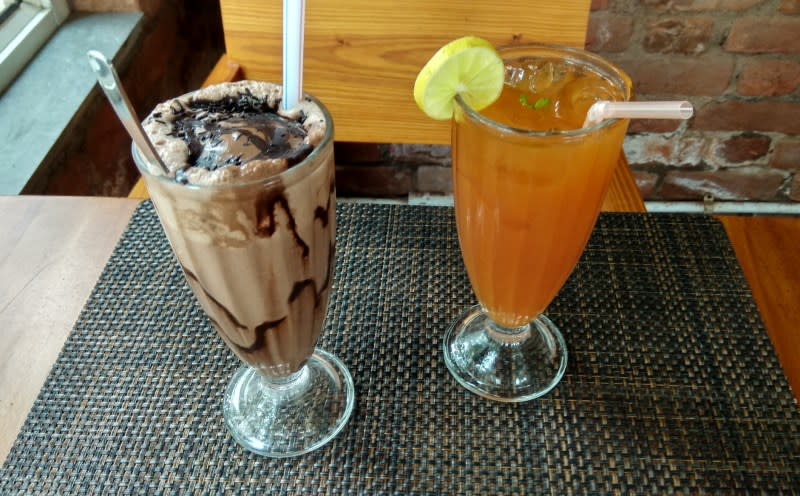 The dark chocolate milkshake was chocolaty, topped with ice-cream and contrary to the usual trend, light enough to enjoy without worrying about ruining your appetite. The Peach Ice Tea was refreshing and cooling with ripe peachy undertones, just how a perfect peach ice tea is supposed to be. The drinks were delish and get a definite thumbs up from us!
2. We're Still Gushing About The Raw Mango Bhel Puri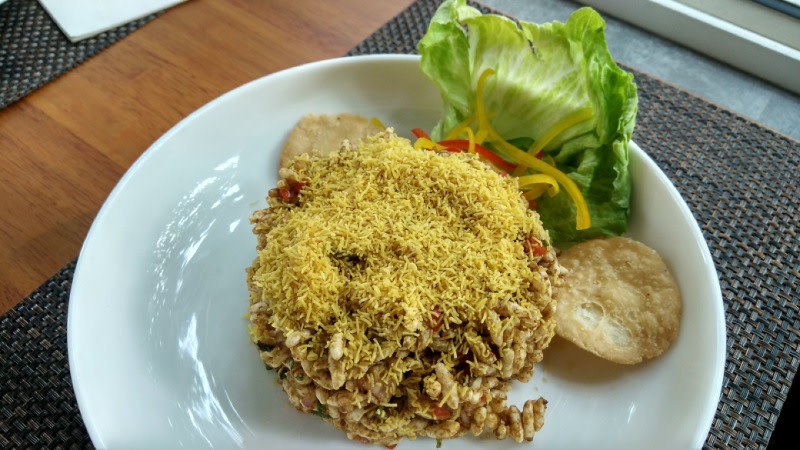 As we were going through the menu, this appetizer caught our eye straightaway because we had never heard of this kind of bhel puri before. And while curiosity might've killed the cat, ours rewarded us with this gem! Not only was the dish visually stunning but it was also crunchy, tangy and had a zing that reminded us of raw mangoes. The portion-size was also generous and we will definitely keep coming back for this one!
3. Chicken Banno Kebabs That Looked Oh-So-Good!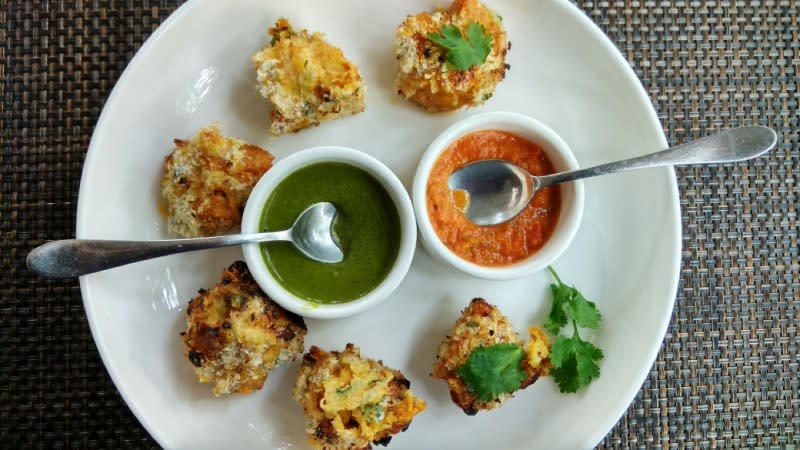 The presentation skills were on-point for this one, and we loved how the chicken was so tender and soft. We would definitely remember these Banno Kebabs for their tenderness, and they were definitely our favourite from the non-veg lot served at this beautiful and airy cafe on the greens!
4. Nothing Fishy About That Tandoori Fish Tikka!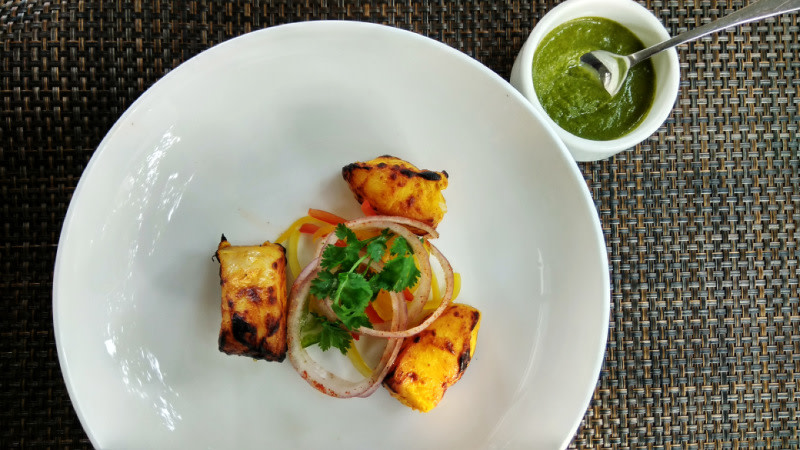 The tandoori fish tikka served here was thoroughly fresh and succulent to the last morsel *still drooling over this one*. The fish hunks were nicely roasted to perfection, and made for the perfect tandoori snack our taste-buds were craving on a leisurely Saturday afternoon.
5. Flat Over The Mushroom Thin-Crust Mini Flatbread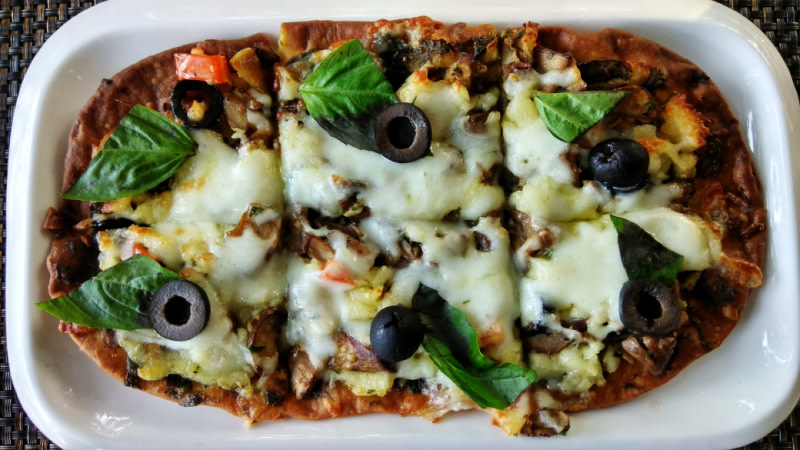 The flatbread was a definite winner - the mushrooms, black olives and basil pesto were generously heaped with enough mozzarella cheese thrown in to tie everything neatly together. The flatbread had a nice crunch to it and all these elements came together beautifully to produce an absolute winner!
6. The Veg. Pasta Was Quite The Visual Sensation!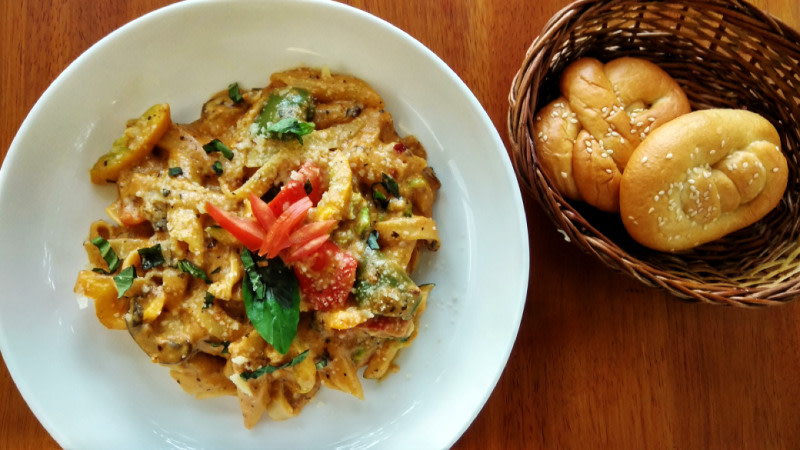 The Veg. Fettuccine Pasta was definitely a sight to behold, with various vegetables being used to cleverly present the dish - the colours of the veggies popped right up and made the pasta look colourful and appetizing! The portion size was quite good and the pasta was loaded with veggies - all kinds of capsicum, broccoli, mushroom wrapped up in basil pesto sauce; the pasta was quite a mouthful, to say the least! Pick this one if you want a dose of health with a powerhouse of veggies and taste! 
7. Captain America Who!? We Only Know Country Captain Chicken Curry!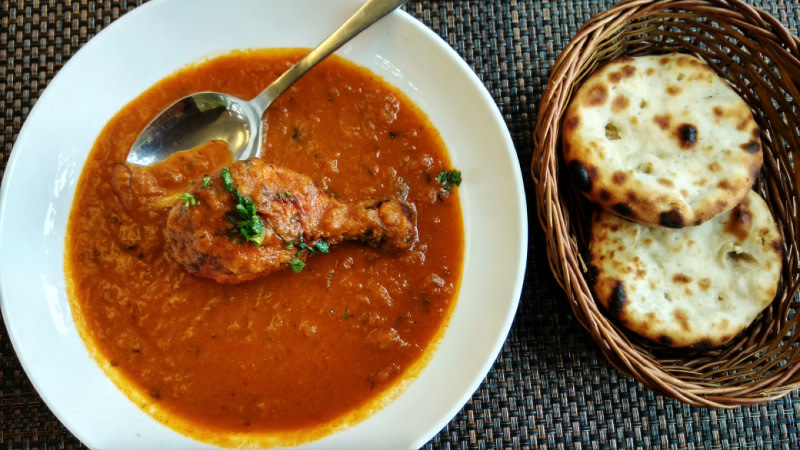 We ordered this main dish upon our server's recommendation, and this dish gives you three options of what you can have it with and we chose the tawa parantha. Praise the lord, these were the softest tawa paranthas that we've ever had! Just FYI, we are still not over those tawa paranthas *starry eyed*!
8. Death By Chocolate Waffles Is The Only Death That We'll Welcome!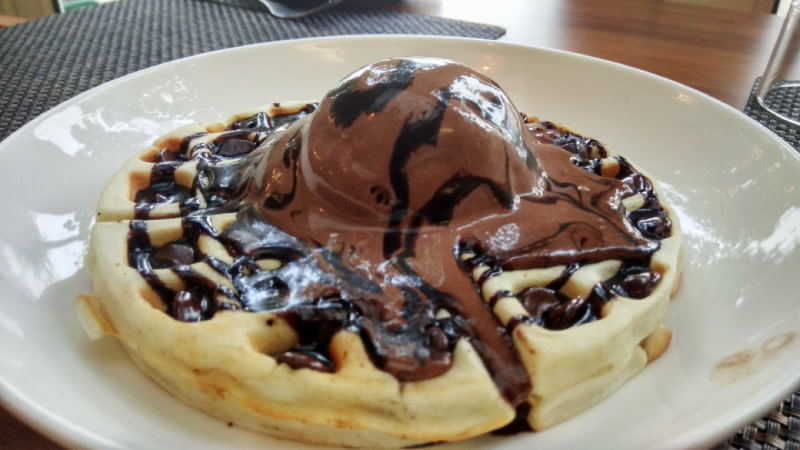 We decided to end things on a sweet note with everyone's favourite, chocolate and waffles and boy, were we in for a treat! This dessert was everything we wanted and more with enough chocolate ice-cream, chocolate chips and such, on top of the waffle to send us to chocolate heaven! We loved the waffles and we'll welcome a death like this anytime!
We had a wonderful time at the Caddyshack - a beautiful cafe on the outskirts of the city with enough greenery and golfers to make one believe that they've been transported to a different country altogether. With visually appealing interiors and superlative food, this should be your go-to if you want to get away from the hustle-bustle and just breathe in some fresh, non-hazardous air! Maybe you can try your hand at golf and then have a wonderful brunch here - sounds like a good plan?!
Meal For Two | Rs 900
Location | Hamoni Golf Camp - CK Farm, Carterpuri Village, Sector 23A, Gurgaon
Here's Their FB Page | https://www.facebook.com/caddyshackggn/