Picture Credits: Rahul Ghan
If angling, spearing, netting and all manner of fishing is what rocks your boat (pun intended), check out these blissful spots!
Damdama Lake, Gurgaon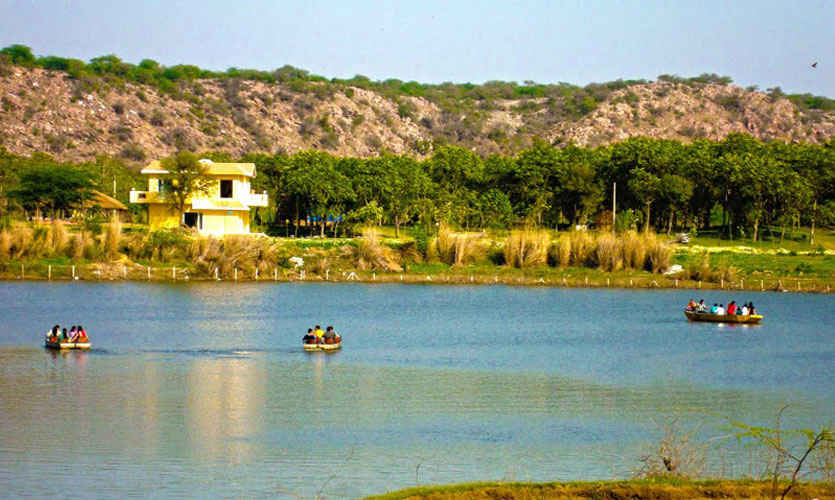 Picture Credits: Ashharmohsin
Damdama Lake is one of the largest natural lakes in Haryana. Damdama Lake is immensely popular among tourists because of the picturesque Aravalli Hills that surround it and a number of adventure sports that it has to offer. One can enjoy activities like Kayaking, Para-sailing and Rowing when here. Fishing is a good option for laid back evenings, for there is nothing better than angling in the vicinity of the hills. The Lakeside Bar is the icing on the cake.
Distance From Delhi | 1.5 Hrs (50 Kms)
Okhla Barrage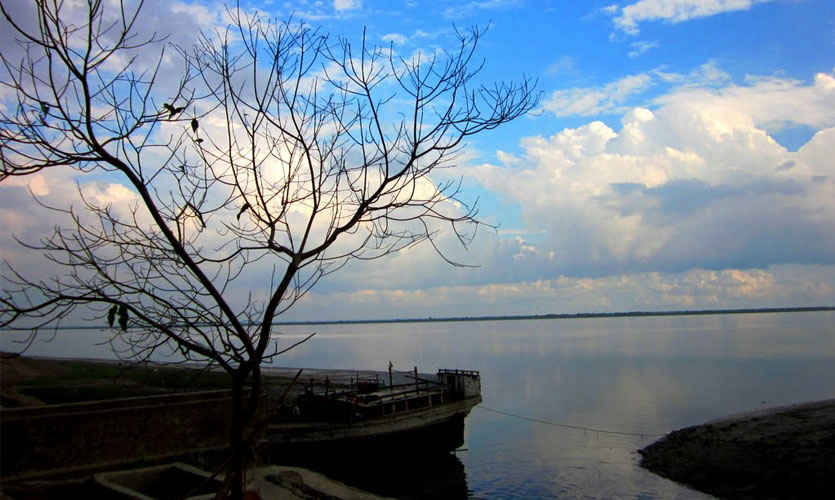 Picture Credits: Piyush.Singh
A once-popular fishing destination has now been rendered infamous because of the pollution in the Yamuna. Angling here may fetch you a couple of whiskered Cat Fishes. At Okhla, one can easily find seasoned local kids fishing using fishing rods made of bamboo. However do bear in mind that the fishing sites are closed on Mondays. It's close proximity to the bustling city makes it ideal for quick getaways.
Dodital Lake in Garhwal Uttarakhand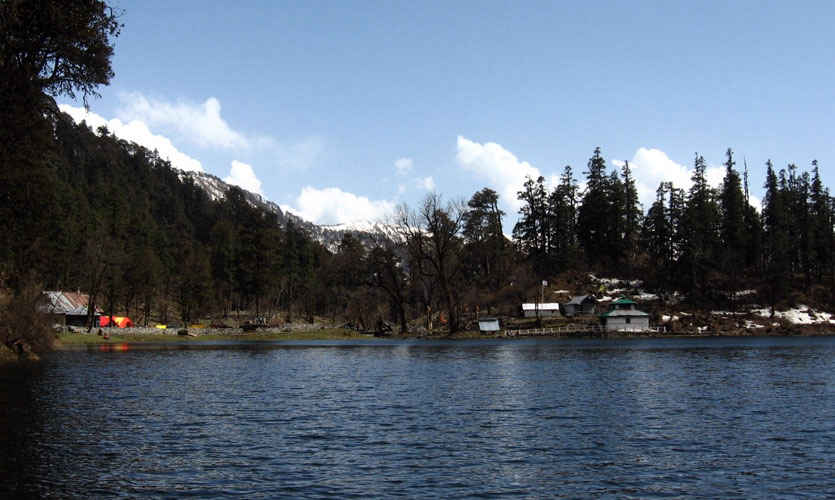 Picture Credits: Jayesh Kulkarni
At an altitude of 9921 feet above sea level, situated in the heart of the beautiful Himalayas, lies the tranquil Dodital Lake. This freshwater lake is famous for Trout and Mahseer fishing. Angling for Trouts, however, is subject to the authorization of the Forest Department, on advance notice.
At Dodital, there is a strict 'Catch and Release Policy' by the Government. The fishery centre at Kalyani releases the fishes at Asi Ganga, which rises from Dodital and joins Bhagirathi at about 4 km North of Uttarkashi. 
Distance From Delhi | 10 Hrs (415 Kms)
Jim Corbett National Park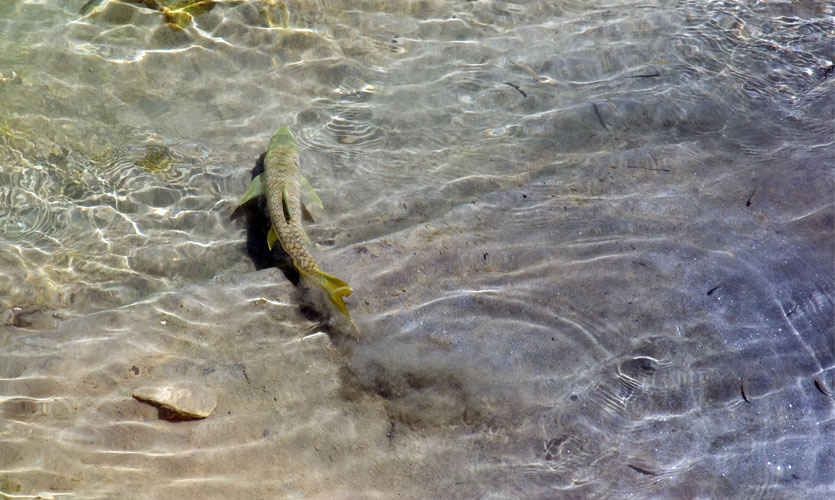 Picture Credits: Draconian Rain
There is much more to Jim Corbett National Park than the much famous Wildlife Reserve. The places around Jim Corbett National Park are a must visit for fishing enthusiasts! Fishing and angling are activities allowed in places like Ramgarh, Binsar, the Ramganga River at Corbett, and Sarda-Saryu Rivers at Pancheshwar, after special permission from the Forest Officials of course. The authorities release hatchlings in a river pool near their resorts and feed them regularly in order to keep them from straying too far. 
Distance From Delhi | 7 Hrs (240 Kms)
Kumaon, Uttarakhand
Picture Credits: Balaji Photography
Kumaon is host to a lot of visitors who are more than just average at angling. The Saryu River is said to be the home of the Himalayan Mahseer, which is considered to be a great catch for most of the visitors. The Western Ramganga River, on the other hand, provides anglers with an opportunity to catch the Indian Trouts, the Goonch and the Kalabans. Apart from fishes, visitors also get to see a lot of wild animals like the Hog Deer, the Ghural, Sambhar & Cheetal amongst others.
Distance From Delhi | 7 Hrs (241 Kms)
Dadupur
Picture Credits: Kaushal K. Seth
If you're really into fishing and travelling a few more kilometers won't stop you from considering a place, then Dadupur is the ideal place for you. Located around 20 kms from Yamuna Nagar, Dadupur is a favourite among people who want to try their luck getting hold of Mahseer, Mulley, Goonch and Carp fishes. You need to have a pass to be able to fish, the cost for which is Rs 5 (for a day). These passes are also available from local tea sellers. 
Distance From Delhi | 3 Hrs (145 Kms)
Yamuna near Kempty Falls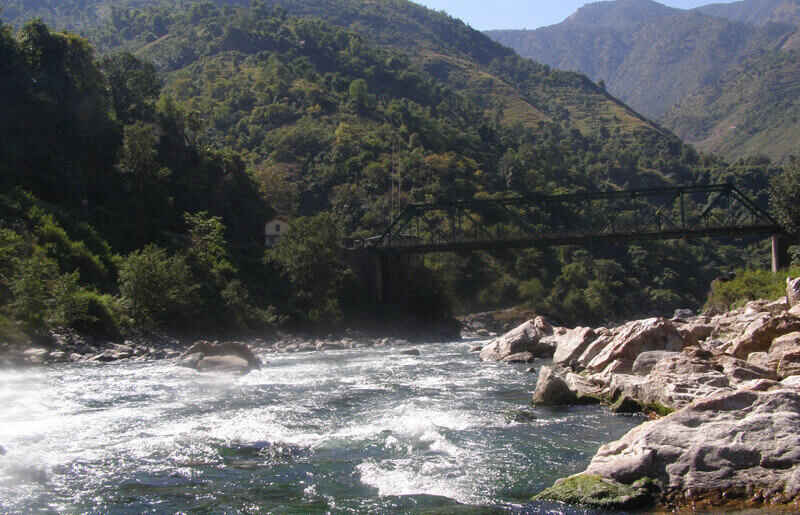 Picture Credits: the perfect hideout
Just 12 kms from Kempty Falls is the sacred river of Yamuna where one can enjoy a relaxed fishing session after taking permission from the Divisional Forest Officer of Mussoorie. It's important to note that the treacherous currents on either side of the big rocks make it quite the risky venture. If one isn't able to fish there, he can always try bait fishing on the right side of the steps of the Gurudwara.
Distance From Delhi | 8 Hrs (326 Kms)
Ramgarh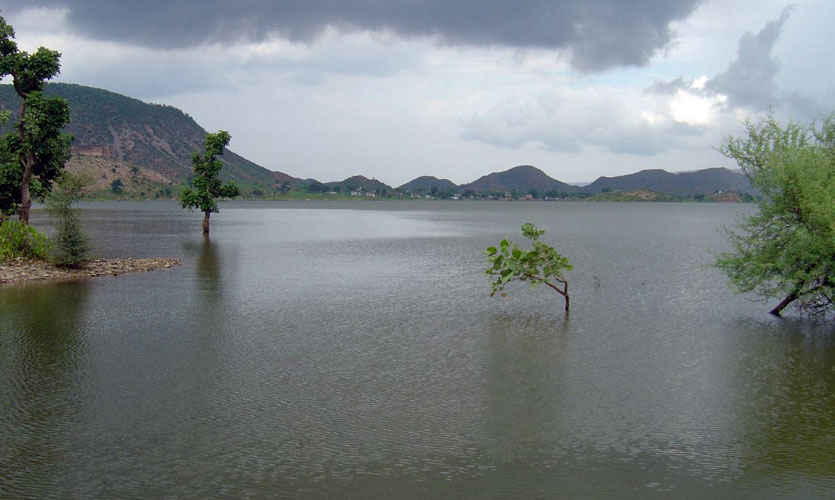 Picture Credits: vineet kaur
When you're done trying all the other adventure activities like rock climbing, rappelling, camping & nature walks at Ramgarh, and you want to relax – then fishing is your saviour! The Kosi and Kalirao rivers that flow across Ramgarh bring numerous Mahseers along with them. One just needs to get a permit from the Forest Department Office, which isn't very difficult. The best part about fishing here is that you can cook what you catch. Don't forget to get your frying pans!
Distance From Delhi | 6 Hrs (300 Kms)
Gushaini, Tirthan Valley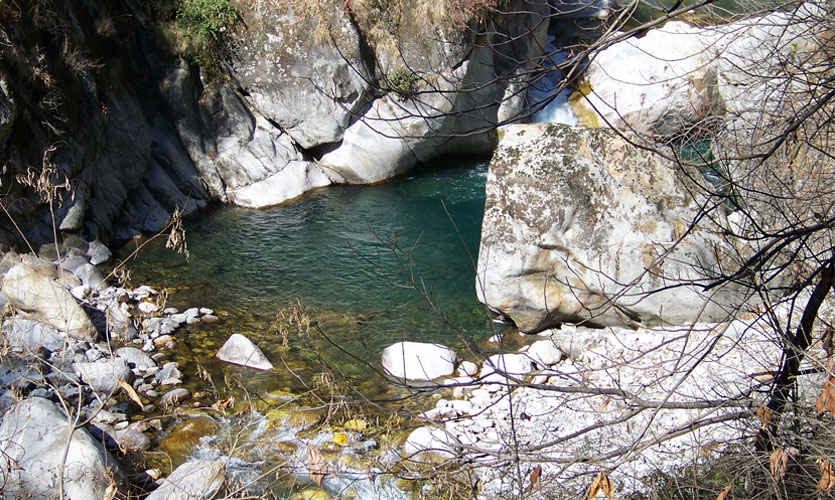 Picture Credits: Parth Joshi
If trout fishing is your forte, then Gushaini is the place for you! A variety of trout fishes, ranging from the Wild Brown Trouts to the Rainbow Trouts are found here. There is a vast expanse of area where one can set your base for angling. Located in the outskirts of the Great Himalayan National Park, The Tirthan Valley provides tourists with ample space and opportunity to 'bucket the bait'. Fishes caught can be cooked in the Trout House and enjoyed with a couple of beers over dinner!
Distance From Delhi | 12 Hrs (521 Kms)
This article is a guest-post by Subhobrata Das who works with Holidify.com, a platform to discover holiday options and weekend getaways from Delhi and other places.