Dreamcatchers, fairy lights and glass bottle lighting - sounds like something you'd find on a girl's Pinterest board for room decor inspiration, right? This pretty little hidden cafe amidst the bustle of DC Chowk Market has a punny name that's all set to get stuck in your head. The place opened up a few months ago and has been generating buzz for a number of things. The shop is quite secluded so you might have to ask for directions - but all that's well worth it! 
Not only do they have really cool, thick shakes that can make you skip a meal, they also make special protein shakes which are a blessing for all you gym freaks out there. If you're going to have protein, might as well make it taste good. These shakes are essentially made of banana, Nutella, peanut butter and milk. We wanted to try some but sadly, the protein shakes weren't available at that time *sob sob*. 
Here's our experience, in a tiny nutshell:
The Good, The Bad & The Ugly
The shakes are delightful and we really enjoyed all the drinks they served. They even looked super tempting! 
The food is below average and needs some serious re-doing. Everything screamed lack of experience. 
We don't recommend the munchies, but you should definitely go for the drinks. The market has many good foodie spots that can help you with all your hunger pangs. 
Let's jump right into what they fed us, shall we?!
StrawOreo Shake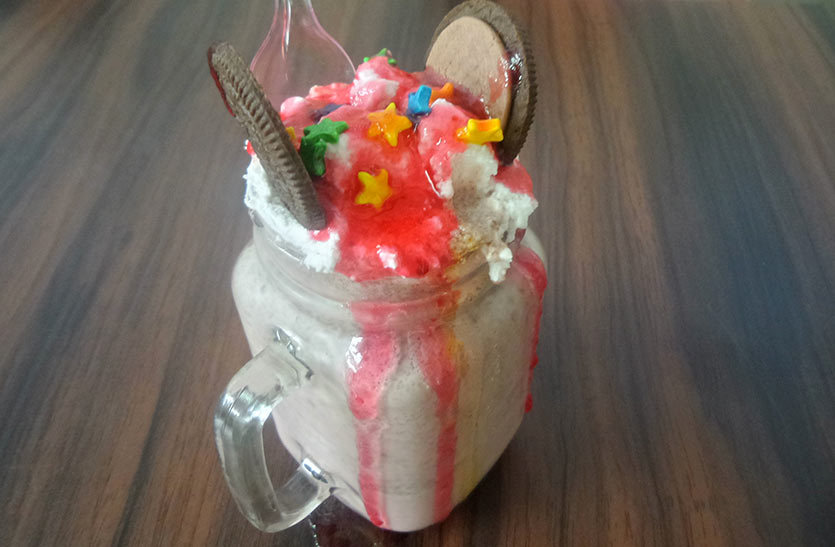 The punch and acidity of strawberries to compliment the richness of a thick Oreo shake - the combination was a hit and the whipped cream and sprinkles topping it made it look very appetizing! The consistency was the middle ground between chunky and watery. Their strawberry syrup tasted nice on the Oreo biscuit chunks used as the topping. Yum yum!
Price | Rs 100
Red Velvet Shake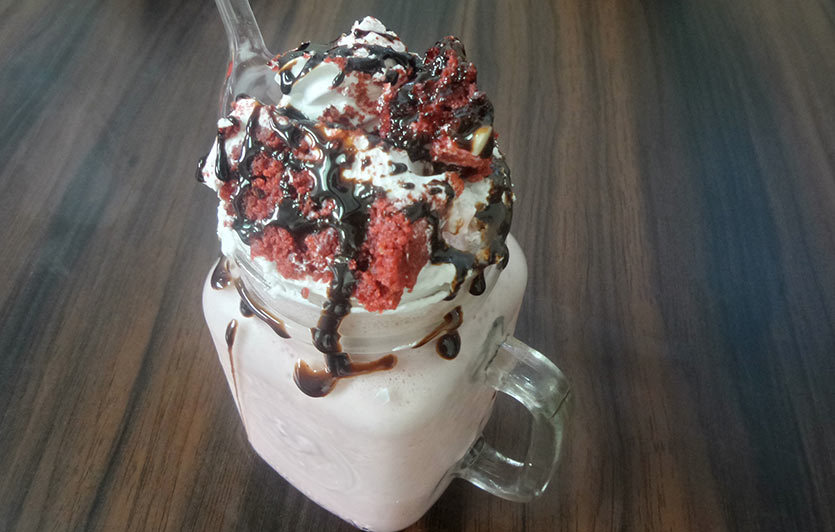 There was a time when we all had only one thing in mind when it came to cakes - chocolate. The most popular choice for cakes is now red velvet, due to the soft and spongy texture and the lightness of the overall flavour. This shake was the exact replica of a cake - just in liquid form! There wasn't much innovation, but it tasted so good. The price is a bit much for this one as compared to the other shakes and they should add some more toppings to make it seem worthwhile, though. 
Price | Rs 200
Watermelon Mojito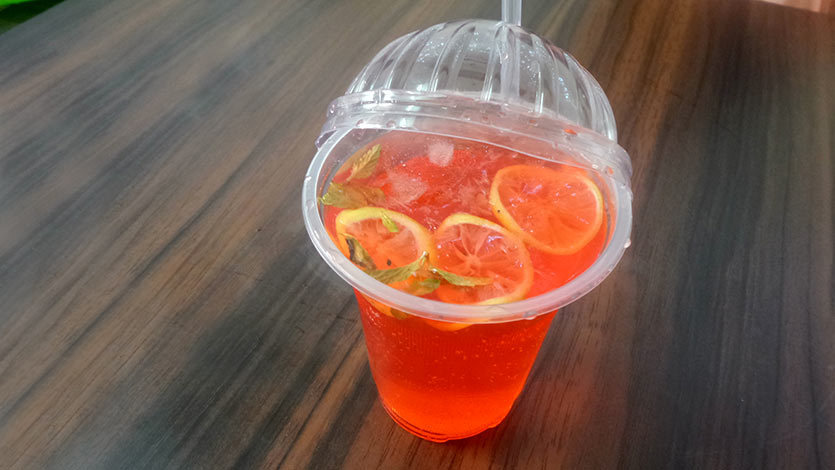 This summer cooler tasted very nice with the refreshing watermelon flavour. We liked how they added the right amount of lemon and mint to balance out the sweetness of watermelon. If you're out for a day of shopping in the market and the scorching heat is about to take its toll, grab a glass to put all those worries away! Plus, this one will make the perfect shopping partner. 
Price | Rs 60
Chicken Tikka Sandwich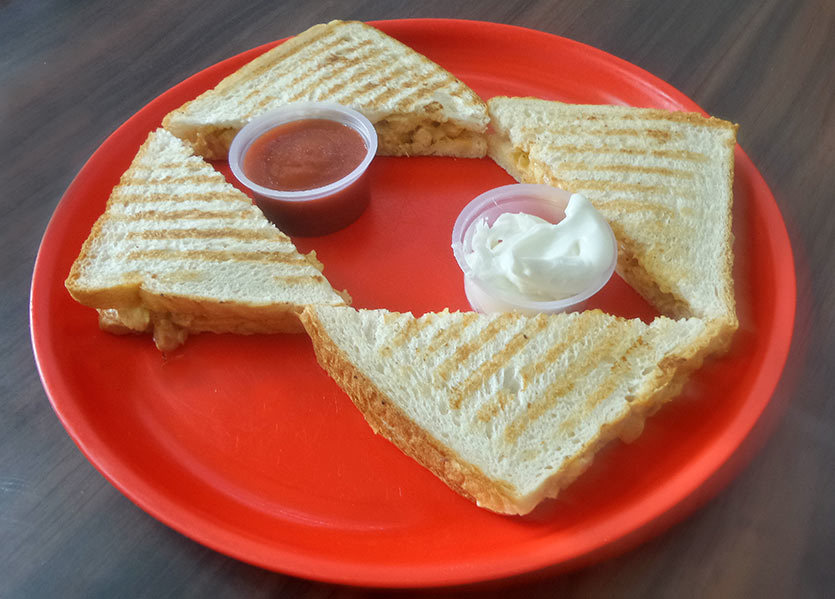 After having a satisfactory encounter with the shakes, we hopped on to check out some munchies to help out our never ending hunger. This sandwich left us looking for chicken and we didn't find much even after finishing it all. The bread wasn't toasted well and needed another go at the grill. It lacked salt and even the dips weren't that impressive. What a bummer this was! 
Price | Rs 100
Sundae Waffle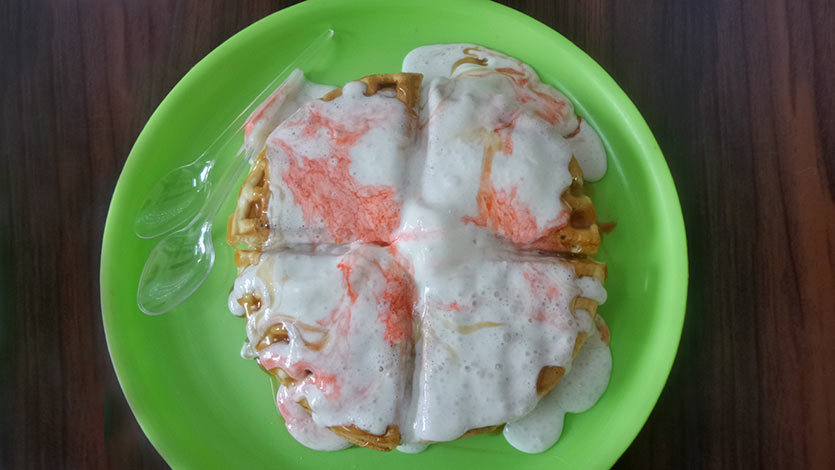 When we read this dish on the menu, we had one word in mind - yummy. Turns out it was everything BUT that. When it arrived, the ice cream had already melted and looked like someone put it while the waffle was still hot. It looked nothing like a waffle or a sundae for that matter and tasted awful too! There isn't much that can go wrong with a waffle because it's synonyms to pure love in our food dictionary, but this waffle was too bad to even have more than one bite. 
Price | Rs 120
Nachos Corn Chaat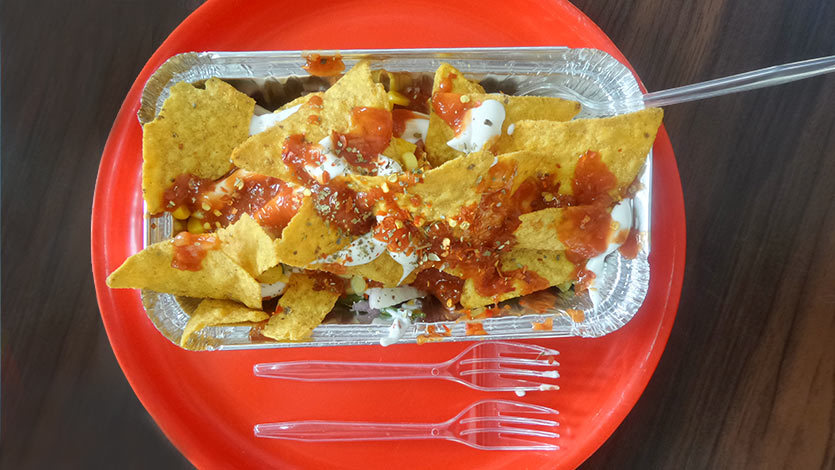 Another popular munchie that goes well with the shakes they serve. It tasted good as compared to the past two blunders, but still had some issues. The toppings weren't evenly distributed, leaving the bottom half as dry as regular nacho chips. We didn't see any corn even though corn was in the name of the dish. We would have liked it better if this had more vegetables and everything was evenly layered out. 
Price | Rs 100
The place has a bunch of things tailor-made for fitness freaks, but we suggest the management to pay more attention to the food. Overall, the experience was average. If they want to stay put in this market where new student hangout zones pop up every month, they need to nail all aspects of the trade down, and soon! 
Must Haves | StrawOreo Shake & Watermelon Mojito
Location | G-5, Harsha Arcade, DC Chowk Market, Sector 9, Rohini