Exciting Zipping Offers at Neemrana Await You! Check Out What Flying Fox Has In Store For All You Thrillists!
Tired of brainstorming about your December plans? Flying Fox is ready to come swoop in with a mind-bogglingly awesome experience. And of course, to make the last month of 2016 a memorable one for you!
Flying Fox, the king of ziplining and the first zip tour company in India (ever!), is going to thrill you to the bones *flutters in our tummy*! 
There is a happy service going on at Neemrana Fort Palace where you get 5 zips at the world's first heritage zip line tour that offers aerial views of - get this - the Aravalis, how cool is that!
No, not all adventures cost you a fortune! Flying Fox dishes out some crazy deals and we couldn't be happier. So if you book your experience online at Flying Fox's website, you'll be able to cash in on lower rates as compared to offline bookings, which is handy as you'll find booking windows on each page of their website.
Between their 4 iconic zip tour locations they've reached 1,00,000 happy zippers! To celebrate,over the next few months, they're going to be giving away over 1 lakh rupees of surprise discounts (wow).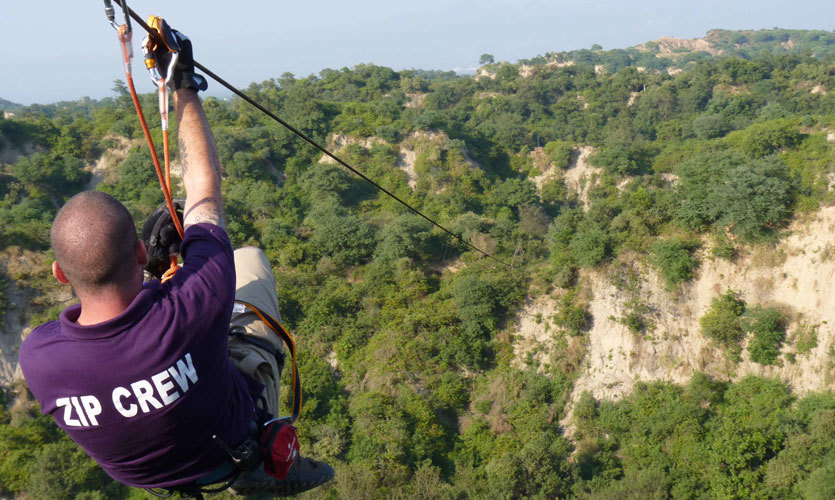 The Best Part? Something For Everyone | They're running appealing offers for y'all. Adults zip at Rs 1500 (use code NEEM1500) and students at Rs 1250 (use code NEEM1250), till 21st December (online bookings only)! All kids can avail a massive 50% off at Neemrana (use code NEEMKID), throughout December and is also available offline (Rs. 825 online; Rs. 1000 same - day)
So take your families and enjoy the thrilling ride! Just strap in, clip on and fly the Fox!
Don't forget to carry your ID proofs along!
Happy zipping y'all.
P.S. Use Code SODEL16 for 10% off at all sites!
Book Up Here | http://flyingfox.asia/
Delhi Head Office | 86/1, Shahpur Jat
Call Them | +91 11 4100 3787 & +91 9810 999 390
Follow Them on FB Here | https://www.facebook.com/FlyingFoxZip
Follow Them on Insta Here | https://www.instagram.com/flyingfoxzip/
Here's Their YouTube Channel | https://www.youtube.com/channel/UCe1Q42PQhY2wdN8gt8-jViA