Delhi
Every Momo Lover Should Try This Place - Dolma Aunty Momos in Amar Colony
In the bustling lane that leads up to the Lajpat Nagar metro station, in what has come to be known as Central Market in Delhi, there sits a momo stand which is older than time, and hence the intrigue.
It is a bit of a task to locate Dolma Aunty Momos but rest assured, the effort will be worth it. Tucked away in a little bylane of Central Market, you can easily get directed towards it by asking around. The easiest possible route would be by walking down from the Lajpat Nagar metro station.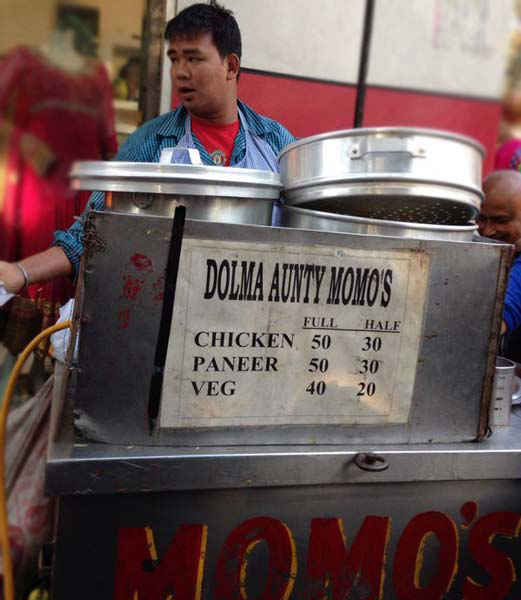 At Dolma Aunty Momos, there are three types of momos available- Veg, Paneer, and Chicken. Only steamed momos are available with a red chilly sauce that has quite a kick (even a little dip would suffice). A full plate has eight pieces of momos, and a half plate contains four pieces. Shoppers, tired of having to battle their way through the criss-cross of ways and the mishmash that now characterizes Lajpat Nagar, find relief at Dolma Aunty Momos which is all the more welcoming in these chilly winter mornings. 
An Aunty and a helper run the stall, and you definitely are tempted to ask her if SHE is Dolma Aunty herself! They remain open till late in the evening, into the night.
Steaming pieces of momos are served to you, and the first bite that you take from them establishes the difference between any ordinary momos stalls and Dolma Aunty Momos. Her momos are unbelievable soft and doughy, its covering refusing to turn chewy and inedible. Every subsequent bite taken reaffirms why momos are called dumplings. They feel like dumplings. They break like dumplings. And they certainly melt in your mouth like dumplings. 
The Chicken Momos were extremely soft, and the chicken was absolutely succulent. We could easily say that these oval shaped chicken momos were one of the best momos that we had had in the city.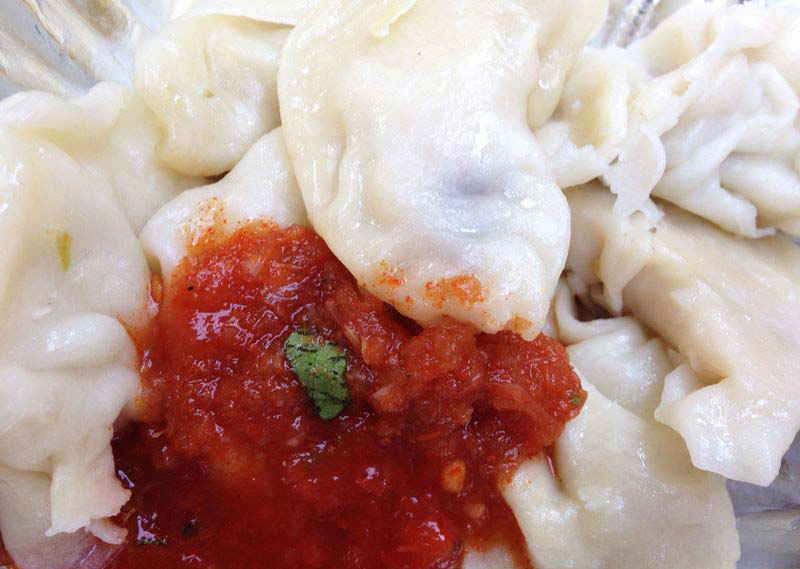 While the Veg Momos are usually not as likeable to a large population, the Veg Momos here were as good as, if not even better, than the Chicken momos. The taste was unlike any other momos we had ever had before. 
There are several food stalls around the place, no doubt intending to cater to the shoppers around, but we can say with certainty that this place must be tried! That is evident by the throng of people surrounding the tiny momo stall, who serve their steaming momos in quick motions so one hardly has to wait. 
Dolma aunty came to Delhi many years back, and is now successfully running her simple dumpling business. Does this not clearly prove how simple, honest, hard work always, always pays off?!
Location | Amar Colony, Lajpat Nagar