Every 90s Kid's Fav Delhi Drink - Try The Badam Milk @ Quality Bhandar In Aurobindo Market
Serving chilled and yum-mazing Badam Milk since ages, Quality Dairy And Meal Bhandar is a modest haunt located in the heart of Aurobindo Market. The market has a few bookstores, the famous Wimpy's and a few chemist shops, and undoubtedly gets its buzz from this dairy gem! 
Quality Bhandar has been blessing people with their fine and fresh dairy products since basically forever, and if you're a 90s kid, then you would know exactly what we're talking about. To sink into the nostalgic and refreshing goodness of this Badam Milk, we headed here once again, only to realize how much we love it!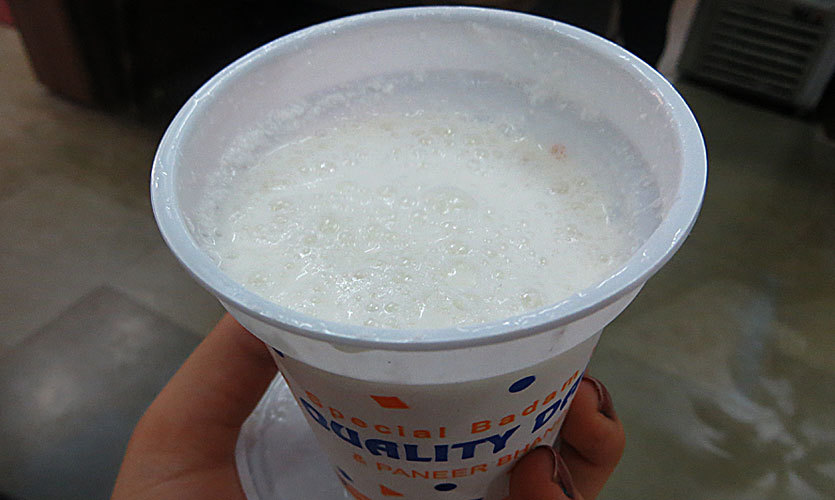 Badam Milk | The Badam Milk here is made up of fresh full cream milk, sweetened to perfection and garnished with a generous amount of almond shavings. The chopped badams lurk in every single sip, making you chew and slurp it with delight! If there's ever a healthy, refreshing summer drink, then is it!! After all, there's certainly a reason why this is their speciality, right?! 
Price | Rs 50 
What's More | Apart from their splendid Badam Milk, they also whip up some really amazing bakery and dairy items. Brownies, muffins, biscuits, rusks, fresh bread loaves, milk, paneer and curd. They also have packets of mushrooms, baby corn and white butter (which is very difficult to find these days!). Cool, huh?!
Now that summers are knocking on the door, we guess it's about time that you guys drink your milk and eat your almonds through the delicious and healthy Badam Milk at Aurobindo Place! 
Location | 18, Aurobindo Place Market
Browse Through More Images: