Delhi
Ekam - This Homestay in Chail Is Your Dream Holiday Home Come True!
Haven't you always wanted to live in a holiday home in the hills? Well now, you can! This spectacular property, just a few kilometres before Chail will make you want to live here forever! Bathrooms with lovely views, couches that let you sink in till your heart sighs with joy, and home-cooked food that feels and looks better than restaurant quality food but is healthier, you have it all here!
The Luxurious Hill House of Your Dreams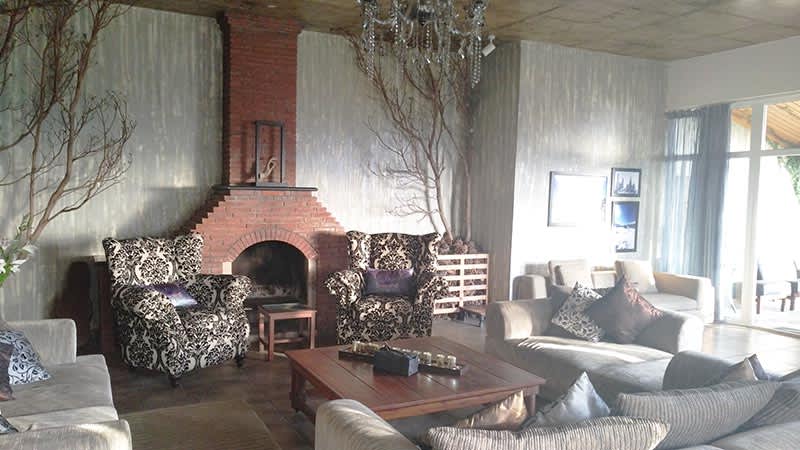 It's basically a duplex bungalow that has one of the prettiest entrances you would have ever seen! As you enter, you're greeted by a massive drawing room on the right and a pretty big dining hall on the left. The drawing room is full of comfortable couches and chairs that you would just sink into, never wanting to get up. The fireplace in this room makes it look all the more cosy.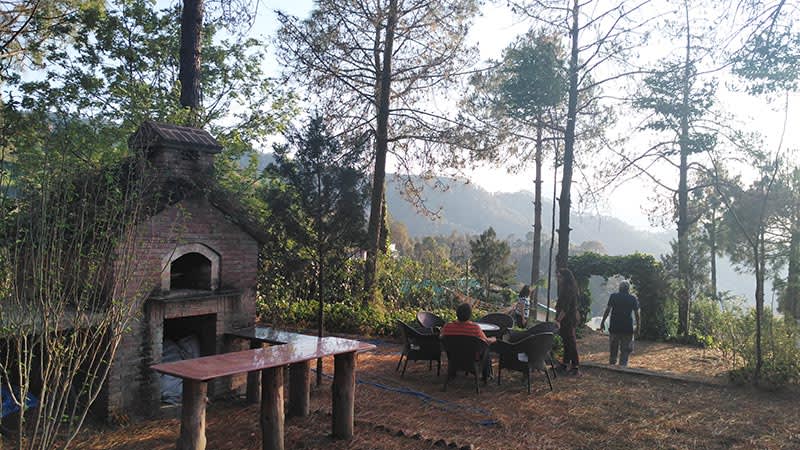 This room opens up to a lovely little sit-out where you can enjoy a mesmerising sunset every evening while enjoying a flavourful cup of tea (their tea collection is pretty cool – Blackcurrant, Blueberry, Chamomile, and Strawberry to name a few). The dining room has a cute little tea counter with a view of the neighbouring hills on the side where you can make your own tea/coffee as and when you want. Separating the drawing and the dining rooms is a looming staircase that is steep but intriguing.
The First Floor Where You'd Want to Spend Your Entire Vacation!
The first thing you lay your eyes upon as you climb up the stairs is the big bookshelf that's full of travel magazines and games. On the right is a lovely living room with couches as comfortable as the ones in the drawing room. This room is also equipped with a home theatre system for those who feel the need to ditch the view outside for a while.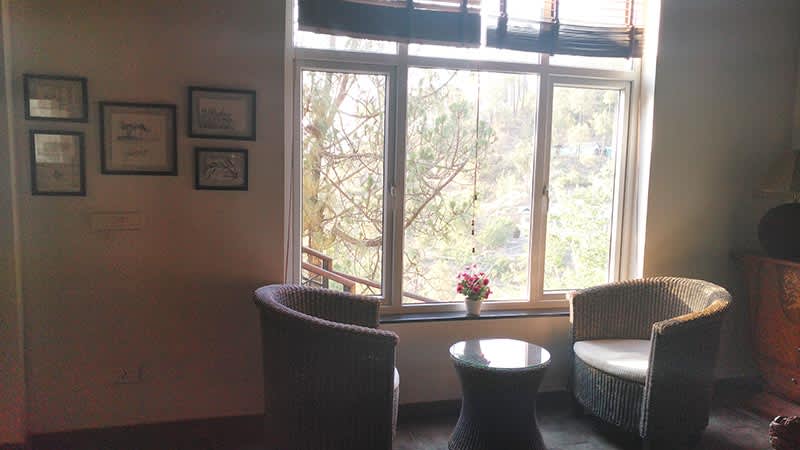 The living room opens up into a small balcony on the right that overlooks the sit-out on the ground floor. It also has a tiny trekking trail leading into the hills for those who want to enjoy a trip of their own.
3 Rooms – 3 Different Little Worlds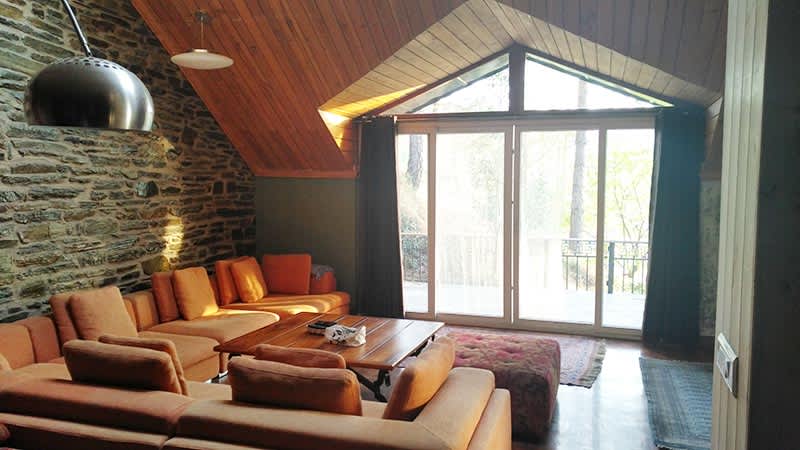 This property currently has 3 rooms, each different from the other, and each so enchanting that one would just want to stay in for the duration of their vacation! The rooms are pretty big and the bathrooms are simply spectacular! Each bathroom provides a lovely view of the hills that you can enjoy even while pampering yourself with a hot steamy shower. *Don't worry, nobody can see you!* For those of you who give more importance to the bathroom than the bedroom, this place will make you feel understood and pampered in a way that you couldn't have even imagined!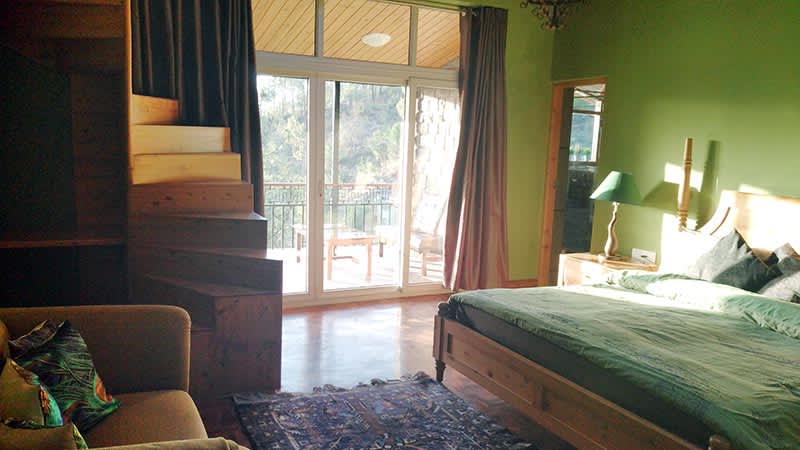 Each room's balcony is designed differently and offers a different view and each room also has a sunroof that ensures you start waking up at the first light so that you can enjoy the lovely view from your bed itself. Btw, the mornings are full of chirpy chatter from our winged friends, especially peacocks, so every morning really is a good one!
In-house Masterchef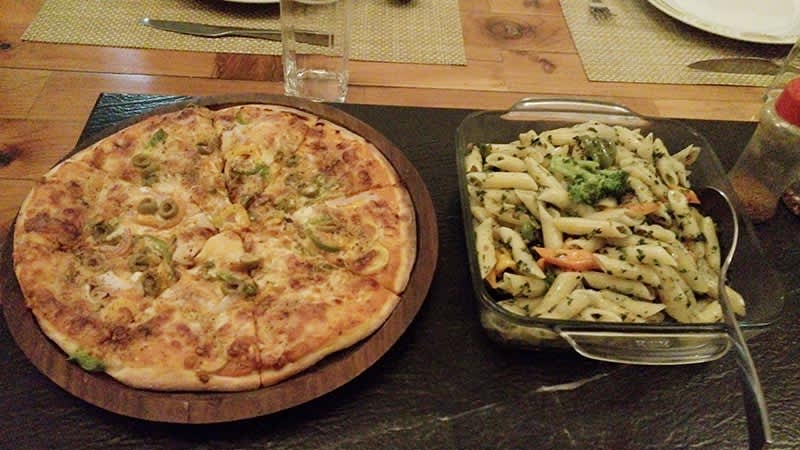 Ekam has one caretaker and one chef to take care of its guests and from our experience, they do a hell of a job! The chef, especially, is simply awesome! He cooks up a delicious dessert as a surprise every single night and you'll be amazed at his baking skills. From a Walnut-Banana dry cake to a strawberry cake with fresh strawberries and icing, he left us drooling for more each night. He cooks everything you ask for, and quite a few things that you don't ask for as well. 
For example, we were seriously playing cards one night and he just brought up some of the best home-made Paneer Tikka we've ever had! We asked him if he could make Pizza and he gave a restaurant quality thin-crust pizza that we finished within minutes. However, this place serves vegetarian food only so you'll have to forego your kukkad cravings during your stay here.
Other Interesting Things About This Lovely Place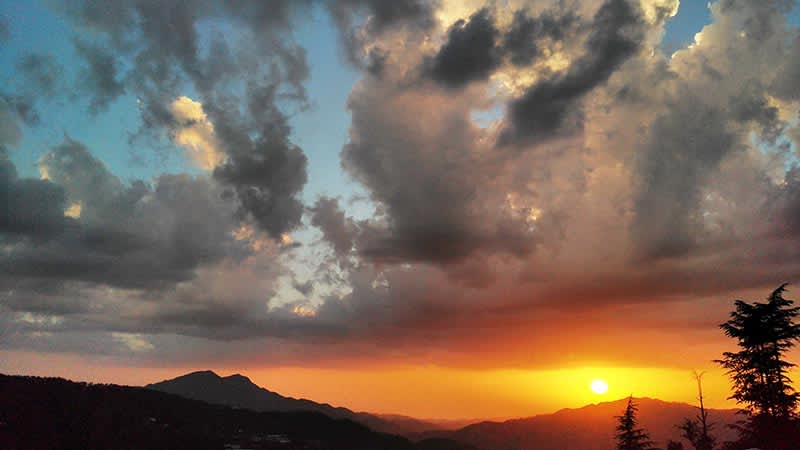 They have their own vegetable garden of sorts where they grow a number of fruits and veggies. Their strawberry patch made us the happiest! Another resident at the property is a scary sounding guard dog that you'll hardly ever get to see unless you specifically ask to be taken to him. Interestingly, they also own a couple of cows, not as a source of milk, but purely for the purpose of using their pee-pee to make an organic pesticide.
We simply loved this place, it's décor, ambiEnce, hospitality, view, basically everything and we can't wait for the next long weekend to simply go and chill at Ekam for a few days!
Where | Vill Dunti, Kandaghat-Chail Road, District Solan, Himachal Pradesh
Price | Rs 8000 Per Night Inclusive Of All Meals
Facebook page | https://www.facebook.com/ekamchail/
Browse Through More Images :