Delhi
Eclectic, Novel & Unique: We Tried The Best Of World Cuisine @ Taksim, Ansal Plaza
If you're even a little bit keeping track of foodie trends in Delhi, you'd know that our original shopping mall, Ansal Plaza at Khel Gaon Marg is once again set to revamp itself, and is becoming the newest hotspot. One such awesome eatery tucked here, Taksim is all set to blow your socks away with the most dazzling and swanky interiors that are nothing less than chic and upscale! With indoor as well as outdoor seating spread out on two floors, and an adorable mezzanine section, we headed here for a fulfilling meal.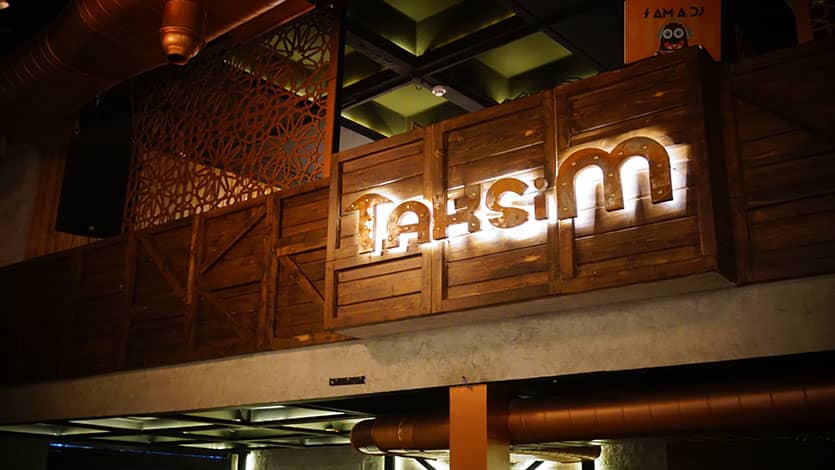 However, what we really wanna talk about here is the diversity offered in its menu. Not only do they have a comprehensive menu, but one look at their signature dishes will leave you amazed, courtesy the meticulous curation by their in-house chef, Mr. Sanjay Yadav.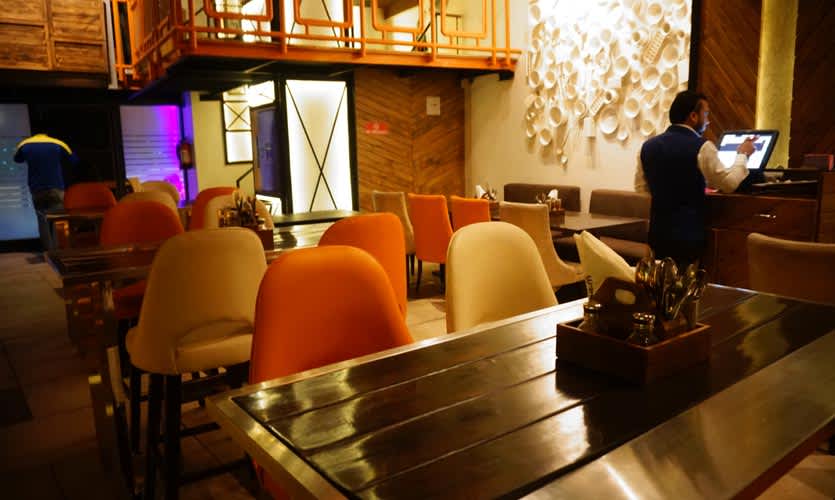 'Taksim' is a Turkish word, meaning divisions, and based on this, the menu has been divided into different cuisines, and believe us when we say this, that every preparation to come out of Taksim's kitchen is a piece of art! The presentation, the taste, the flavours - everything is just top-notch. 
Here's what we dug into here:
Wasabi Prawns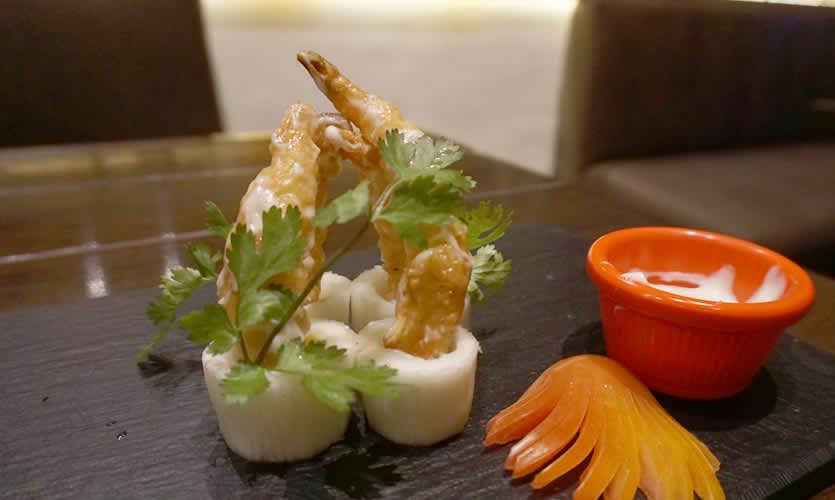 Prawns have always been our favourite appetizers. Here at Taksim, they serve the most delicious king prawns, with wasabi mayo and the chef's hot sauce, thus making them even better! The prawns were so soft, yet crunchy with a slight tang of the sauce, that you'll end up wanting more and more.
Chicken Hargao Dimsums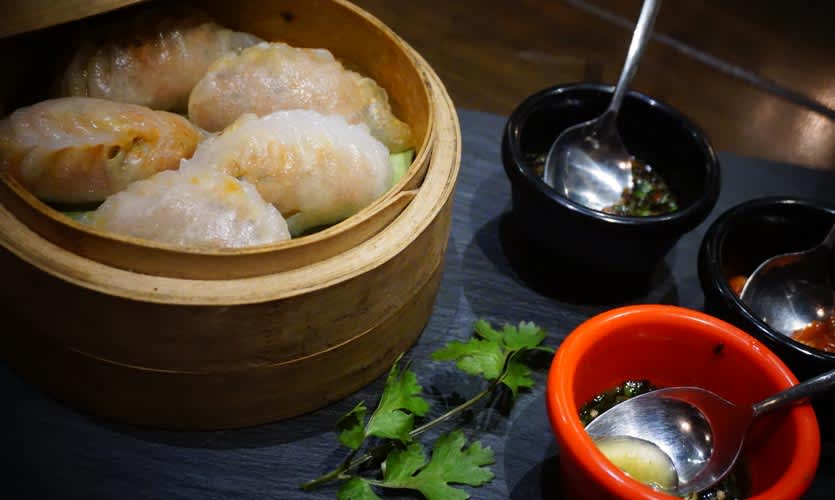 Dimsums might have originated in Tibet, but it's Delhi which has truly popularized it so much that there's not a single Delhiite who hasn't had them. The Chicken Hargao Dimsums, however, are completely different than your usual dumplings in the way that, along with minced chicken, it's also stuffed with fresh basil and Thai chilli, and served in an adorable box made of bamboo.
Achari Paneer Dimsums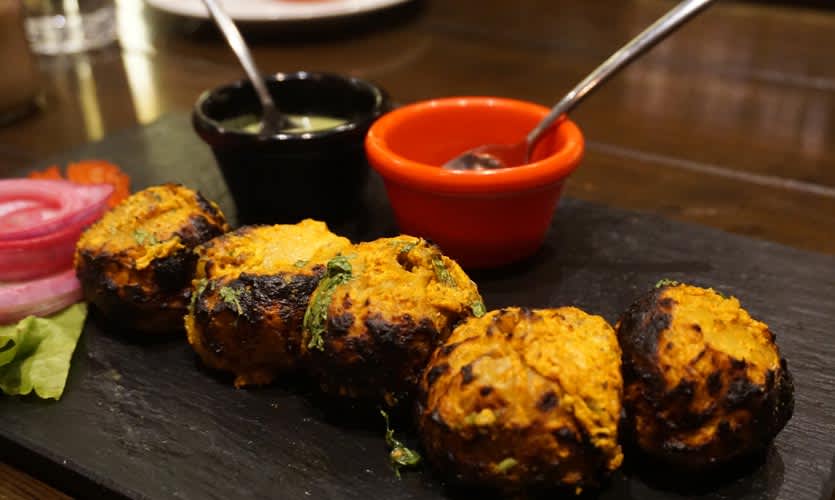 At Taksim, not only do they serve different cuisines, but also amazing fusions, such as this one! The zesty flavour of Indian pickles, combined with the richness of paneer, in a hot steamy dimsum. What more could you want, vegetarians? Come try!
Chello Kebab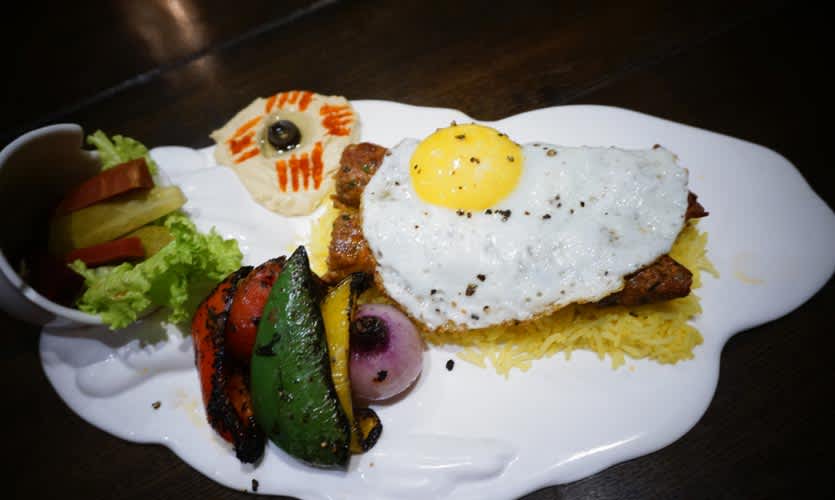 The Chello Kebab is one of Taksim's most popular signature dishes, and the moment it arrived on our tables, we knew exactly what made it so unique. Saffron rice, topped with mint flavoured minced lamb kebab and the most perfectly fried sunny-side up egg. The flawlessness of the platter itself was quite admirable. As expected, it tasted quite brilliant too!
Broccoli Mushroom Kafta Kebab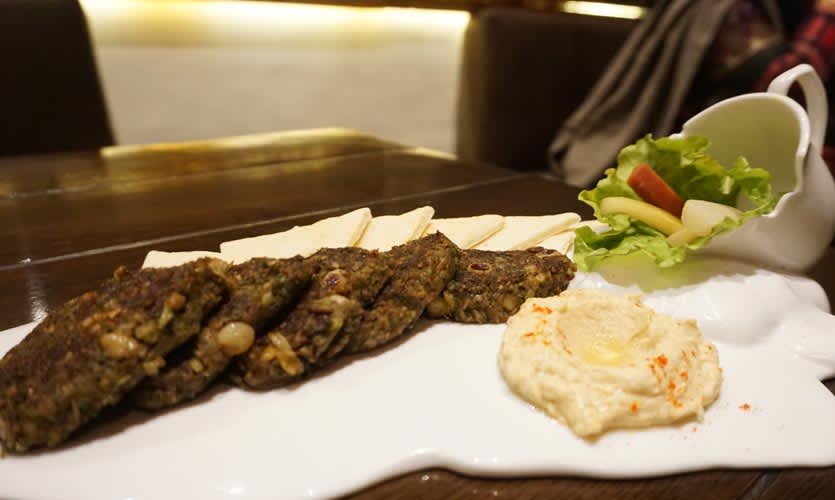 There's only so much that one can experiment with broccoli. Taksim, nonetheless, has changed this with their Broccoli Mushroom Kafta Kebab, which is another one of their signature dishes. A flavourful combination of mushroom and broccoli, it tasted smooth and supple, and goes great with humus! 
Pakistani Balti Gosht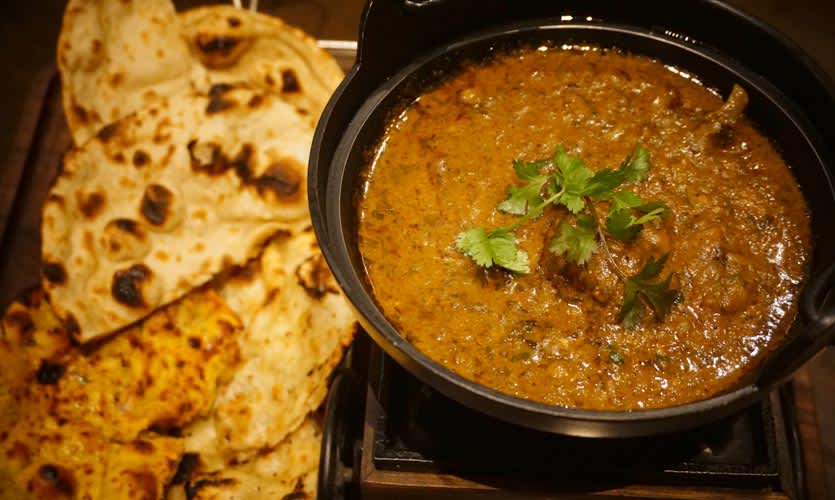 You can hate our neighbours as much as you want, but you can't deny the great taste they have to offer when it comes to curries and meat dishes. The Pakistani Balti Ghosht is a spicy Pakistani preparation, consisting of mutton and thick gravy that'll have you licking your fingers without you even realizing it. We tried it with lachha parantha, plain roti, and butter naan, only to find that it tastes indescribably fantastic with all of them!
Oreo Shake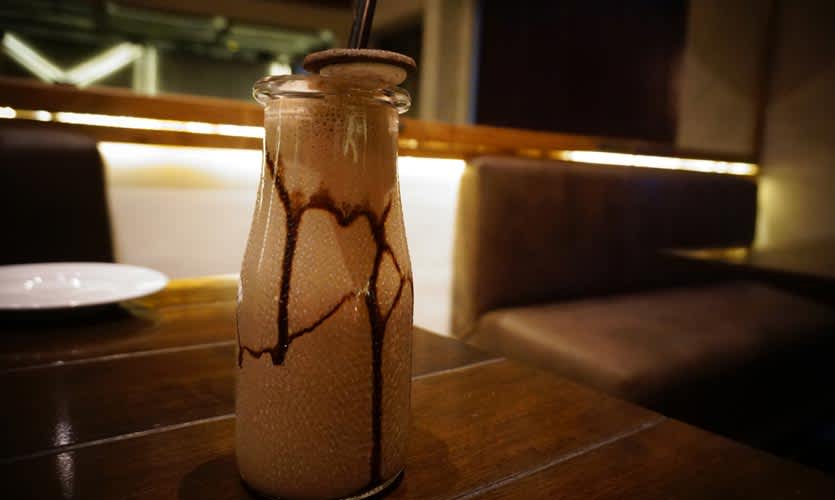 Taksim also serves some really cool shakes, including everyone's favourite Oreo Shake. This one is a rather simple one when it comes to presentation. All the same, its thick, foamy texture is something every Oreo shake lover will relish!
Apple Cinnamon Honey Shake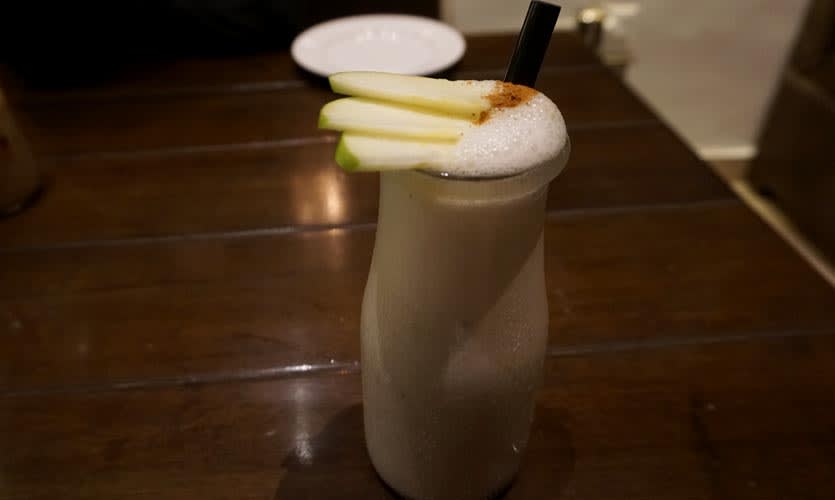 The Apple Cinnamon Honey Shake is something of an acquired taste! Well, not exactly acquired, but it'll take a sip or two to truly feel the exotic flavour of this one, where they have coagulated the three sweet flavours of apple, cinnamon and honey to produce this distinctive concoction. Highly recommended for those who like to experiment with their taste buds!
Blueberry Cheesecake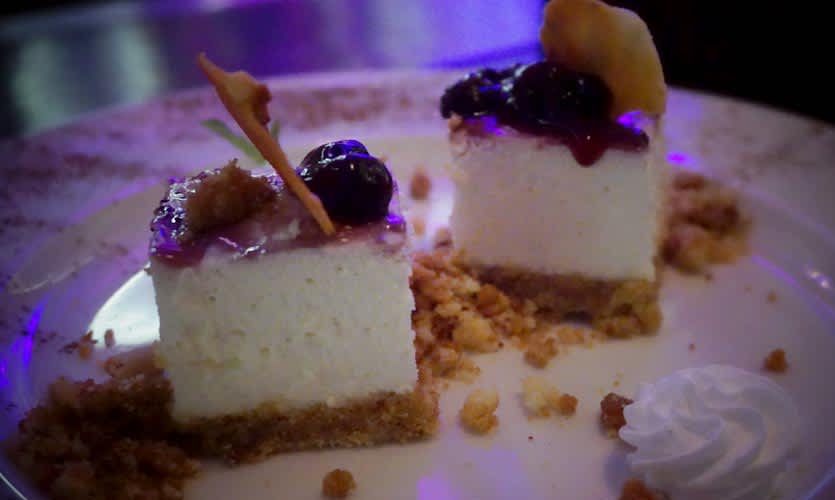 After a more than satisfying and encompassing meal, the Blueberry Cheesecake was the metaphorical cherry on the cake! It felt so soft, smooth, creamy, serene and all other similar adjectives that you'd want to gobble it all up whole.
Amrud Masala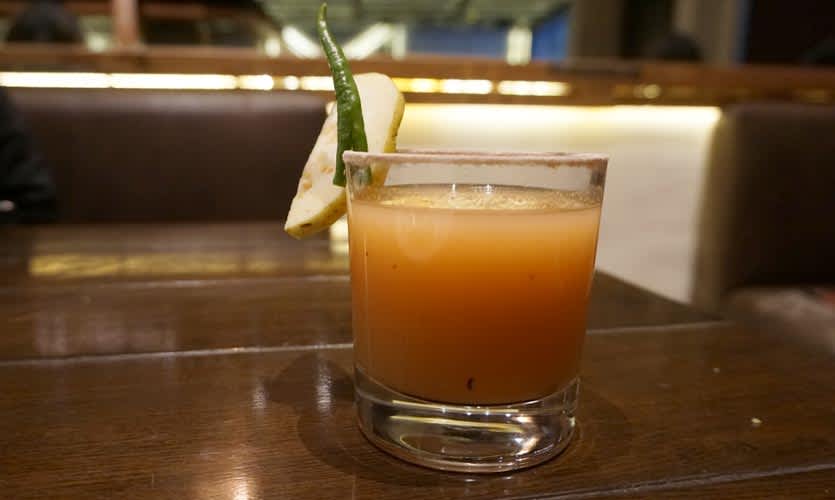 Our favourite mocktail from the night, Taksim's Amrud Masala was equal parts tangy, spicy, sweet and salty - all at once! With a green chilli and guava dressing, one can feel the flavours of Tabasco in this one.
Taksim has also come up with a brand new liquor menu, serving a wide range of domestic and imported liquor as well as a number of innovative cocktails. So much so that they have a separate section dedicated to Martinis and LIITs. What's more, they have 1+1 happy hours from 5 to 9 PM. Everyday at Taksim is a riot with weekly EDM nights, 90s Nights, soulful brunches on Sundays and much more. So go book a table now!
Meal For Two | Rs 1,400
Location | Ansal Plaza, Khel Gaon Marg