Delhi
Earrings, Bags & Kolhapuris: Craft Bazaar In Janakpuri's DC Has Everything On The Cheap
When it comes to fashion, Delhi's street markets top the charts. Be it traditional earrings or funky ones, kolhapuris or heels, ethnic bags or the latest slings, the street shops of Delhi never fail to impress us. What makes these pavement shops so dear to the Delhi Walas is the art of bargaining that works like a charm here.
There is no greater joy for a shopaholic than to spend a day thrift shopping. Situated in the basement at District Centre, Janak Place, Craft Bazaar passes as a wonderful street-shopping destination and a splendid place to go on a shopping spree with your BFFs!
Trendy Shoes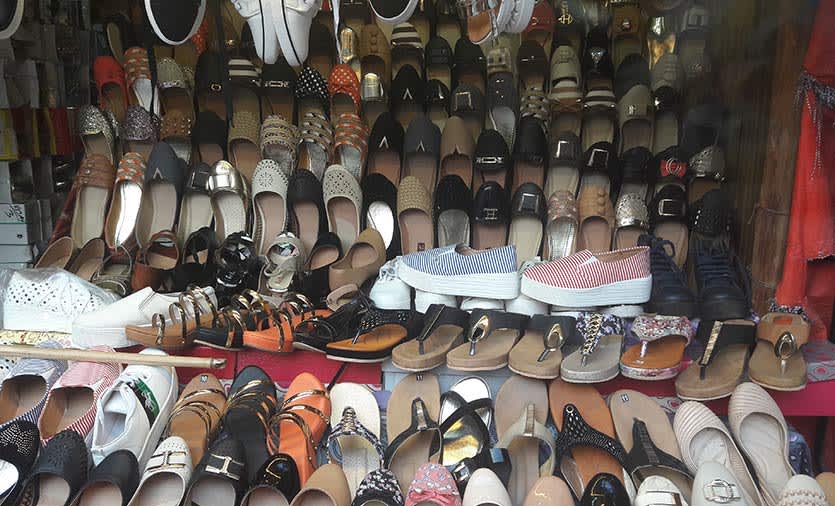 Shoes are a diehard obsession among regular shopaholics and for good reason too. And here at Craft Bazaar, you get trendy shoes by the dozen! A lot of the shops here export these shoes to other states of India, so you're guaranteed to find export quality shoes in various colours and designs. Plus, these shops also sell bellies, flip-flops and casual sandals.
Price Range | Rs 150-450
Pro Tip | Make sure you try your shoes before you buy them as exchange is possible only within one day in some places to seven days in others. Also, the price of each pair of shoes goes down as the number of pairs increase, so buy more!
Pretty Earrings
Girls, we have got to admit every outfit looks better with a pair of earring on, right? Get your hands on traditional jhumkas and danglers here at Craft Bazaar at rock bottom prices. In so many different colors and styles, these earrings are a must have in every girl's ethnic wardrobe. For the Western diva in you, the place is also brimming with fancy pom-pom earrings and junk jewelry.
Price Range | Rs 20-250
Pro Tip | Owing to stiff competition amongst the shopkeepers, bargaining skills will come handy here. If one refuses to bring down the price, walk on ahead and you're sure to hear his voice calling out!
Innumerable Bags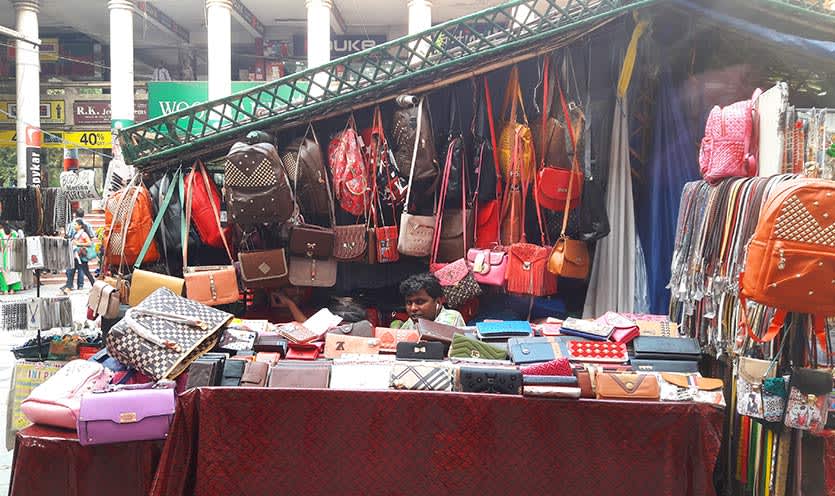 A woman can never have enough bags in her life, can she?! Check out a stunning collection of sling bags, handbags and backpacks available at an affordable price. There a few fixed price shops that won't budge, while others will happily negotiate. We recommend you make a beeline straight to the stall opposite the food court. One thing is for sure, you will never run out of options here!
Price Range | Slings Starting From Rs 250 & Handbags At Rs 500
Colourfully Cheerful Bangles
Who doesn't like the musical sound of bangles while walking or just moving around? It is the sole reason, well apart from the beautiful colours in which they are available, why we buy bangles in the first place. To fulfill your 90s Bollywood dream, the market offers you a plethora of options in terms of bangles. While most of the bangles are of plastic and not glass, silver and metal bangles are the bigger rage RN!
Price Range | Rs 100-350
Comfy & Stylish Kolhapuris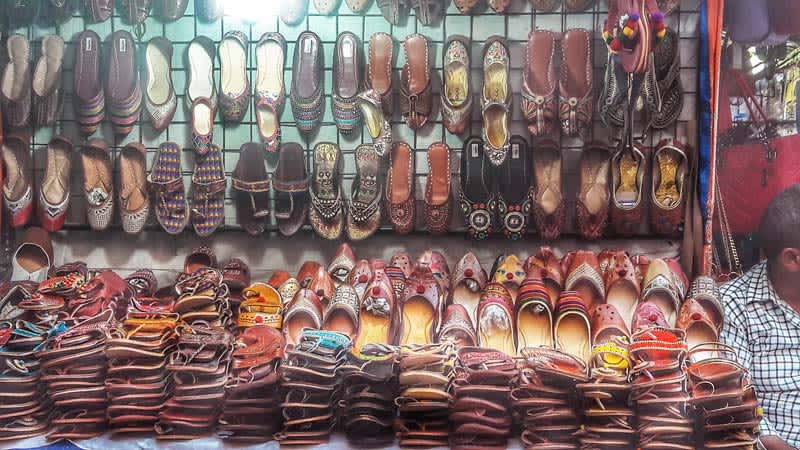 An Indian outfit can never be complete without a pair of kolhapuris on. Be it a simple kurta or a traditional wrap-around skirt, for college or for work, kolhapuris never go out style. Pick up multi-coloured pair of kolhapuris at this shop in Craft Bazaar. The shop also sells Punjabi juttis in various colours and designs. With these kolhapuris and juttis on, your Indian avatar will be on point!
Price Range | Rs 200
Shantiniketan Crafts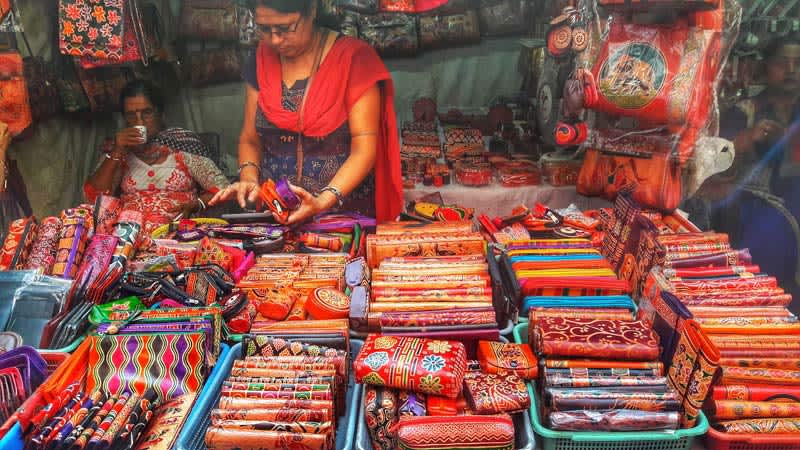 Shantiniketan Leather Craft has become quite the rage for craft lovers around town. From sling bags, tote bags, wallets to pencil cases, spectacle cases and even key chains - this small shop in the middle of the craft bazaar has it all. Available in a variety of colours and designs, go check out this store for stellar leather goodies!
Price Range | Rs 40-500
Don't Miss This - Good Food!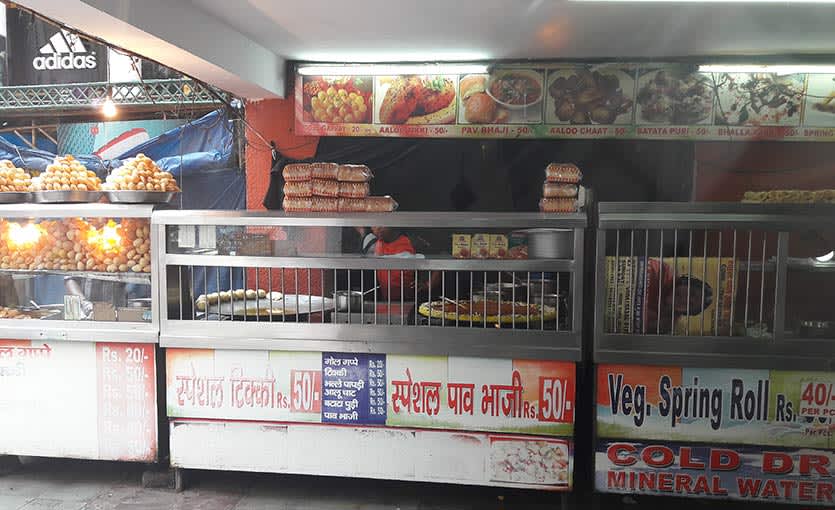 If you're half the foodie we are, after this shopping spree you'll be famished and craving a little snack. Don't worry, we've got you covered! Although District Center is in itself a hub for food lovers nearby, the basement Craft Bazaar is home to a single food shop. If you're stopping here, do not miss the scrumptious spring rolls and Chinese platter. A bottle of Coke and some hogging and you'll feel good as new!
Price Range | Rs 30-150
Come during the weekdays as the shops are open for six days (except Wednesdays) and the best time on weekends would be around 6 PM to avoid both the heat and the rush. Check out the place for yourself and let us know what steals you managed to snatch!
Where | District Centre, Janakpuri