Delhi
Drenched In Decadent Luxury & Culinary Genius: Our Take On Bella Cucina, Le Meridien GGN
Le Meridien Gurgaon has recently been creating waves in Delhi's foodie scene with a full-fledged and full-throated launch of their precious new Italian restaurant called Bella Cucina! We were graciously presented with an exclusive invite to come taste the glory that is Italian cuisine, and wearing happy, hungry smiles on our faces, we sauntered right over.
As could be expected at any Le Meridien, from the moment you step into the foyer, you are immediately enveloped in unpretentious, unapologetic and quiet luxury. Bella Cucina was of course, an extension of the same theme and we were happily welcomed into the fold. The ambience of this haunt can be best described in terms of muted golds, a glass-walled, gleaming and chrome-infested kitchen, plush leather chairs and sparkling cutlery. Having arrived with rumbling bellies and a rabid love for all things Italian, we jumped into the foodie fray and here's exactly what we had on our plates (literally)!
Cappuccino Mushroom Soup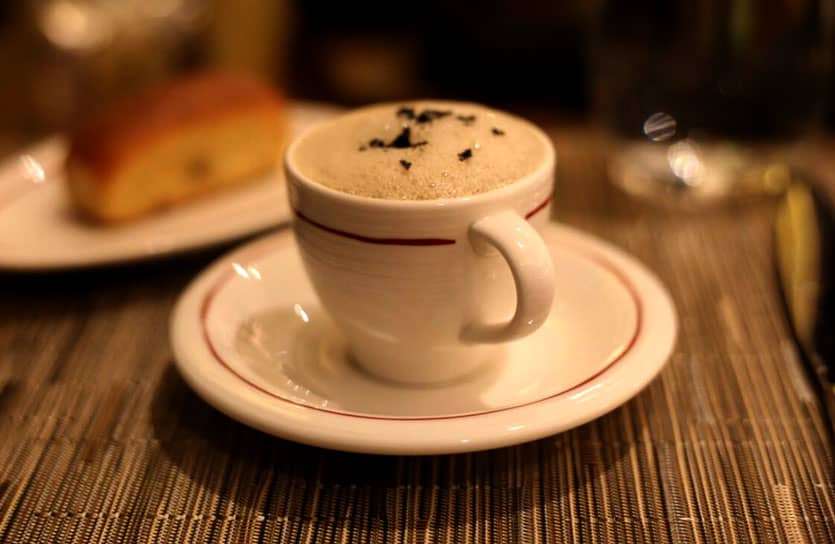 Incredibly creamy, juicy and thoroughly succulent, this particular delicacy was made with - get this - three different kinds of mushrooms - your regular butter mushrooms, upper crust portobello mushrooms and porcini mushrooms. Presented in a dainty little gilt-edged espresso cup, they flawlessly fused together the concept of coffee and really good gourmet mushroom soup. Covered with mounds of froth and black olive shavings (wow!), it was served along with porcini brioche, which we absolutely adored!
Compressed Beetroot & Goat Cheese Salad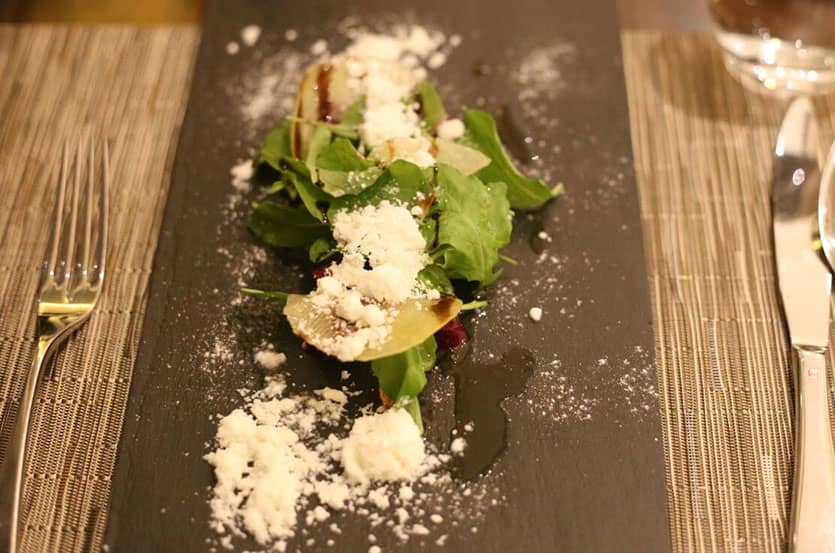 So we'll just be straight with you - the wizards over at Bella Cucina have created a masterpiece called 'goat cheese snow', and we'll basically be gushing about this now (a lot!). Splayed on a classic black platter were a riot of rocket lettuce leaves hiding round, flat globes of beetroot marinated in red wine, vinegar and pommery mustard. But like we said, the real showstopper was their goat cheese snow, which was basically your regular goat cheese churned and churned until it was a fluffy, light and incredibly moist mound of crumbly cheese, which was then generously sprinkled all over our salad. Amazingly yummy!
Seared Tuna With Spinach Hollandaise Sauce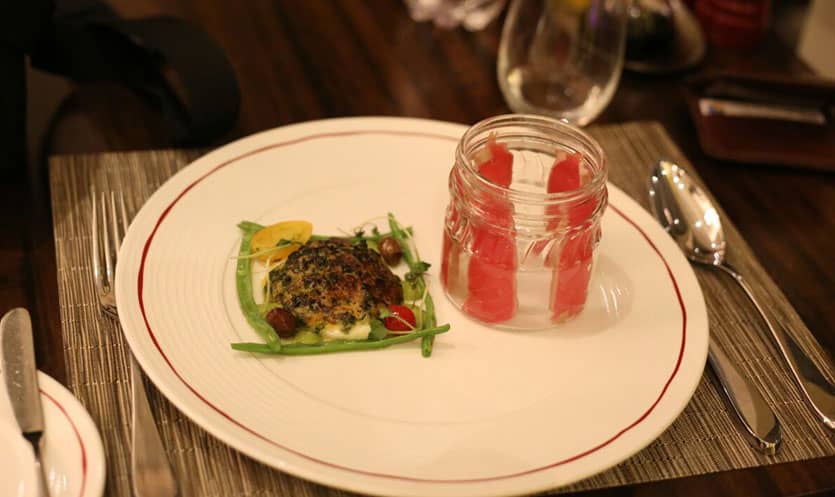 A perfect, half-circle mound of the most creamy spinach hollandaise sauce enveloped oozing, soupy poached eggs served with a jar of perfectly seared and smoked tuna strips helpfully plastered around the inside of the jar - ready to be scooped up, dunked into the spinach hollandaise and eaten whole! Needless to say, the riot of flavours was exquisite.
Prawn Ravioli With Young Tomato Sauce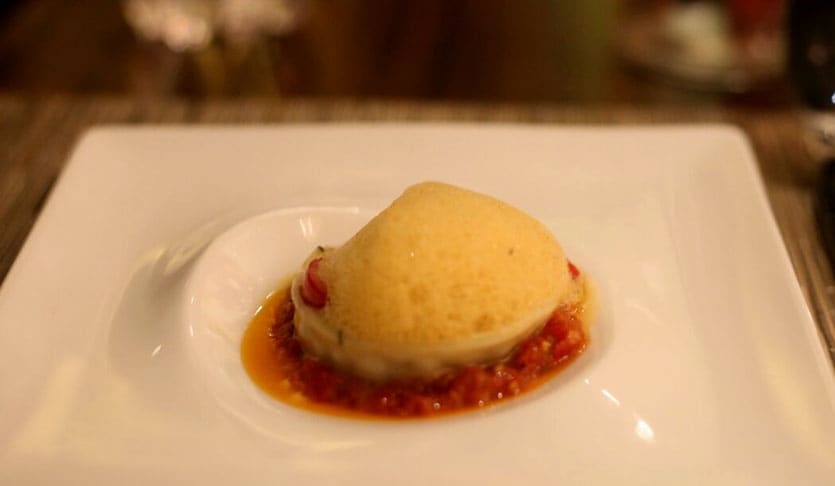 A fine veneer of ravioli held pouched within an organic explosion of cherry tomato sauce, lots and lots of basil, splashes of lemon juice and of course, tart and crunchy prawn meat. The ravioli itself was plump, tender and chock-full of prawn meat, and the best bit is that this particular delicacy was covered with bisque foam, which simply added to the overall texture of the dish.
Burnt Garlic & Spinach Risotto
Flawlessly puffed up, disparate and distinct grains of rice were effortlessly mingled with the wholesome flavour of spinach puree and blanched and chopped spinach leaves. Feta cheese was liberally dashed in to lend the quintessential creamy, cheesy flavour of a risotto. The touch of burnt garlic garnished on top added to the flavour and made the dish a definite must-try in our book!
Chilean Sea Bass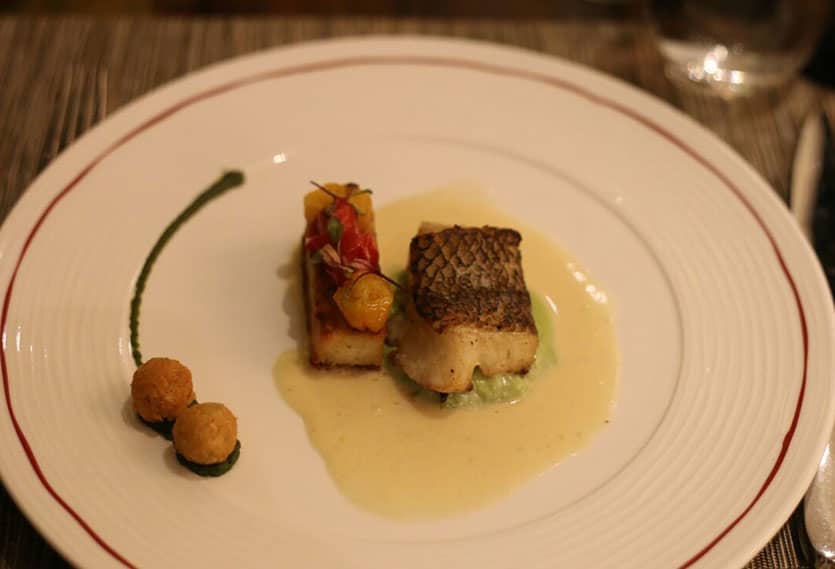 The culinary geniuses at Bella Cucina took this international dainty dish and moulded it to perfectly suit the Indian palate. The immaculately cooked sea bass was bathed in a pool of broccoli puree and the most flavourful coriander vanilla sauce. Served alongside was a rectangular, mushy mound of garlic potato flan which complemented this elegant offering to perfection.
Australian Lamb Chop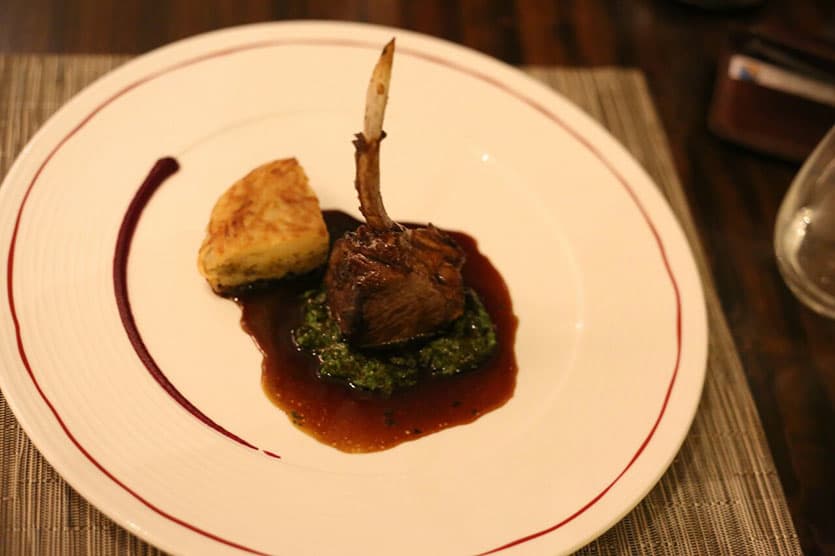 A well-cooked hunk of lamb lay poised in mounds of creamy spinach and red wine jus. The meat was reasonably tender, the sauce was incredibly cheesy and the overall taste was definitely overshadowed by the luscious red wine jus. We definitely could not stop plunging our forks into the meat to relish every last morsel!
Espresso Coffee Mousse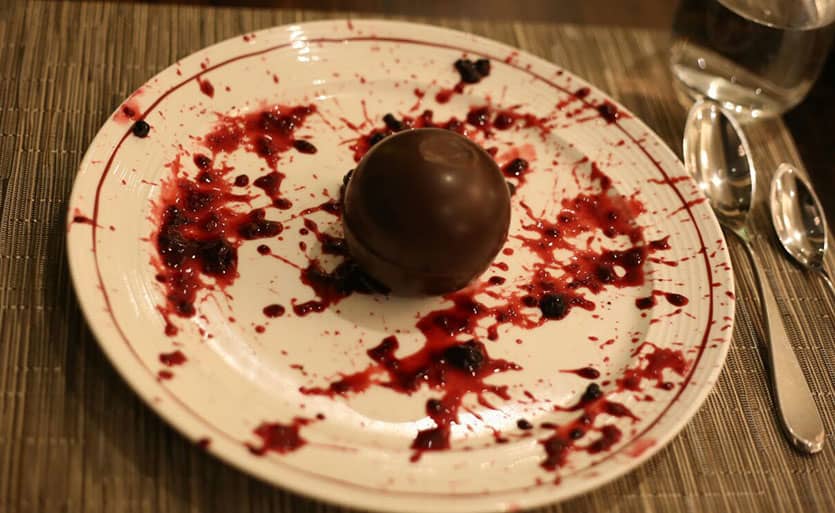 Coming to the dessert end of our gastronomic spectrum, we were presented with an amazingly appealing-looking solid chocolate ball. Bringing our spoons close, we were ready to pounce! A pretty, perfectly rotund chocolate ball was smashed open right in front of us, only to reveal a gooey core of chocolate mousse flavoured with hefty doses of espresso studded with little choco balls *bliss*!
Wrapping things up, we'd just like to tip our hats (and satisfied tummies) to the true culinary genius of the people over at Bella Cucina! Fine-dining at it's best, this restaurant definitely deserves all the rave reviews it's been garnering. 
Meal For Two | Rs 2,500
Location | Le Meridien Gurgaon, Sector 26, MG Road