Delhi
#DitchTheDiet & Ring Crazy Tawaz in Gurgaon For The Best North Indian This Side Of Town!
While the Italian (read: pizza-pasta) boom that had taken Delhi NCR by storm is giving way to other dishes, one of the oldest forms of Indian cuisines is rapidly making a comeback into the limelight. Yes, we're talking about good ol' North Indian food peeps! Let's face it - the creamy curries and groovy gravies, the masaledaar meats and the tandoori tadkas are all recipes for a good time. North Indian and Mughlai fare truly matches the big hearts and bigger bellies of the capital's foodie milieu and is creeping back into Instagram feeds with aplomb!  
Dhabas are working overtime again and some of the posher cafes and lounges are also expanding the Indian side of their menus to cater to this rising demand. Amongst all this, we came across a recently opened home delivery joint in Gurgaon that hits the nail right on the head with its desi items. Crazy Tawaz' kitchen is run by ex members of luxury hotel Sarovar's team (whoa!) who left to give wings to their passion. Their labour of love is now a super popular outlet that's on Gurgaon's speed dial!  
Here's all that we feasted on: 
Fun With Buns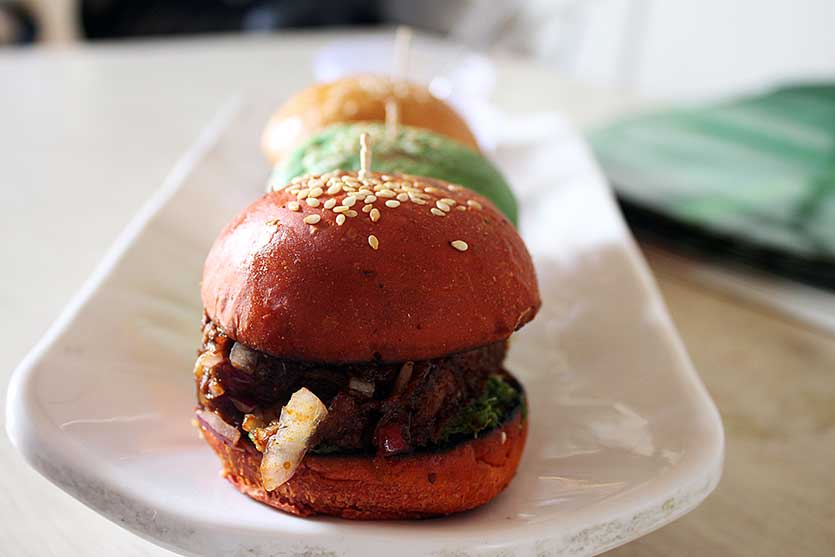 This is Crazy Tawaz' signature dish that we're already crazy about - three sliders stuffed with your choice of fillings and served with their in-house tamarind and mint chutneys. We chose the duck, chicken and mutton fillings and were delighted to find that all three were prepared exceptionally well. Bursting with fried onions, butter and spices in a bhuna masala, each kind of meat was deliciously juicy and every morsel was a foodgasm! A stellar start, we'd say. 
Murgh Dum Biryani
 
The Biryani looked so damn good! Fortunately, it tasted as good too. The rice was fresh, the chicken pieces were huge and tender, the quantity was decent, the rice and meat were equally flavoursome, the fried onions were seasoned perfectly with a hint of sweetness and stayed with us till the very last spoonful. The ginger and clove could be tasted all over and added quite a punch! 
Hyderabadi Tawa Macchi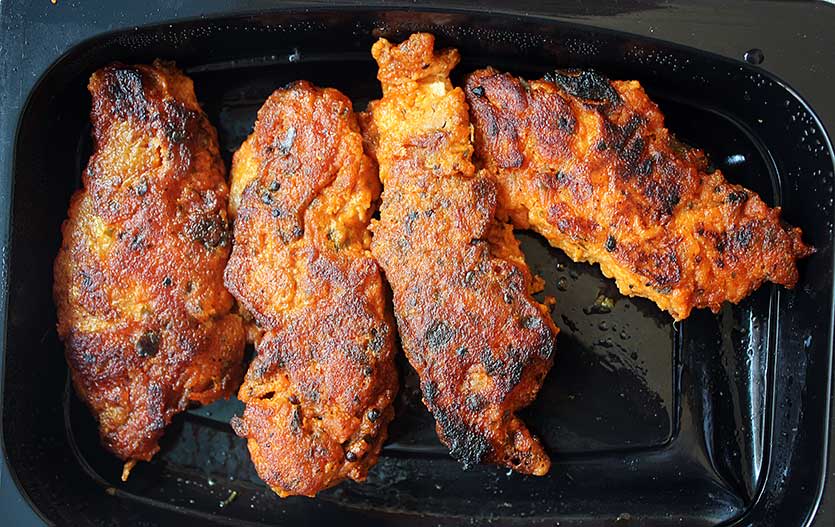 The fish was cooked well and was satisfyingly soft with a nice sear on the outside. Clearly, it had been marinated for quite a while since the flavour of chillies, curry leaves and spices had seeped deep inside - just the way it should be prepared. Succulent, to say the least! The portion size was ample too, which made our tummies glad.
Bhuni Boti Kala Mirch 
In other words, slow cooked lamb chunks with ground pepper garnished with fried onions and celery. The strong garlic-y taste was seasoned over the meat well and offered fulsome flavour. The lamb tasted great and the dish would be just the right fit as finger food on-the-go. 
Vegetable Seekampuri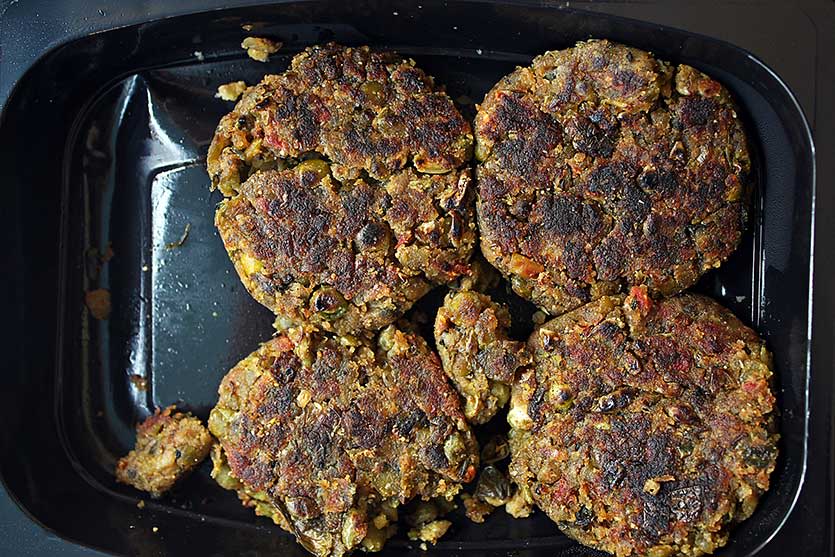 Something for the vegetarians – stuffed with veggies, soya and lentils, the Seekampuri patty was fried nicely and softly broke apart at the touch. The overall taste level was less spicy, which would be a relief for people who don't relish spicy food and was served with tangy tamarind chutney. The consistency was melt-in-your-mouth good, so thumbs up on that! 
Tawa Chicken Changezi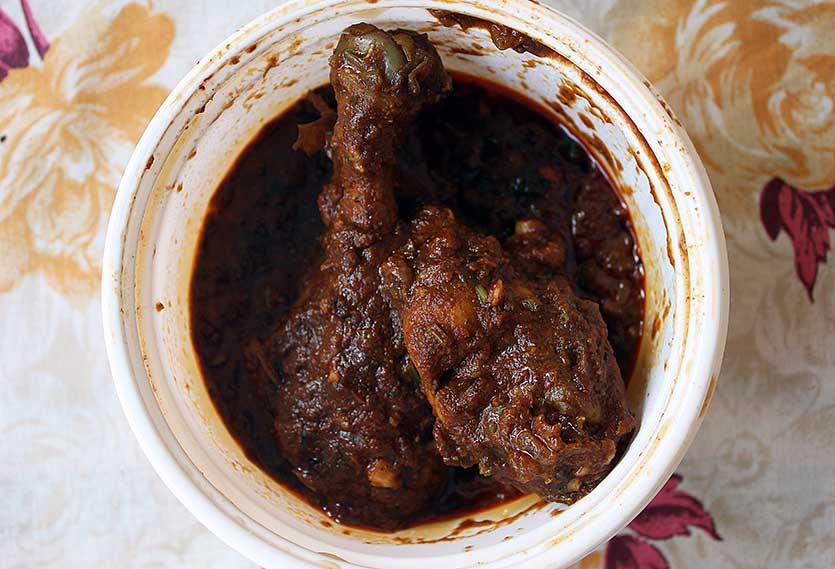 If you're in the mood for a royal binge sesh (that'll definitely leave you comatose), then Crazy Tawaz' Chicken Changezi is the dish for you! The chef for sure had a free hand on the oil and gravy masala, and we simply can't complain for the end result was something that you can't stop stuffing yourselves with. Remember the dishes you just can't resist eating AFTER you're done eating? The ones that end up temporarily expanding your waistline by x3? This one right here. No pants (or at least roomy ones) recommended. 
Tawa Mutton Chaap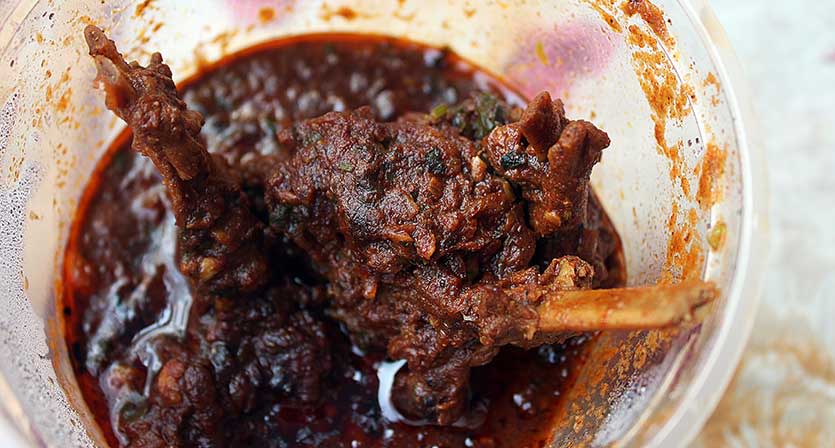 The perfectly cooked mutton on the bone was divine! This spicy, hearty and hardcore North Indian specialty is not for the faint-hearted. The tomato and onion gravy with black pepper left a sting in our mouths, an aftermath worth savouring. The mutton was not chewy at all and the quantity was awesome! 
Dal Makhani
 
The Dal Makhani did not disappoint either and was deemed finger-licking good by everyone at our table! Super creamy, it tastes best with CT's Lehsun Mirchi Parantha, a signature bread. Honestly, the taste was just amazing. A must-try for the herbivores!  
Crazy Tawaz also offers catering services in Gurgaon and we'd highly recommend them for your next gathering. Also, they have a record for delivering your food BEFORE time so if you're hangry much, order right up! 
Meal For Two | Rs 800 
Timings | 11 AM - 11 PM (Weekdays) & 11 AM - 12 AM (Weekends) 
Call 'Em Up | +91 9654 992 006 & +91 9654 992 002 
Order Online Here | http://crazytawaz.com/