Delhi
Dishing The Scoop - Literally! These Are The Best Ice Cream Parlours To Grace Dilli
Who doesn't love ice-cream?! The cooling, sweet & creamy frozen treat is one thing no one can ever have enough of! It's just the thing to indulge in on a hot Delhi summer's day (we can see you nodding RN) and thankfully, there are plenty of places in town where you can feast away. Take a look at the best of the rest and thank us later!
Naturals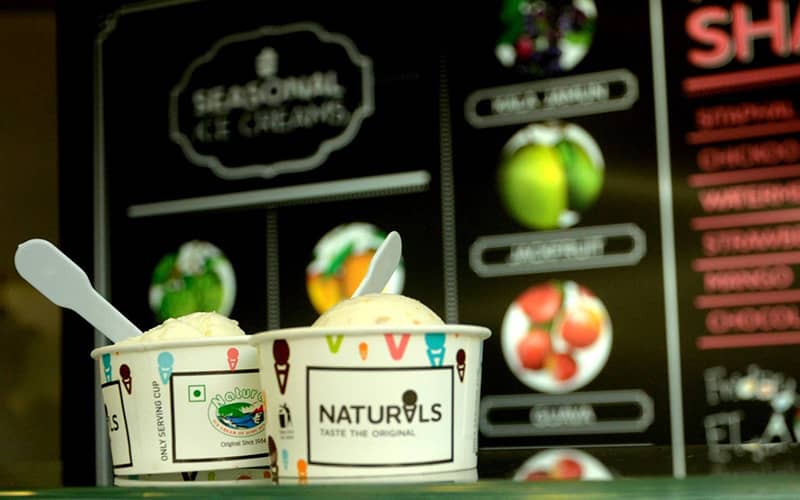 Naturals Ice Cream is India's renowned seller of artisanal ice cream, redefining the combination of traditional and modern creativity. It's known for its seasonal fruit ice creams such as Sitaphal (Custard Apple), Tender Coconut, Chikoo, Papaya-Pineapple, Muskmelon and loads more. Once tried, you'll be hooked forever!
Location | GK II, CP, Rajouri Garden & Other Outlets
Movenpick Ice Cream Boutique
Mövenpick, the Swiss ice-cream boutique located in the swanky location of Select Citywalk offers up to 18 superlative varieties of ice-creams, all prepared with the utmost care & perfection in the heart of the Alps to ensure superior quality which is then transported all around the world. The ice-creams are all au naturale, with no added preservatives or artificial colours whatsoever. Do try their Tiramisu, Swiss Chocolate or the Maple Walnut! 
Location | Select Citywalk, Saket
Haagen-Dazs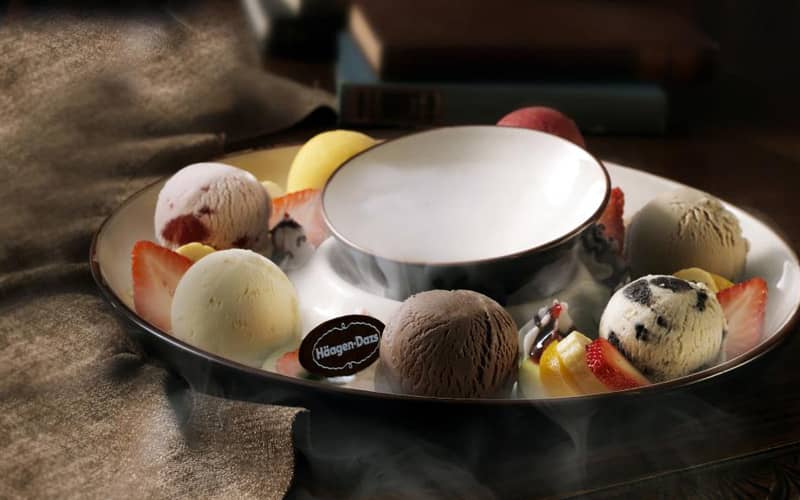 Häagen-Dazs is a popular ice-cream brand known worldwide for its amazing desserts. Their philosophy is fairly simple: find the world's purest and finest ingredients and craft them into the best ice creams, sorbets, and frozen yogurts. Do try their Brownie Celebration, Cookie Crunch and Paradise which is likely to transport you straight to heaven!
Location | Select Citywalk, Saket & T3 International, IGI Airport
Azote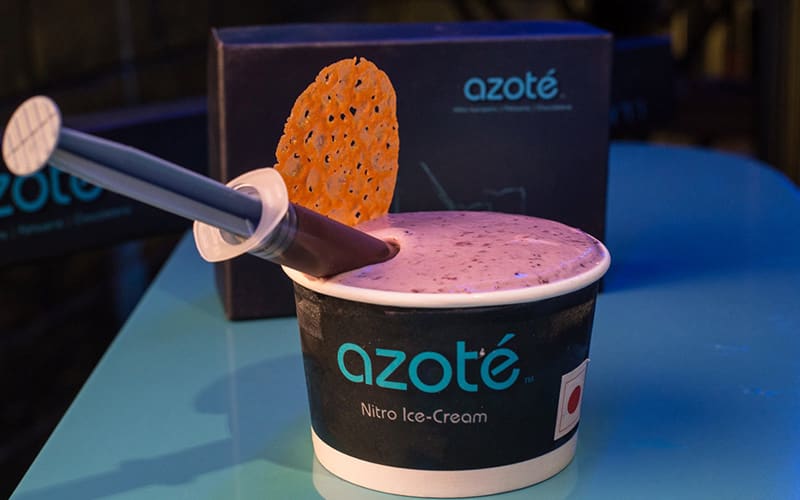 The scent of something sweet is always cooking in the house of Azote. This is an authentic little French patisserie known for its desserts & nitro ice creams which are prepared right in front of you. An experience in itself, they play with smoke to bring to you the most delectable ice creams ever. When here, make sure you sample their Malai Magic and Peanut Butter Ice cream!
Location | C-11, Ground Floor, Community Centre, SDA
Giani's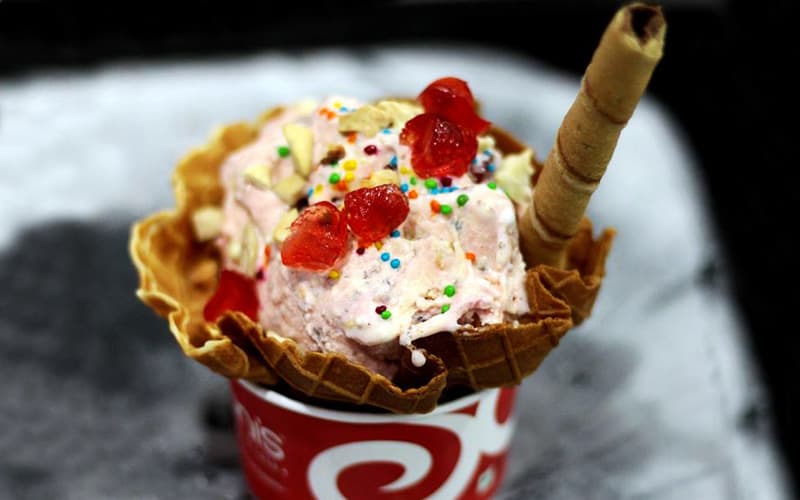 They have the best Indian ice-cream flavours such as Kesar Pista and Rabdi Faluda on hand to appease your taste buds! They also offer Californian flavours with lots of toppings of nuts and fruit. Giani's Sundae, Butter Scotch, and Bubble Gum ice-creams are quite popular. Their ice creams have a very rich creamy taste that everyone loves - head to an outlet nearest you TODAY!
Locations | Kamla Nagar, GK II, Rajouri Garden & Other Outlets
Frugurpop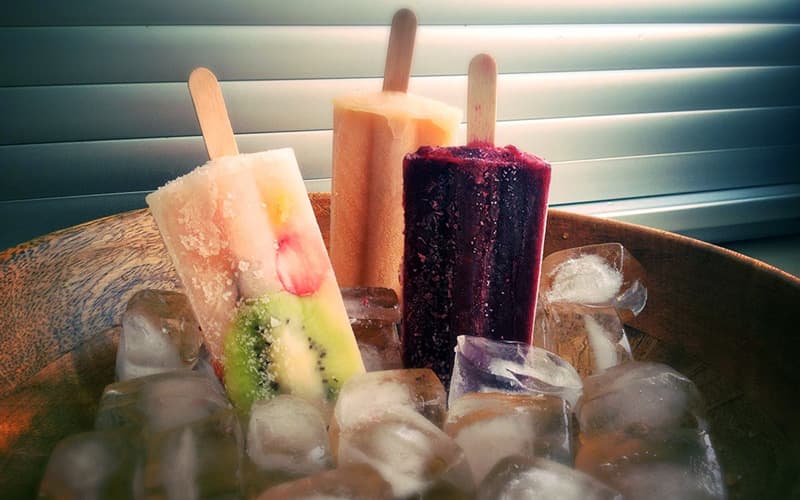 Originally invented in Latin America, a 'Paleta' is an ice pop made from fresh fruit and other organic ingredients which is what Frugurpop essentially offers you. Their search for ingredients has taken them to Italy for fruit compotes & succulent berries, Belgium for chocolate and Madagascar for vanilla! They make Gourmet Mexican Popsicles that are 100 percent natural fruit with no added colours or flavours and no preservatives. Definitely a must-try folks!
Location | Sushant Lok 3, Sector 57, Gurgaon
Havmor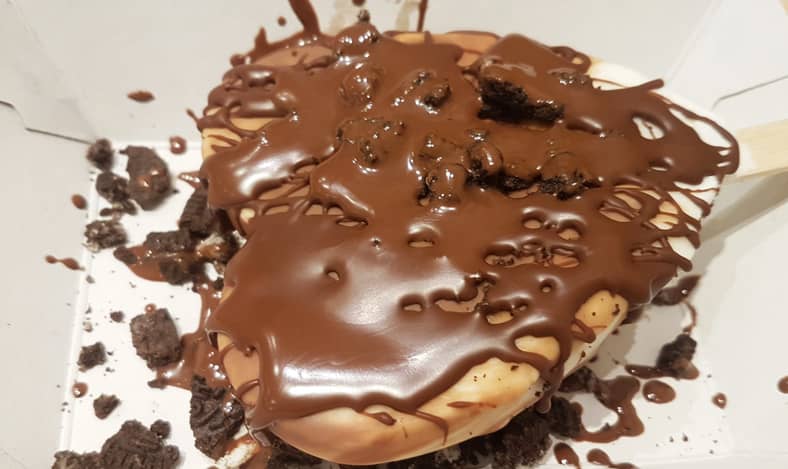 What if we tell you that you can actually customize your ice cream bar (we're talking copious masses of chocolate sauce and more here)? Yes, such a place does exist! Kudos to the hidden gem, Havmor ice cream parlour. Offering their own ice cream bars, Cornettos and more, they recently came up with some truly blockbuster ice creams that are made right in front your eyes and exactly according to your whims and fancies! 
Location | G-1, Hauz Khas, Opposite Aurobindo Market
Frozen Pan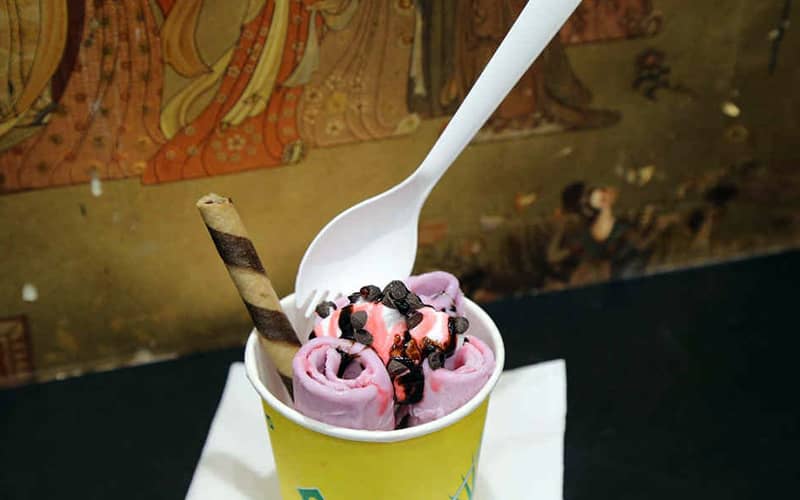 Ice cream rolls are all the new rage lately, and Frozen Pan in Kamla Nagar is here to give you DU Wallahs a taste of these enticing frozen treats! They've got a tempting range of flavours to choose from including Rose Paan, Banoffee Pie, Mr Brownie, Cookie Crush, Choco Berry, Mango Mania and the list just goes on! Go try 'em out for yourselves.
Location | 3, Block UB, Jawahar Nagar, Kamla Nagar
Tongue Twisters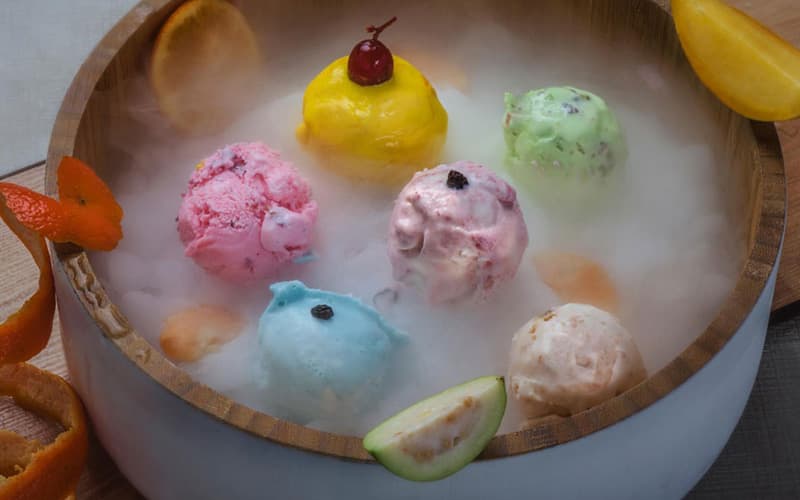 Tongue Twisters is here to give you an ice cream experience like never before! They started service a while ago, and have been delivering fabulous results ever since. They make ice creams in a variety of flavours like Coffee Craving, Lime & Lemon, Pistachio, Mangolicious, Guava and Calcutta Pan and we can't wait to go try 'em out. Plus, they even have a few ice-cream based desserts including ice cream sandwiches, chocolate brownies dressed with a scoop of ice cream and Ice Cream Swiss Roll Cake (omg)! 
Location | 65, Sector 15, Part II, Gurgaon
Sawad-e Ice Cream Rolls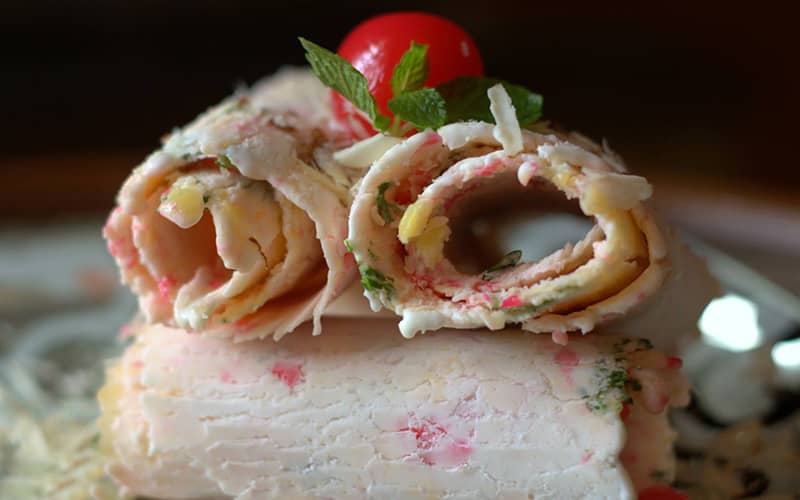 Brimming with overwhelming 'sawad' (taste), Sawad-e is planning to develop its copyright over ice cream rolls all around Delhi NCR. It serves various flavours ranging from fruits, Pan and Nutella to Chocolate Brownie. Their way of plating rolls in a crispy waffle basket balances its sweetness and provides that much needed crunch we all love. We think their Nutella Love is a must try!
Location | Shop No 19, Sector 15 Market, Faridabad
Ice Pan Creamery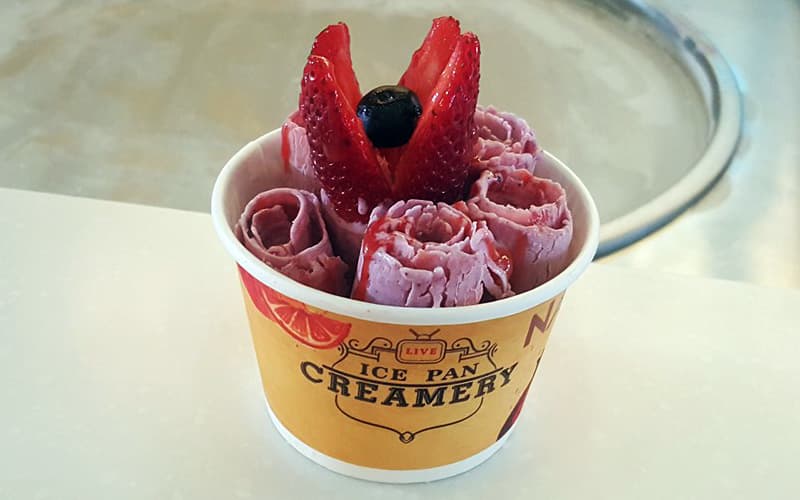 Boasting of a sizeable number of assorted flavours of ice cream rolls, Ice Pan Creamery is increasingly becoming a hub for all the ice cream roll lovers. Some of their famous and unique rolls are Ferrero Rocher, Tequila Shot, Oreo and Nutella, Almond Fudge and Rum and Raisin. You also have the option to add delicious toppings to your rolls, making them absolutely irresistible!
Location | Lower Ground Floor, Pacific Mall, Subhash Nagar
Oh So Stoned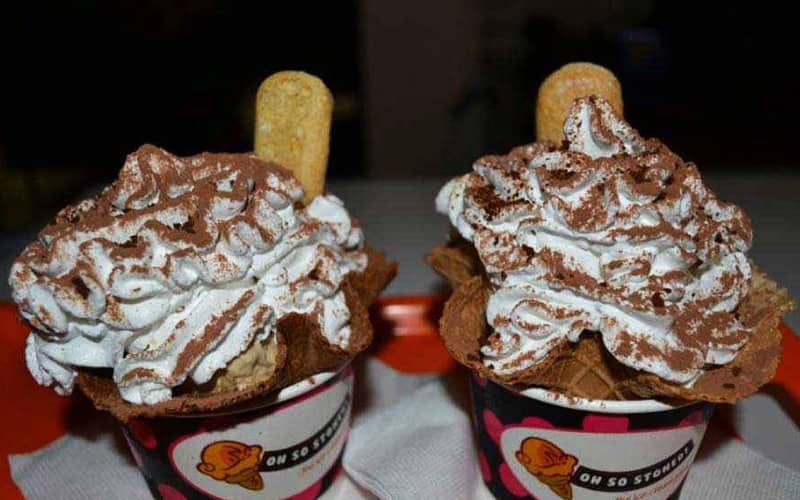 A Noida inhabitant? Don't worry! We've got something really amazing for you as well. Oh So Stoned is amazing customers with its wide range of Stoned Sundaes which are assorted desserts combined with ice creams and mix-ins. Some of its famous sundaes are Choco Pop, Say Cheese, Paan Shaan and Scarface Noir. Go, get stoned!
Location | Sector 18, Noida
Turquoise Turkish Ice Cream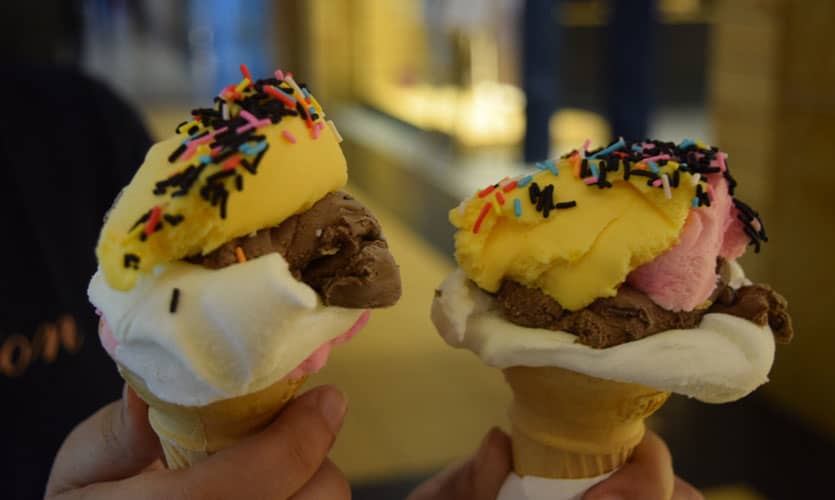 Turquoise Turkish Ice cream is the new big thing in the city - you know why? 'Cause Turkish Ice cream can be eaten upside down! Woah. Turquoise Turkish Ice Cream sits pretty in Noida's Great India Place Mall, and people have been going gaga over it. But the fun bit here is that they don't just serve it to you, they make you work for it! Once your order is placed, the main guy behind the counter starts his fun act of tossing and flipping the ice cream in mid air and making a full circus act out of it! Every time he makes you believe that the ice cream cone is yours, it's really not! 
Location | Great India Place Mall, Noida
Cherry Comet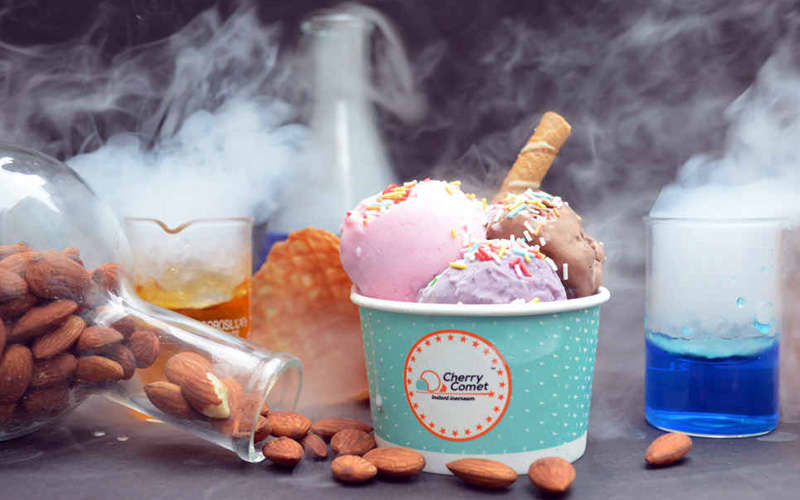 Cherry Comet at Sangam Courtyard in RK Puram might not look like an outlet that you'd like to pay a special visit to, but once you do step in here, be prepared to be mesmerised by the variety of flavours that this ice cream parlour has to offer. The products used to churn a scoop of instant ice cream are mostly natural; the ice creams are made on the spot and you can watch the whole process right in front of you. It's nothing short of intriguing and spectacular at the same time. They also have another outlet in Cyber Hub, so go try!
Locations | Sangam Courtyard, RK Puram & DLF Cyber Hub, Gurgaon
Raw Creams
In the age of innovative ice creams, Raw Creams have a great variety of totally rad, offbeat ice creams. Their menu includes all manner of flavours - from some creamy chocolate ones like Nutella Hazelnut, Oreo Crunch, Chocolate Brownie and Nuts Overload to fruity ones like Banana Caramel, Strawberry and Litchi. They've got some special flavours in the nitrogen preparation section which include fruity flavours as well as signatures like Guava Chilli, French Vanilla, Irish and Tiramisu!
Location | 2509, Ground Floor, Hudson Lane, Delhi University-GTB Nagar
Niice Cream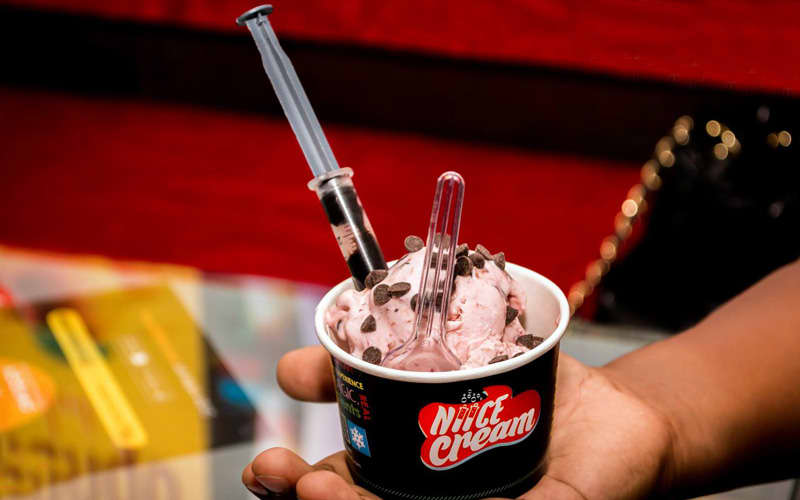 A cute yet tiny ice cream parlour that's all about nitrogen ice creams! They've got a whole bunch of flavours from which you can mix and match and get a bespoke flavour made. From colours to fruit and toppings, you can select them all here! They've got standard flavours like Strawberry, Chocolate, Mint and Oreo, and premium flavours like Nutella, Snickers, Ferrero Rocher's as well! 
Location | Shop 2 & 3, Building 9, Hauz Khas Village
From classics like chocolate and Nutella flavours to unusual palate pleasers like Sitafal, we've pretty much covered the gamut when it comes to ice cream parlours in our little corner of the planet - Delhi. Which one are you headed to after work today?!