Delhi
Dishing Out Conventially Lavish Fare - Here's Our Take on Masala House, Sundar Nagar
Located in Sundar Nagar, Masala House is one of the places that define fine dining in the classic way. In the present day's trend in the food industry, where restaurants are trying to recreate the classics and the basics in ways anew while experimenting with flavours and themed-ambience, Masala House stands tall reflecting the aura of the conventional. 
Fancy cutlery, beautiful lighting and eager waitressing summed up to give us a rich and luxurious experience, the kind we hardly see anymore. We had our lunch at Masala House and here's what we have to say about it.
Silbatte ki Shami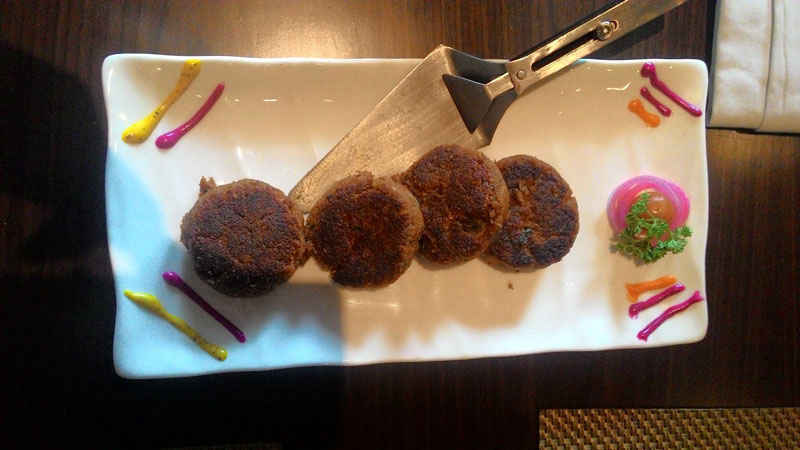 We started with Silbatte ki Shami, which are basically the renowned shami kebab which has the finest batan-pounded lamb and lentils. Soft and thick with a spicy spunk, they tasted great and simply melted in the mouth. 
Murg Chettinad

Although we were informed, more like warned that the Murg Chettinad was gonna be spicy, we were fully prepared! However, it turned out to be a pleasant surprise. It wasn't as spicy as expected, since the coconut flavour subdued it and instead, as we gobbled away, we experience a certain smoothness. It was tasteful and a good balance of different flavours. 
Butter Chicken Naan

We clubbed the Murg Chettinad with the Butter Chicken Naan which had shredded gravy tossed butter chicken stuffing. Plain and slightly devoid of the flavours we expected, it went down better with the kebabs. So we also ended up ordering tandoori roti to accompany our chicken. 
Kulfi with Red Wine Poached Pear

Two scoops of kulfi laced heavily with chopped pistachios and served with a bittersweet poached pear made for a good combination. 
We liked the food and the eager hospitality on the basis of which we would totally recommend the place, but it would be better if the restaurants increased the items on the menu, especially desserts, which took up the tiniest space on their selection.
The place may end up drilling a hole in your pocket, but if once in awhile you're in a special mood to spoil yourself and indulge in some decadence, then this place is the way to go!