Delhi
Dine With Your Doggie BFFs at Puppychino - Delhi's First Dog Cafe in SPJ (They Serve Hoomans Too!)
Dog lovers in the capital finally have a reason to rejoice! Naini Tandon's inability to find a place to chill and grab a few quick bites at with her dogs Simba (the friendliest husky) and Bobo (the laziest Lab) resulted in the city's first ever dog café- Puppychino! Located in Shahpur Jat, it's the perfect place for a meet and eat for your furry babies.
With two separate menus serving 'Hooman Food' and 'Doggie Food', a spacious playpen for the four-legged guests, two resident mascots (the owner's pets that pretty much own the place), a counter for stocking up on your canine care products and in-house trainers, the outlet is all set to become your dog's favourite new hangout place in town! Move over boring old parks and crowded, smelly kennels! Oh, and did we mention the free WiFi? Score for team hooman!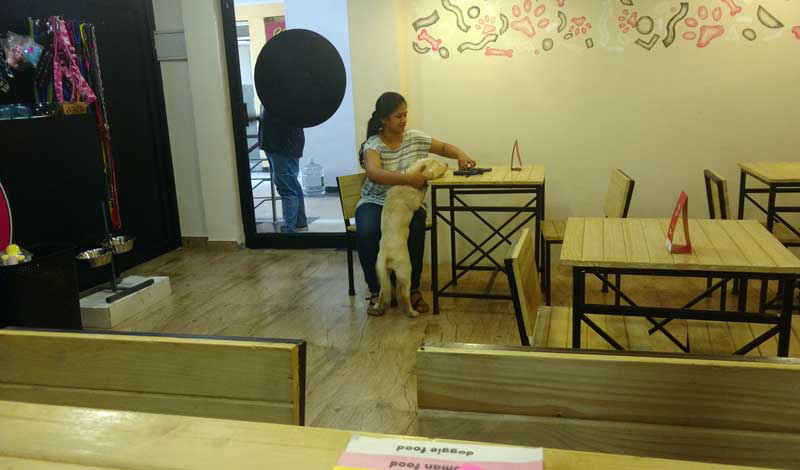 Chilled out vibes, soothing lighting and tons of open space (we're glad the décor wasn't overwhelmingly restaurant-ish and made us feel like we'd hopped over to a neighbour's pad for some quality time with the pooches + munchies) culminated in a relaxed, laid-back setting where you could stretch out like your company! The eating area and playing space are separated by a small door to keep out the dogs, in case you don't want them around your food, utilized in the rarest of rare instances (in which case, we are judging you big time) and thoughtfully, there are hand sanitizers on every table.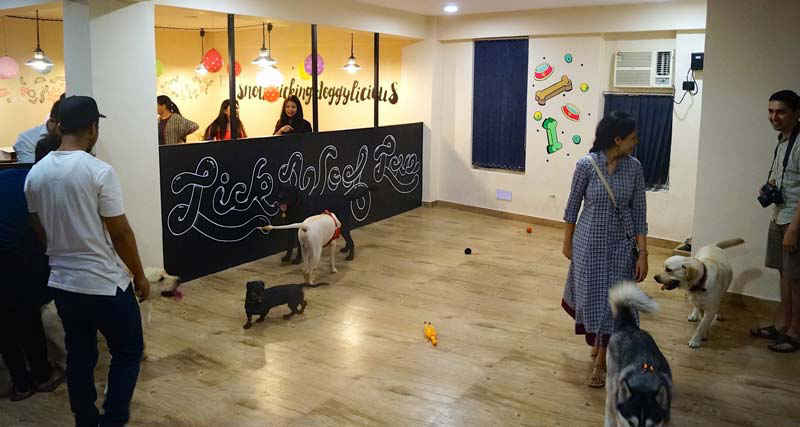 Naini was present and attending to the guests in person; we were asked to scribble our orders on cute post-its and even got her to recommend the café's best fare (listed below), full points in the service department. Coming down to the actual culinary experience…sadly, we would say that it left a lot to be desired. Here's what we ordered:
Chicken Tikka Pizza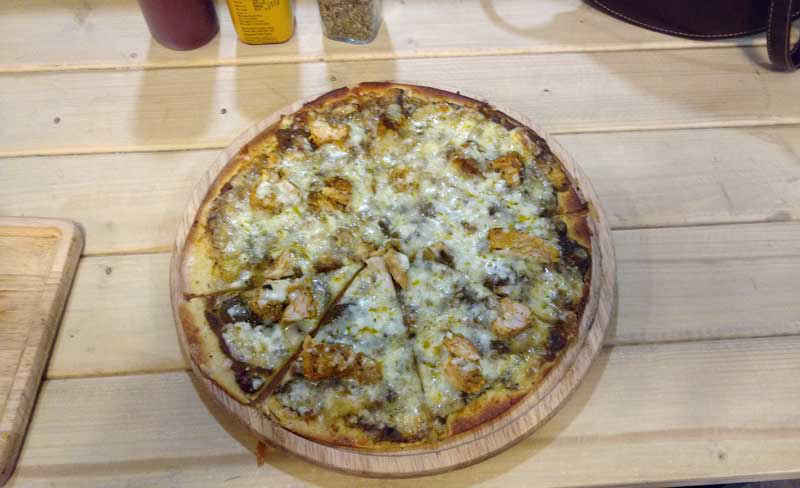 This was a thin crust pizza in the truest sense of the words with an almost paper-thin base topped with a thick layer of molten cheese, generous pieces of chicken tikka and a hint of chaat masala and oregano. Despite the chappati-like crust, the pizza was quite filling but utterly bland overall.
Mint Mayo Chicken Sandwich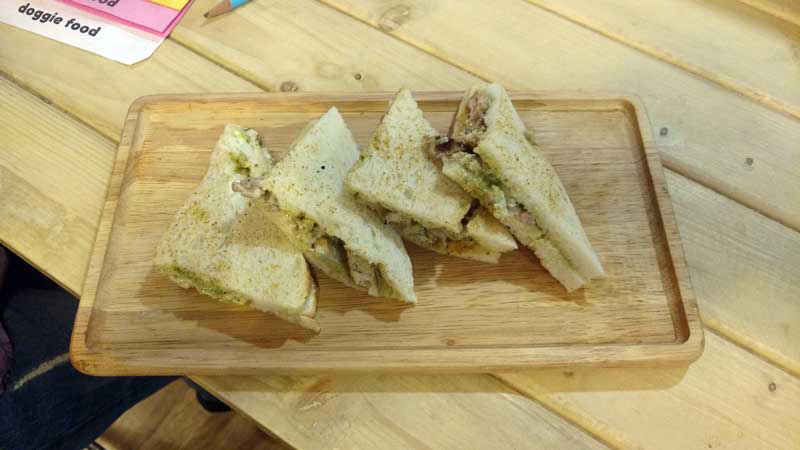 Described as 'the best combination of the bird and herb' on the menu, the white bread sandwich was filled with mint mayonnaise and chopped pieces of grilled chicken. It looked and tasted like home-cooked food and reminded us of our school tiffin boxes. The minty flavor was refreshing however we wouldn't be back for it! 
Blooming Bread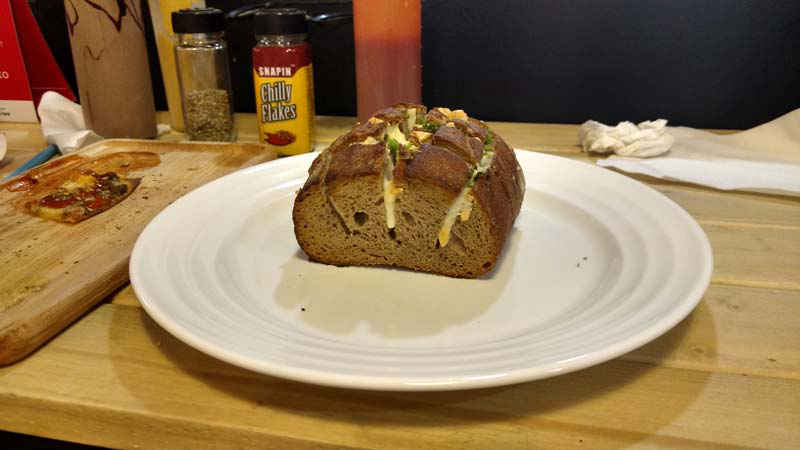 A Puppychino Special, this was half a loaf of brown bread filled with melted yellow cheddar cheese, chopped spring onions, garlic butter and garnished with herbs. The bread was crunchy but the dish lacked any flavor, the cheese seemed a tad bit dry and the filling was inadequate.
Nesquik Shake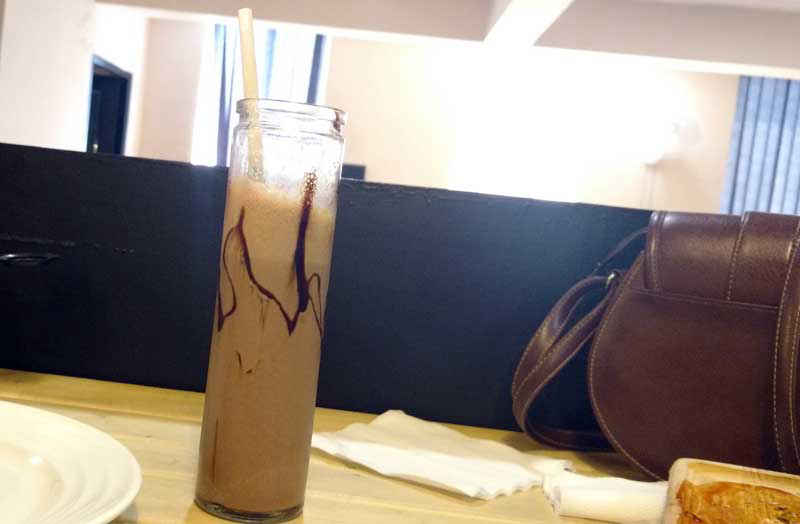 This was the best part of the meal, topped with a foamy layer of chocolate and colourful sprinkles, it tasted like milk infused with a liquid bar of Nestle chocolate (90s kids will remember this one) and chocolate sauce. Yumm! The saving grace of our meal.
We had a hard time getting over Simba's beseeching eyes begging us for tidbits throughout this while and Emma (a frisky Lab that came in for lunch) checking out our feet. We may or may not have slipped em a piece (or two) of chicken.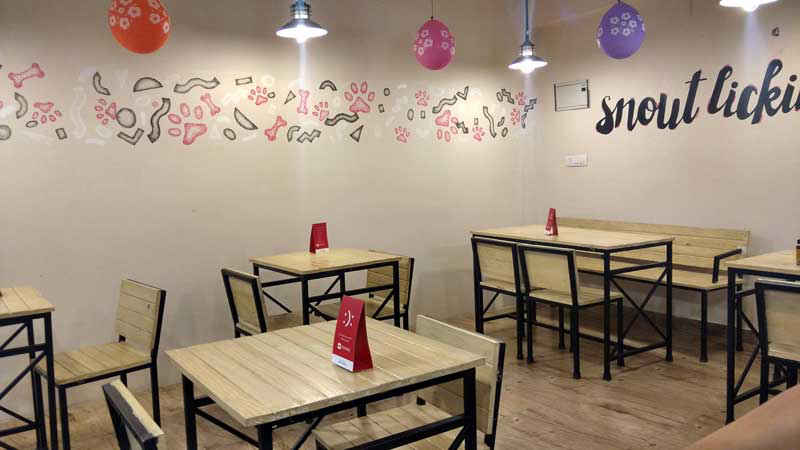 You can identify Simba and Bobo's friendly banter even before you enter Puppychino —although the place is quite peaceful for the most part— and the moment you enter, you're showered with love and licks! On the weekends, the café turns into a panting, rolling, tail-wagging party central with over 4-5 dogs (there is a trainer to keep things in check) while most patrons come in over the weekdays to play with the husky.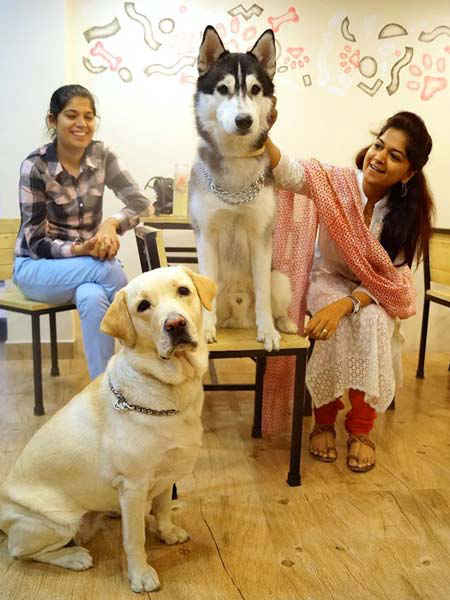 It is said that the love of a dog is the purest form of love (okay, maybe we made that up, but you can relate, right?) and there's nothing like a display of good ol' almost-knocked-down-to-the-floor doggie lovin' to make one feel special. Drop in to let your little buddies socialize or even if you're just feeling low; Simba's innocent eyes, silky soft fur and inquisitive nuzzling will cheer you right up! It's therapeutic.
We would prolly not go back for the food but definitely for the licks!
Address | 3rd Floor, 119, Shahpur Jat, Siri Fort, Near UCO Bank
Approximate Meal For Two | Rs. 800
Value For Money | 5/10