Delhi
Choti Hatti In West Patel Nagar Serves Chole Bhature For Just Rs 60 Using Decades-Old Recipe
If chole bhature is the prime dish on your street-food pyramid then look no further for located in the buzzing and tight lanes of West Patel Nagar Market is this place called Choti Hatti that'll win your hearts with their widely acclaimed version of this dish. Serving low-budget delicious food, this joint, with its mouth-watering chole and bhature, frequently turns new customers into regulars!
 A Dhaba With A Humble Ambience
Choti Hatti has both, a takeaway option and a seating place to house its loyal customers. Though the seating area is very basic, these folks provide clean utensils and a relatively hygienic environment. This small place, situated in a crowded market junction, opens at 9.30 AM and does business until the afternoon.
Half A Century Old Authentic Recipe!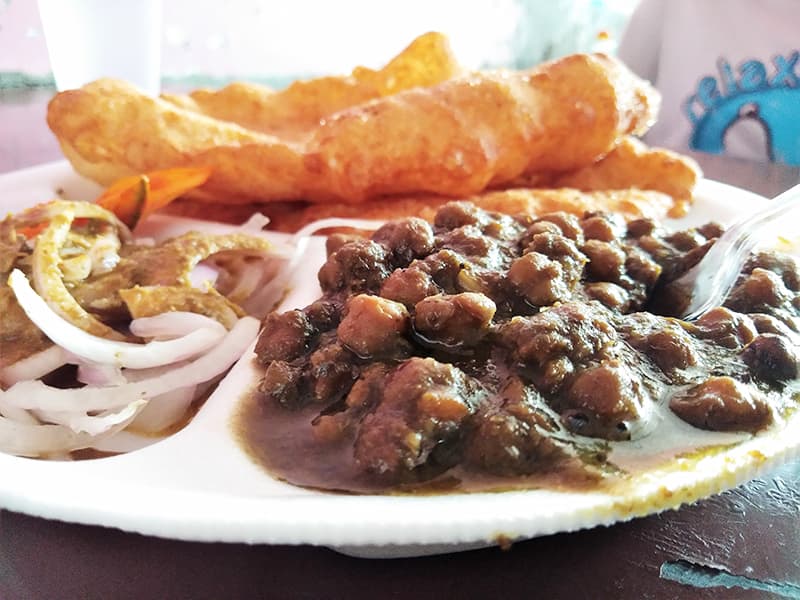 An eating joint that's been a significant part of most of the locals' childhoods, Choti Hatti has been serving their famed Chole Bhature for over 50 years now! They serve two crunchy yet soft bhature with their delightful masala chole and to complete the meal, add some spicy pudina chutney, green chillies, onions and a savoury pickle to the plate. Pair this with your preferred beverage and voila, you have a complete, filling meal under Rs 100.
Taste It To Believe It
When we tried their Chole Bhature, we immediately fell in love with the tasty dish. The masala was well seasoned and aptly spicy. The gravy in the chole was minimal and, thankfully, didn't have any excess oil. The dish, made in vanaspati ghee, also had pieces of potatoes that added to the deliciousness of the chole. The hot and fresh bhature were brilliantly puffy and had a sizzling golden colour. Each bite of the dish melted in our mouths and we polished off the entire plate in no time. For all you rice lovers, their menu also includes chole rice with extra gravy for just Rs 60!
Overall, the meal was delightful and despite being a common dish, it had its own unique flavour. All hail the special recipe of the hatti that has remained unchanged and has been a mutual secret between the owner and his faithful employees through the years. So, the next time you're visiting Patel Nagar and are in the mood for some fantastic street food that is economical, for the love of chole, do give this lovely place a try!
Where | Choti Hatti - Main Market, West Patel Nagar
Price | Rs 60
Timings | 9:30 AM - 3:30 PM