Delhi
Desserts Upon Desserts Galore! Here's 8 Delicacies We Loved @ Dezertfox In Amar Colony
Did you ever look at a dessert that's just too pretty to eat? Well, Dezertfox specialises in plated desserts that looks so good that your mouth will start watering and your eyes will pop out! High on presentation, and even higher on taste and flavours, their desserts are truly one of a kind. Here's what we devoured:
1. Passionate Framboise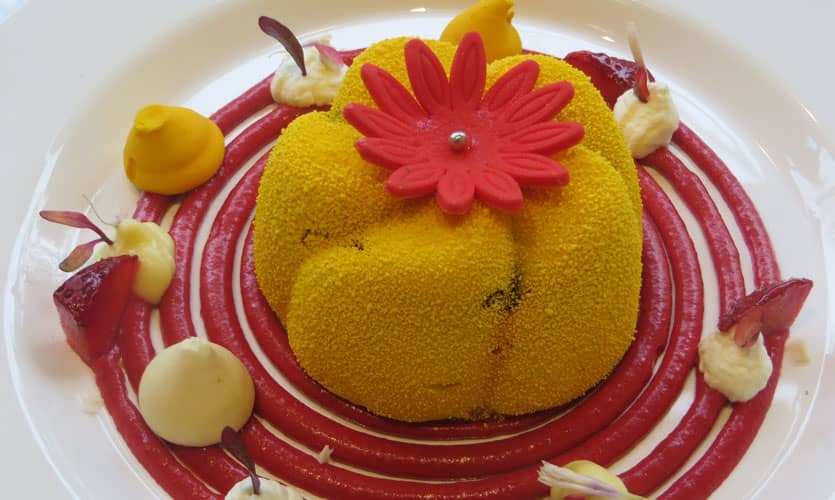 First up was a really vibrant-looking plated dessert - their Passionate Framboise. Made with tangy passion fruit mousse, delicious raspberry jelly and almond madeline cake, this colourful dessert tasted just as good as it looked! Every bite was indeed a riot of strong, tangy and light flavours. Go dig in! 
2. Chocolate Sin New Edition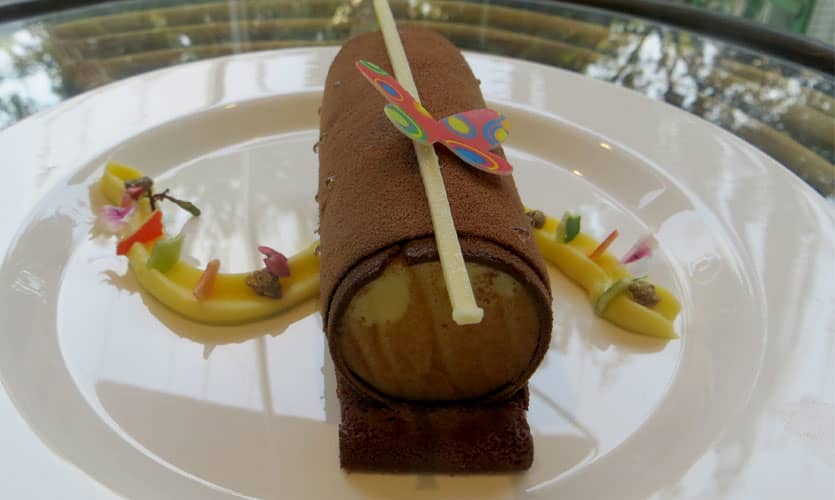 Now this one was our personal favourite because it was fraught with chocolate *starry eyed*. A smooth creme patisserie and whipped chocolate ganache was wrapped up beautifully in the coco crepe. With such unique flavours of chocolate coming together for one awesome dish, this delicacy was real sinful indeed! 
3. Coriander Passion Curd Tart 
Had enough of the usual lemon tarts? Then you must try the Coriander Passion Curd Tart at Dezertfox! It has rainbow meringue crisps, a coriander gel sphere, coconut duet and basil cream *woah*. The passion fruit curd is the hero of this dish, for it is refreshingly tangy & sweet! 
4. Matcha Chio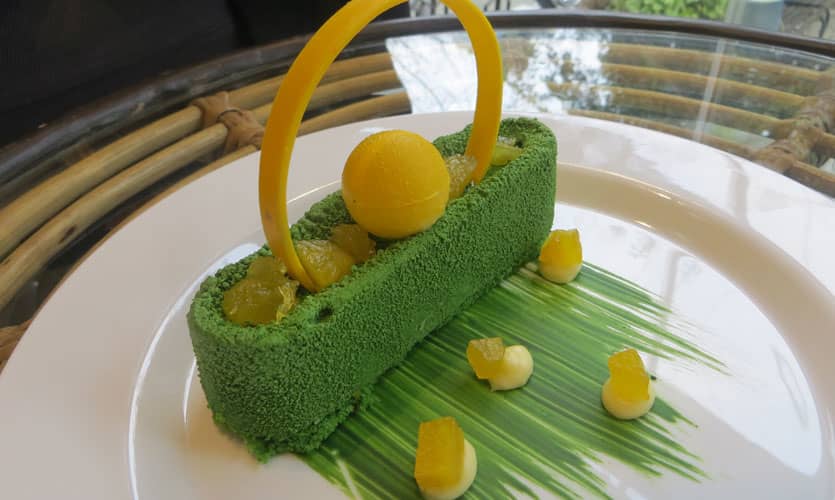 Love your green tea way too much? Well then, you'll be happy to know that Dezertfox has a sweet matcha delicacy and it's everything you've ever dreamed of! It comprises a green tea mousse & a pistachio lemon cake as its base, and is then topped and festooned with meringue crumble and pineapple compote. Heavenly! 
5. Naariyal Paani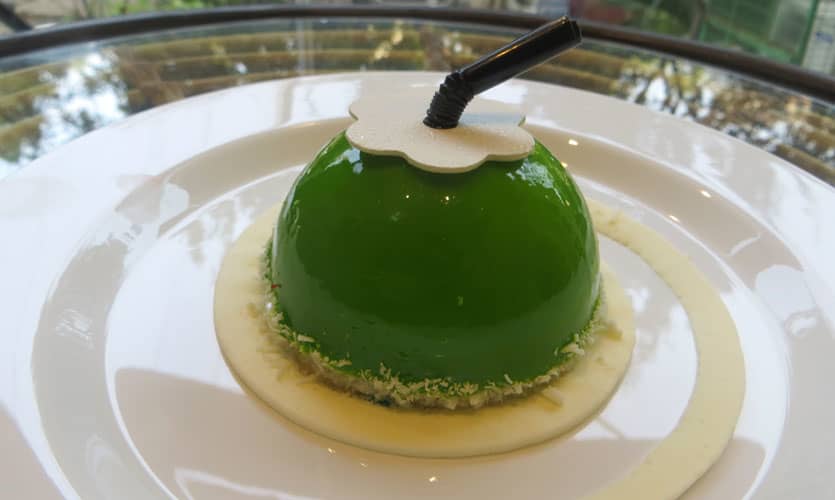 How does nariyal pani in a desert sound? Well, the taste is as amusing as the concept itself. Channeling their undying love for coconut water, the chef here invented a dome-like dessert which is filled with real nariyal pani! First you have to sip in the water, and then dig on the coconut mousse that the dome is made of. It was a one of a kind experience to try this one, folks! 
6. Dark & White Mille Fuille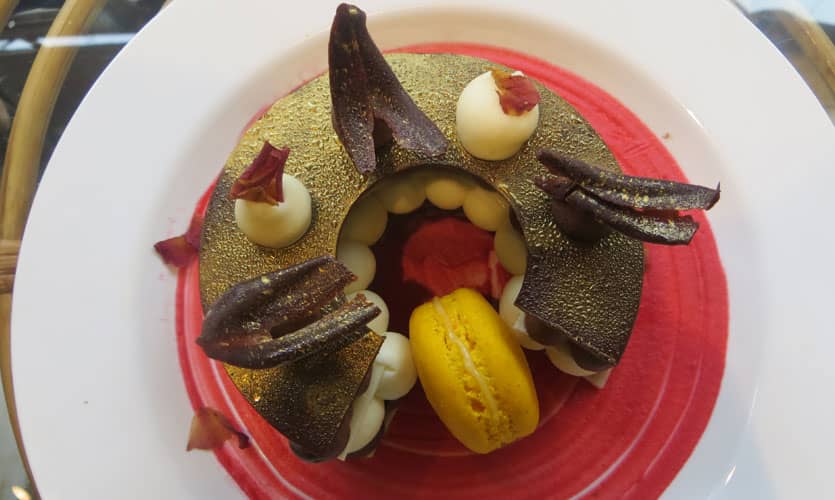 Next up was a beautiful looking dessert called Dark & White Mille Fuille. It's basically a traditional French delicacy with a twist. It's gluten free, has layers of Belgian chocolate and milk chocolate, contains rose petal sand and is usually served with a citrus macaron - we got a passion fruit macaron and loved it to bits!
7. Hazelnut Rocher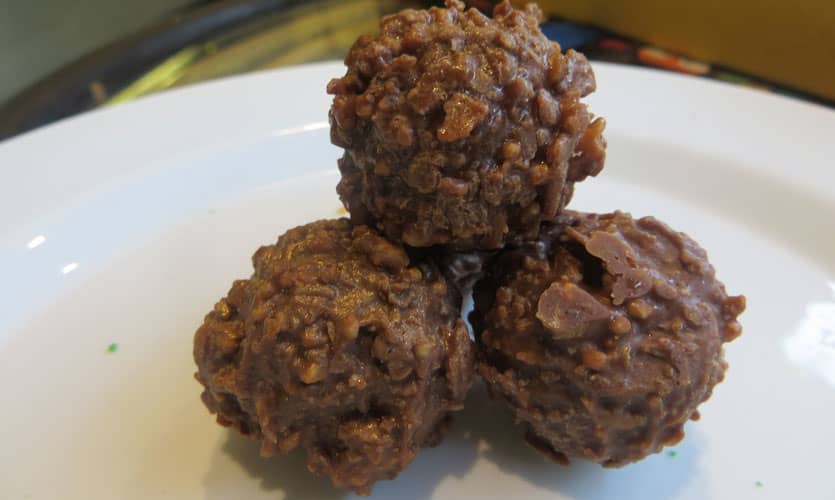 When Ferrero Rochers don't fuel your need for chocolatey delight, you need to sink your teeth in Hazelnut Rocher by Dezertfox! This ball of chocolate looks exactly like the bona fide Ferrero Rocher, but is filled with melted hazelnut chocolate inside (omg!). Pure indulgence is what describes this experience best! 
8. Pistachio & Fig Cake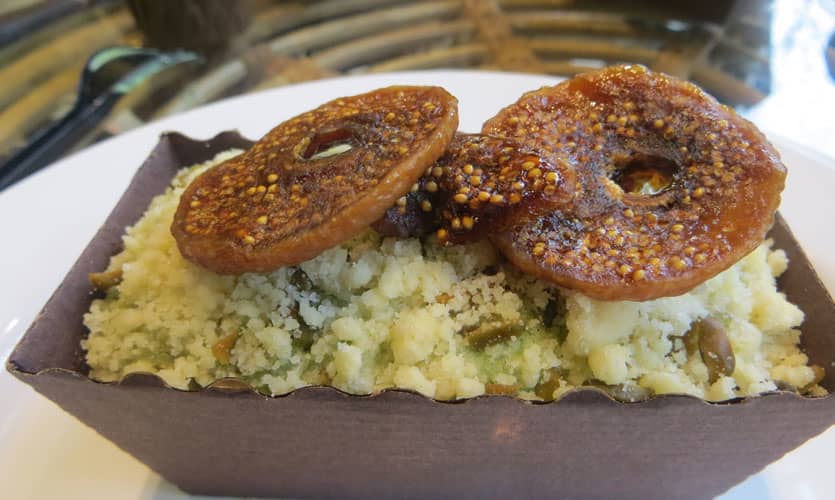 Our last sweet delicacy for the day was a novel new combination of a dry cake - their Pistachio & Fig Cake. The basic cake is made up of pistachios and is then topped with figs which adds that much needed sweetness to the cake. Go devour this flavourful, rich cake! 
Feasting on such beautiful desserts (both outside and on the inside), we can say with the utmost certainty that Dezertfox is the go-to place for all the dessert hungry people out there! 
Meal For Two | Rs 550 
Location | D-18, Amar Colony, Lajpat Nagar IV
Must Tries | Nariyal Pani & Chocolate Sin