Delhi
Deliciously Frothy Milkshakes, Hot Chocolate & Coffees: We Went & Checked Out Bistro 57!
One of the most popular market places in Delhi and a hotspot for the college students of North Campus, Kamla Nagar, is almost never bereft of liveliness. The roads and alleys, spreading out radially from the huge roundabout house various outlets of famous fashion brands and numerous roadside and indoor eateries. It's only natural for it to be the most sought after hangout place.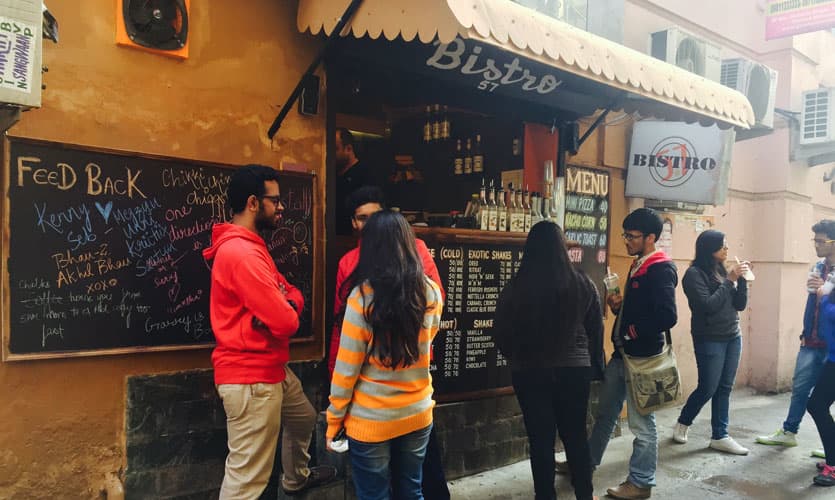 Hidden in one of alleys of Kamla Nagar, specifically the one behind McDonald's, we've discovered a happy place about which most North Campus students and frequenters of the market are already in the know about! Bistro 57 is a popular milkshake spot of the area, and serves a variety of great beverages at dirt cheap prices. From warm coffees, hot chocolate to refreshing coolers and mojitos, from delightful milkshakes, cold coffees to delectable desserts and mini-pizzas, they have every sort of thing that'll bring a smile to your face!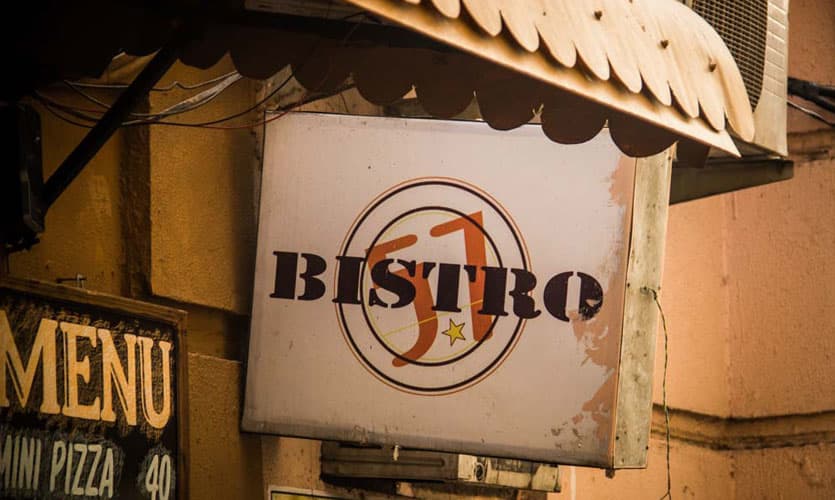 You will never find this place devoid of people! Especially the college peeps, who are almost always chilling near this small and simple pop-up shop. The counter of which is aligned with bottles of flavoured syrups and glasses. It has a really easygoing vibe, hygienic and super-fast service and of course, tasty milkshakes always on hand.
Talking of milkshakes, it was tough to land on a decision as there were tons of options to mull over. They suggested we try their classic Cold Coffee, popular amongst its frequenters and their new addition under the 'Exotic Shakes' list, the Classic Blue Berry Shake and so we did!
Cold Coffee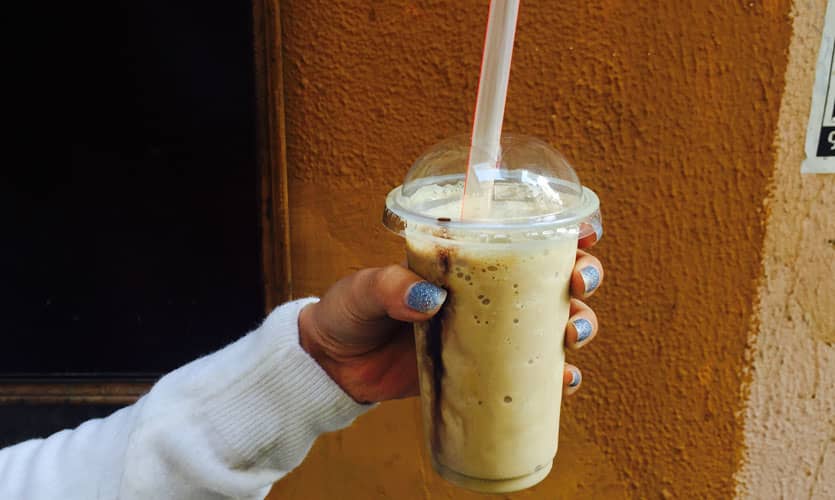 Whether it's summers or winters, cold coffee always seems like a good idea! So, that's the first thing we ordered, which came in a plastic glass decorated with ribbons of chocolate syrup from within. The thickness of the coffee was perfect, and it had the right amount of sweetness. Although we did feel that a little more coffee flavour would've been even better. But overall, 50 bucks for a yummy glass of filling cold coffee is always a big yes for us!
Price | Rs 50 (Small)
Classic Blue Berry Shake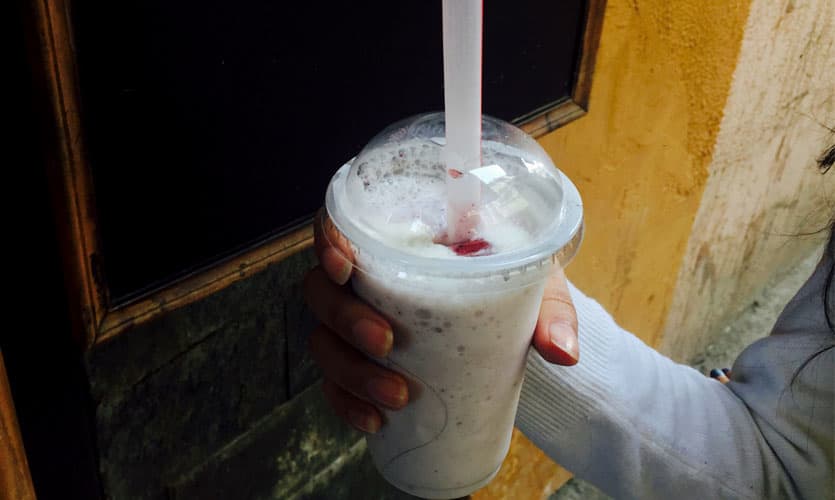 The newly-added Blue Berry Shake may not use real berries, but the sweet and syrupy blueberry flavour with a scoop of vanilla ice-cream with the shake, still makes it worth your while AND money. Being a little too sweet, this one's definitely for the sweet-toothed out there. Go try!
Price | Rs 90 (Small)
Chocolate Shake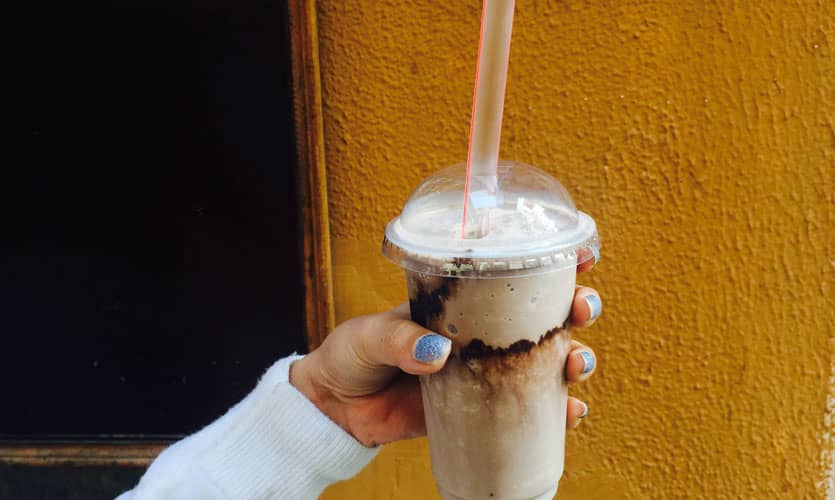 Who isn't a fan of the simple-yet-always-so-delectable Chocolate Shake? We got our hands on this one next and slurped-up the chocolatey goodness in one go! This isn't one of those shakes where sweetness equals the richness in the flavour. In fact, along with its perfect consistency, you can taste the real chocolate flavour rightly balanced with the sweetness. A classic, and a definite must try.
Price | Rs 50 (Small)
Passion Fruit Mojito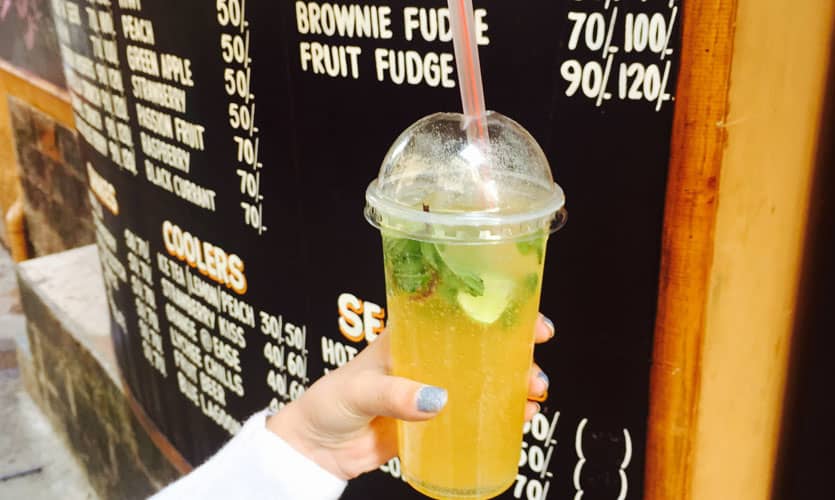 Next, it was time for us to hit the tropics! The Passion Fruit Mojito looked like a blast of bright summer inside the tall glass. With the freshness of mint leaves and lemon, the Mojito made us crave for summers amidst the cold winter. The lip-smacking citrusy sweetness of the lemon and the tropical flavour of the passionfruit basically made our day! 
Price | Rs 70
Hazelnut Hot Coffee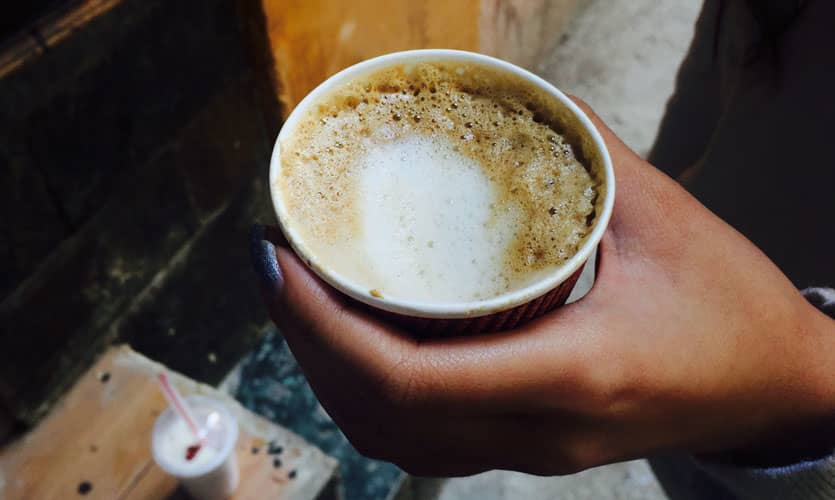 Lastly, it was time to get snuggly with a warm cup of hot coffee with a nutty hazelnut flavour. We liked the way the hazelnut played with the flavour of caffeine and would recommend this if you want a subtle twist to your regular hot coffee. Apart from this, there are many such variants like Cinnamon, Caramel and Irish Coffee, with small servings under just 50 bucks that you NEED to go try! 
Price | Rs 50 (Small)
Bistro 57 sure knows how to up their beverage game! It's a must-visit to this cool and pocket-friendly place for the wide range of goodness they offer. Most importantly, South Delhi peeps need to come here often, unless they want the Northerners to have all the fun! Bistro 57 also has two other outlets, one's located in Hudson Lane in North Campus, and the other in Gurgaon (yay for the Gurgaon peeps!). Come on over folks!
Location | Jawahar Nagar, Kamla Nagar