Delhi
4 Best Places Where You Can Score Delicious, Rich & Fluffy Daulat Ki Chaat In Old Delhi
During the winter season, there appears a lot of thelas in Purani Dilli running helter-skelter in search of people who would buy this delicious, appealing-to-the-eye dessert, hailing from the bylanes of Eastern UP. We're pretty sure that by now, you'd have guessed that we're gushing about none other than the light and foamy daulat ki chaat.
Daulat ki Chaat is that mysterious dessert that can be devoured only during the winters as a vital part of its preparation uses the wintery dew that settles atop boiled milk when cooled. This dessert needs almost half a day and an entire night to look its pretty self, and can only be kept in the open for a mere 2-3 hours before the frothy, foamy dessert succumbs to its inevitable state of milky liquid. We went out scouting for the best makers of daulat ki chaat in the alleyways of Old Delhi and here's what we uncovered! Owing to the current situation, some of these places might not be open at the moment, so do check before you drop by! 
1. Jaspal & Sunil Kumar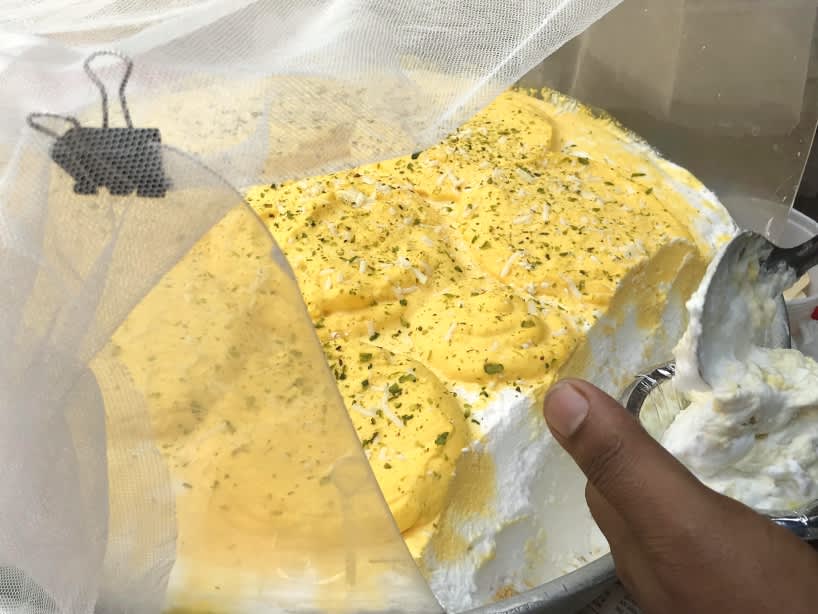 Owing to the huge demand of this dessert, this guy puts up two thelas in the area and boasts proudly that both his thelas manage to empty their produce before the chaat goes milky! He loads spoonfuls of mixed powdered sugar, groundnuts and crushed chena in your bowls, to make it one of the tastiest preparations in all of Old Delhi. He can be spotted right outside Shyam Sweets, and also has a thela at the beginning of the Dariba Kalan Market when coming from Chandni Chowk, so come drop by!
Price | Rs 50 Onwards
Where | Jaspal & Sunil Kumar - In Front Of Shyam Sweets, 112, Barshah Bulla Chowk, Chawri Bazar
2. Hemchandra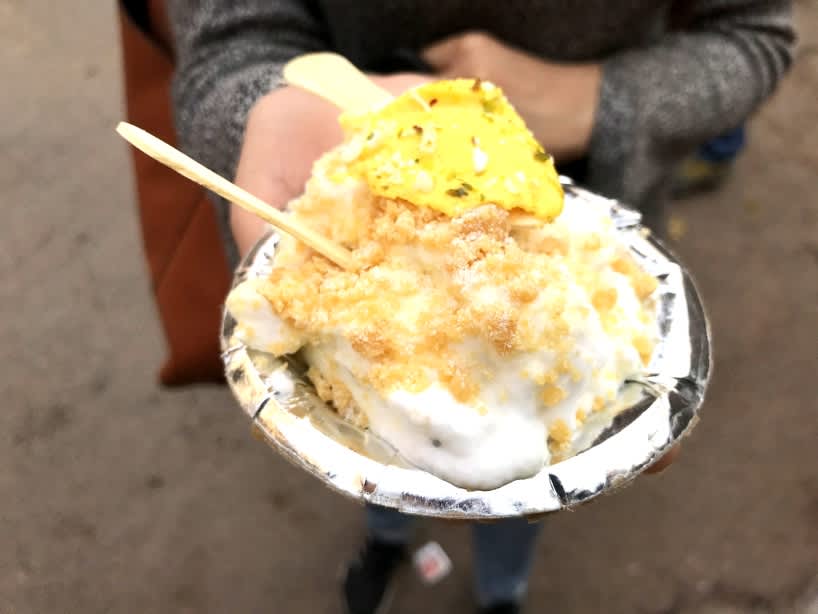 All these thelas don't differ in looks but their chaat does have an uncanny difference. For a regular first-timer like ourselves, we couldn't tell much of a difference but a local explained to us that some vendors make it more frothy with a buttery finish, while others don't. Hemchandra also uses nuts, kewra, jaggery, sugar and kesar to prepare his delicious Daulat Ki Chaat. He can be easily found right outside the road heading into Standard Sweets at Nai Sarak! Head on over for your plateful peeps, and you won't regret it!
Price | Rs 50 Onwards
Where | Hemchandra - In Front Of Standard Sweets, 3510, Chawri Bazar
3. Rakesh Kumar Babu Ram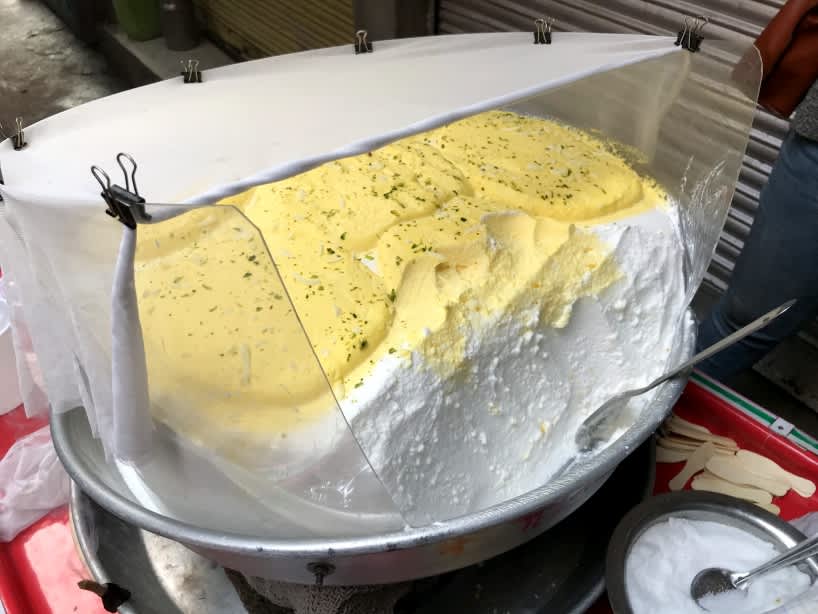 Fondly known as Babu Ram, he is as business-minded as one can be and sets up his thela right outside the lane leading to Lotan Ji Chole Kulche. Anyone who's been to Lotan's already knows about the copious masses of spice in his cholas and this is where Babu Ram comes in! He sells his Daulat Ki Chaat to the large crowds and as the sun comes up, can be seen heading to Dariba Kalan Market.
Although we loved this plate of chaat too (which came with almonds, pistachios, crushed chhena and the works) but it somehow lacked the buttery flavour the rest of the places had left on our palates. Nevertheless, this frothy, foamy and light Daulat Ki Chaat makes it to our list for the best in Delhi!
Price | Rs 50 Onwards
Where | Rakesh Kumar Babu Ram - Dariba Kalan, Chandni Chowk
4. Khemchand Adesh Kumar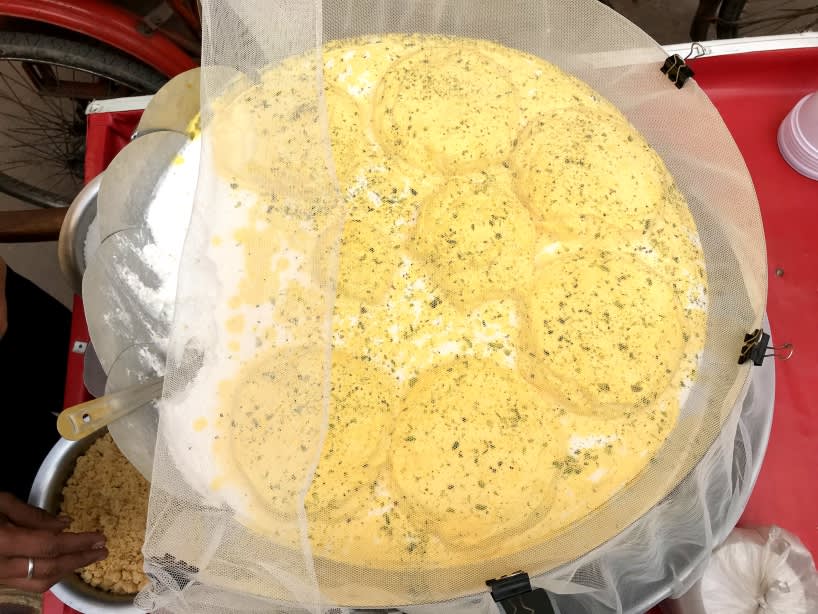 Another one of the mighty famous stalls selling daulat ki chaat, this guy is also as good as it gets. Parked mostly at Nai Sadak, Adesh Kumar also keeps his thaal of chaat covered with a white muslin cloth to deter the flies from landing on his sweet concoction. This guy also prepares a bowl for you by adding sugar, almonds and crushed chenna for the ultimate crunchy soft taste you'll keep going back for - y'all really need to try this!
Price | Rs 50 Onwards
Where | Khemchand Adesh Kumar - Nai Sadak, Chawri Bazar
Head out to the bylanes of Old Delhi where you can start your day with a frothy, foamy cloud of sweetness on a plate!