Delhi
Delicious Banana Sushi, Waffle Sandwiches & More, Here're 5 Things We Tried At This New Cafe In NSP
Looks like Pitampura is turning into quite a hub for all the foodies in town! So while strolling through the streets of North Delhi we came across this super cute cafe in our favourite NSP called Four Foolish Friends and the place looks all things amazing!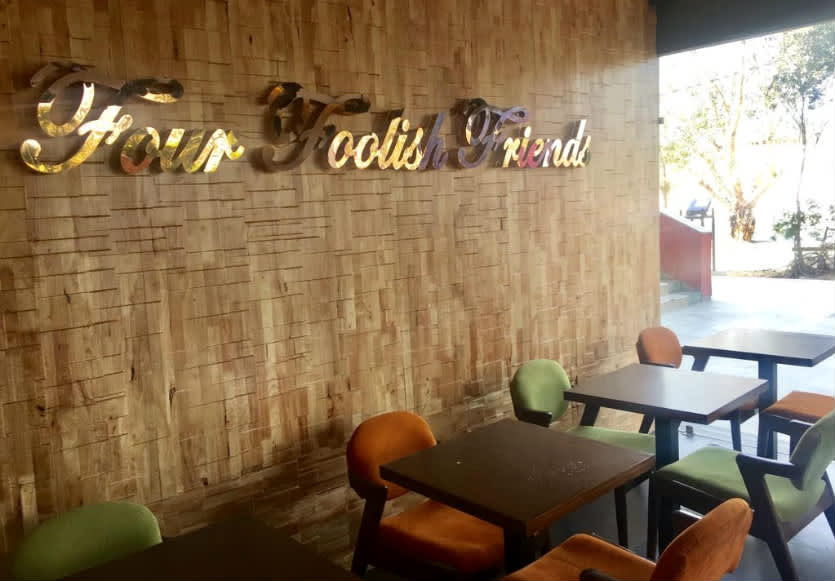 This lightbulb idea of four crazy friends came into being a while ago when Chef Ishant Khanna (one of the four friends) left his job at the Oberoi's and started spreading his magic at this cutesy little cafe. The staff here is super sweet and quite helpful! 
And now coming to the food, we were quite happy with the line up and especially the presentation - full marks to that. These lovelies very well know that a pretty plate filled with delicious food is all we Dilliwalas care about! So check out the 5 dishes we tried here.
1. Brownie, Gems And Peanut Butter Shake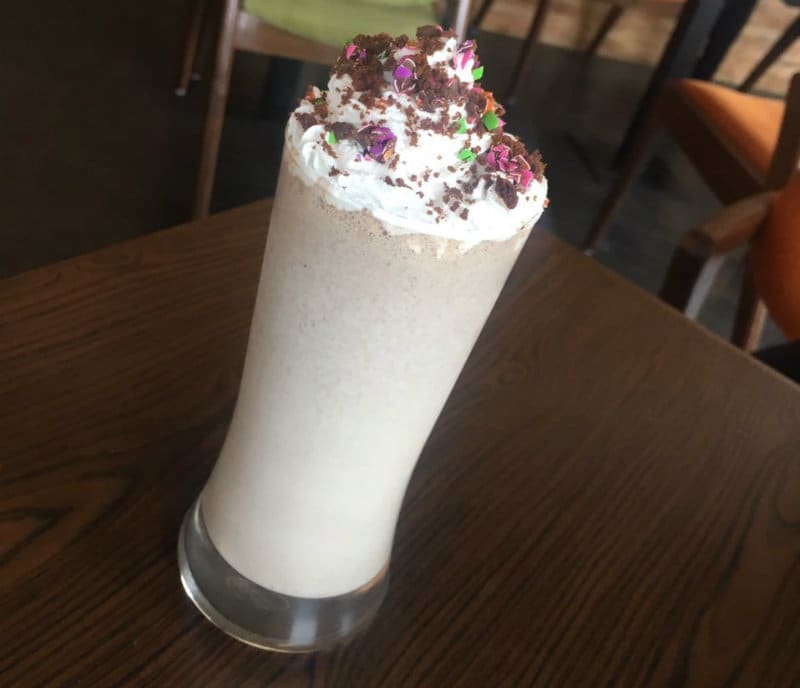 So, when we found ourselves settled in their colourful chairs, the Chef himself welcomed us with this creamy glass of Brownie, Gems & Peanut Butter Shake. We started off with the yummy whipped cream which was made to look pretty with those multi coloured gems and brownie sprinklers. The shake tasted good, but it would've been great had they called it a classic Peanut Butter shake 'cause you can hardly make out the brownie in the shake! 
Price | Rs 170
2. Savoury Waffle Sandwiches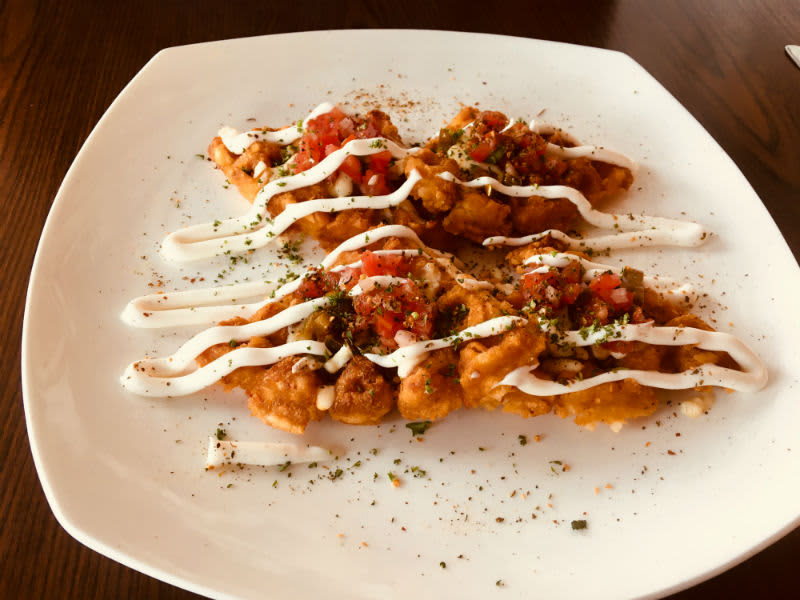 So, this savoury waffle looked really appetising and we couldn't resist too long before digging in it. We tried the Veg. Waffle Sandwich which was stuffed with potatoes and added to its softness. The crispy outside was topped with fresh and tangy tomatoes and loads of mayo *yum* and the generous spread of seasonings added to the flavours. This one's a total must have! 
Price | Rs 220 Onwards
3. Caramelised Apple Croissant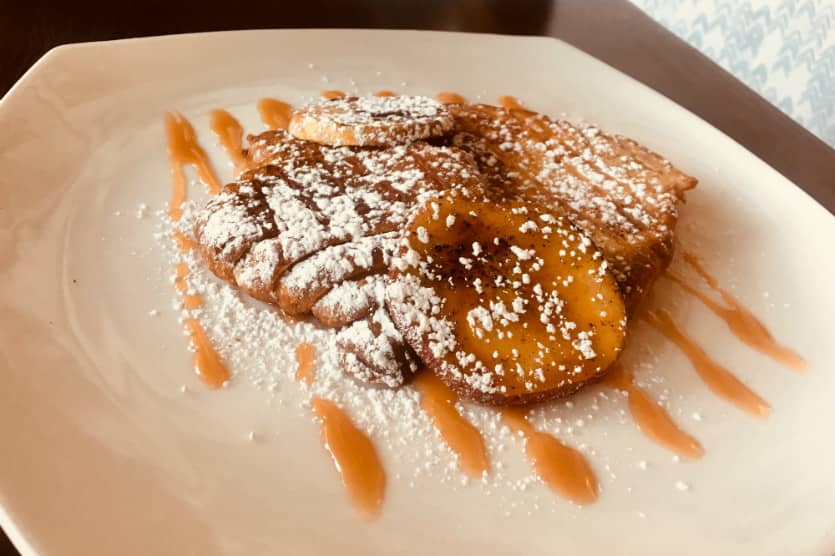 Talk about beauty and this one's what hits our mind these days. The combination of croissants with caramelised apple tasted amah-zing! Perfectly soft and balanced sweetness of this dish made it super delicious. The caramelised apple was a superb add on cause it added a crunch in each bite and the hint of cinnamon made it even more toothsome!
Price | Rs 200
4. Banana Sushi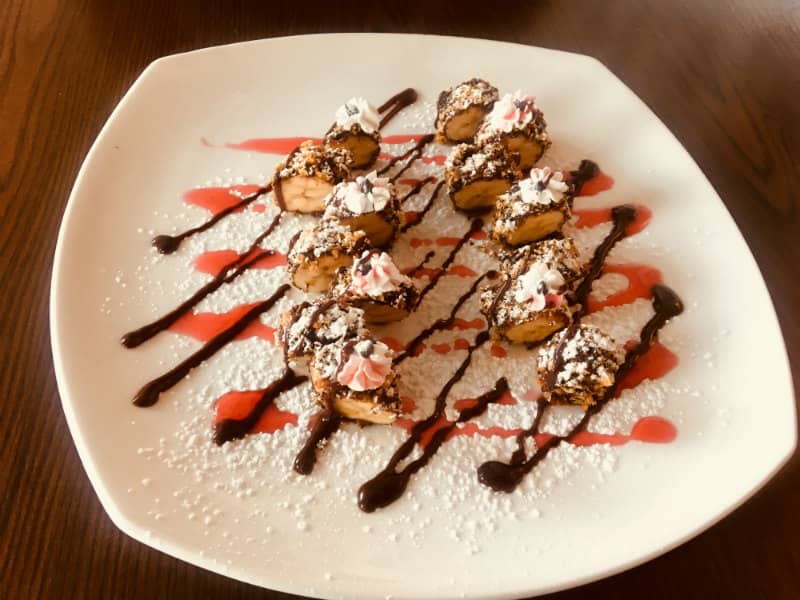 Okay, this one's a chef special and should defo be on your must-haves list 'cause it's simply delicious! Chunks of bananas dipped in chocolate sauce and layered with corn flakes, who could've thought of such a combination, right? But trust us guys, banana have never looked this pretty to us before. It was all soft, sweet, crunchy and basically everything tasty!
Price | Rs 160
5. Churros With Caramel Sauce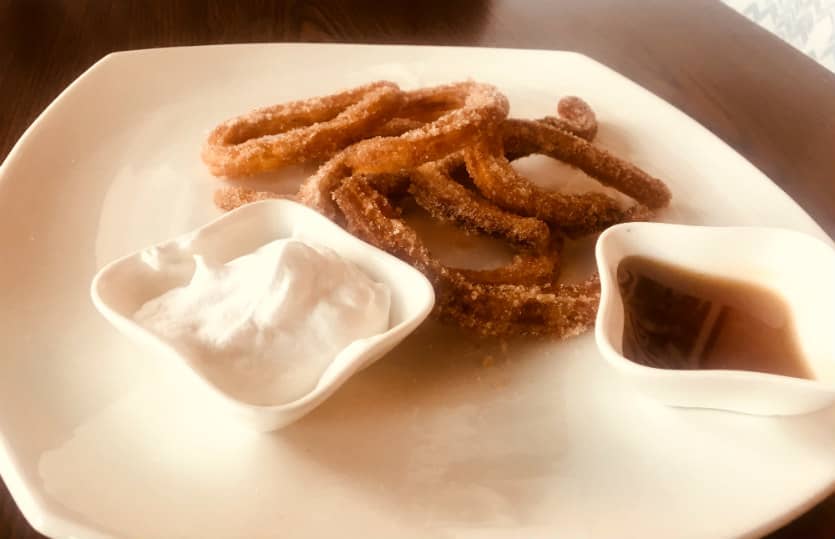 Yes, we were on a sweet ride here! We tried out Churros with Caramel Sauce next and we totally loved these deep fried sugar babies. The churros were crispy from the outside & soft from the inside and were just what we needed for perfect sugar rush! And as if the sweetness of these sugar coated delicacies wasn't enough, they served it with whipped cream and honey *DROOLS*! So don't even think about missing out on this one. 
Price | Rs 160
So, head to NSP with your squad 'cause these peeps believe that two is a company, three is a crowd, but four is the beginning of fiesta in the house, cool eh?
Where | Four Foolish Friends - G6 & G7, HB Twin Tower-2 
Check Out Their FB Page | https://www.facebook.com/fourfoolishfriends/