Delhi
5 Amazing Places For Mouth-Watering Biryani In Delhi Under Rs 100
There are seldom foodie dishes that rouse one's curiosity to unknown corners of one's palate and have the potential to make you travel far and wide in search of the city's finest. We talk of nothing other than the heavyweight champion of the foodie world - BIRYANI! According to popular belief, biryani is said to be a creation brought in by the Mughals but critics and historians alike have varying versions of where biryani originated. Some accounts go to the length of saying that biryani is actually Indian, and was in vogue much before the Mughals came along.
We, of late, have been besotted with a niggling question of what comprises a biryani? How different is it from a regular-joe pulao? What method is the best one to prepare a biryani? And so on and so forth. We're yet to find the answer for all such queries, but we finally decided to undertake a journey in search of Delhi's best-kept secrets and their biryani hideouts. Here's the list - cheggit!
1. Hotel Malabar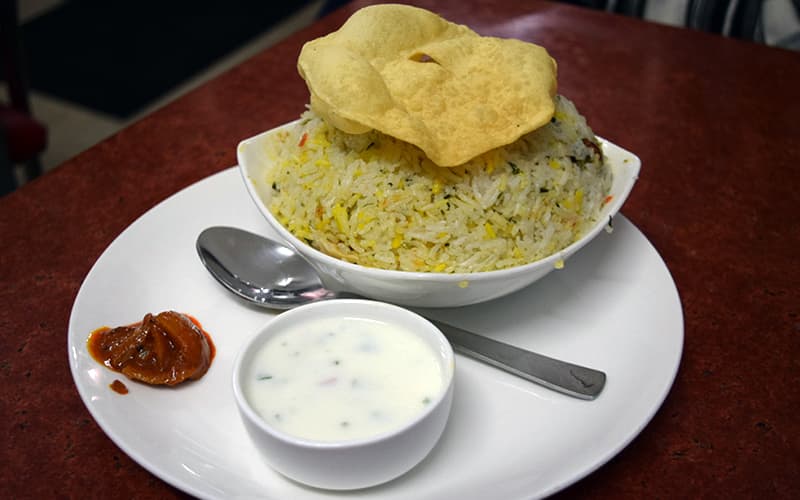 In the bylanes of Julaina, a small locality right opposite New Friends Colony lies a clean and decent restaurant serving coastal food. Run by a Keralite, this place serves one of the most diverse biryanis ever sighted on any menu. Apart from their special Kappa Biryani, there's Fish Biryani, Prawn Biryani and a beef and chicken variant too. We ended up falling in love with their Chicken Biryani which comes served with dal papad and raita! We guarantee that you, too, will fall in love with their fragrant rice emanating fresh spices from down South!
Price | Rs 100
Location | Hotel Malabar - 37A, Sarai Julaina, Opp Escort Hospital, New Friends Colony
Call Them | +91 9911 678 330
Timings | 7 AM - 10 PM 
2. Madina Chicken Corner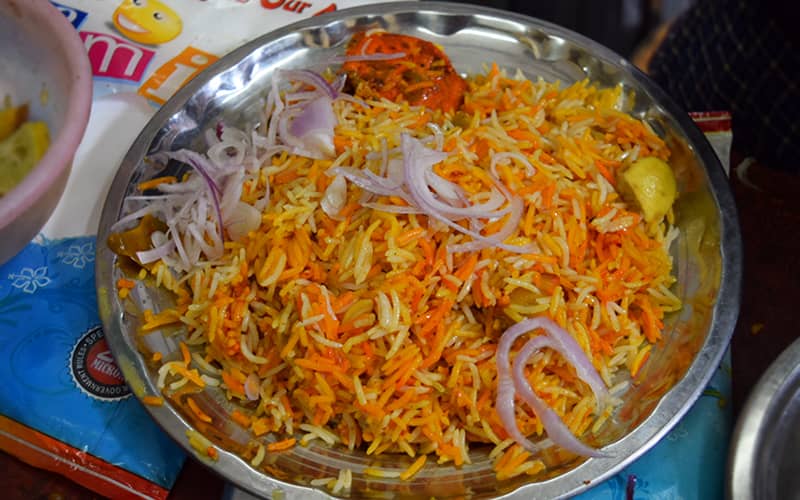 For all food enthusiasts, the area of Zakir Nagar has replaced Delhi 6 as the to-go place for the ultimate street food when it comes to kebabs, kormas and biryanis. So our first destination could be none other than Madina Biryani which has caught this part of Delhi by storm! Arif Qureshi, the man behind the name, proudly talks about his Chicken and Beef Biryani and how adding Haleem to it (calling it Daleem Biryani) makes him remember the biryani sold in the Muslim-dominated Western belt of UP. We couldn't agree more as we washed down an entire plateful of saffron-clad, fragrant 'Badey ki biryani'! 
Price | Rs 30 Onwards
Location | Madina Chicken Corner - Near Jama Masjid, Zakir Nagar, Okhla
Call Them | +91 9990 069 479
Timings | 9 AM - 11 PM 
3.  Muradabadi Shahi Biryani & Chicken Corner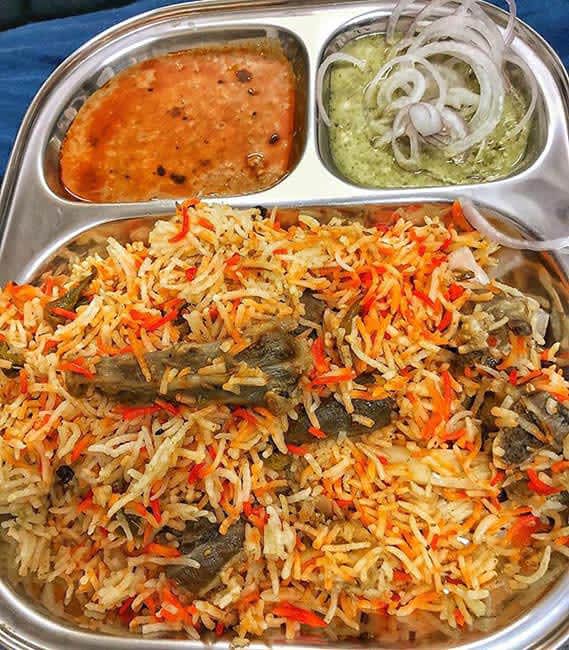 Picture Credits: bhukkhadbybirth
This little gem located on the Jail Road is known for serving exactly the kind of biryani as their name promises. They offer amazing and absolutely lip-smacking Muradabadi Biryani that has chunky pieces of meat in the Chicken and Mutton Biryanis. You'll also experience a burst of flavours in their vegetarian biryani fosho. So, head over and try them all out NOW!
Where | Muradabadi Shahi Biryani & Chicken Corner - Shop 3, BA-141-A, Near Jail Road
Price | Rs 50 Onwards
Timings | 12 Noon - 1 AM
Call Them | +91 9643 992 466
Check Out Their FB Page | https://bit.ly/2UvxK93
4. Dil Pasand Biryani Point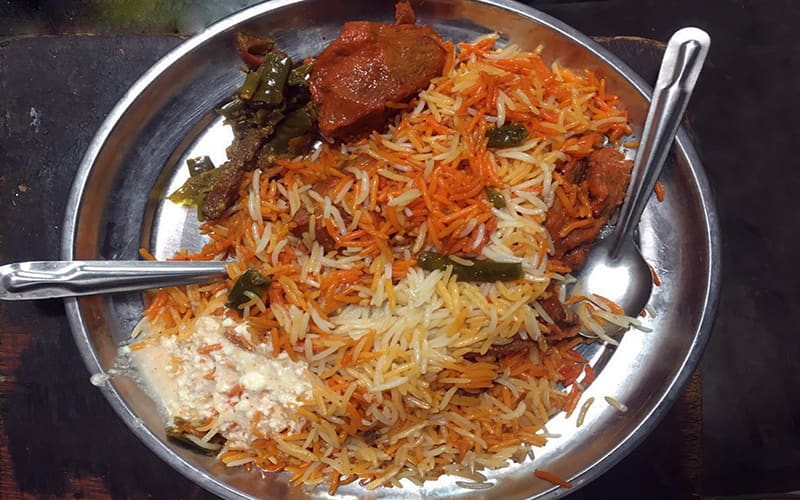 Mohd Tofiq wouldn't ever have, in his dreams, thought of becoming this famous when he started with only Badey Ki Biryani (beef), but a small shop tucked away deep in the bylanes of Chitli Qabar is enough to demand respect for us to include it in a list of Delhi's finest. Huge boneless beef pieces, pickled rice, their special raita and lots of onion garnishing is what made us his fans for life! We strongly recommend a visit to this place if you ever plan on an exploration of Delhi 6!
Price | Rs 100 Onwards
Where | Dil Pasand Biryani Point - 735, Haveli Azam Khan, Chitli Qabar Chowk, Jama Masjid
Call Them | +91 9899 567 078
Timings | 10 AM - 9 PM
5. Nasir Iqbal Restaurant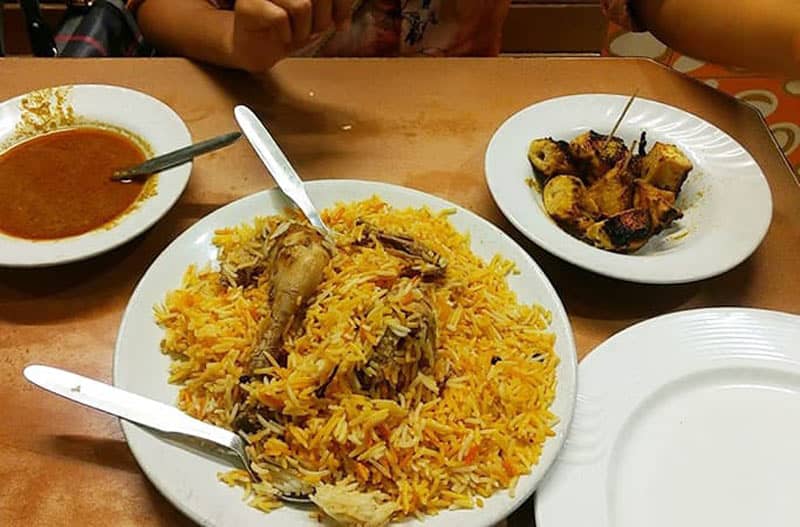 This popular little place is located in Nizamuddin and has been known for serving delightful plates of biryanis. Their offering has perfectly cooked rice that's infused with a delectable fusion of various spices that you'll end up appreciating the time that was put into the making of the dish with every single bite you take!
Where | Nasir Iqbal Restaurant - 268A, Jha Basti Market, Hazrat Nizamuddin West
Price | Rs 90 Onwards
Timings | 11 AM - 11 PM
Call Them | +91 9891 278 628
The plethora of options for biryani is unending and so are the types of biryanis available all over India. The type of emotion a biryani generates has made us outline these go-to places for one of the best biryanis in town. Do try them and thank us later!