Delhi
Deciphering the Strums and Beats of Tarkash, a Hot & Upcoming Band You Should Know All About
Tarkash, the band, has been around for more than 3 years and is gaining popularity by the second. Western, Sufi, Rock, Classical and Metal, the band members infuse their unique traits and favourite genres to calm the music craving of the audience. We had a candid conversation with the band members, Siddique (drummer), Parth (vocalist), Gurpinder (percussions), Vibhor (keyboardist) and Harsh (guitarist). Below are some excerpts:
Could you tell us the story behind the inception of Tarkash? 
The band started out on a very interesting note. Music had always been every member's saving grace. Every member started out with a specific instrument. We started off by jamming a little every day and practicing our own instruments. It helped us grow both as instrumentalists and as a band. 
We named this band 'Tarkash' because it means 'a container of arrows', which was a matter of pride for the warriors as our music is a matter of pride for us. We take pride in the name and stay together like the arrows in the Tarkash.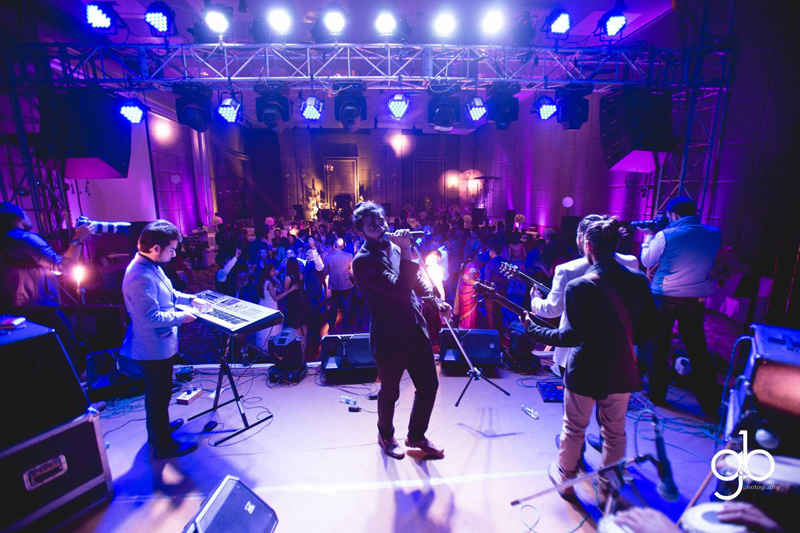 What career plans did every band member have before Tarkash came into being?
Harsh: Well four of us are engineers including Vibhor, Gurpinder, Siddique and myself (Harsh). Parth has a Master's degree in Business. Before Tarkash, we all were planning to go for those sick 9 to 5 jobs but, fortunately, Tarkash happened and here we are. Tarkash is what we are and what we have. This is our passion and luckily, our job. And it feels good that what we love doing is sort of our job now. 
Tell us about your Sufi connection.
Parth: The whole idea behind a Sufi - Rock band is rather overwhelming. Though Tarkash is a multi-genre band, from its inception, each member has had Sufi as a common genre of interest and that is where our musical wits connected. Everyone in Tarkash is highly inspired by Sufi artists like Ustad Nusrat Fateh Ali Khan, Rahat Fateh Ali Khan, Shafqat Amanat Ali, Reshma, and obviously the modern Pakistani Coke Studio sessions. Coming from different genres of music, Sufi is one genre that really connected each one of us in all grounds. I guess that is our real Sufi connection.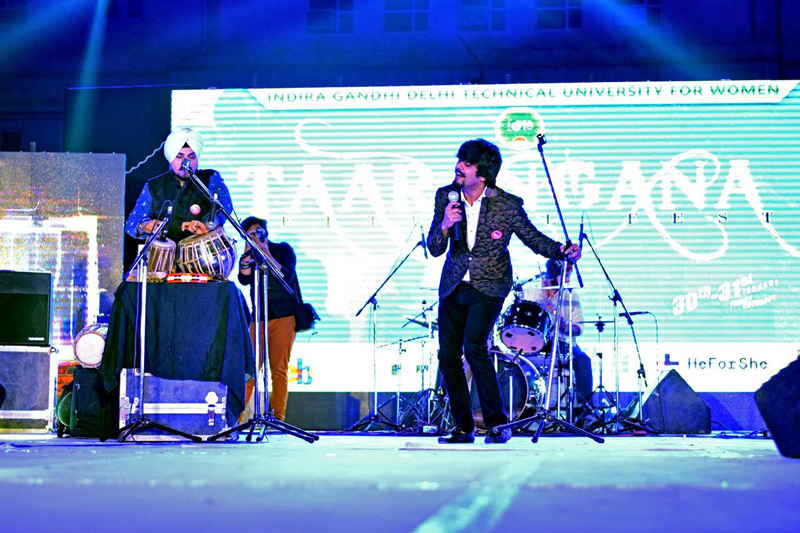 What is your dream venue in Delhi?
Siddique: All the venues we play at are special to us and nothing lies between us and the audience we play for. One of our dreams, when we were younger, was to play at Striker and we're already playing there. But if we had to give just one answer, then Hard Rock Cafe for indoor venues and JLN Stadium for outdoor venues. We also have a sort of inclination towards outdoor venues as thousands can join in the audience and, obviously, we want to reach out to as many people as we can and make our Tarkash family ginormous.
What does Tarkash strive to convey from its music?
Parth: The basic idea of all our compositions is the same as Sufi music. We want people to find inner peace when they listen to our music. We want people to associate our music with their existence and their being. We want our music to redefine their purpose and the meaning they seek from life. 
Music has no boundary that is in literal terms, of course. We experiment and combine each style of music, and try bringing out all the flavours. That is highly noticeable when you listen to our tracks or see us performing but on individual grounds too, Tarkash is the reason we don't feel restricted about anything and are open to everything.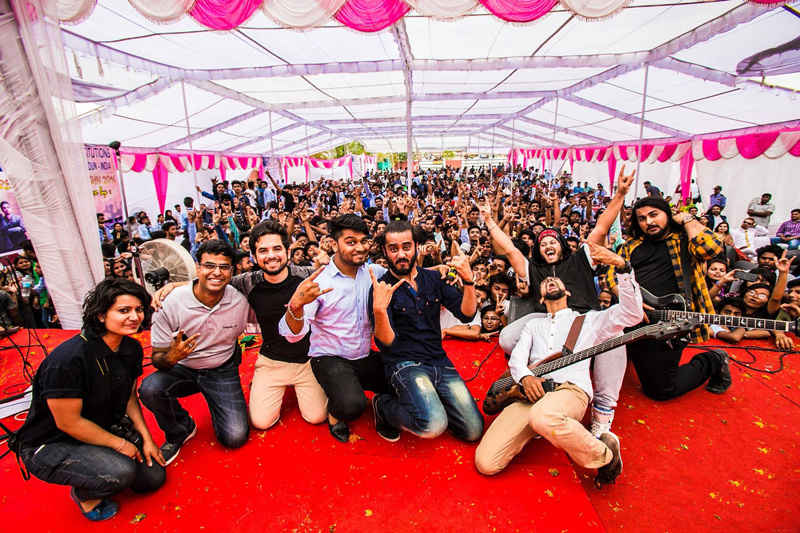 Tell us about a memory from your performance(s), which brings a smile to your face.
Vibhor: Well there are loads of such memories but one in particular is from our recent performance at IGDTUW, when somewhere in the high peaks of our set we stopped playing in the middle of a song and the audience of over 10,000 people started singing together and sang the rest of the song. Well, we just stood there with a smile on our faces and cheering the audience. That was good!
What, in your opinion, makes Delhi 'So Delhi'?
Vibhor: Well, there are a lot of things, food, historical monuments, markets, nightlife and how can we ever forget, the traffic. But when you're in Delhi, a must visit is obviously Old Delhi. And I'm fascinated by the variety of weather and climatic changes that one can see and feel here. 
Hauz Khas Village is obviously the hang out zone but that one thing that makes Delhi 'So Delhi' is the people you find and come across every day. You can spot thousands of people from various states of India but in Delhi everyone has that special aura which makes them Delhiites and Delhi 'So Delhi'. 

Which 3 places in Delhi do you visit to find inspiration?
Gurpinder: We get inspired at any place where good music is playing. But, obviously, there are some special places like Nizamuddin Dargah, and places like Lodi - Garden Restaurant, Hard Rock Cafe where we can find good music. Most importantly, the one place where we find our true sounds is our jam-pad where all five of us jam, compose, write and practice our songs. 
An advice that you wished that someone gave you when you started out.
Harsh: Tarkash has been through a lot of changes in our line up. That's because only a few of us were serious when the band started out and steadily some members left, some other very talented ones joined and now only the ones who have a strong and serious bond with Tarkash and music as a whole have remained. And that we think is a very positive thing. So, I guess this is it; I wish someone had told us about the pros and cons of being in a band, of the connection each one holds, the significance of that connection and how meaningful it is for every member in the band.